Help ease the transition of a growing family by throwing a big brother or big sister party for the older sibling. These easy DIY party decorations and playful kids craft ideas will make for a meaningful, fun celebration.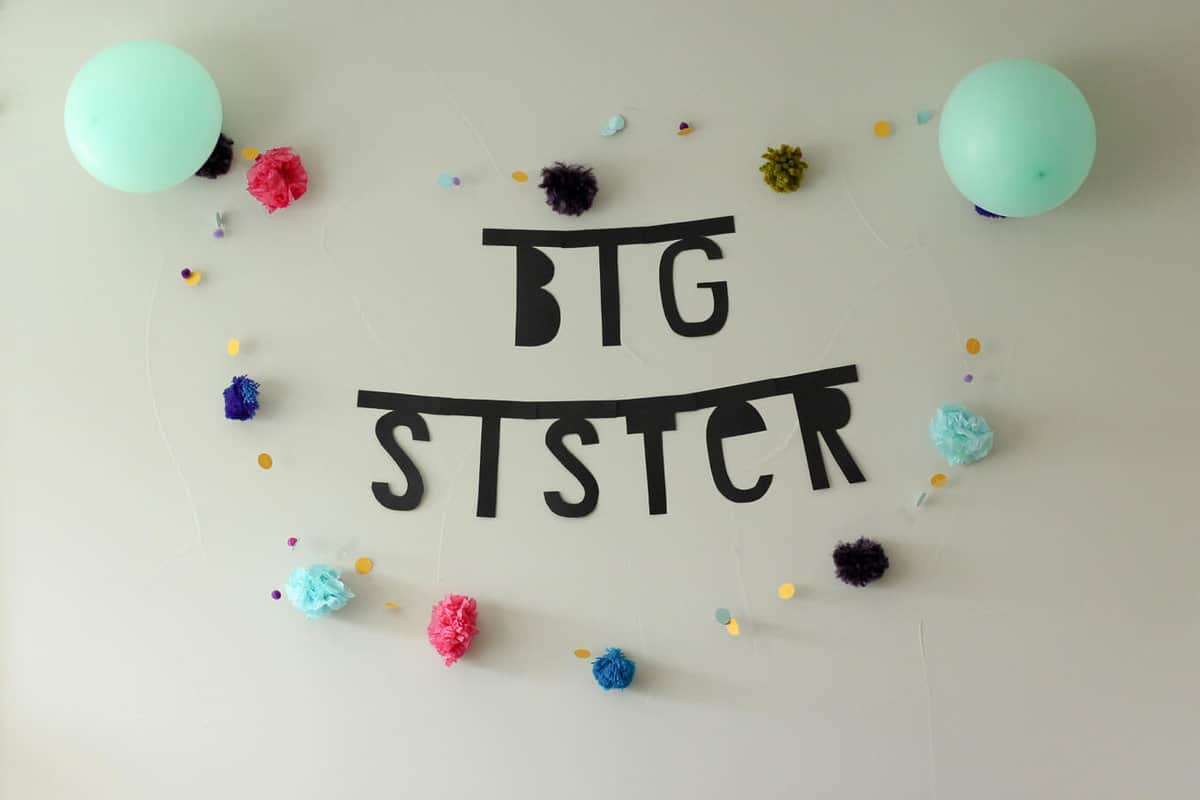 In the weeks following my twin sisters' birth when I was 3.75 years old, I can literally remember lying on the floor wearing one of the babies' diapers, my mom's high heels and throwing an epic tantrum.
Let's just say the transition to becoming an older sibling is not always easy.
This is why I love the idea of a big brother / big sister party so much. Last week I shared a couple of other fun older sibling party DIYS including a tutorial for making simple freezer paper stenciled big brother / big sister aprons.
And a fun idea big brother / big sister craft idea that involves mini bananas. (Who doesn't love crafting with mini bananas!?)
Today, I'm going to show you how to make some fun DIY party decorations for a big sister "baby shower." (Or a big brother baby shower, of course!)
What I love about this DIY garland and banner is that we made them separately, so we can reuse the garland for a different occasion, like a birthday party, in a snap. I like the look of tissue paper garland, but I wanted this to have a little more variation, so I included some mini pom poms, handmade pom poms and colorful circles that I made out of paint chips and a scrapbooking punch.
And while the banner letters look like they required a cutting machine, I actually just used a ruler and cut them out freehand. I think this style of banner "font" would look adorable as nursery decor or even for an adult party as well.
DIY GARLAND AND BANNER SUPPLIES
This post contains affiliate links so you can spend more time making and less time shopping.
• tissue paper
• thin floral wire
• scissors
• monofilament (fishing line)
• tapestry needle
• paint chips or colored paper
• 1" circle scrapbooking punch (optional)
• small pom poms
• yarn
• black paper
• ruler
• pencil
• tape
DIY GARLAND INSTRUCTIONS
1.Create a bunch of tissue paper puffs by cutting strips of tissue paper to about 5" wide and folding them accordion style. Wrap a piece of wire around the middle of the folded accordion and then fan out the pieces of tissue paper. (Here's a detailed tutorial.)
2. Make pom poms from yarn. (Here's a detailed pom pom tutorial.)
3. Using a scrapbooking punch or scissors, make some circles with your paint chip paper (or any other colorful card stock).
4. Cut a long strand of fishing line and thread your tapestry needle. String the garland elements one by one, poking the needle through the middle of the tissue paper puffs, pom poms and circles. After you string each element, tie a knot around it with the fishing line so that it doesn't move around on your garland.
I find this garland can get a little tangled if the strands get too long, so I created several shorter (about 5' strands) so that they can be tied or taped together into a longer strand if I want.
DIY BANNER INSTRUCTIONS
1. If you're starting with approximately an 8.5×11" sheet of paper, fold it in half and cut along the midline.
2. Use your ruler to draw a line across the top of each rectangles. (I just used the width of my ruler to make this section the same on each piece of paper.)
3. Again, I used the width of my ruler to make the lines of each letter the same scale.
4. For the letters that didn't include straight lines, I simply eyeballed the shape and cut it out, leaving the center of letters like "B" and "E". If you're having trouble free handing the shapes of the letters, it might help to find a font you like and try to mimic it. Check out DaFont.com for a plethora of good options. (Choose from the "san serif" category at the top of the page if you'd like to find something similar to the letters I created.)
5. Tape the top pieces of each letter together. I taped them so that each banner had a slight curve.
That's it! Tape that banner to your wall and get to celebrating the future big sister or big brother in your life!
Be sure to check out the big brother / big sister banana craft idea and the DIY "helper" aprons–the perfect projects for a well-rounded older sibling party! 🙂