If you know a little one who will soon become a big sister or a big brother, create a playful occasion to talk about the transition with this fun banana craft idea.
 
 As I mentioned earlier this week, we got to throw a "Big Sister Party" for a young friend of ours who will be welcoming a new sibling literally any second now. The intention with the party was to celebrate and support this little lady in the same way others might support her parents with a baby shower.
I don't think I had given it a ton of thought until Momo became a big sister, but adding a sibling to the family is really a losing proposition for the older kid for at least the first six months. During my second pregnancy I watched many first born children we know drop into a frantic tizzy as they tried to recalibrate to life with a little newborn love leech.
It's never going to be cakewalk to go from being the star of the show to being temporarily cast as supporting actor. But I do think that talking about the transition in advance can help a lot.
Momo and I made this fun banana craft as party favors for the big sister party we threw, but even without a party, this activity can still provide an avenue to talk about how big sisters and brothers can help the baby, be gentle with the baby, and eventually forgive the baby for ruining their lives.
Just kidding. Kind of. I think even I, that tormented, diaper-wearing, high-heel-balancing 3-year-old, have recovered and now and my mini bananas younger sisters are my best friends.
BIG SISTER/BIG BROTHER BANANA CRAFT SUPPLIES
This post may contain affiliate links at no extra cost to you.
• regular-sized bananas
• mini bananas (available at most grocery stores)
• tacky glue
• wiggle eyes
• small pieces of fabric, ribbon and other scraps for accessories
How to make banana siblings
1. Have your future big brother or sister find pairs of matching eyes. This is a great lesson color and size and if not done, can end up with some pretty freaky bananas. (Which is okay too!) We used larger eyes for the bigger bananas and small eyes for the babies.
2. To add a blanket around the baby bananas, swaddle the banana in a small square of fabric, add a drop of glue and hold the fabric together for a few seconds to make sure it sticks.
3. We decided to keep our banana siblings fairly simple, but you could definitely dress them up with extra bows, buttons or yarn hair.
After your banana family is finished, you might like to make this big sister/big brother apron with my simple (free!) freezer paper template.
And what big sister / big brother party would be complete without a DIY pom pom banner?!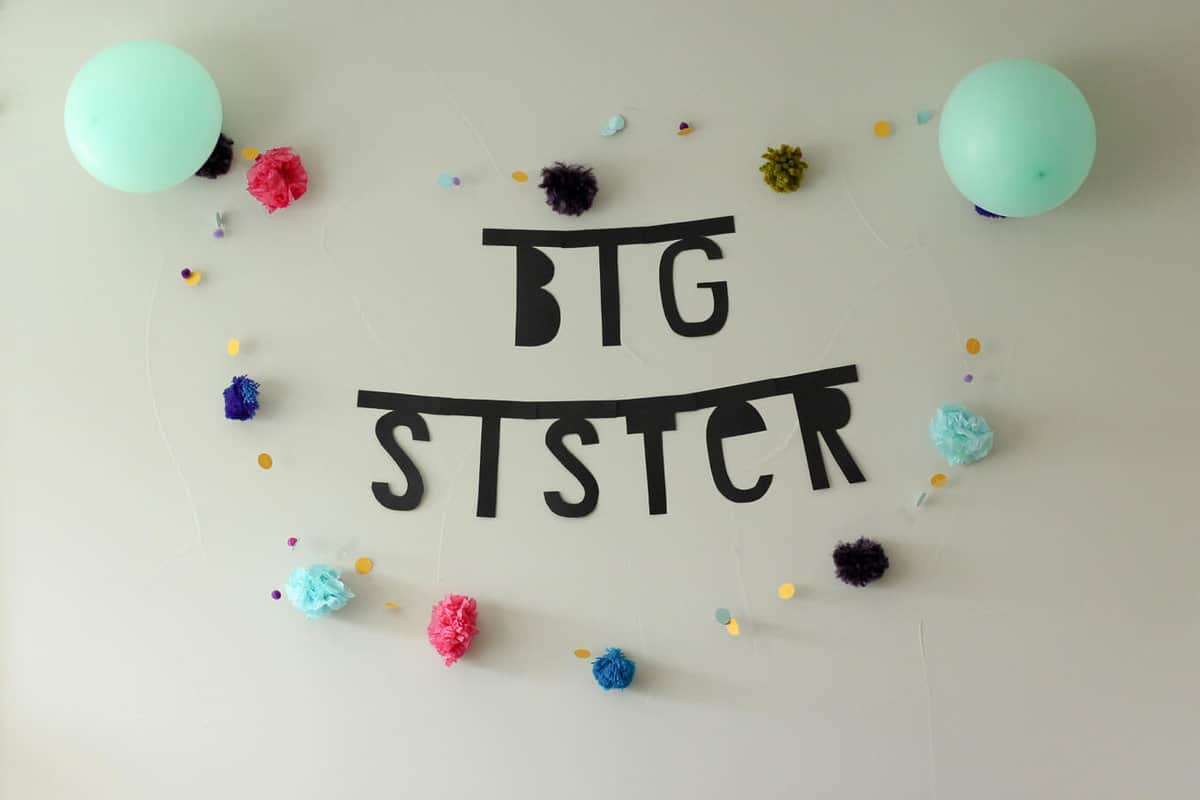 Do you remember what it was like to add a sibling to your family? How did you react? If you're a parent, do you have any tips for easing this transition?
WANT THE SECRET STUFF?
Get instant access to my vault of exclusive FREE crochet patterns and craft templates.