This easy butterfly craft is a perfect art project for kids (toddlers +) who are ready to bring on Spring and sunshine!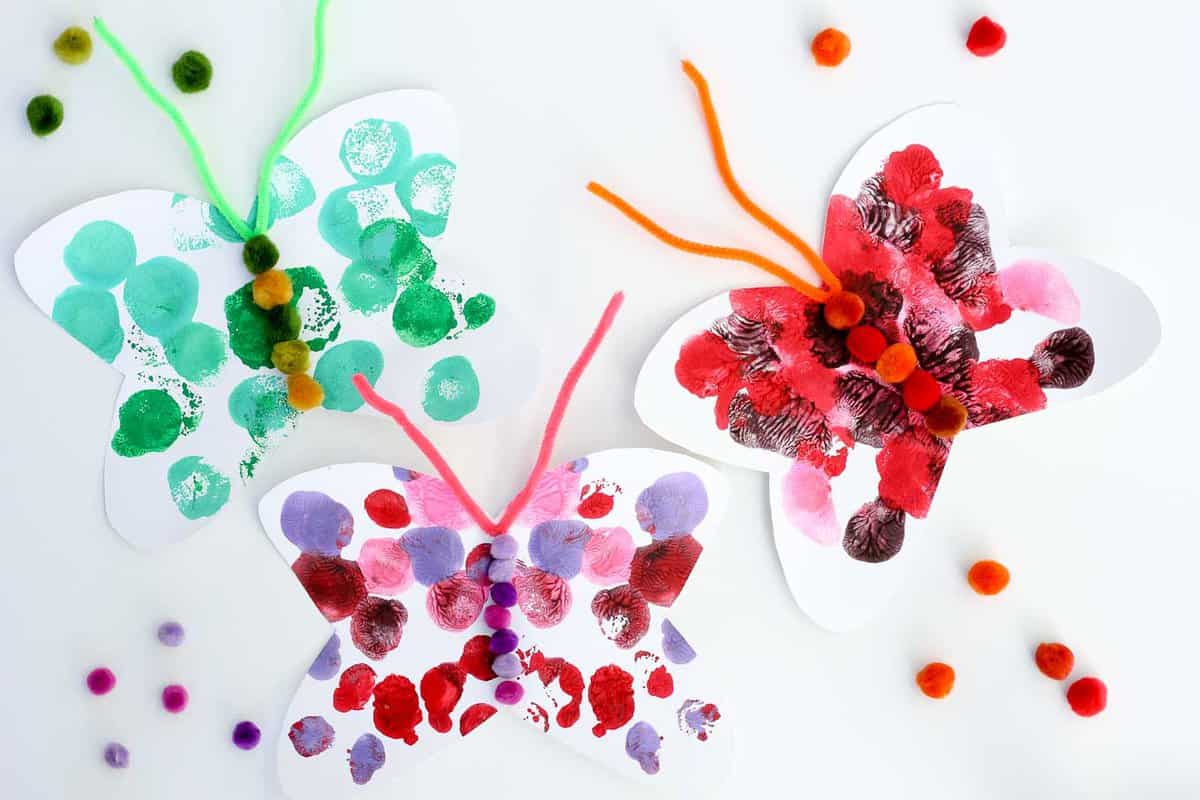 Mo has a pretty strong bug aversion. Like hysterical crying, scaling walls and running inside whenever a bug crosses our property line. I don't blame the kid, really. When she was about 20 months old, we had a very unfortunate run in with a hidden wasp nest.
It went something like this: wasps swarmed Mo. I screamed. I grabbed her and started running the half of a block to our house, inadvertently squeezing the yogurt pouch she was eating all over her face and body.
The wasps followed us. I kept screaming. I tried to sequester us in the mudroom with the door shut to keep the wasps out, but only trapped them in there with us. (They're fast little buggers.) I screamed some more.
Mike yelled at us to run to the backyard, which we did and he sprayed us with the strongest setting on the hose nozzle, disorienting the wasps and rescuing us from this scene straight out of "The Hunger Games." Somehow Mo escaped without a single sting. I wasn't quite so lucky.
This event no doubt has left an indelible impression on Mo and shaped her relationships with bugs. Yikes. So with Spring on the horizon, I'm been trying to find ways to get her to warm up to the idea of bugs so that we don't have to hibernate inside our for the next six months.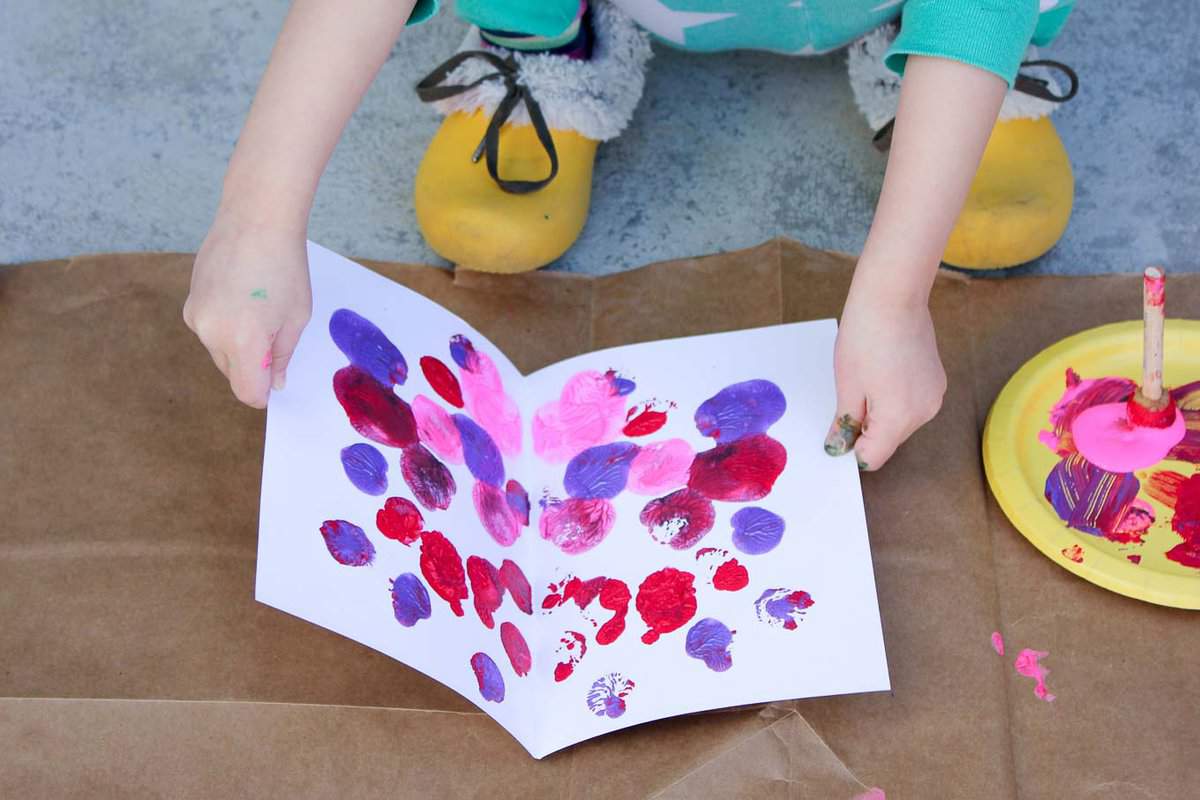 Enter: friendly, colorful, NON-STINGING painted Spring butterflies! This kids craft idea will brighten up these last few weeks of Winter and can help teach preschoolers a simple lesson about symmetry.
In case you're not an expert free-hand-butterfly-cutter, I created printable template you can trace for your wings. It's in the Subscriber Vault. Just enter your email address in the green and pink box at the bottom of this post to gain immediate access to the butterfly template and lots of other patterns and printables.
BUTTERFLY CRAFT ACTIVITY SUPPLIES
• template (Optional. Enter you email address in the box below for instant access.)
• paint (acrylic, tempera, finger–whatever you've got)
• circular foam paintbrushes or any other paintbrushes
• paper (card stock is ideal)
• pom poms
• kids glue
• pipe cleaners
• scissors
• pencil to trace template
1. If you're using the template, print it and fold it in half. Fold a piece of card stock in half and trace the template onto it. If you're not using the template, fold you paper in half and draw half of a butterfly shape freehand. (Either way, it's easier to draw the butterfly shape before you paint.)
2. Reverse the fold so that the shape you traced is now on the "inside." (Note: In the heat of the painting moment, our paper came unfolded in this photo.)
3. Once the painting is complete, reverse the fold so that the paint is on the "inside." Rub the paper to squish all the paint onto the other butterfly wing.
4. Open your art and let it dry.
5. Depending on the child's age, either cut the butterfly shape out for them or let them do it themselves.
6. Apply a line of glue down the middle of the butterfly and add a pom pom abdomen.
7. Fold a pipe cleaner in half and glue it to the top of the butterfly as antennas.
Hang your butterflies in a window and cross your fingers that any wasp friends find a new home for the summer!
Do your kids have any crippling phobias? What have you done to help them work through them? This is one of the (many) areas of parenting where I feel like I'm just bumbling around in the dark.
If you've got crafty kids who love to make things, you might enjoy trying these activities with them:
Make a Hexagon Shelf Out of Popsicle Sticks (Easy enough for an older kid, stylish enough for an adult!)
Make Geometric Heart Wall Art (Free template!)
Make a Personalized Birthday Shirt
And follow me on Pinterest for lots of kid-related activities and eye candy.