Have you ever found yourself, let's say, at a used book sale and happened upon a mind-blowing gold mine of old vintage books? Perhaps you then got so caught up in their musty smell, cool typographical covers and ragged pages that before you knew it, you had collected, oh, about 45 to buy and bring home?
And it wasn't until you giddily paid and headed for the door that you remembered you lived in San Fransisco. Therefore you didn't have a car. Therefore had to carry your new vintage beauties (plus, let's be honest, about 25 pounds of less charming, but more-relevant newer used books) about a half mile to the closest spot to catch a cab.
Yeah, that's happened to me too.
But you know what? My nutty librarian shenanigans were well worth it for the jackpot of books I scored. They have gleefully adorned many a bookshelf in the years since I drug them home. And today, I'm going to show you how to take a vintage book of your own and turn it into a DIY gift box.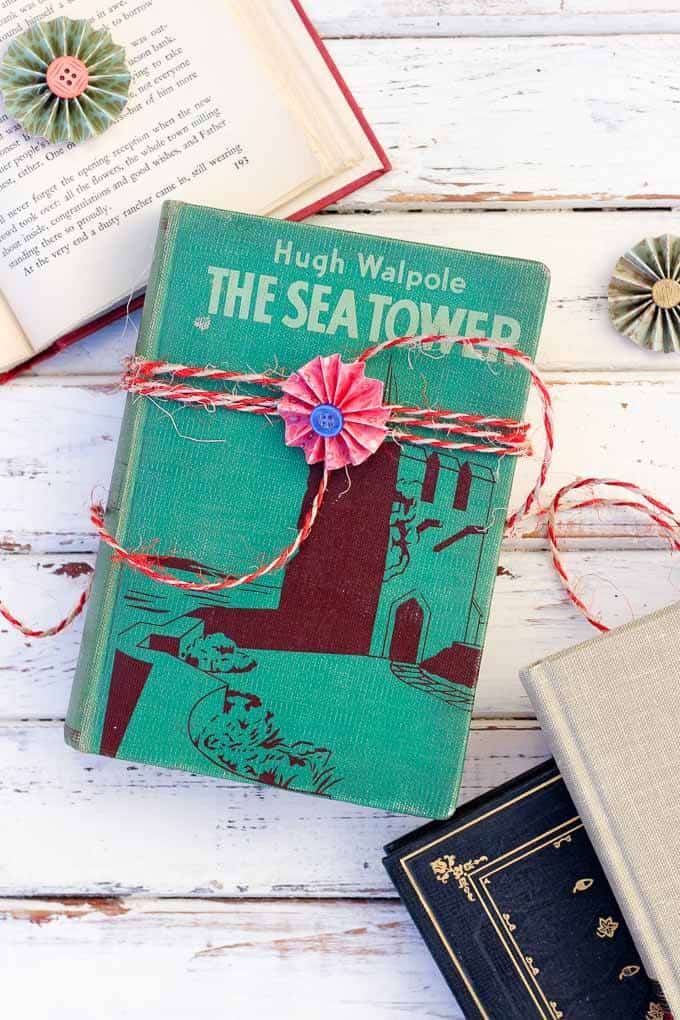 If you're a book lover, you're either going to love or hate this tutorial. Yes, it's a craft project using old books. Win. Aaaand we're going to cut those books up. Sacrilege, I know. Sorry. Not sorry.
Guys, this project is actually so easy. And it would make the perfect DIY gift box for so many occasions.
• Valentine's Day
• bridesmaid gifts
• gifts for him (you know, that man in your life that you never know what to give. Give him a book box safe to stash all his secret man stuff in!)
• Christmas
• birthday present for a book lover
• gift card wrapping
• DIY ring bearer "pillow" alternative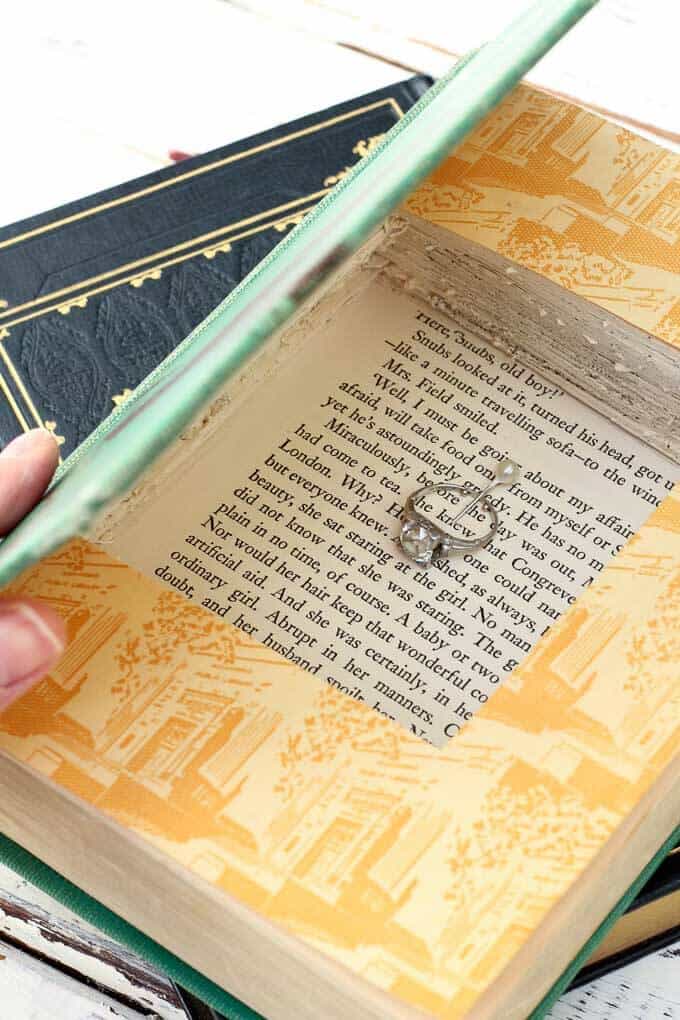 DIY GIFT BOX SUPPLIES
This post contains affiliate links for your crafting convenience. Thanks for supporting M&DC!
• an old book (Choose a book with enough pages to accommodate the depth of your gift. Check thrift stores if it's not book sale season near you.)
• X-acto knife
• paper to use as a template for the initial box opening
• washi tape to secure the paper
• scissors
• large binder clip (optional, but pretty helpful)
• Modge-Podge (optional)
INTSTRUCTIONS
1. Use scissors to cut a paper template that is the size of the opening you want your box to have.
2. Open the front cover of your book and tape the template down.
3. Use your X acto knife to cut around the template on all four sides. Push down hard, as you want to cut through as many book pages as possible.
4. Remove the template and lift out all the book pages scraps that are now loose. Flip the book open to a few pages ahead of where your knife stopped cutting. Use that page (which already has the window cut in it) to guide your next set up cuts. Use a binder clip to secure the uncut pages if you're having trouble keeping them still.
5. Repeat this process until your DIY gift box is as deep as you'd like it to be. Don't worry too much if, when you get to a stopping point, some of the final pages are cut on one side of the window and not on another. It doesn't make a difference once all of the preceding pages are placed on top of it.
6. (Optional) If you'd like your book box pages to stay together, because you're going to use it as a DIY safe for your valuables (sneaky!) or you just want a sturdier box, paint Modge-Podge around the outer edge of all the pages. I didn't do this step because I wanted my gift box to stay as book-like as possible.
You can use your book page scraps to fashion a sweet gift tag or save them for a different craft all together. So many possibilities.
Now that you've got a great gift wrap idea covered, here are some DIY gifts to put inside:
8 Cozy, Semi-Last-Minute DIY Christmas Gift Ideas
DIY Valentines Made From Wood
Knit Boot Toppers


Snazzy blog photos can make it look like some people are doing it all (effortlessly!) while others of us (me!) are barely holding it together. So whenever I can, I like to introduce a little reality check in the form of a very un-Pinterest-worthy detail from my perfectly imperfect real life. My hope is that it's a helpful reminder all of us that NO ONE is nailing it all the time.

We've been home-bound much of this week because baby Quinn has had a nasty cold. If you've never used your own mouth to suck snot from your baby's nose, you must check this device out. Oh, the things they don't tell you at the baby shower…
WANT THE SECRET STUFF?
Get instant access to my vault of exclusive FREE crochet patterns and craft templates.