Have you ever considered that some of the little trinkets that are lying around your house might look even better up as part of your gallery wall? You can make DIY wall decor that is affordable and meaningful out of almost anything. I'll show you how.
You guys know I love DIY wall art ideas that make use of less traditional supplies like coffee stirrers, buttons and popsicle sticks. And I really love how some three-dimensional pieces can add so much more visual interest to a gallery wall than flat artwork alone.
So today I invite you to grab a bottle of glue, dump out your junk drawer and make some art!
Sounds pretty easy, huh? It is. This project took me less than 15 minutes to make (including the time to hang it on the wall) and it cost a mere dollar. That's right. 100 pennies.
Perhaps you're like me and hoard collect any cool knick knacks that you come across, especially those with interesting typography or vintage charm. In this case, I've been carrying these couple of items around for a few years, knowing that I'd find the right way to display them eventually.
I picked up the matchbox at a restaurant called Craft in NYC on an advertising trip and the spool of thread came my way from Mike's grandmother. When she passed away, I had the privilege of assuming responsibility for her sewing kit and this vintage spool was inside.
You can get a gold frame like this at any thrift store, I (almost) guarantee it. Mine cost $1. While vintage frames like this look a bit dated on their own, I love them mingled among other wall decorations.
Once you have your objects chosen, it's time to look for a backdrop to mount them on. I wanted my background to add texture without competing visually too much with the mounted items. This neutral colored scrap of suede fit the bill. You could also consider using scrapbook paper, fabric or even something unexpected like a bamboo placemat.
To assemble my little wall display, I simply glued the scrap of suede to the matte board (ahem, crappy piece of cardboard) that came with the frame. Then I glued the matchbox and the spool to the leather.
Then I realized I messed up. 🙂
The height of the matchbox made it hard to slide the whole thing into the frame. Lesson learned. If you have an object with a little depth, slide your backdrop and cardboard into the frame before gluing your items down.
There you go! You've got some DIY wall decor and hopefully your junk drawer is feeling a little roomier, all in one fell swoop!
My new art is hanging out happily in my craft room, next to my totally awesome "crafting is sexy" card gifted to me from my friend McCall. Yes, indeed. Crafting is sexy, don't you think?
And I've got lots more easy art ideas for your sexy crafter self! Here are all my DIY wall art tutorials, including this rad hexagon shelf made from popsicle sticks, modern art made from coffee stirrers and DIY floating box shelves you can make in 15 minutes!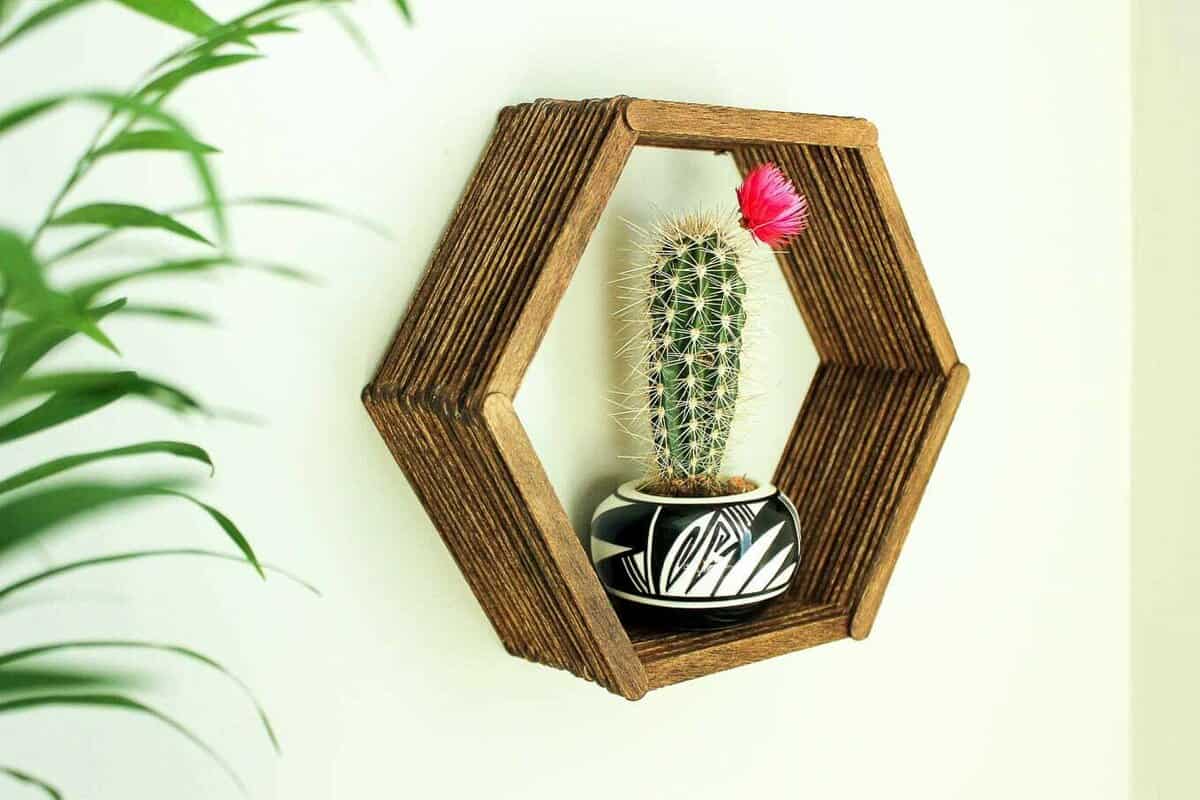 WANT THE SECRET STUFF?
Get instant access to my vault of exclusive FREE crochet patterns and craft templates.