The best craft supplies are free! Add some organic texture and charm to your Spring decor with a DIY bird's nest from found twigs and branches.  
I picture my cavewoman counterpart 10,000 years ago decorating her cave hearth with a simple, minimalist twig nest like this one.
Because it turns out, nest making is really fun! You get to go outside and play hunter gatherer to find twigs. You get to use your hands to gently coax the branches into place. And you get to DIY something really cool in about 15 minutes for very little money.
It's a thrifty basket-weaving caveperson's dream come true.
You can make a faux bird's nest any size really, from a little tiny guy for the mantle to a larger nest for a brunch centerpiece. Ours is currently occupying prime real estate on our dining room table, looking right at home.
For better or worse (depending on how much you like freeform crafting), this isn't one of those tutorials that I can show you exactly what your finished product is going to look like. So much of it depends on the sticks you find, the size of nest you make and the density of your "weaving." Just let your twigs "speak" to you. 🙂
So all you need to make your own decorative nest is some twigs or branches, some fine wire and scissors to snip both. I found that using green twigs worked better than those that had been dead for a while because they were far more pliable.
DIY BIRD'S NEST CRAFT SUPPLIES
• twigs (the greener the better)
• thin floral or craft wire (affiliate link)
• scissors
• water and a bucket to soak twigs
1. Put on your loincloth and head out into the wild to forage for sticks. Try to find twigs that are thin and still at least a little green.
2. If your twigs don't feel super bendable, soak them in water for a while to make them more pliable.
3. Wrap one stick into a curled circular shape and secure with a small piece of wire. This will be the bottom of your nest.
4. The technique I found most useful for assembling the rest of the nest is to wrap single branches into individual circles and secure them each with wire. I made circles that got gradually bigger in size so that I could stack them on top of one another to form a wide opening at the top of the nest. Leave some extra wire on each circle so that you can use it to twist around the other circles.
5. Once your circles are stacked and somewhat attached to each other, use additional wire to secure any areas that feel unstable.
6. Place it outside and invite a little feathered friend to make a home.
Just kidding! Later this week, I'll be sharing how to upgrade basic plastic Easter eggs to make these slightly more "grown up" eggs to decorate your nest. (UPDATE: Here's how to fancy-up your plastic eggs!)
Or you might like to whip up this sweet Easter bunny art/shelf/sculpture/new pet–entirely from popsicle sticks!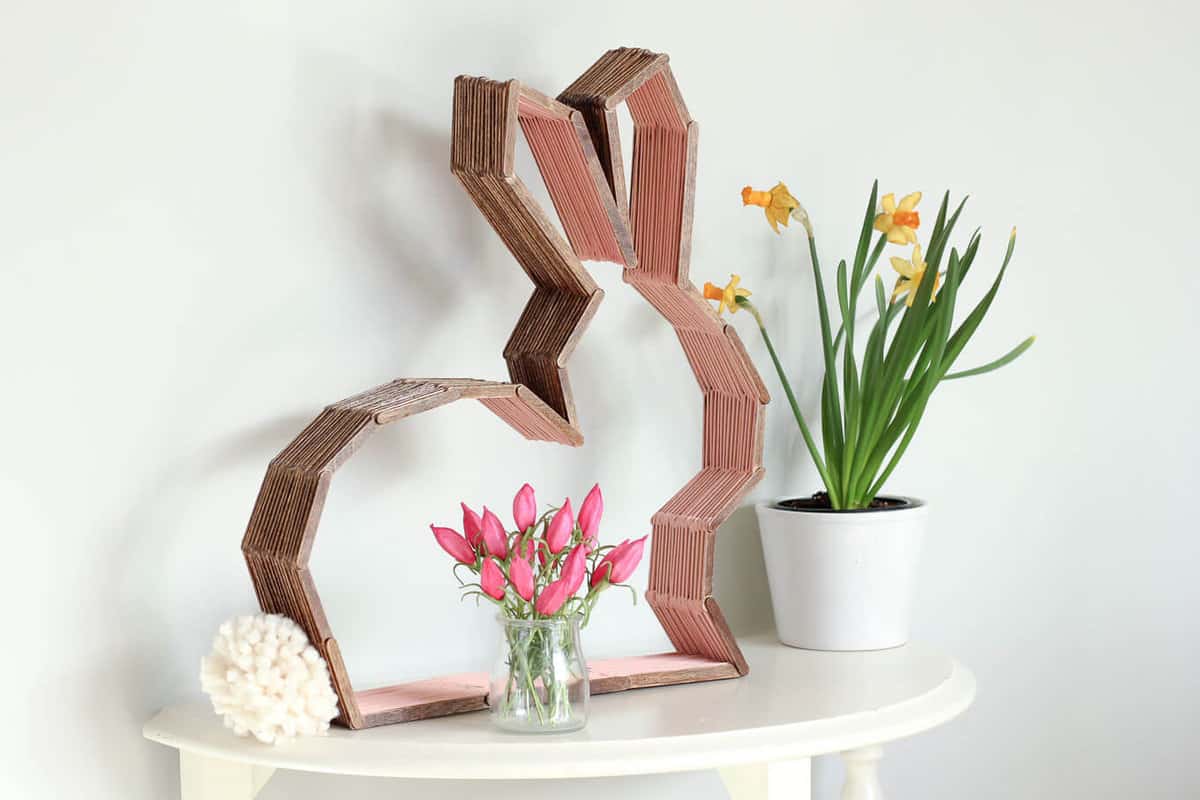 In the mean time, follow me on Pinterest where I'm pinning up a storm of Springtime and Easter craft ideas.
Visit Jess @ Make and Do Crew's profile on Pinterest.


WANT THE SECRET STUFF?
Get instant access to my vault of exclusive FREE crochet patterns and craft templates.