This post is sponsored by JORD Wood Watches.
Learn how to use a simple leather belt to update the "Suzette" easy crochet bag pattern for cooler weather.
  
I've been cleaning out my closet like a mad woman. Blame it on being almost four years into my career as a parent, yet no closer to ending a day without some kind of food wiped on me. Blame it on working from home with said food wipers alongside me. Blame it on that darn Konmari book.
Regardless, this fall, I've found myself wanting a few statement pieces that I can get a lot of milage out of. So when JORD Wood Watches offered to let me try out one of their women's watches, I jumped at the chance to pimp my wrist with an accessory I can wear every. single. day.
It's gold. It's real zebra wood. It tells me when I'm late. Which is always.
I absolutely love this watch! It encapsulates the same qualities I'm always aiming to capture in my crocheting–a bit of nature, a bit of glamour and a bit of function. My new watch also came with a bonus that I know as a crocheter you will appreciate–a wooden box that is perfect hold my stitch markers and scissors. No longer are they scattered across my living room windowsill, which means there's a lot more room there to pile my WIP crochet projects now.
JORD has been nice enough to offer one reader $75 toward your own wood watch. (I chose the Frankie!) Read on to learn how to enter the giveaway. They'll send you a $20 coupon just for entering!
The other fall accessory that has been getting a ton of mileage in my minimalist fall wardrobe is my "Suzette" bag. If you remember, I created this easy crochet bag pattern this summer as a super simple beginner project that doesn't scrimp on style. (I even made a video tutorial for this stitch if you're into that sort of thing!)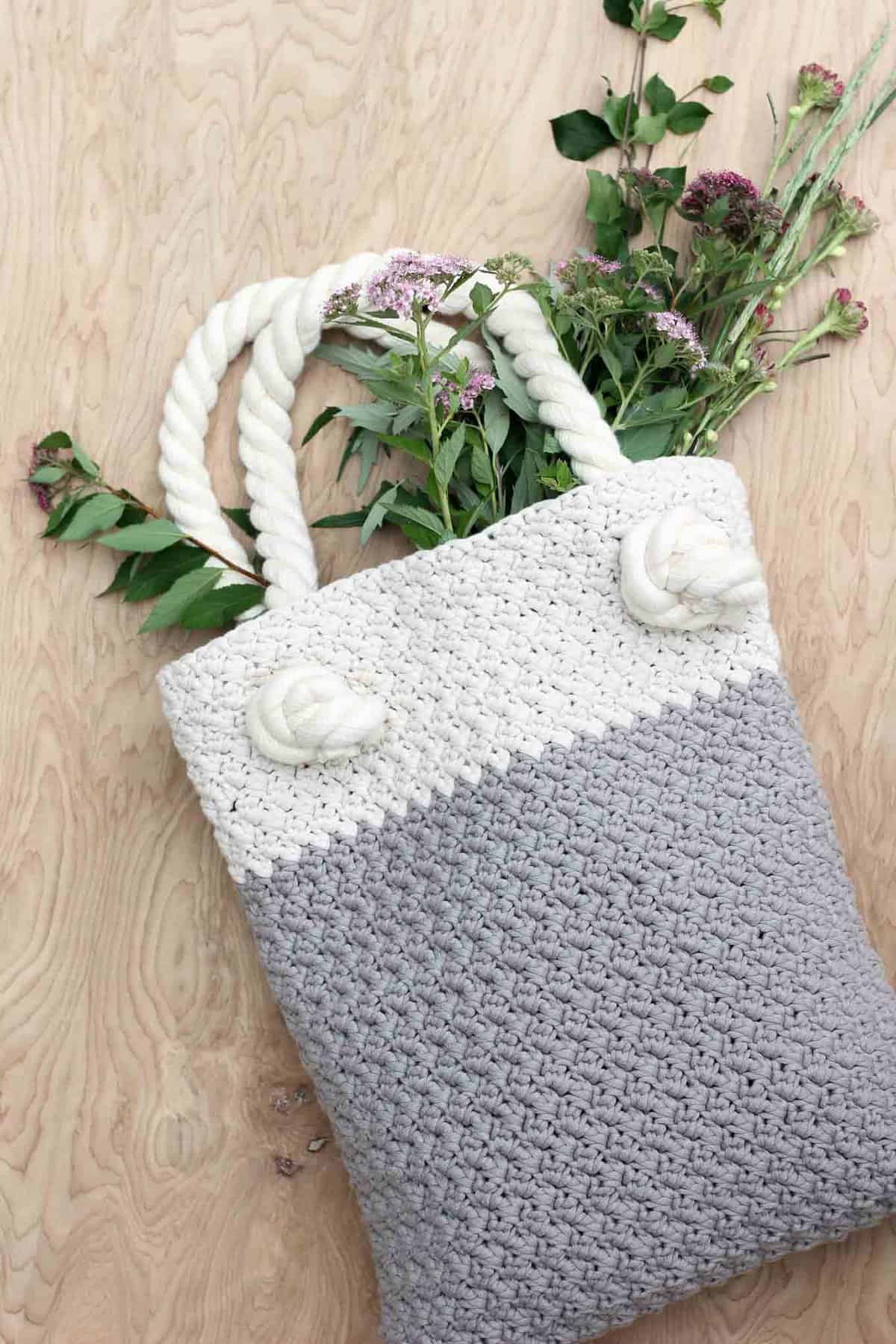 The rope handles in the original pattern added a nice, almost nautical touch to the textured bag. Well, it's October now and all the sail boats have been docked for the fall. So it's time to update this crochet bag pattern for the season of aspen leaves and apple cider.
And guys, this update could not be easier. Here's what you do.
Visit a local thrift store and find a thin-ish leather belt.
Weave it through the button holes of your "Suzette" bag and buckle it.
Buy yourself a pumpkin spice latte, hot stuff!
Between my updated "Suzette" bag and my fancy wood watch, I can actually look pretty put together some days. That is, until someone wipes food on me…
If you'd like to enter to win $75 toward your own super cool watch, you can enter here. Even if you don't win the grand prize, JORD will send you a $20 coupon to use toward your newest fall accessory. This contest is open until Oct 16, 2016.
WANT MORE FREE PATTERNS?
Get exclusive free crochet patterns, DIY inspiration and project templates that'll knock your handmade socks off!