This quick video tutorial covers how to work a "braided" crochet stitch that looks like knitting! This stitch is quite simple and perfect for confident beginners. It's also what's used in the free Braided Boho Poncho crochet pattern!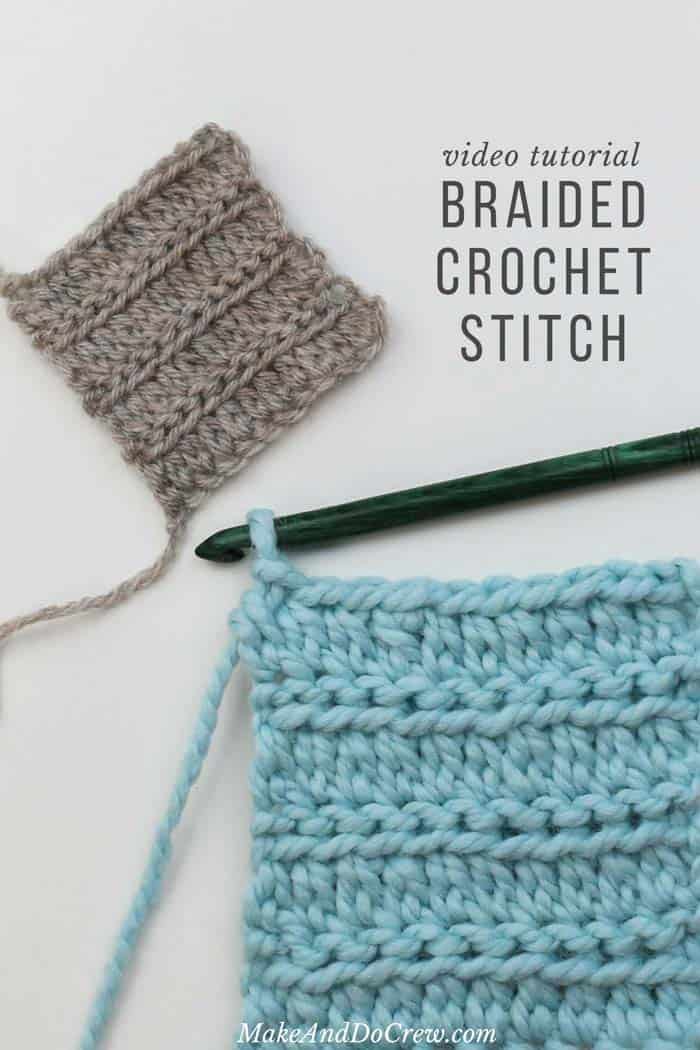 This braided crochet stitch video tutorial is part of an ongoing collaboration with Lion Brand Yarn. This post contains affiliate links.
As shared work in progress shots of the free Braided Boho Poncho pattern on Instagram, I got a lot of questions about the stitch I was using. This little combo is actually something I came up with one day when I was sitting on an airplane trying to find a crochet stitch that looked like knitting. I think this simple stitch accomplishes that "knit" look, while remaining very easy to work.

What exactly is this braided crochet stitch?
I don't think I've ever seen this combination of stitches in any "official" capacity, so I've called it the "Braided Extended Half Double Crochet" stitch. If you have seen it before and know it has a different name though, please let me know in the comments!
Just as it sounds, knit looking crochet stitch a super simple combination of extended half double crochet and slip stitches. Never worked an extended half double crochet before? Don't worry! I cover exactly how to do it in the How To Work a Braided Crochet Stitch video tutorial below. Scroll right below the video for the step-by-step written instructions and photo tutorial.
I think this braided crochet stitch would be beautiful worked in a scarf, blanket or sweater. (And if you love finding new crochet stitches, this list of 25 Crochet Stitches for Blankets and Afghans and this list of 20 Multi-Color Crochet Stitches will give you a ton of inspiration.)

More Crochet Stitches That Look Like Knitting
To learn more about making crochet look like knitting, you'll definitely want to check out this collection of 15 free crochet patterns that look knit, which includes hats, sweaters, mittens and lots more. I love how versatile yarn is! Isn't it amazing the things you can do with it?
You can also find all my free crochet video tutorials here!
Braided Crochet Stitch Video Tutorial
Yarn used in this video tutorial:
• Lion Brand Wool-Ease Thick & Quick in the color Glacier. Purchase it here!
Links referenced in the video:
• Braided Boho Poncho free crochet pattern (sizes S-3X)
Braided Crochet Stitch Step-By-Step Written Instructions
Abbreviation (US Terms)
ch - chain
hdc - half double crochet
ehdc - extended half double crochet
sl st - slip stitch
Notes:
• See photos below for exact hook placement.
Foundation Row: Ch any multiple of stitches.
Row 1 (RS): Sk first 3 ch, ehdc in each ch to end of row; turn.
Row 2 (WS): Ch 1, loosely sl st through the middle loop only of each hdc; turn.
Row 3 (RS): Ch 3, ehdc in front loop of each sl st; turn.
Repeat Rows 2 and 3 for pattern.
Here's a quick photo tutorial on the extended half double crochet stitch (ehdc) in case you aren't a big video watcher.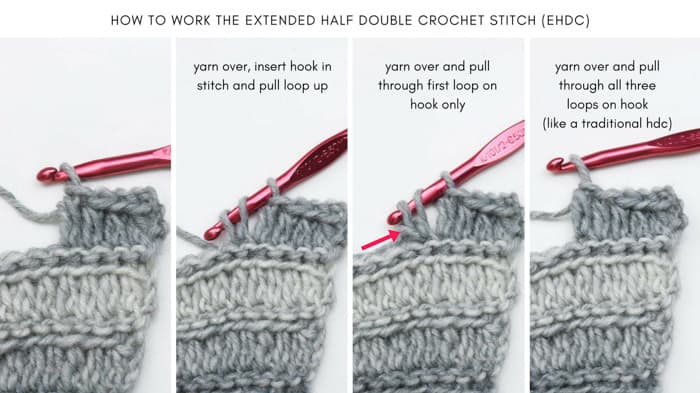 Now that you've mastered this "braided" knit-looking crochet stitch, you might like to learn from these other crochet video tutorials. (You can also find all my crochet stitch tutorials here!)
1. The Dwell Sweater - free crochet pattern made from a rectangle + video tutorial
2. The Habitat Cardigan - free draped crochet sweater pattern + video tutorial
3. The Revival Scarf - free bead stitch triangle scarf + video tutorial
4. Cabin Boots with Flip Flop Soles - free crochet slipper/boot pattern + video tutorial