Use up some stash yarn to make this meditative crochet scrap blanket pattern. Join us as we crochet together over the coming weeks or or purchase the pattern PDF in its entirety on LoveCrafts or on Etsy to work at your own pace.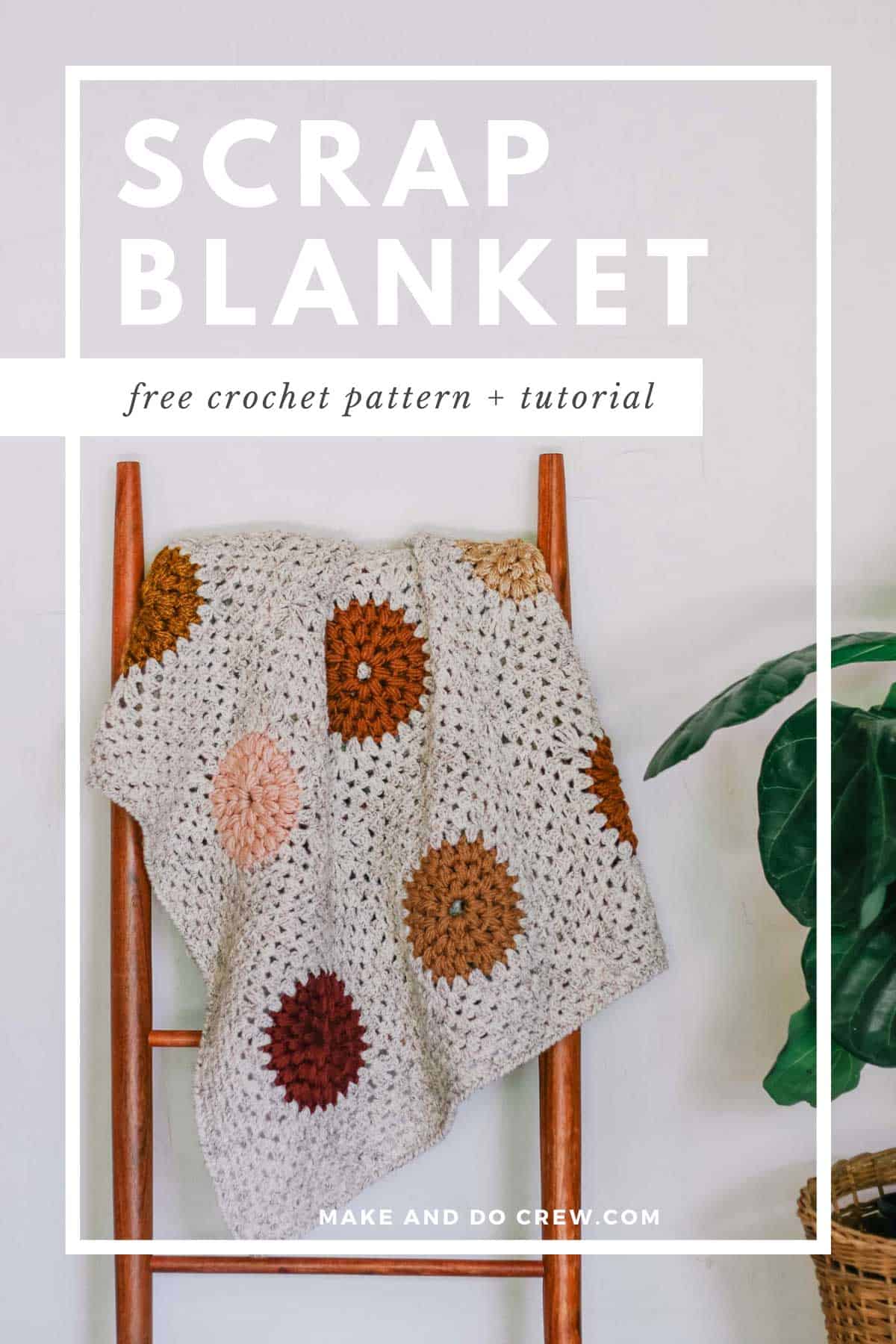 This free crochet scrap blanket pattern is part of a collaboration with Lion Brand Yarns. This post contains affiliate links.
This Crochet Scrap Blanket Pattern In a Nutshell
We'll bring together scrap yarns of different weights to create a blanket your eyes can't help but dance across. Each square is worked individually, making this a perfect meditative project when you're on the go.
A continuous crochet joining technique brings everything together seamlessly so you're left with fewer ends to weave in and a blanket made with zero sewing!
Keep reading to learn more about this scrap blanket pattern and how to join our Casual Crochet Along!
If you're already in the know, here are the quick links to the free pattern:
Free Pattern - Part 1 // Puff Stitch Circle Video Tutorial
Free Pattern - Part 2 // Granny Square Video Tutorial
Free Pattern - Part 3 // Join As You Go Video Tutorial
Free Pattern - Part 4 // Tutorial included in free pattern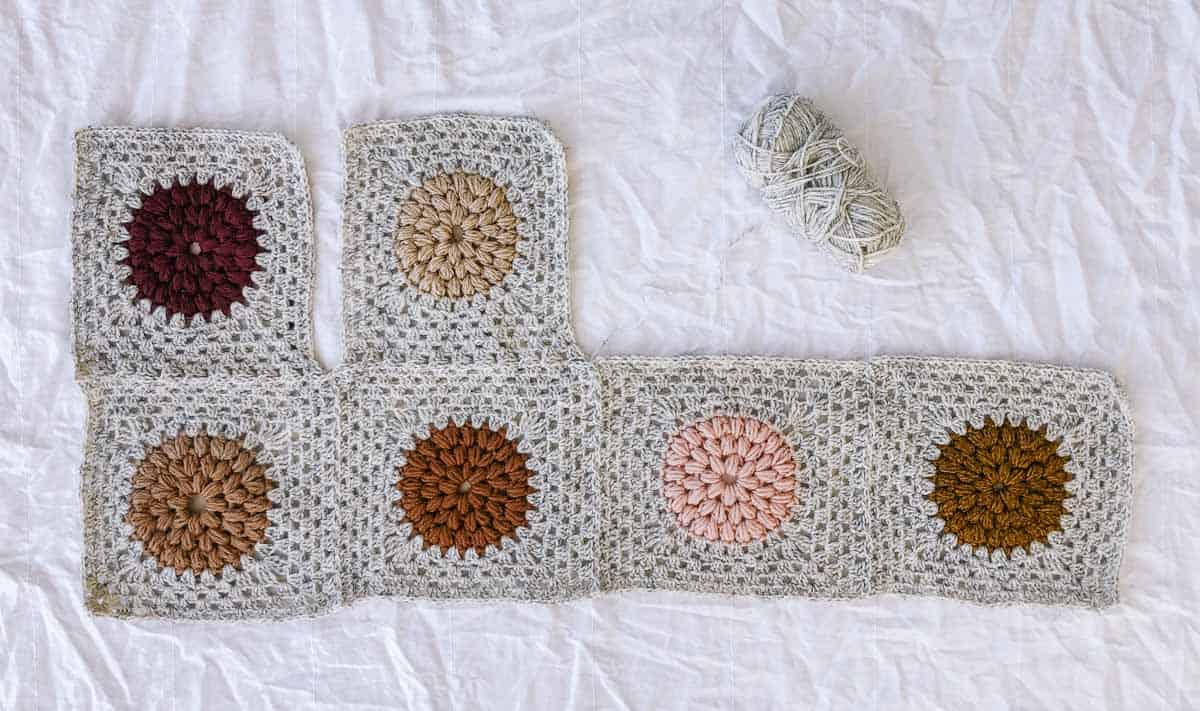 Crochet Yourself a Brain Break
With everything going on in the world right now, I've found myself really struggling to work on any even slightly complicated crochet projects. Without a safe place to land mentally most days, I find that my hands crave something rhythmic and straightforward more than ever.
It was after struggling to make headway on any of my current crochet sweater designs that I decided to design the exact thing I wanted to make. I knew it needed to:
• Require very little counting, shaping or general "keeping track"-ing
• Require no seaming or tedious putting together
• Use yarn that was easy for us all to get our hands on
And from that, the Dahlia Scrapgan was born!
Why You'll Love this Pattern
SHOP YOUR STASH FIRST: So many of us are under financial strain right now or at the least, struggling to find stores that are open and safe to visit. This crochet scrap blanket pattern can be made by combing any number of different weights of yarn, which means you likely have some yarn that'll work already in your stash.
LEARN SOMETHING NEW: Each step of the pattern includes a very managable crochet skill to master. From puff stitch circles to working a continuous join (without seaming!) to a crab stitch border, you'll have plenty of chances to pick up a new skill or two. The pattern will include photo and video tutorials to help you out along the way.
FEEL A SENSE OF ACCOMPLISHMENT: Because this scrap blanket pattern is broken down into smaller parts, you'll get to enjoy the satisfaction of finishing something several times throughout the project. (Anyone who's home with kids right now knows that finishing anything these days--from an email to a load of laundry--is quite a luxury!)
Scrap Yarn Stash Buster
Many of us have stashes filled with half used skeins of yarn. Too big to throw away, but too small to make a whole project. Can ya relate?
I designed the Dahlia Scrapgan with that exact problem in mind. The circles in the center of each square can be made with ANY worsted weight (category 4), bulky weight (category 5) yarn or even a DK or light worsted (category 3) yarn. (If you're totally new to the idea of yarn weights, the Craft Yarn Council has a good resource explaining them.)
Related: 33+ Crochet Border Patterns for Blankets
What Yarn You'll Need For the Circles
The reason you can use such a variety of yarn weights in this scrap yarn pattern is because you'll hold a different number of strands together depending on their thickness. In Part 1 of the pattern, you can make the puff stitch circles from any of the following:
• 1 strand of bulky weight yarn (category 5)
• 2 strands of worsted weight yarn (category 4)
• 3 strands of dk weight yarn (category 3) to create puff stitch circles.
This means you can use up scrap yarn in different weights for each individual circle. As long as the finished circles measure the same distance across, your squares will work out beautifully.
In the sample, I used six accent colors, but feel free to experiment with using more variety or even one solid color for all the circles. You can grab a kit from Lion Brand that includes all the yarn you'll need + a printable copy of the pattern here.
Purchase a kit with all the yarn you'll need + the pattern ⇨
I used a mix of worsted bulky weight yarn from Lion Brand:
Lion Brand Basic Stitch Anti Pilling (Weight: 4/worsted - 185 yds, 3.5 oz)
- Pomegranate (202-138)
- Gold Heather (202-401)
Lion Brand Basic Stitch Premium (Weight: 4/worsted - 219 yds, 3.5 oz)
- Gold Mine (201-126)
Lion Brand Color Made Easy (Weight: 5/bulky - 247 yds, 7 oz)
- Millennial (195-184)
- Kombucha (195-126)
Lion Brand Heartland (Weight: 4/worsted weight - 251 yds, 5 oz)
- Great Sand Dunes (136-123)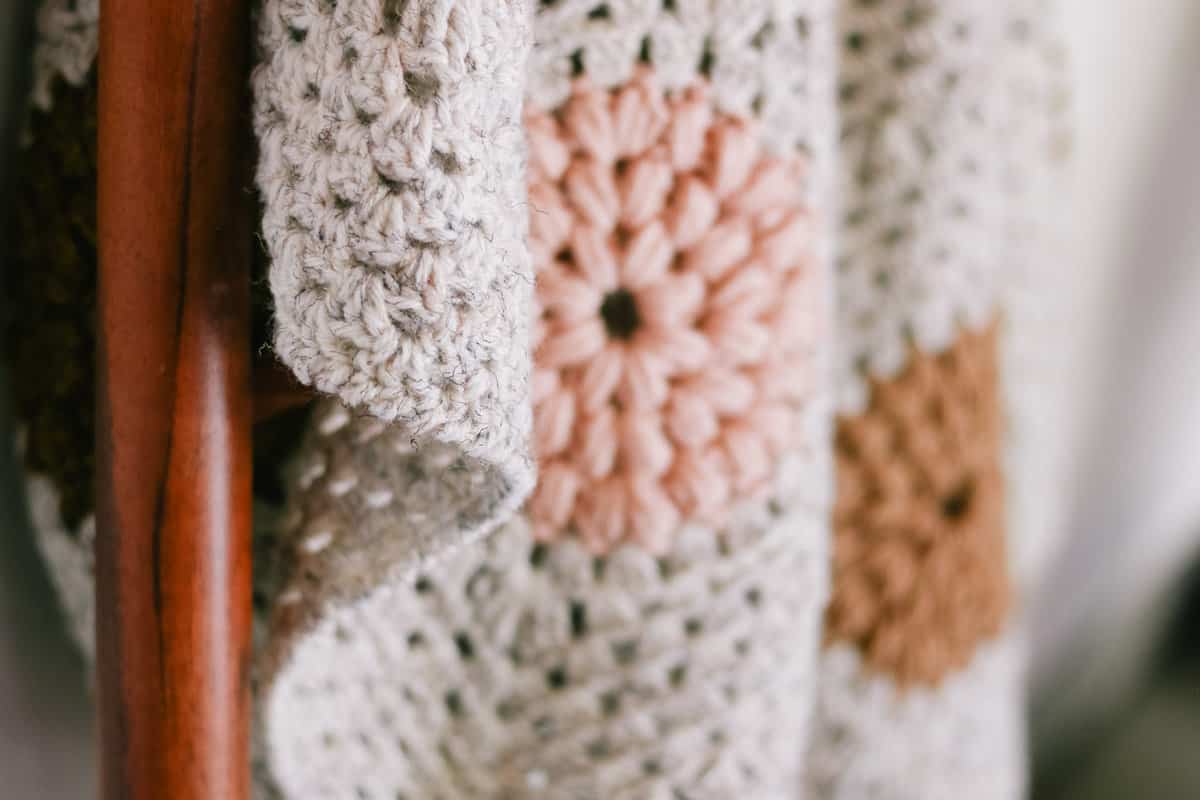 What Yarn You'll Need For the Background
Regardless of what yarn you use for your puff stitch circles, the background of this crochet scrap blanket is made with worsted weight yarn. You'll need about 850 grams of whichever yarn you choose. I used Lion Brand Wool-Ease in the sample in the color Wheat. I love the natural, heathered look of this yarn.
TIP: If you'd like to make a blanket size not listed below, you can plan on each square requiring about 28g of main color yarn and 23g for each puff circle. This does not include the yarn needed for the seamless join or the border. (I love using my inexpensive digital kitchen scale for measuring yarn amounts.)
| | | | |
| --- | --- | --- | --- |
| | Measurements (inches) | Background yarn required (g) | Accent color yarn required (g) |
| Baby | 44 x 44 | 750 | 385 |
| Throw | 44 x 53 | 850 | 500 |
| Twin Bedspread | 60 x 90 | 2300 | 1300 |
click to pin this pattern for later ⇨
So What's a Casual Crochet Along?
Honestly, it's whatever we want it to be! Typically a crochet along is a virtual community activity where crocheters all join in on making a certain pattern at the same time (usually from home). We're calling this a casual crochet along because ain't nobody need more stress right now.
Work at your own pace. Enjoy the journey. And don't worry for a second if you don't "keep up" with the of the crochet along real time.
How It Works
Shop your stash, order a kit or do a curbside pickup yarn order based on the yarn specs listed above. You'll also need a size M (9.0mm) and a size J (6.0mm) hook.
Similar to the popular Revival Cardigan crochet along we did a couple months ago, this pattern will be broken into four manageable sections. You'll watch your scrap yarn blanket come together with zero seaming and hopefully learn some new techniques along the way.
I'll share the first section of the free pattern each Thursday for four weeks. Look for the next stage of the free pattern right here on MakeAndDoCrew.com.
Get Part 1 of the free pattern here.
If at any point you want to move ahead in the pattern or if you'd like to get started immediatly, you can find the complete pattern right this very second in the ad-free PDF. Not only is the PDF easy to read with large type and clear tutorial photos, it's also formatted for printing and perfect for crocheting on the couch. Purchase the ad-free, printable PDF on LoveCrafts here and on Etsy here.
Be sure you're subscribed to M&DC emails so I can let you know when each stage of the free pattern is live.
I'm In! What's Next?
Amazing! I'm so excited to have you joining us on this low-key pursuit of #crochetastherapy. Here's what you can do right now:
Purchase the ad-free PDF HERE: This option works well if you'd like to get started right away, if you want the entire pattern in one place or if you prefer printing your patterns.
OR
Gather your supplies and wait for Part 1 of the Dahlia Scrapgan to be released next week. This option works well if you don't mind reading the pattern from a screen, if you budget is tight or if you like having something to look forward to on Thursdays. 😉

Order a kit. If you don't have stash yarn you'd like to use, order the kit from Lion Brand that includes all the yarn you'll need, plus a printable copy of the full pattern. Get the kit here.

Join our Crochet Crew Facebook group HERE for help and camaraderie through the CAL.

Use the hashtag #dahliascrapgan when you share your progress on Instagram so that we can all admire it too. (Not following along with M&DC on Instagram yet? You can do so right here!)