Whether you're new to crocheting or just need a project that works up quickly, this free crochet hat pattern for beginners is astonishingly easy. If you can crochet a rectangle, you can make this simple unisex beanie pattern! Get the full free pattern and video tutorial below or purchase the ad-free, printable PDF here.
This easy crochet hat pattern + tutorial contains affiliate links.
UPDATE: I've updated this pattern to include another yarn option and extended sizes (preschool, child and unisex adult). You can find that version here!
And if you love easy crochet hats, don't miss The Easiest Crochet Hat Ever pattern and video tutorial here. Crocheting a hat usually requires a decent amount of counting while increasing or decreasing to get a nice tapered shape. Not this time! With this innovative approach, you'll lean on the most basic crochet stitches to create a beautifully classic ribbed beanie. (Sizes preemie - adult)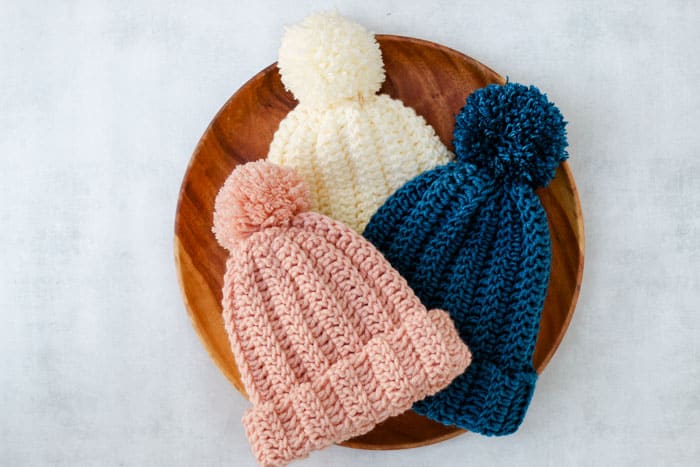 A Quick Palate Cleanser Crochet Project
Sometimes we want to sink our teeth into a nice beefy sweater pattern.
But other times it's December 23rd and we realize we only have one thing for our dad/sister/grandma/mom to open on Christmas morning and like 12 things for everyone else.
Enter the one and half hour crochet beanie.
And when I say an hour and a half, I mean start to finish, including the time it takes to find the remote and cue up a movie on Netflix. This free crochet hat pattern for beginners is as fast as it is easy. (See all our free crochet hat patterns here!)
A Crochet Beanie That Looks Knit
I've been really into crochet that looks like knit recently. (If you are too, you'll love this collection of 15 free crochet patterns that knit and this "knit" stitch crochet video tutorial.) So when I set out to design this super speedy beanie pattern, I decided to give it a ribbed look that resembles the vibe of a classic knit cap. This is the crochet beanie I'd want if I were going ice fishing in Minnesota followed by dinner at my favorite ironic hipster hot dog stand.
Pin it! click to pin this pattern for later ⇨
How to Modify this Pattern
The style of this free beginner crochet hat pattern is perfectly versatile for men and women. Want a little more slouch? Add a few chains at the beginning. Want to make it pint-size for your favorite kiddo? I've added preschool and child sizes here. (You can find all our other free patterns for babies and children here.)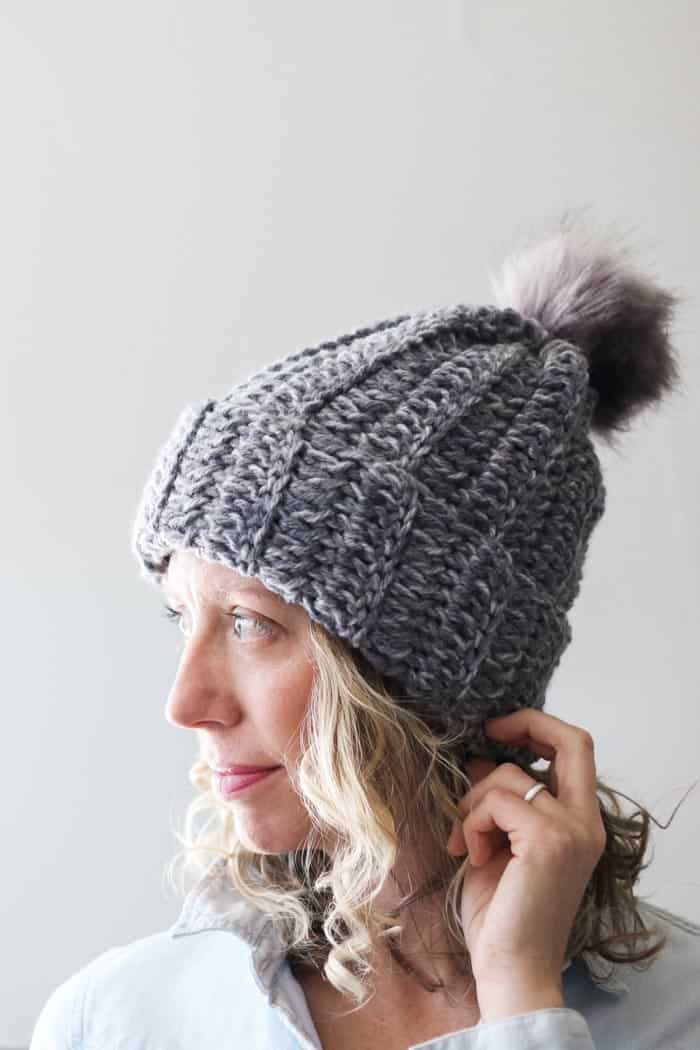 Because this beanie is so fast and simple, I think it would make a perfect crochet hat pattern for charity. (If you're a charitably-minded soul, you might enjoy this free hooded blanket pattern as well.)
How to Substitute Yarn
And if you'd like to swap out the yarn to use something in your stash, just work a gauge swatch to determine how to make a rectangle with the same dimensions as the one in the pattern. I suspect two strands of worsted weight yarn held together might help you achieve a similar gauge to this Lion Brand Wool Ease Tonal yarn.
Thanks to LoveCrochet.com for providing the yarn and fur pom pom for this free crochet hat pattern for beginners.
Watch a full step-by-step video tutorial of this beginner crochet hat below and scroll down a bit more for the free pattern!
More Free Crochet Hat Patterns
If you loved this pattern, here are some more modern crochet hat patterns to try out!
1. Unity Crochet Plaid Hat // 2. Crochet Bunny Hat // 3. Santa's Helper Crochet Elf Hat // 4. Everywhere Knit-Look Beanie
Step-By-Step Video Tutorial
If you're totally new to hat making or maybe just more of a visual learner, I hope the video tutorial below will make learning how to crochet this hat quite effortless.
And once you complete this hat, you'll definitely want to check out the free Easiest Crochet Hat Ever pattern and video tutorial. It uses equally simple techniques to create a classically tapered hat and it's written in seven sizes (preemie, baby, toddler, child, tween, women and men)!
---
1.5 Hour Easy Crochet Beanie
Free Pattern + Tutorial
Purchase the ad-free, printable PDF on Etsy here or on LoveCrafts here.
Add this pattern to your Ravelry account here.
Pin it for later here.
View the step-by-step video tutorial above.
UPDATE: I've updated this pattern to include another yarn option and extended sizes (preschool, child and unisex adult). You can find that version here!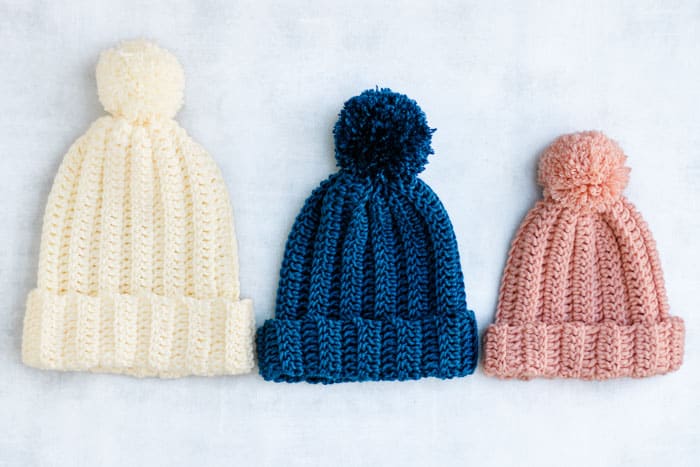 Explanation:
Need a last minute gift? Just learned how to crochet? Snowstorm blowing in? Whatever your situation, this extremely easy crochet beanie's got you covered. It's worked flat in a rectangle and then seamed to form a hat, making it a super speedy, mindless project to whip up in less time than it takes to watch a movie.
Supplies:
• Lion Brand Wool-Ease Tonal (Weight: 5/ bulky - 124 yds, 4 oz) – 2 skeins
- Colors pictured: Smoke (635-149) and Slate Blue (635-107)
• Tapestry needle
• Size L (8 mm) crochet hook
• Stitch markers or safety pins
• Fur pom pom or pom pom maker/small piece of cardboard
Sizes:
S: Young teen (approx. 18" circumference, unstretched
M: Most women and men (approx. 20" circumference unstretched)
L: Larger heads (approx. 22" circumference unstretched)

Gauge:
10 stitches = 4"
just over 4 rows = 4"
Abbreviations and Glossary (US Terms):
ch – chain
dcblo – double crochet through the back loop only
tch – turning chain
st – stitch
sk - skip
RS – right side
WS – wrong side
rep – repeat
Overall Pattern Notes:
• Pattern is written in size S with M and L written in parenthesis. S (M/L)
BEANIE
Notes:
• Hat is worked back and forth in rows. These rows will become the vertical ribs on the beanie.

• The ch 3 at the beginning of each row doesn't count as a st.

• To adjust this crochet hat pattern to fit a child, chain fewer stitches at the beginning and work fewer total.

• After Row 1, the double crochet stitches are worked only under the back loop of the stitch from the previous row. This is always the loop farthest away from you, regardless of which side of the crocheting is facing you.
Foundation Row: Ch 37.
Row 1: 1 dc in the fourth ch from the hook and each ch to end of row; turn. (34)
Row 2: Ch 3, dcblo in each dc to end of row; turn. (34)
Rep Row 2 16 (18, 20) more times to create a total of 18 (20,22) rows.
Fasten off, leaving a 24" tail.
Rectangle dimensions should be approximately:
S: 18" x 14.5"
M: 20" x 14.5"
L: 22" x 14.5"

SEAMING RECTANGLE
Notes:
• To determine the RS and WS of your fabric: If you're right handed, the tail of your final row should be on the bottom left when the WS is facing. If you're left handed, the tail of your final row should be on the top left with the WS is facing. (See photo above for reference.)

• To best disguise the join, seam is worked only through the chain stitches and the loop of each dc st that is closest to the seam.
Lay rectangle horizontally with WS facing up. Use stitch markers or safety pins to pin seam if desired.
Thread tapestry needle with tail from fastening off. Work from the top of dc st into top of corresponding ch. Then work from bottom of next ch into the bottom of the next corresponding dc. Continue like this through the top of one dc to the top of one ch and then through the bottom of one ch and the bottom of one dc. Repeat until end of seam.
Tie a simple sewing knot by inserting needle in crochet fabric to create a loop of yarn, then inserting needle through loop of yarn and pulling tight. This will prevent seam from puckering in next step. Do not trim yarn.
More Free Crochet Patterns You'll Love
We've got lots more free crochet patterns and video tutorials where this came from. Check out our blanket patterns, patterns to make for babies, easy sweaters, Tunisian crochet patterns or corner-to-corner crochet patterns.
And you can always find all our free crochet patterns here!
CLOSING TOP
Using tapestry needle and strand of yarn leftover from previous seam, whip stitch around the top of the hat, working one whip stitch into each row. Tighten circle as much as possible and use tapestry needle to sew up any remaining opening in top of hat.
ATTACHING POM POM
Create a pom pom with a large pom pom maker or 2.5" piece of cardboard. See a step-by-step pom pom tutorial here.
Use tail leftover from seam to sew fur or yarn pom pom to hat.
Fasten off and weave in any remaining ends.
Pop your new crochet hat on your head and get to work on making one for everyone you know!
I love to see your finished projects! Use #MakeAndDoCrew and tag me Instagram (@MakeAndDoCrew) to show off your stitches and have a chance to be featured.
More Cozy Crochet Patterns to Stay Warm
Now that you've whipped up an entire beanie in an hour and a half, you might be interested in these other free crochet patterns from Make & Do Crew.
1. Brunch Hexagon Crochet Cardigan - This incredibly comfortable crochet cardigan sweater is simpler than it looks. Made from two basic hexagons, you'll love watching your new favorite cardigan take shape!
2. Haven Bobble Crochet Cardigan - With a super easy construction based on a rectangle, this free crochet sweater pattern is playful, fast and perfect for beginner to advanced crocheters. Video tutorial included!
3. Dwell Chunky Crochet Cardigan - Creatively constructed from a simple rectangle, this flattering chunky crochet sweater comes together easily with zero shaping, increasing or decreasing. Detailed video tutorial included!
4. Alpine Crochet Poncho - This stylish crochet poncho with sleeves is very easy because it's made from five simple rectangles. Step-by-step video tutorial included!