The Everywhere Beanie may look knit, but it's not! This free crochet hat pattern that looks knit uses only single crochet stitches to create a modern, double-brimmed beanie that's perfect for gift giving. Get the free pattern with women's and men's sizing below or purchase the ad-free, printable PDF here.
UPDATE: I've create a video tutorial with simple tips on working the Knit (Waistcoat) stitch used in this hat pattern. You can find that tutorial here.
Can we agree that last year was the year of the bun beanie? Holy ponytails. Those topless hats sure struck a cord. (You can see my take on this style with my free Faux-Cabled Bun Beanie pattern.)
This year, I feel like there may be a new, quieter trend happening with the knit double brimmed beanie. I see these classic knit hats all over Etsy and Instagram and in every outdoorsy-clothes-for-people-who-work-mostly-at-the-computer catalog we get in the mail.
Double-brimmed hats are timeless. They keep your ears warm. And in the case of this free crochet hat pattern for beginners, they're suuuuuper easy.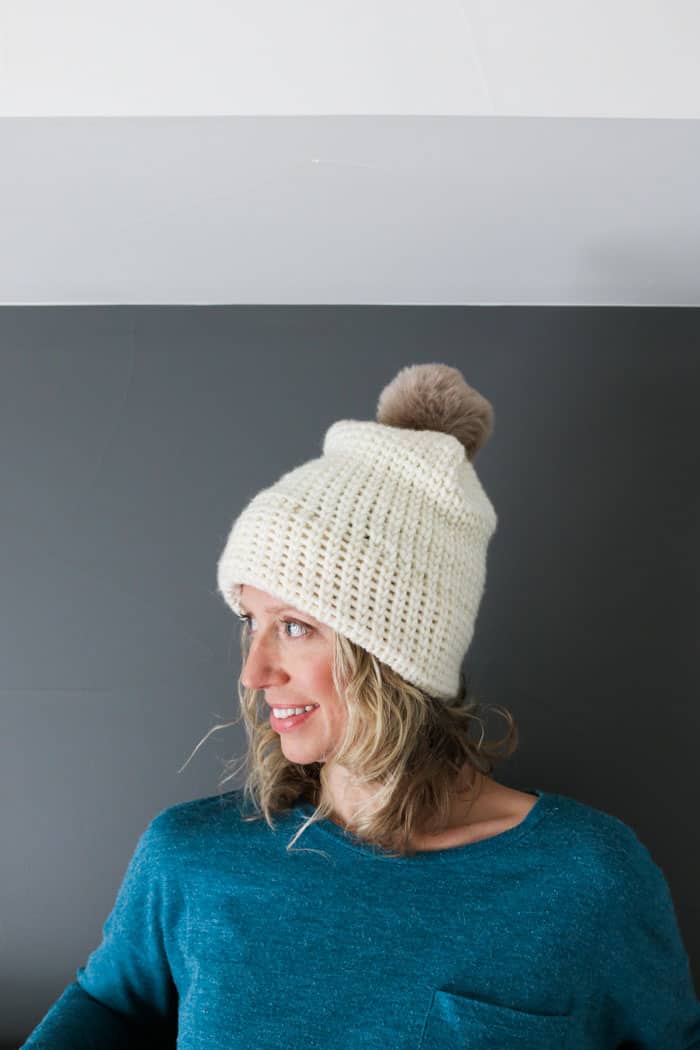 While I've seen a lot of these double brimmed hats made with knitting, I hadn't come across very many crochet versions. So a couple weeks ago when I was working on the free Morning Mittens pattern using the knit-looking waistcoat crochet stitch, I suspected it might be great for a crochet version of the classic double-brimmed beanie I was seeing everywhere.
For this crochet hat pattern for beginners, the waistcoat stitch (also known as the center post single crochet stitch) proved to be the perfect very simple way to achieve a knit-look with crochet stitches. The only skills you need to make this beginner beanie pattern are single crochet and single crocheting two stitches together (decrease). If you've never worked the waistcoat stitch before, it could be useful to read through the mittens post quickly to catch yourself up on some tips I learned while practicing it myself.
This beginner hat pattern uses Woolspun yarn, which is one of my favorites from Lion Brand. It's soft, slightly chunky and creates beautiful stitch definition. I've used Woolspun in many free patterns including the Hygge Holiday Throw, the Cocoon Cardigan and the Faux-Cabled Bun Beanie (pictured below.)
Do not re-publish this pattern as your own. You may make items to sell with this pattern. In exchange, credit Make & Do Crew as the designer and link back to this post. Do NOT use my photos as your own sales photos. ­­You can read my policies here. Now let's make something awesome!
Related: 35+ Cozy Chunky Hats to Crochet
Waistcoat Crochet Stitch Video Tutorial
The Everyday Beanie uses the Waistcoat stitch, which is a simple variation on single crochet that results in a knit-looking fabric. Here's a video on how to work the stitch with some extra helpful tips I learned along the way. Check it out and then dive into the free beanie pattern below!
The Everyday Beanie
Free Crochet Hat Pattern for Beginners
Purchase the ad-free, printable PDF here.
Add this pattern to your Ravelry favorites here.
Pin it for later here.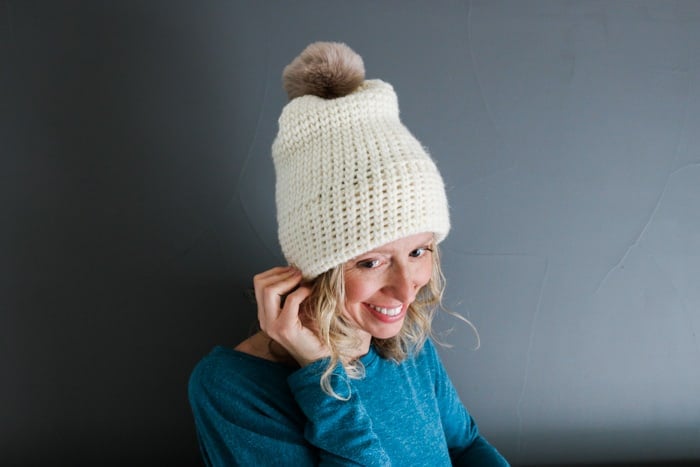 Explanation:
Bad hair day? Beginner crocheter? No need to worry here! This super simple crochet beanie pattern uses single crochet stitches to achieve the smooth, clean look of knitting. The folded over double brim makes this basic hat feel modern and on trend, while keeping your ears extra toasty. Even if you've never made a hat before, this pattern can become your go-to for quick gifts for women and men alike. Top off your knit-looking crochet beanie with a pom pom of your choosing—you'll be done in no time!
Supplies:
So you can spend more time making mittens and less time shopping, this pattern contains affiliate links at no extra cost to you.
• Lion's Pride Woolspun (Weight: 5/Bulky - 127 yds, 3.5 oz)
- Color: Fisherman (2 skeins)
• Tapestry needle
• Size M (9 mm) crochet hook (to make smaller size)
• Size N (10 mm) crochet hook (to make larger size)
• Stitch markers or safety pins
• Pom pom maker, toilet paper tube or fur pom pom
Abbreviations (US Terms):
ch – chain
sc – single crochet
sc2tog – single crochet two together
sl st – slip stitch
st(s) – stitch(s)
post – the vertical strands of yarn in a sc stitch (see photos below)
RS – right side
WS – wrong side
Sizing:
Pattern is identical for the small and large sizes. Sizing is based on hook size used.
Small: appropriate for most women, snug fit
Large*: appropriate for most men, snug fit
If you like your hats looser/larger, size up one hook size*.
*while two skeins of Woolspun yarn will provide plenty of yardage to complete the hat, you may need additional yarn to make a large pom pom, if desired.
Gauge:
Size S: 8 sc x 11.5 rows = 4"
Size L: 7 sc x 11 rows = 4"
Overall Pattern Notes:
• The pattern is written for one size. Follow notes within for appropriate hook size to make either S or L beanie
• Hat is worked in the round, using the spiral method. Do not ch 1 at the beginning of each round.
• Round 2 and beyond are worked into the middle of each sc stitch rather than the top loops. See photo below for hook placement. Besides inserting your hook in a slightly different location, you will still be working regular sc stitches.
• Take care to keep stitches loose so that it's easier to insert hook as described in the photo below. As you work each sc, it's helpful to raise your hook a bit after picking up your second loop so as to ensure the two posts remain loose enough for next round.
• Find a full video tutorial on how to crochet the waistcoat stitch (aka the knit stitch) used in this hat pattern here.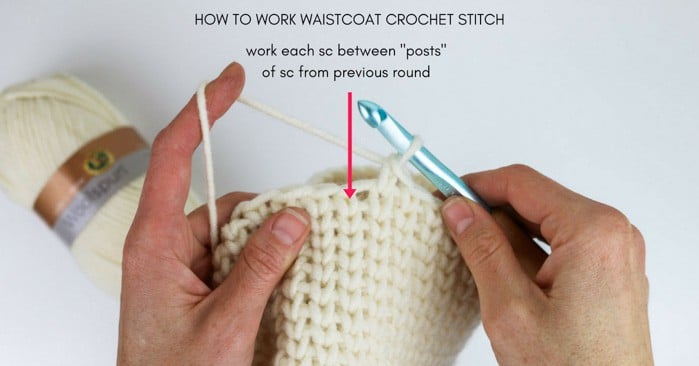 BEANIE
Notes:
• See photo below for hook placement in sc2tog stitches.
Size small: Use size M hook.
Size large: Use size N hook.
Foundation: Leaving a 35" tail at the beginning of the chain, ch 42, sl st to first ch to create a circle. (Tail will be used later for seaming.)
Round 1 (RS): Sc in each ch; do not turn. (42)
Rounds 2 - 34: Sc in each sc. (42)
Size large: Repeat Round 2 once more.
Round 35: [sc in each of next 12 sc, sc2tog] 3 times. (39)
Round 36: [sc in each of next 11 sc, sc2tog] 3 times. (36)
Round 37: [sc in each of next 10 sc, sc2tog] 3 times. (33)
Round 38: [sc in each of next 9 sc, sc2tog] 3 times. (30)
Round 39: [sc in each of next 8 sc, sc2tog] 3 times, sl st in next 3 sc (working between posts, just as in previous sc sts). (27sc + 3 sl sts)
Fasten off, leaving 25" tail to close hat top.
Related: 27+ Free Crochet Beanie Patterns
CLOSING BEANIE TOP
Beanie top is closed using a technique commonly used in amigurimi where tapestry needle is worked through only the front loops of each single crochet stitch.
Thread tail from beanie top onto tapestry needle. Insert needle from inside of beanie, under front loop of first sc, out toward you. Repeat in each sc around taking care to always work from inside beanie to out. Do not tighten down as you go.
Once you return back to first sc stitch, gently cinch circle together until it closes as much as possible. Pom pom will cover any slight gap. Do NOT weave in remaining tail.
Here's a helpful tutorial with more details on this technique.
DOUBLING THE BRIM
Notes:
• The brim is seamed on outside of beanie for ease of working, but once finished, brim seam will be on inside of hat.
You may notice the rows of "knit" looking stitches in your beanie have a slight slant in the direction of your non-dominant hand. You can remedy this while seaming the beanie brim, but it takes a little more focus. (If you're not interested in straightening out the columns, just skip the step on aligning the stitches and move on to seaming the brim.)
Turn beanie inside out. Fold brim toward the outside until there is 3" of brim (about 9 rounds.)
Pin brim using stitch markers or safety pins. To straighten out the slanted rows, use your finger to trace a column of stitches from the beginning of the chain round to the st where the ch round will need to be sewed to secure the brim. Pin these two sts together, thereby aligning each column of stitches with itself.
With a tapestry needle and yarn tail from initial chain, whip stitch around brim. For cleanest look, work whip stitch around horizontal strands of yarn that run between each column of 'v' sts. (See photo below.) Fasten off and weave in tail. Turn hat back to RS is facing out.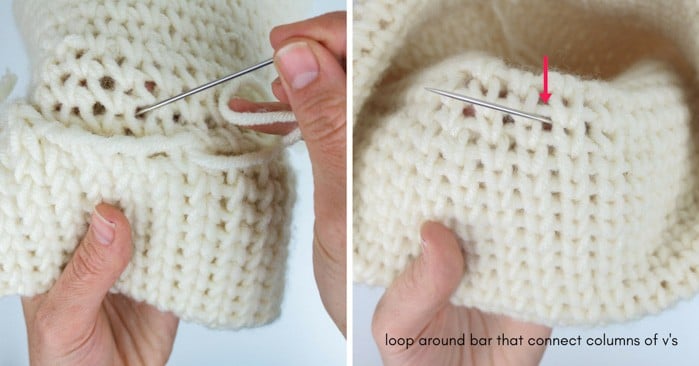 ATTACHING A POM POM
Use remaining yarn to create a pom pom or purchase a fur pom pom. Yarn pom pom pictured in sample was created with a 5" pom pom maker. (Here's a tutorial on how to make a pom pom with a toilet paper tube.)
Attach pom pom using a tapestry needle and remaining tail from closing beanie top.
Pull your new ode to handmade style over your chilly ears and get to work making a beanie for everyone you know!
I love to see your finished projects! Use #MakeAndDoCrew and tag me Instagram (@MakeAndDoCrew) to show off your stitches and have a chance to be featured.
Now that you're finished, here are a few more free crochet patterns you might enjoy:
1. Hygge Holiday Throw
2. Sunday Slippers
3. How to Dip Dye Wool with Food Coloring
4. Desert Winds Triangle Scarf