Jump to:
Coordinating Hat Pattern
Use your leftover yarn scraps to crochet an easy hat using the 1.5 Hour Ribbed Beanie Pattern. Because this pattern is made from a simple rectangle and also calls for chunky, category 5 yarn, you can use your scraps to make a one-of-a-kind hat.
Related: See all our crochet scarf and shawl patterns
Project Materials
Here are the supplies you'll need for this pattern.
Chunky yarn
Size 12.00mm crochet hook
Tapestry needle (aka a blunt-tipped crochet needle)
Measuring tape (optional)
Scissors
Best Yarn for Chunky Scarves
In my experience, you're very likely to love any project you make with Lion Brand Hue + Me. This chunky weight (category 5) yarn is available in a wide variety of colors that all work well together–perfect for a crochet color block scarf, right?!
You can't go wrong by grabbing any five colors of Hue + Me and getting started. If you'd like some color scheme inspiration, the yarn's co-creator, Two of Wands, offers a lot of helpful ideas in her color guide.
Substitutions
If you can't get your hands on Hue + Me yarn, check YarnSub.com for alternative ideas. Hue + Me is an acrylic blend that does contain some wool. If you're allergic to animal fibers, substituting another category 5 weight yarn will work well.
Similarly, you can likely hold two strands of worsted weight (category 4) yarn together and achieve a similar thickness to Hue + Me.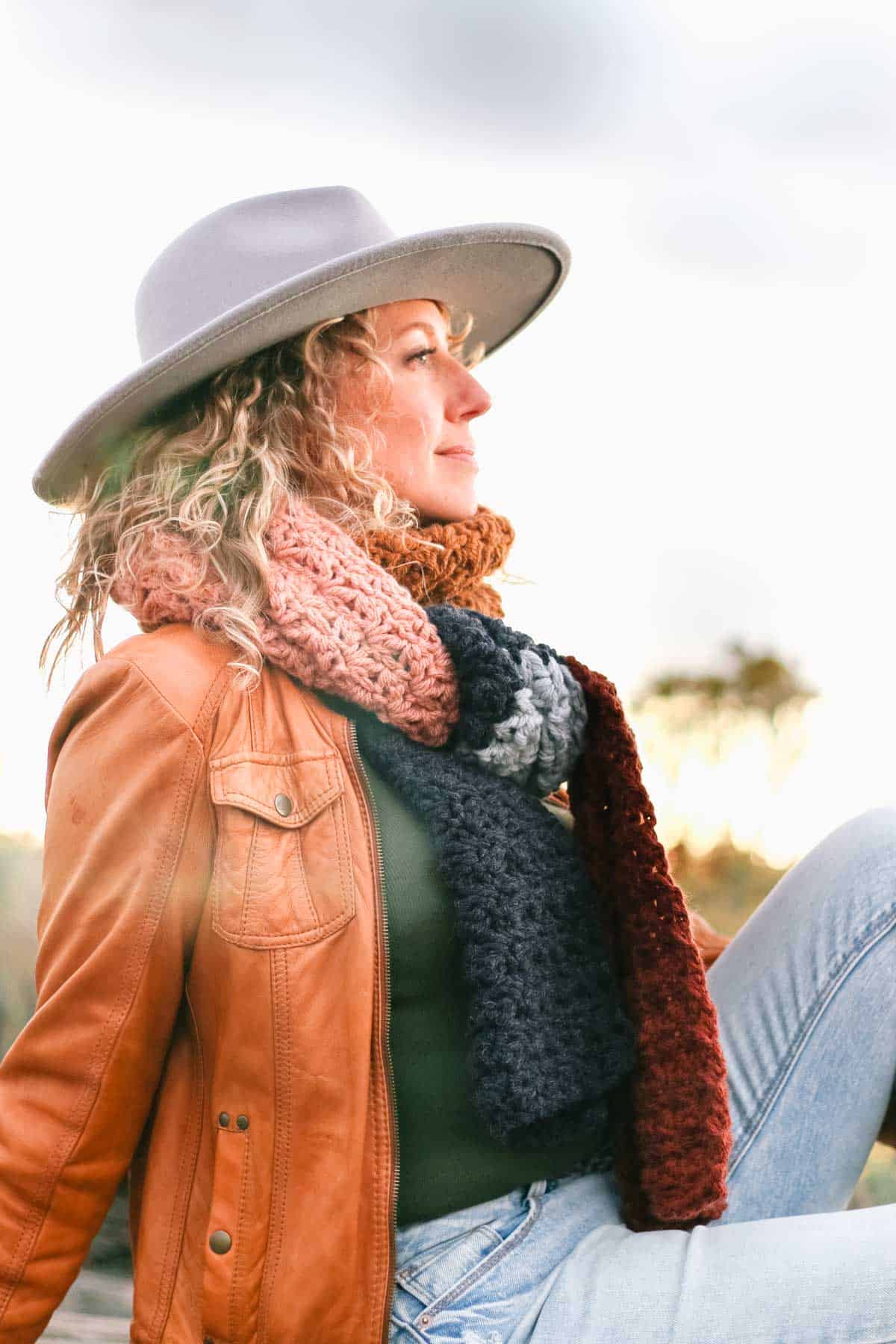 How Long Should a Crochet Scarf Be?
The length of a crochet scarf is flexible and can be as long or short as you'd like. Typically, crochet scarves are between 60" to 75". You may choose to adjust the measurements based on the bulkiness of the scarf and your own height.
A basic rule is to make a scarf at least as long as the wearer's height so that they can wrap it around their neck once or twice.
Tips for Planning Your Scarf
There are a lot of ways to wear this simple crochet scarf. As you can see in the photos, the length allows it to be wrapped around your neck, knotted in front, or draped loosely.
If you are very tall or short, you might want to lengthen or shorten the scarf a little to make sure it fits your body well.
Cinque Chunky Scarf - Free Pattern
Explanation:
If you have five colors of chunky yarn and about five hours, you can whip up this easy scarf. This is a perfect take-along project when you want to keep your hands busy without much focus or counting. Make a few for gifts, craft fairs, or yourself!
Supplies + Materials
Order an all-in-one kit from Lion Brand.
• Lion Brand Hue and Me (Weight: 5/Bulky - 137 yds, 4.4 oz/125 g)
• Size 12 mm crochet hook* or size needed to obtain gauge
• T-pins
• Steamer or iron with steam function (alternative: use a spray bottle)
• Blocking board (optional)

* This hook size tends to be less common. Substitute the nearest hook size you have available.
Overall Pattern Notes
Stitch Multiple: To modify the width of your scarf, chain any odd number of stitches for your foundation chain.

To switch colors seamlessly at the end of a row, complete yarn over of final single crochet using new color.

Chain 2 at beginning of row counts as one single crochet throughout.
!! Gauge Check!!
Achieving the pattern gauge is not critical when crocheting this beginner scarf. However, meeting the gauge will help ensure the finished project is the size you expect and uses the amount of yarn listed in the pattern.
To check your gauge:
Complete first 13 rows of pattern. Then measure center four inches of swatch vertically and horizontally. Compare to pattern gauge listed above.
If there are too many stitches in 4" horizontally, increase your hook size and re-swatch.

If there aren't enough stitches in 4" horizontally, decrease your hook size and re-swatch.
If swatch is measuring too small vertically, make a deliberate effort to pull loops up a bit higher before completing each single crochet.

If swatch is measuring too large vertically, make an effort to work the loops of each single crochet a little tighter.
This video is incredibly helpful if you're having trouble achieving the correct vertical gauge:
Main Scarf Pattern
Foundation Row: Ch 23.
Row 1: Dc in third ch from hook (ch 2 counts as 1 sc), *sk next ch, sc and dc in next ch; rep from * until 2 ch remain, sk next ch, sc in last ch; turn. (21 sts)
Row 2: Ch 2 (counts as 1 sc), dc in first st, *sk next dc, sc and dc in next sc; rep from * until 2 sts remain, sk next dc, sc in ch 2 tch; turn.
Repeat Row 2 twenty four more times for a total of 26 rows. Fasten off Color A and attach Color B.
Repeat Row 2 twenty six times each with Color B, C, D and E. (26 rows of each color)
Finishing
Weave in remaining yarn tails using a tapestry needle.
Lightly steam block scarf using a steamer, iron with a steam setting or spray bottle. Take care not to touch the hot surface to the yarn. Allow to dry and set overnight.
Wrap up in your new chunky scarf and set to work making a hat with your leftover yarn!
Beginner Scarf FAQs
Patterns With Video Tutorials
If you'd like to learn how to crochet different types of scarves step-by-step, check out these free patterns with video tutorials.
Brushland Scarf: The "woven" look of this Tunisian crochet triangle scarf pattern is surprisingly easy, even if you're just learning how to Tunisian crochet. A go-to scarf for women and men.
Dawn-Till-Dusk Triangle Scarf: Learn how to make a triangle scarf with a single skein of Lion Brand Mandala yarn.
Bixy Cowl: This buttoned-up crochet cowl pattern is quick and easy thanks to super-bulky yarn and herringbone double crochet stitches.