Beginner and more experienced crocheters alike will find something to love in this compilation of free crochet sweater patterns. Each of these cardigans, pullovers and shrugs requires very little shaping so you can confidently tackle your first (or tenth!) garment. 
 This post contains affiliate links.
Before this year, I had only ever knit sweaters. Once I ventured into the world of crochet sweaters–and specifically designing my own free crochet sweater patterns–I realized that they can totally be hip, easy to construct and often SO much faster than knitting a sweater! (You can find all my free crochet sweater patterns here!)
Now that I'm tuned in, I'm seeing so many awesome free crochet sweater patterns floating around the internet that I decided to collect some of my favorites for you all together in one place.
Each of these crochet sweater, cardigan or shrug patterns:
1. is easy to construct
2. requires very little shaping, if any
3. is a FREE pattern! 
These three criteria basically describe the perfect crochet sweater in my opinion, so I hope you find a lot of inspiration for your next project in this list.
Beginner-Friendly Free Crochet Sweater Patterns
1. The Dwell Crochet Sweater Pattern by Make & Do Crew – This is one of my most popular free crochet sweater patterns and it includes a step-by-step video tutorial, making it doable even for beginners.
2. The Campfire Crochet Cardigan by Make & Do Crew – Can you believe this sweater jacket is constructed from two simple hexagons? You almost have to see it to believe it!
3. The Lightweight & Easy Crochet Shrug by Make & Do Crew – This free crochet shrug pattern is great for a confident beginner and makes a perfect lightweight sweater for layering year round. I wear mind ALL the time.
4. The Cocoon Crochet Cardigan by Make & Do Crew – The construction of this cardigan is based on two simple rectangles. If you can make a scarf, you can make this crochet sweater pattern!
5. The Crochet Serenity Shrug by Make & Do Crew – Again, this shrug is made from simple triple crochet stitches and two basic rectangles. So easy!
6. The Navajo Blanket Crochet Shrug by Make & Do Crew – This pattern has some really cool colorwork on the back. Choose to include it or just make the shrug in a solid color for a simple beginner project.
7. The Crochet Marley Cardi by Megmade With Love – I love the longer length of this free crochet cardigan pattern. It's made with two strands of yarn held together to create the contrasting color effect.
8. The Crochet Light Frost Easy Blanket Sweater by Mama in a Stitch – How awesome is this fringe? This shrug is as easy as making a big rectangle and seaming it together. You can do it!
9. The Essentially Fall Crochet Cardigan by Taylor-Lynn – This free crochet cardigan pattern mades beautiful use of Lion Brand Mandala's self-striped effects.
10. The Easy Crocheted Knit-like Sweater by Mama in a Stitch – Everyone needs a good pullover sweater and this one is charmingly uncomplicated to make.
11. The Everyday Crochet Cardigan by Sewrella – this free crochet sweater pattern is made using simple half double crochet stitches and includes a video tutorial.
12. The Homebody Crochet Sweater by Megmade With Love – The construction of this pullover sweater only requires two rectangles and some simple sleeves. Looks pretty comfy too, huh?
13. The Crochet Granite Cape by All About Ami – I love how this sweater uses the granite stitch to create a delicate, knit-like appearance.
14. The Crochet Saddlebrook Cape Scarf by Two of Wands – This cape scarf is so large and cozy that I think it can pass as a shrug. I imagine it feels like being wrapped in a comfy afghan while you go about your day. Sign me up!
15. The Comfy and Cozy Crochet Sweater by Taylor-Lynn – This crochet pullover sweater pattern uses Lion Brand Scarfie yarn to create some gorgeous stripe action. Self striping = fewer ends to weave in = more time to crochet = win!
16. The Crochet Cardigan by Amanda Luisa Designs – This classic cardigan should be a staple of all of our handmade wardrobes!
17. The Crochet Movie Night Cocoon Cardi by Two of Wands – The drape of this simple granny stitch shrug is gorgeous. Can you believe this pattern comes together from one large granny square?
18. The Crochet Cuddler Cocoon Sweater by Sewrella – This free cocoon sweater pattern looks extra cozy and soft thanks to Lion Brand Homespun Thick & Quick yarn.
19. The Easy Peasy Lemon Squeezy Crochet Pullover by Heart Hook Home – This crochet sweater pattern uses the very simple lemon peel stitch to achieve some gorgeous texture. Pattern includes long and short sleeve options!
20. The Whiter Shade of Pale Car Coat by Lion Brand – I love how using bulky yarn makes this crochet sweater function more like a light jacket.
21. The Crochet Mod Mesh Honey Blanket Sweater by Mama in a Stitch – The delicate stitches in this crochet shrug help offset the thick, luxurious coziness. Mama in a Stitch knows her way around a blanket sweater pattern!
22. The Crochet Myrtle Beach Pullover by Lion Brand – This is a classic pullover pattern that I can see women of all ages enjoying.
23. The Crochet Popover Top by Lion Brand – The tension of the chunky Wool-Ease Thick & Quick yarn with the lacy stitches makes for a dramatic sweater with beautiful drape.
24. The Easy Crochet Blanket Sweater by Mama in a Stitch – And if you need one last pattern to convince you you're totally capable of crocheting a sweater-like-object, this super easy blanket sweater pattern should do the trick!
Once you complete your sweater wardrobe, you may also like these free pattern from Make & Do Crew: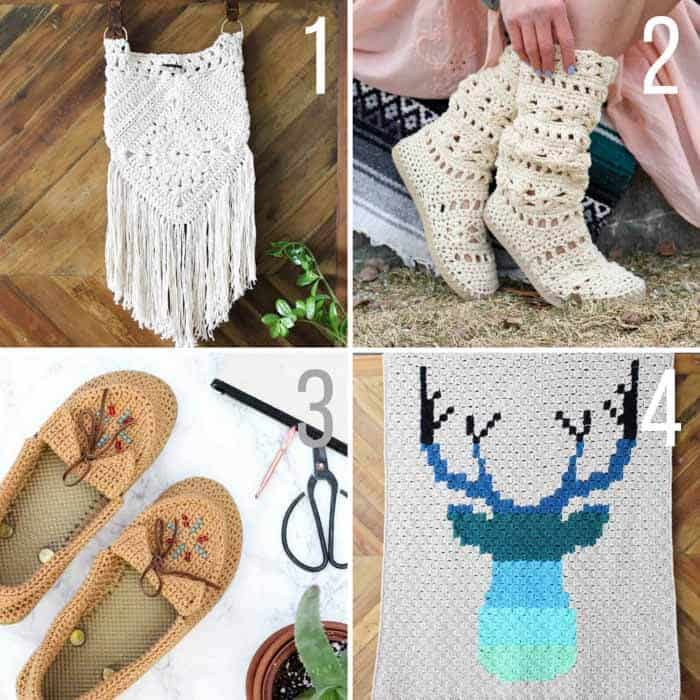 1. Urban Gypsy Boho Bag – free crochet bag pattern
2. Coachella Boots with Flip Flop Soles – free crochet pattern
3. Crochet Moccasins with Flip Flop Soles – free crochet pattern + video tutorial
4. Be a Deer Afghan – free c2c crochet blanket pattern
WANT MORE FREE CROCHET PATTERNS?
I've got more free crochet goodness for you that'll knock your little handmade socks off.