Beginner and more experienced crocheters alike will find something to love in this compilation of free crochet sweater patterns. Each of these cardigans, pullovers and shrugs requires very little shaping so you can confidently tackle your first (or tenth!) garment.
Before a couple years ago, I had never crocheted a sweater. I had knit several over the years from other people's patterns, but the world of crocheted sweaters was foreign to me.
Once I ventured into the magical land of crochet sweaters–and specifically designing my own free crochet sweater patterns–I realized that they can totally be hip, easy to construct and often SO much faster than knitting a sweater! (You can find all my free crochet sweater patterns here!)
Now that I'm tuned in, free crochet sweater patterns are my absolute favorite to design. If poke around this list below, you'll find I have a real sweet spot in my heart for crochet cardigans although you'll also find patterns for crochet ponchos, pullovers, jumpers and shrugs too.
Many of the free crochet patterns below are made from very simple shapes and include video tutorials, making them perfect beginner projects to learn how to crochet a sweater.
Alright, are you ready to roll up your, ahem, sweater sleeves and dive in?!
Pin this list of free patterns to reference later. ⇨
Readers' Favorite Free Crochet Sweater Patterns
1. Habitat Crochet Cardigan – No one will guess you created this figure-flattering crochet cardigan from a simple rectangle. There is even a video tutorial, making this a perfect first crochet sweater for beginners!
2. Dwell Chunky Crochet Sweater – Chunky, cozy and fast–this is another easy crochet sweater made from a basic rectangle! Step-by-step video tutorial included.
3. Brunch Hexagon Crochet Sweater – This incredibly comfortable crochet cardigan sweater is simpler than it looks. Made from two basic hexagons and super soft yarn, you'll love watching your new favorite cardigan take shape!
4. Up North Crochet Cardigan – This easy, cotton crochet cardigan pattern for beginners uses a very simple construction to create a show-stopping look beginner skills and minimal seaming. Video tutorial included!
5. Alpine Crochet Poncho – This stylish crochet poncho with sleeves is very easy because it's made from five simple rectangles. Watch the step-by-step video tutorial for extra help!
6. Remix Crochet Cardigan – Learn how to remix Mandala yarn cakes to create a stunning gradient effect in this free draped crochet cardigan pattern. Such a fun pattern for your inner artist! Video tutorials included.
7. Alchemy Crochet Cardigan – This lightweight, cuffed sleeve sweater is perfect to toss on for some summer stargazing or layer with a long-sleeve shirt in the colder months. Detailed video tutorial included!
8. Haven Bobble Crochet Cardigan – With a super easy construction based on a rectangle, this free crochet sweater pattern is playful, fast and perfect for beginner crocheters. You'll love watching it come together with zero increasing or decreasing! Video tutorial included.
9. Free Range C2C Cardigan – A few basic rectangles come together to form a gorgeously drapy, on-trend sweater in this simple corner to corner crochet cardigan pattern. Video tutorials included.
10. Day Date Crochet Hexagon Sweater – Two simple crochet hexagons transform into a lightweight, modern cardigan complete with cozy pockets and roomy bishop sleeves. Includes video tutorial!
11. Campfire Crochet Hexagon Sweater – Another sweater made from simple shapes! Believe it or not, two simple granny hexagons are the foundation of this free crochet hexagon sweater pattern.
12. Solstice Long Crochet Cardigan With Fringe – Minimal counting, two short seams and a lot of fun fringe make for an easy, long crochet cardigan that's perfect for layering.
13. Staycation Women's Crochet Cardigan – This stylishly oversized women's crochet sweater pattern is perfect for trips to the farmer's market, art museum–or the couch! Includes video instruction.
14. Navajo Blanket Crochet Shrug – While this free crochet shrug pattern resembles the look of tapestry crochet, its Navajo-blanket-inspired design is actually made by switching colors mid-row using basic crochet techniques! Includes video instruction.
15. Greyscale Crochet Poncho Sweater – This simple free crochet poncho pattern is a little more fitted than most, offering a versatile wardrobe staple that's great for fall layering.
16. Girl's XO Crochet Sweater – Believe it or not, this four-season child's crochet cardigan pattern is made from two simple hexagons! Crochet one for all the stylish girls in your life.
17. Braided Women's Crochet Poncho Sweater – A simple combination of extended half double crochet and slip stitches make for a knit-looking "braided" texture in this free women's crochet poncho pattern. Includes video tutorial.
18. Serenity Crochet Vest – A sea of gorgeous neutrals paired with a slight shimmer makes this free crochet vest pattern as stunning as it is versatile. Easy project with very beginner-friendly skills required.
19. Cocoon Crochet Cardigan – You'd never guess by looking at this sweater that it's made from uniquely combined crochet rectangles! This crochet sweater is great for beginners who are looking to expand their skills or advanced crocheters who want a quick, stylish project.
20. Stonewash Beginner's Crochet Shrug – Don't let the dolman sleeves and modern silhouette fool you, this easy crochet shrug pattern is constructed with basic stitches and simple shapes. Excellent sweater for confident beginners.
Pin this list of sweater patterns to reference later. ⇨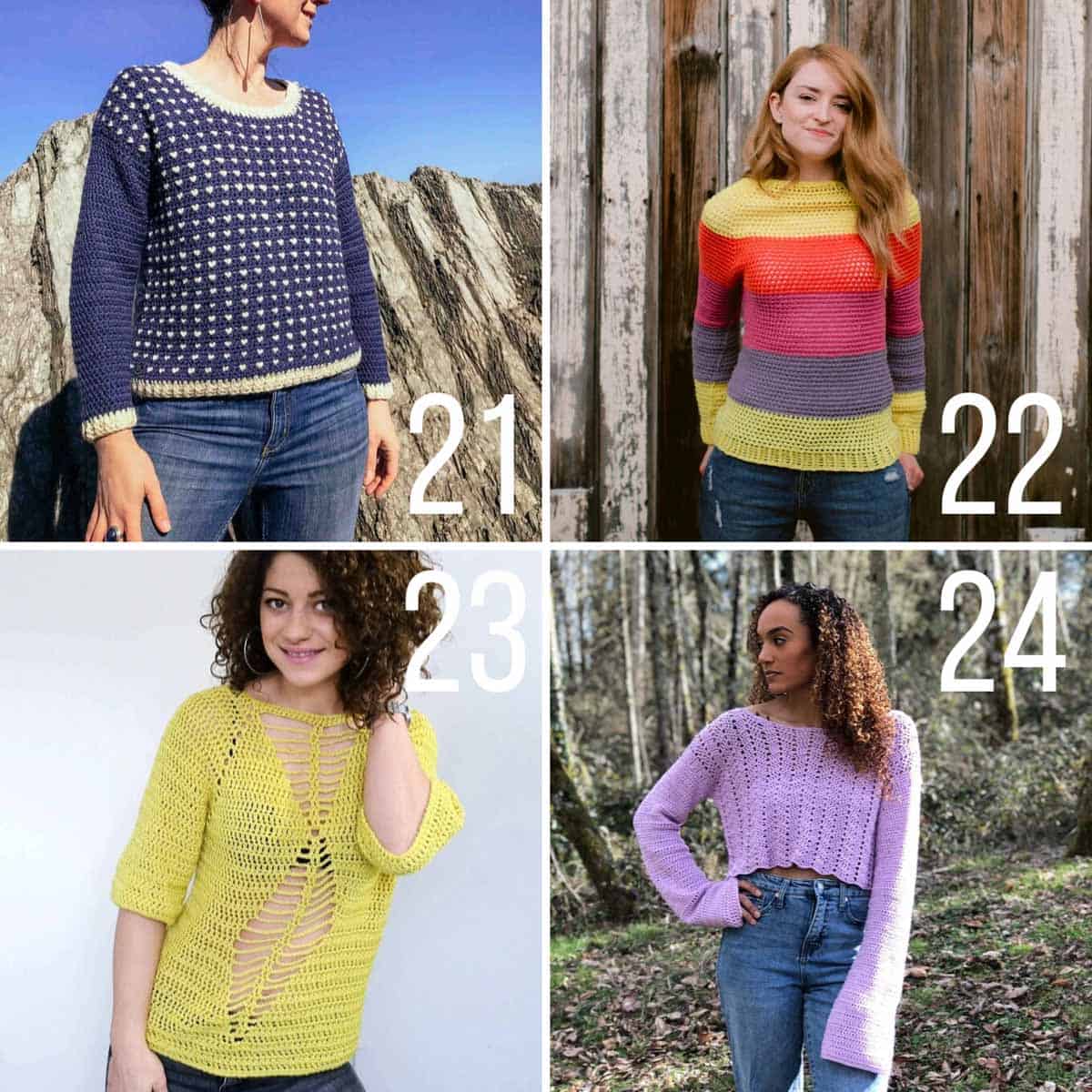 21. Seafarer Tapestry Crochet Sweater – This tapestry crochet pullover pattern creates a modern take on the timeless fisherman's sweater. And it's easier than it looks! Designed by Zoe Curtis for Make & Do Crew.
22. Slice of Nice Top Down Crochet Sweater – With a seamless construction and lightweight stitch pattern, this colorful top down crochet sweater is the perfect springtime layering piece to add to your handmade wardrobe. By Colourful Crochet for Make & Do Crew.
23. My Lucky Blouse Raglan Crochet Sweater – This on-trend raglan crochet pattern works up easily with seamless construction and basic double crochet stitches for an easy, breezy bohemian summer top that is versatile enough for all occasions. By ByKaterina for Make & Do Crew.
24. Willow Crop Crochet Sweater – Add some sass to your style with this cropped crochet summer top with bell sleeves. It's even easily customizable to be full length, short sleeve, sleeveless–whatever your heart (and hook) desires. By Crafting For Weeks for Make & Do Crew.
25. Silver Linings Cropped Crochet Sweater – This v-neck, lightweight cropped crochet sweater comes together with surprisingly simple construction and is perfect for the warmer weather. By Mommy Loves Yarn for Make & Do Crew.
26. Northwest Crochet Vest Cardigan – This long crochet vest with subtle pine tree cutouts is excellent for layering over your favorite fall leggings. By Created Makers for MakeAndDoCrew.com.
More Free Crochet Patterns
Once you complete your crochet sweater wardrobe, you may also like these free patterns from Make & Do Crew. (You can always find all our free crochet patterns here!)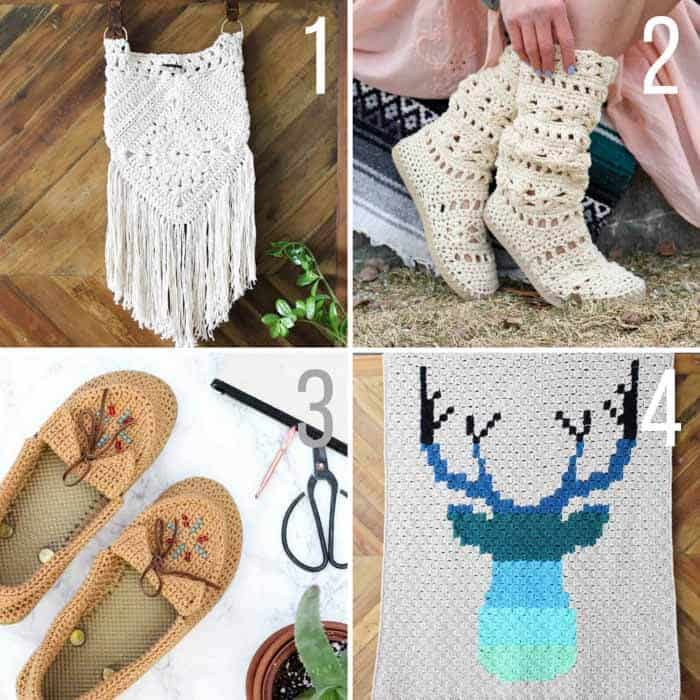 1. Urban Nomad Boho Bag – free crochet bag pattern
2. Coachella Boots with Flip Flop Soles – free crochet pattern
3. Crochet Moccasins with Flip Flop Soles – free crochet pattern + video tutorial
4. Be a Deer Afghan – free c2c crochet blanket pattern
WANT MORE FREE SIMPLE SWEATER PATTERNS?
I'd love to send you more fashion-forward free crochet patterns that will make you feel like a goddess of DIY! You in?