Learning how to crochet a sweater is easier than you might think. You need a few specific skills for sweater success, and we cover them all here.
Learn exactly what you need to know in order to make a garment you're proud to wear, even if you're a beginner!
Jump to:
How to Make a Crochet Sweater
In this guide, we'll walk through everything you need to know for success with a beginner crochet sweater patterns.
How to make ensure you don't use the wrong yarn
How to choose a pattern that's hard to screw up
What sweater size you should make
Technical details like gauge, drape, and ease
How make finishing details like joining pieces and weaving in ends easier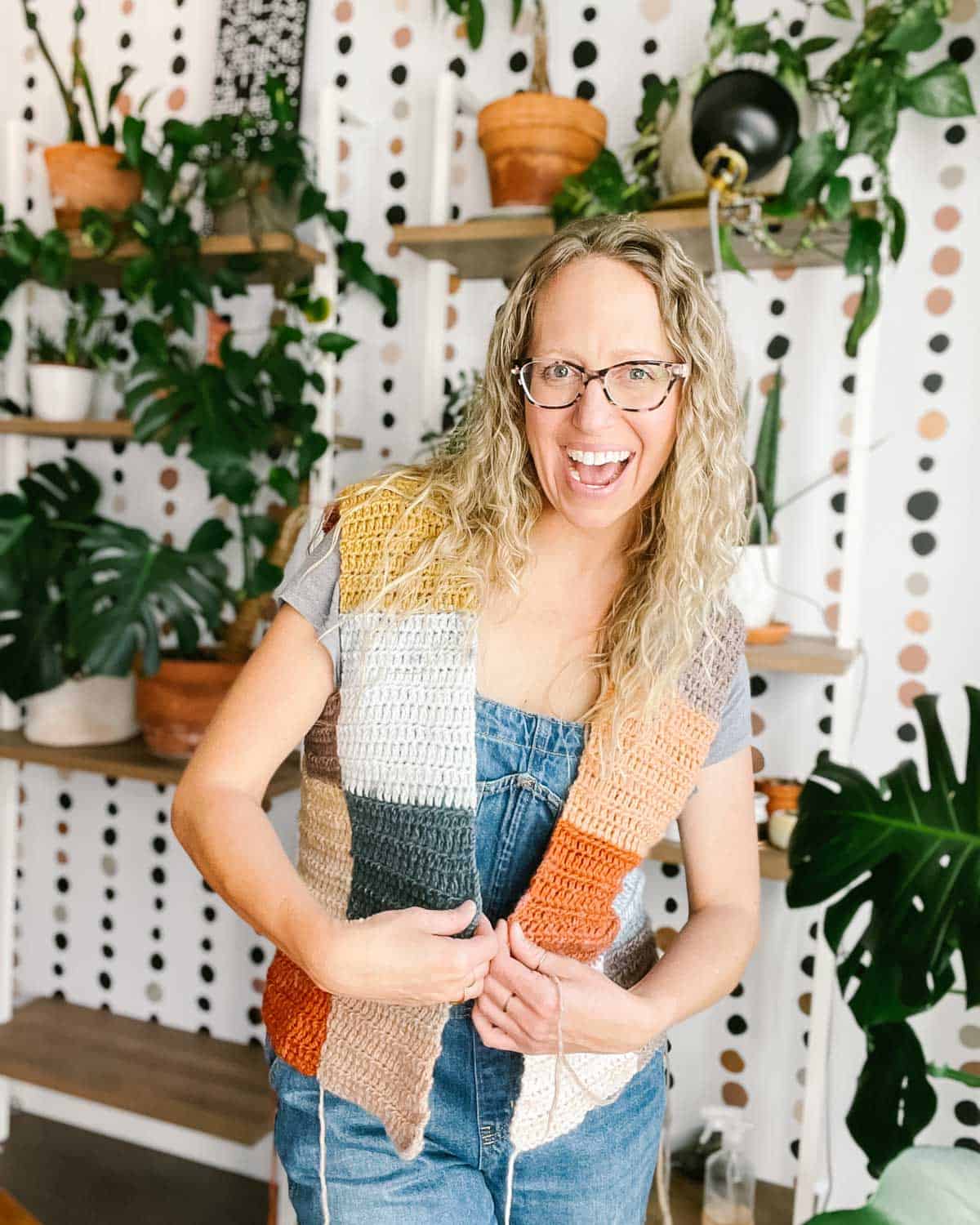 Even as a Beginner
Learning how to crochet a sweater can be extremely motivating. It allows you to practice different stitches and techniques while creating a functional and stylish piece of clothing.
Crochet sweater designs can range from simple and classic to more complex and trendy designs, so you can definitely find a pattern that suits your skills and style.
How To Crochet a Sweater Step By Step
While each pattern will vary in details, these are the concepts you'll want to understand when you're learning how to crochet a sweater.
Step 1: Choosing The Right Easy Pattern
What should you look for in an easy crochet sweater pattern? Here are some ideas:
Follow your Typical Taste
The first thing to do is go to your own closet, Instagram feed, or Pinterest board. What inspires you? What kinds of styles and fits do you like? Cardigans? Pullovers? Granny squares? Keep this in mind as you look.
Easy Crochet Cardigans With Video Tutorials
Look for a pattern with a video tutorial. When you're learning how to crochet a sweater, it can be easy to get lost in written directions. Plus, each designer writes their patterns differently, so it helps to "see" how to crochet the sweater step-by-step.
Here are few of our most popular crochet sweater video tutorials for beginners: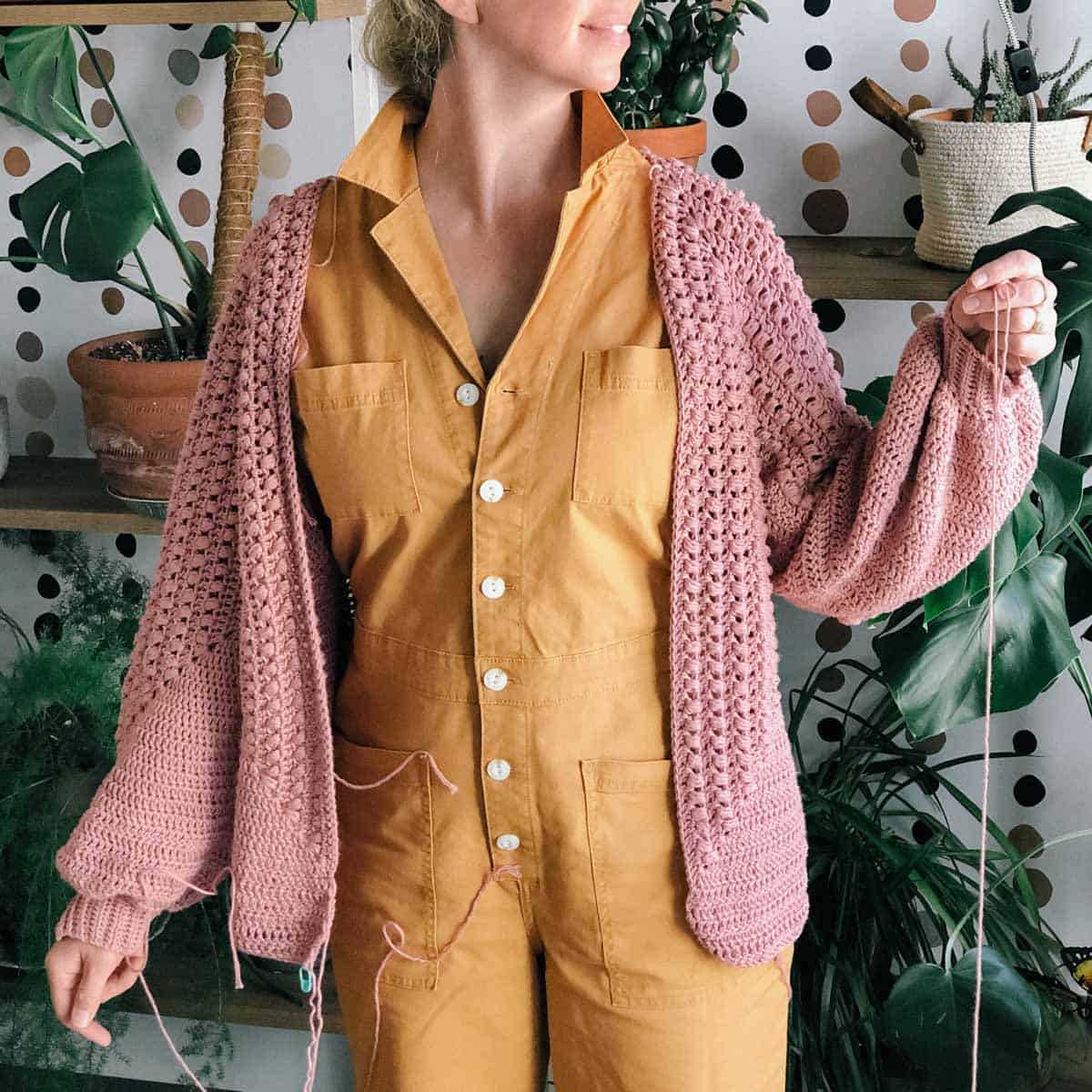 Choose Sweaters You Can Try on As You Go
Most easy crochet sweater patterns will be pretty straightforward to modify things like the sleeve length.
When you're just learning how to crochet a sweater though, it's particularly helpful to look for patterns you can try on as you go. Checking the fit of your sweater as you progress is one of the best ways to ensure you're happy with the finished piece.
More Tips for Choosing Beginner Crochet Sweaters
Keep it basic
Patterns that use simple stitches will save you a lot of frustration as a beginner. The Up North Cardigan, for example, is crocheted entirely with half double crochet stitches and the result is fantastic.
Make it quick
Patterns that call for chunkier yarns and bigger hooks allow you to make fast progress as a beginner—and give you a boost of confidence!
Go for minimal seaming
Even those of us who crochet garments frequently often prefer to avoid seaming lots of pieces together. As a sweater newbie, it's easier to eliminate the variable of lots of seams.
Look for simple construction
Don't overlook crochet sweaters made with the most basic shapes. You might be surprised at how few crochet rectangles can make a killer sweater. A design like the Habitat Cardigan is a perfect first sweater to crochet because it's made entirely from rectangles.
Even crochet pullovers with more complex construction are often made of a front panel, back panel, and sleeves.
PRO TIP: Easy crochet poncho patterns can be some of the easiest first garments to try. Ponchos are usually crocheted out of simple shapes like rectangles and often don't require any shaping or much counting.
Step 2: Select Your Sweater Size
When you read a new crochet cardigan or sweater pattern, first look at the measurements. Be careful to check twice—they could be in inches or centimeters.
Take Your Measurments
Take your body measurements with a tape measure, over clothes if you'll be wearing the sweater that way. Then compare your measurements to the pattern.
When You're Between Sizes
If your measurements fall between two sizes, consider how you want the sweater to feel and drape on your body. It can also be helpful to notice how the garment fits on the model in the photos.
If it's already oversized in style, you may be able to size down. If it's a more fitted pattern, consider sizing up so you're sure to crochet a sweater that fits.
Pro Tip: Remember, you'll always want to check your gauge to ensure your sweater turns out the size you're expecting and you get the perfect fit you're planning on.
What Is Ease in Crochet?
Let's discuss some terms you might see mentioned about the sizing of handmade sweaters.
Positive Ease
This means that the finished project measurements are intended to be larger than your own body measurements. This creates a looser, comfy cardigan or sweater.
Negative Ease
This means the finished sweater measurements are intended to be smaller than your own body measurements (at least in some areas, like often the bust). This creates a more form-fitting look.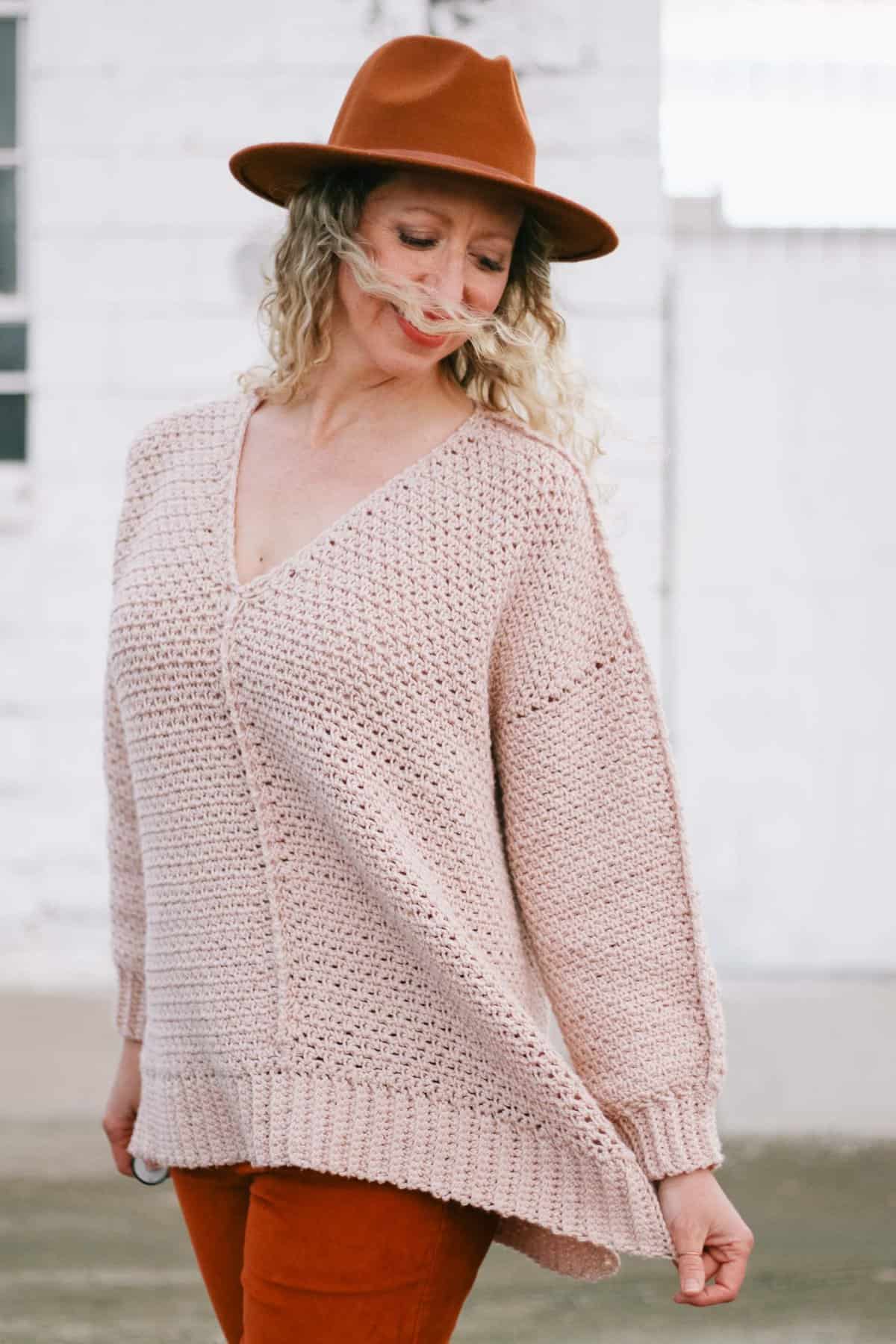 Step 3: Review the Entire Pattern
I know! That yarn is to die for, and you want to get going. I don't have much patience at this stage, either. But trust me, at least once before you start, read the pattern instructions all the way through.
What are you looking for when you read a sweater or cardigan pattern? You're making sure you have the supplies you need, of course. You're confirming that you understand the order in which you'll complete each step and each piece.
You're verifying that you don't just get a general idea—but that you really know how to crochet the sweater step-by-step.
How to Read a Sweater Pattern
Most instructions have multiple sizes in them and they're always listed from smallest to largest. You want to ensure you follow the stitch counts for your size only.
Print the pattern and highlight all the numbers and stitch counts pertaining to your size. This makes it much easier to follow the pattern as you crochet.
For Example:
If a pattern was written in sizes S, M and L, the stitch counts would be written like: 20 (22, 24). If you were following the instructions for size medium, you would highlight and follow the second number in the series throughout the pattern.
Our Latest Crochet Inspiration:
Here are a few more free crochet patterns and tutorials that are hot off the presses.
Step 4: Crochet a Gauge Swatch
Meeting the given sweater pattern gauge is important. Why? Because it ensures your stitches are the same size as the designer's. Especially in crochet sweaters, all of the measurements listed in the pattern are based on the given gauge.
If your stitches are too large or too small, you risk your sweater also being too large or too small. Gauge is super important to ensure your project fits!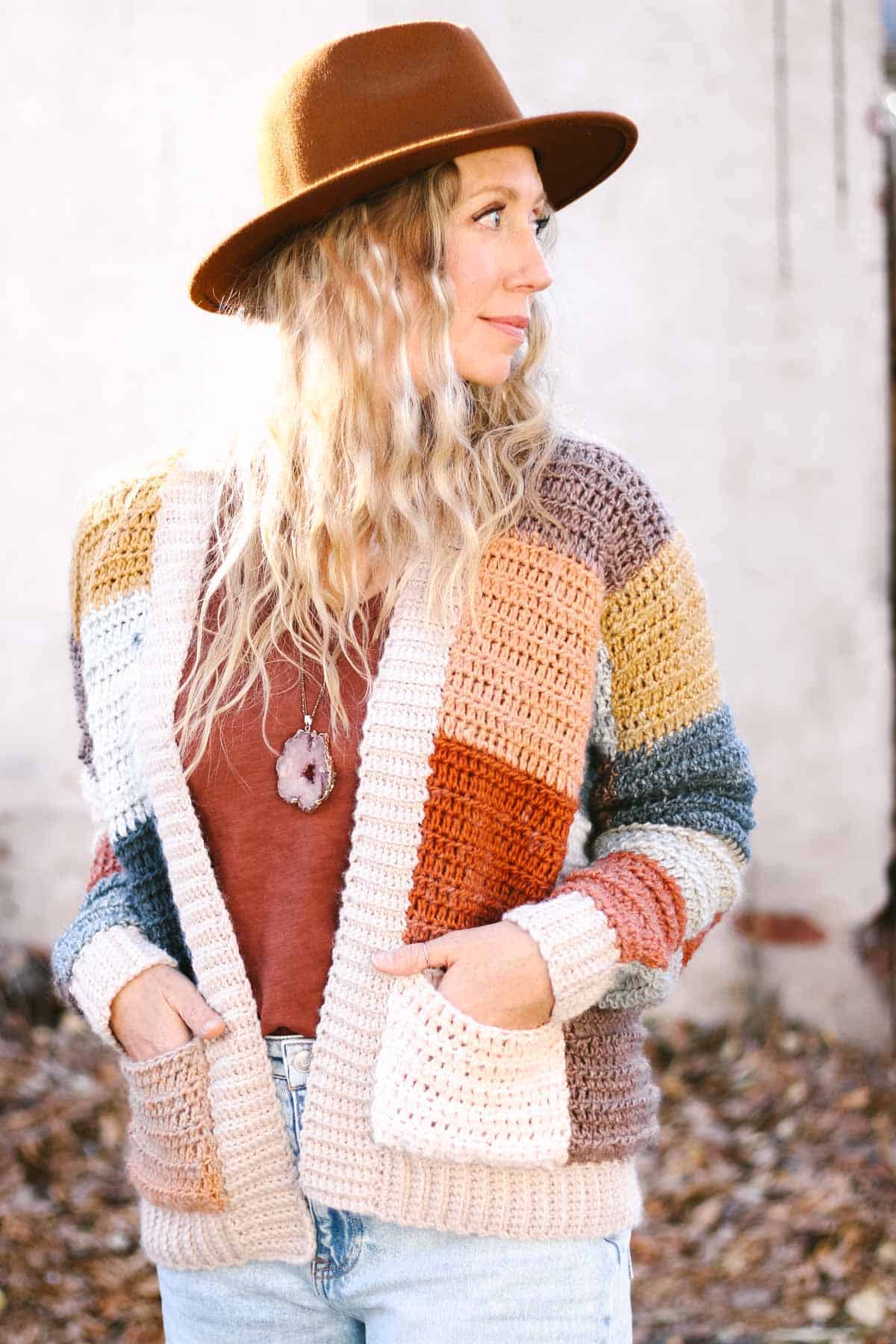 PRO TIP: Look to see if the pattern you're following has instructions to crochet pockets. Often you can follow those instructions to crochet your gauge swatch. Then you'll already have one pocket finished just by checking your gauge!
How to Check Gauge in a Crochet Pattern
Luckily, checking your gauge against a crochet sweater pattern is not hard and is 100000% worth it. Here is what you do.
Crochet a swatch that's about 7x7".
Use the stitch pattern you'll be using for most of your pattern.
Block the swatch following the same blocking instructions you'll use for the finished garment.
Measure only the nicely-worked middle 4 inches to check how many stitches are there.
Compare the number of stitches and rows in four inches of your swatch to the pattern gauge.
What to Do If Your Gauge is Off
If you met the gauge requirements, great! If your measurements differ from the pattern, you'll need to make a new swatch with different sized hook.
Remember, changing hook size is totally acceptable!
Correcting Your Crochet Sweater Gauge
If there are too many stitches in 4" horizontally, increase your hook size and re-swatch.
If there aren't enough stitches in 4" horizontally, decrease your hook size and re-swatch.
If swatch is measuring too small vertically, make a deliberate effort to pull loops up a bit higher before completing each single crochet.
If swatch is measuring too large vertically, make an effort to work the loops of each single crochet a little tighter.
This video is incredibly helpful if you're having trouble achieving the correct vertical gauge.
Step 5: Begin Crocheting the Sweater
Most often you will either be chaining the base of the sweater's front or back panel when you're crocheting a garment made of multiple pieces. If the sweater is a raglan, yoke or any other in-the-round style, you'll still begin with a foundation chain.
In any case, the number of chains (or foundation crochet stitches) will depend on the size.
PRO TIP: Many designers have a Facebook group you can join to ask questions of other crocheters who have already made the pattern. Use these groups to clarify parts of the pattern you might feel intimidated by. There are no stupid questions. I'd love for you to join the Make & Do Crochet Crew Facebook Group here.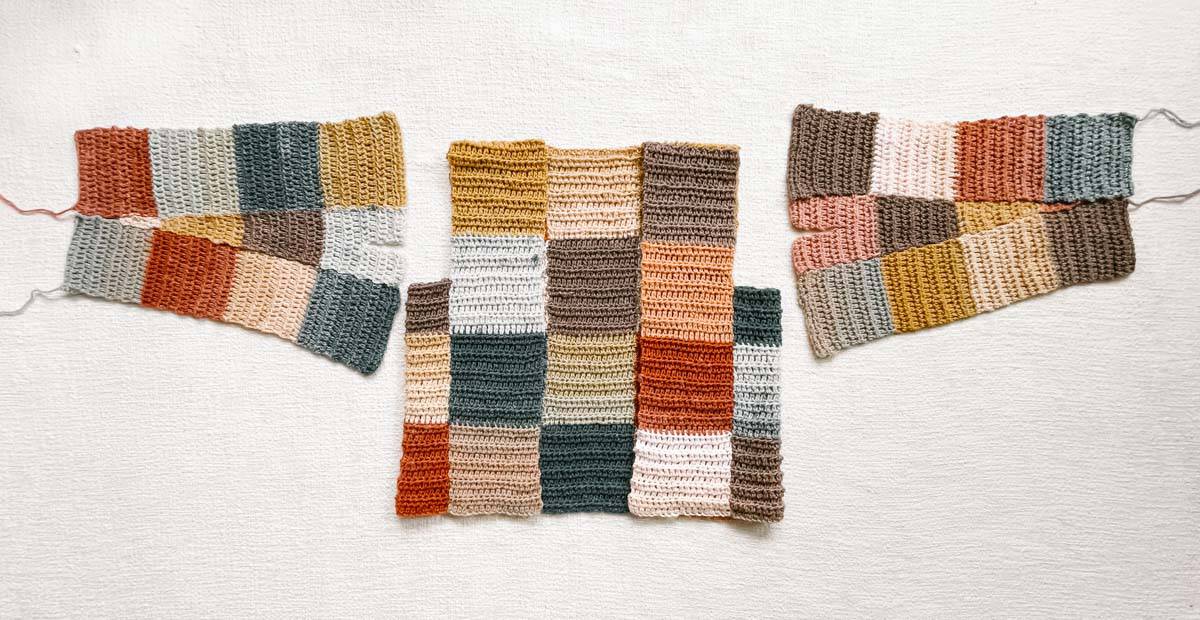 Step 6: Join the Pieces of Your Sweater
Depending on the type of sweater you're crocheting, there may be more or less seaming to do.
Types of Construction
A classic raglan sweater worked in the round is usually completed in one magical piece. This means there is very little seaming to do at the end, if any.
A basic crochet pullover pattern likely has a front panel, a back panel and two sleeves. The front and back panels are typically joined first at the shoulders, and then seamed down the side, leaving room for the sleeves.
Choosing a seamless crochet sweater pattern like this long, fringed cardigan or this easy duster cardigan sweater means you get to avoid joining pieces all together!
How do you join a sweater together?
There are many ways to join the pieces of your sweater together. Three basic techniques are:
Whip stitch with a tapestry needle
Mattress stitch with a tapestry needle
Slip stitching with a crochet hook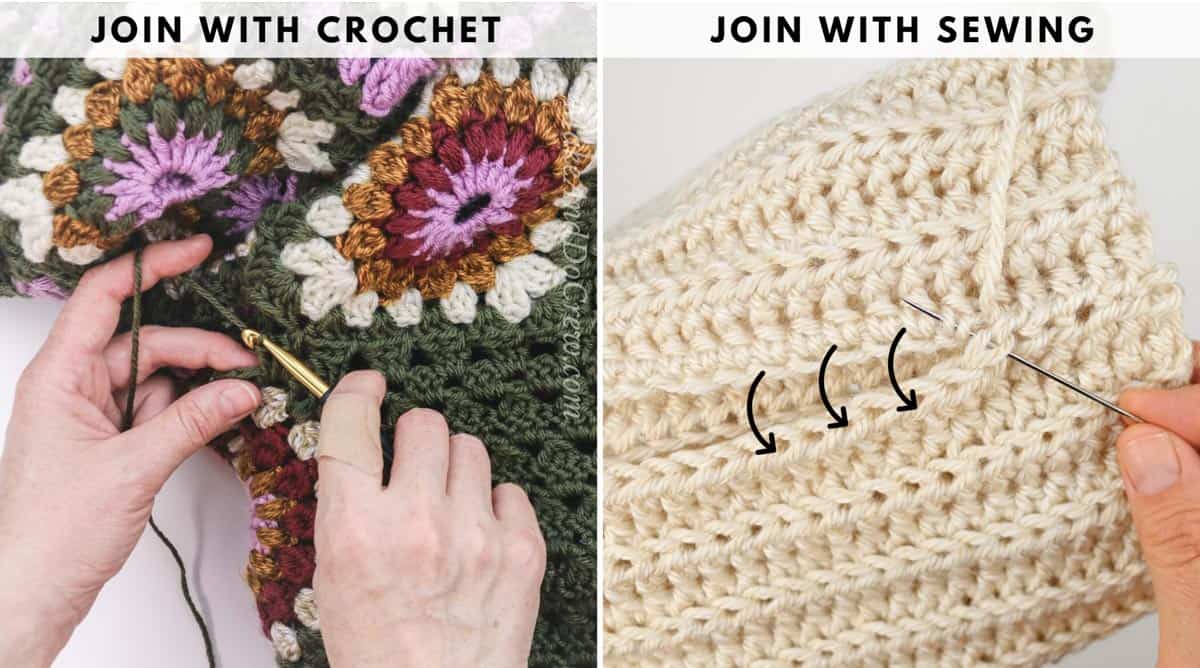 Step 7: Finishing Touches
Good news - you're so close!
Now, carefully weave in the ends of your yarn tails using a tapestry needle. This is important because you don't want the yarn ends unraveling as you wear and launder your new crochet sweater.
Depending on your pattern, maybe you'll add a hood, buttons or pockets. Want some ribbing on the hems? Make it your own!
PRO TIP: If the sweater pattern you're following has a hashtag on Instagram or page on Ravelry, looking at other crocheters' finished projects can be helpful. This will give you ideas for customizing your sweater or cardigan.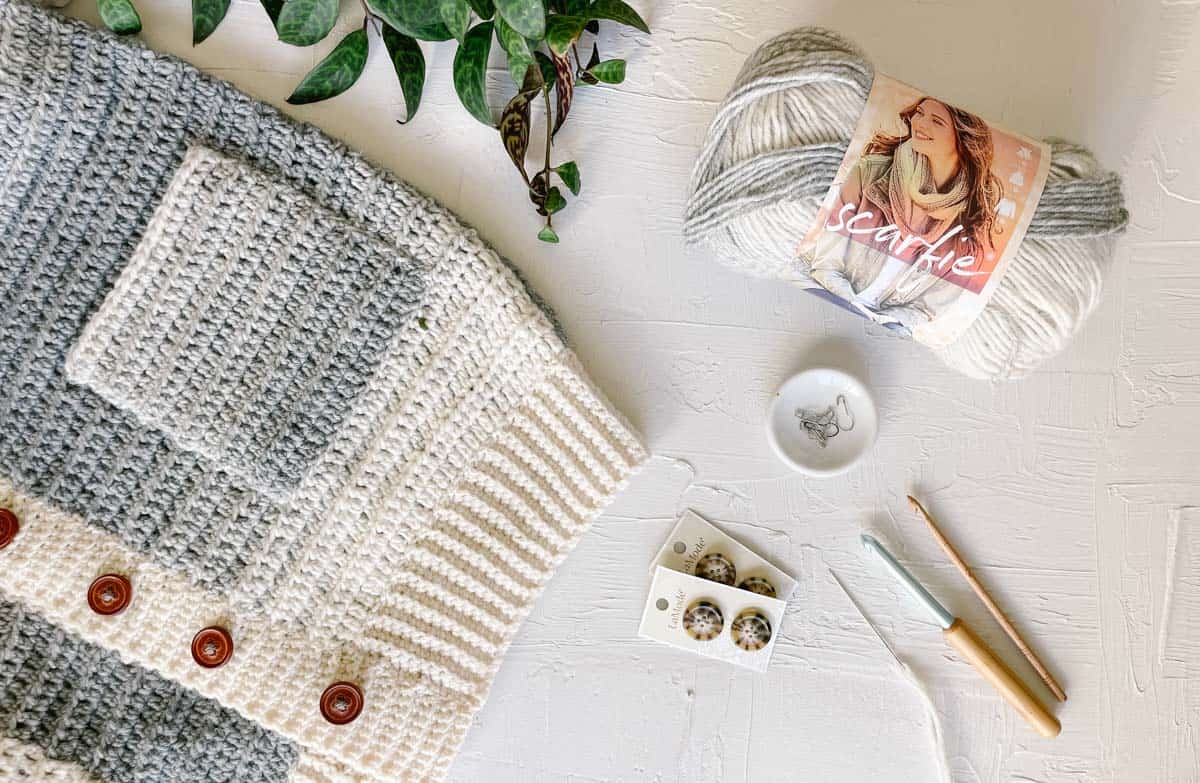 Common Stitch Abbreviations for Sweaters
You can run into almost any crochet stitch in a sweater pattern. There are certain stitch abbreviations that you will come across most commonly though.
Typically a pattern will describe how to crochet any unusual stitches. When it doubt, search the stitch on Youtube to see if you can find a video tutorial.
PRO TIP: The abbreviations in the US are slightly different than in the UK. A pattern should specify whether US or UK terms are used.
| Crochet Stitch | US Abbreviation | UK Abbreviation |
| --- | --- | --- |
| Chain | ch | ch |
| Single crochet | sc | dc |
| Half-double crochet | hdc | htr |
| Double-crochet | dc | tr |
| Yarn over | yo | yoh |
| Skip | sk | sk |
| Space | sp | sp |
| Front loop only | flo | flo |
| Back loop only | blo | blo |
| Repeat | rep | rep |
| Wrong side | ws | ws |
| Right side | rs | rs |
More Garments to Crochet:
Here are our favorite handpicked crochet clothing patterns.
Reading Stitch Charts
If you're a visual learner, finding an easy crochet cardigan or sweater with a stitch diagram can be invaluable. Sometimes called stitch charts, these diagrams use symbols to show you where to place your crochet stitches.
When you're first learning how to read crochet patterns, following along with a stitch diagram is especially helpful.
Click here for our tutorial on reading crochet charts and diagrams.
Best Stitch for a Crochet Sweater
The best stitches for crochet sweater are not so structured that they can't drape well.
Single crochet, for example, is too stiff on its own to work well for a sweater. Combined with a taller or more open stitch, like double crochets or chain spaces, it can create a more flexible fabric.
For a cozy and warm garment, many crochet blanket stitches can be used in sweaters too.
Here are some of the best crochet stitches for easy sweaters:
Beginner Sweater FAQs
How long does it take to crochet a sweater?
A crochet sweater can take less than a week or over a month complete, depending on the pattern complexity, yarn weight, and your skill level. If you're a beginner, try a crochet sweater made with chunky yarn to see faster progress.
Is it better to knit or crochet a sweater?
Crochet and knitting both work well to make sweaters. Some people prefer knitting because it can create fabric with more flattering drape. Others opt for crochet sweaters because they tend to be faster than knitting. With both crafts, there are lots of stylish free patterns for beginners.
Final Thoughts on Crocheting Your First Sweater
You just made something that no one else has in their closet. This is a big deal! You will remember this first crochet sweater, even if years later you have forgotten many of your other projects.
Welcome to the world of slow fashion! And while you're here, start looking for your next easy crochet sweater pattern.
Easy Cardigan and Sweater Patterns
We love designing modern garments that are also easy to crochet. You're sure to find your next project here.
That was so fun! Now what?
Invitation to our Facebook group
Come discuss learning to crochet sweaters and other projects and techniques in our Make & Do Crew Facebook group. Thousands of helpful crocheters answer each other's questions and share their stitches. Join us!
Pin For Later
How to Crochet a Sweater for Beginners - A Summary
Learning how to crochet a sweater is far easier than you might expect. You need to find the right easy pattern, choose an appropriate yarn and check your gauge. Here are the basic steps of crocheting a cardigan, pullover, hoodie or poncho.
Approx Time (varies by skill level):
21

days
Materials
Yarn based on pattern instructions

- worsted weight is a good sweater weight yarn for beginners
Additional Crochet Sweater Supplies
Hook

Measuring Tape

Stitch Marker

Tapestry Needle

Scissors

Highlighter or Pen

Blocking Board
Abbreviations + Glossary (US Terms)
Chain - ch

Single crochet - sc

Half-double crochet - hdc

Double-crochet - dc

Yarn over - yo

Skip - sk

Space - sp

Front loop only - flo

Back loop only - blo

Repeat - rep

Wrong side - ws

Right side - rs
Want some company while you crochet?
Get support (and camaraderie!) in the Make & Do Crochet Crew Facebook Group. Search "Make and Do Crochet Crew" on Facebook.com.
Permissions + Copyright
Please do not publish or share this pattern as your own. You may make items to sell with this pattern. In exchange, please link back to this page. Do NOT use my photos as your own sales photos.
Instructions
How to Crochet a Sweater or Cardigan - Overview
1. Choose an easy pattern that requires minimal seaming and counting. Cardigans made from rectangles and hexagons make ideal beginner sweater projects.

2. Compare the measurements of your body to the measurements of the garment given in the pattern to choose your sweater size.

3. Read through the entire pattern and highlight all the numbers and stitch counts related to your specific size.

4. Crochet a gauge swatch using the main sweater stitch pattern. Measure center four inches of swatch. If necessary, increase or decrease hook size and reswatch. This step is really important to ensure your sweater is the size you expect.

5. Crochet the pieces of the sweater.

6. Join the pieces as instructed in the pattern using either crochet or sewing stitches.

7. Use a tapestry needle to weave in any remaining yarn tails.

8. Consider adding optional details like buttons and pockets to personalize your project.

Give yourself a big high five! You just learned how to crochet a sweater!
Overall Pattern Notes
With crocheted sweaters, it's essential to check your gauge before starting on the pattern. Meeting the gauge of the pattern is what will ensure your garment turns out the size you expect. It's always okay to adjust your hook size to meet the gauge.
Get detailed free patterns up above on page to learn how to make your first crochet sweater! 👆