You won't believe how easy it is to make a lightweight, bishop-sleeved sweater in this step-by-step crochet cardigan video tutorial. Get the free Day Date Cardigan written pattern here. Or purchase the ad-free, printable PDF with stitch chart here.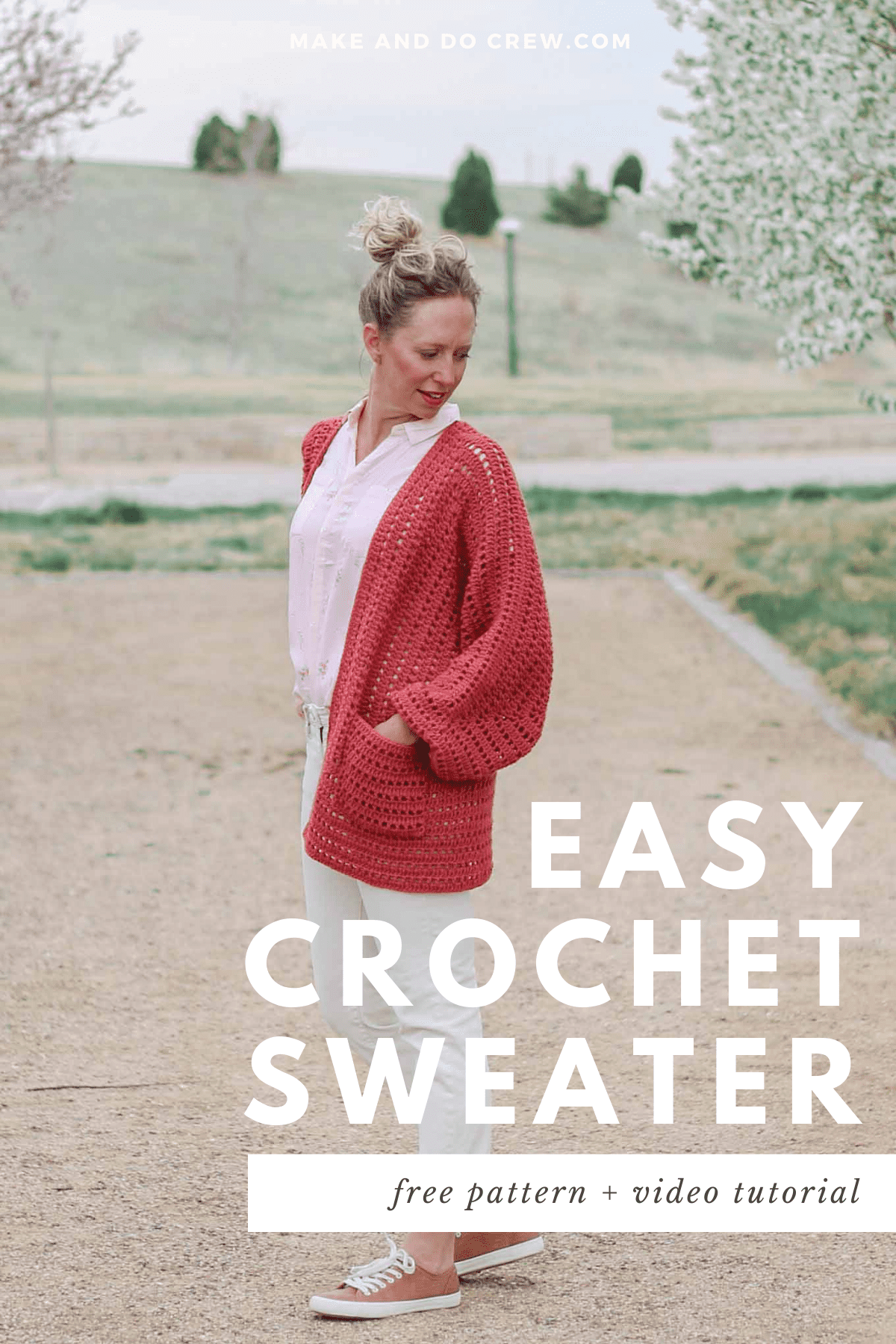 This free crochet cardigan video tutorial is part of a collaboration with my friends at Lion Brand Yarn. This post contains affiliate links.
There's something so magical about using your own two hands to make a thing that is both beautiful and useful. The Day Date easy crochet cardigan is definitely both! The novel hexagon construction combined with soft, flowing drape make this lightweight sweater feel like something you bought at a boutique--only better.
Of all the crochet sweaters I've made in the last year (a few of which are pictured below), I truly think the Day Date Cardigan might be one that'll get worn the very most. I hope you feel the same way at the end of crocheting it!
Which Yarn To Use
The yarn used in this cardi pattern has since been discontinued unfortunately. Substituting Lion Brand Jeans or Hand Dyed Heaven would be a great fit. If neither of these substitutes are available near you, I highly recommend checking out YarnSub.com for other suggestions for yarns that will suite this pattern well. (Make sure to crochet a gauge swatch before you begin and adjust your hook size if necessary.)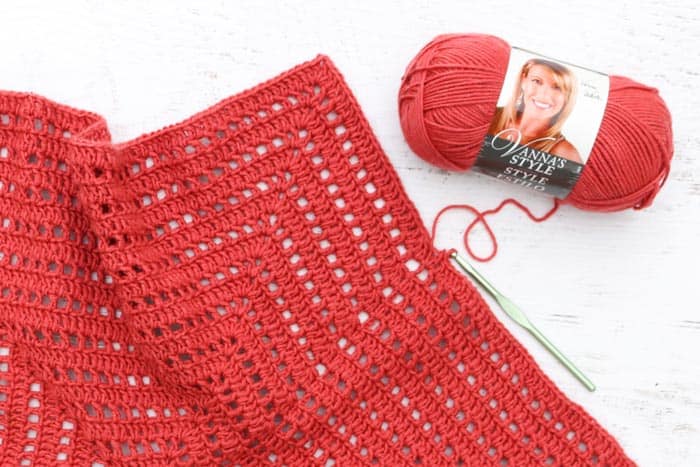 What This Crochet Cardigan Video Tutorial Covers
The construction of this hexagon cardigan really is simple, which means that there's virtually no shaping or counting. I really wanted this sweater pattern to be approachable for beginners though, so this step-by-step video tutorial covers a lot.
I basically walk you through the pattern from the very beginning of crocheting your hexagons to the end where you're proudly seaming on your pockets. This is seriously one FUN pattern to watch come together.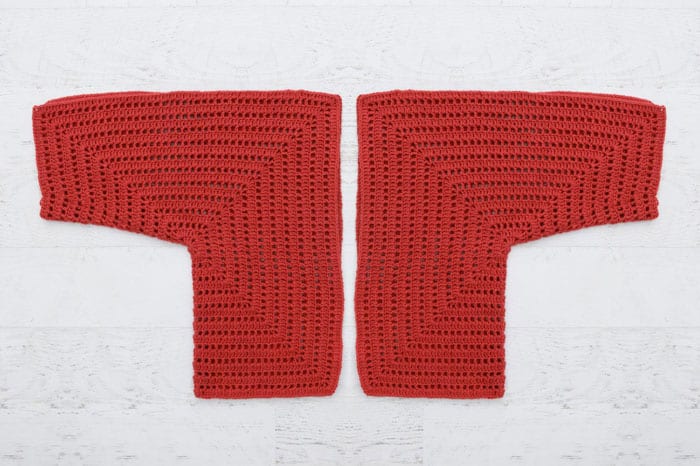 Because this video tutorial is thorough, this pattern is appropriate for a confident beginner who is ready to move from flat pieces like scarves to three dimensional awesomeness. Don't worry though, you'll be amazed at how the hexagons really do most of the work in creating the shape of this on-trend sweater. The skills you'll need are double crochet, single crochet and working in the round.
New to making cardigans? Don't miss How to Crochet a Sweater for our best beginner tips
Where to Find the Free Written Pattern
As you crochet along with the video tutorial, you'll need the Day Date Cardigan written pattern to reference too. You can find the free pattern on the blog here. And if you're a visual learner, it'll be really helpful to also have access to the stitch diagram that's contained in the ad-free PDF.
Not only is the PDF formatted for easy printing, it includes the bonus stitch chart and schematic for extra ease in understanding the pattern.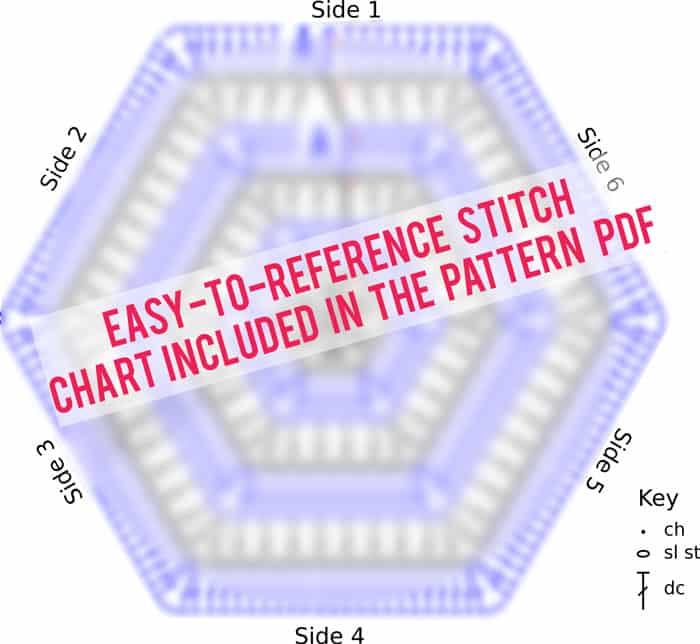 More Free Crochet Sweater Patterns
Crochet sweater patterns don't need to be difficult. In fact, most of ours are made with very simple shapes. Dive into the wonderful world of crochet garments with cardigans, pullovers, ponchos, shrugs and more!
See more free crochet sweater patterns →
---
Day Date Crochet Cardigan - Video Tutorial
Links referenced in the video:
• Get the free Day Date Crochet Cardigan pattern: Part 1 here, Part 2 here.
• Grab the pattern PDF on LoveCrafts.com here and on Etsy here.
Need help? Wanna show off your stitches? Join the Make & Do Crochet Crew Facebook group here!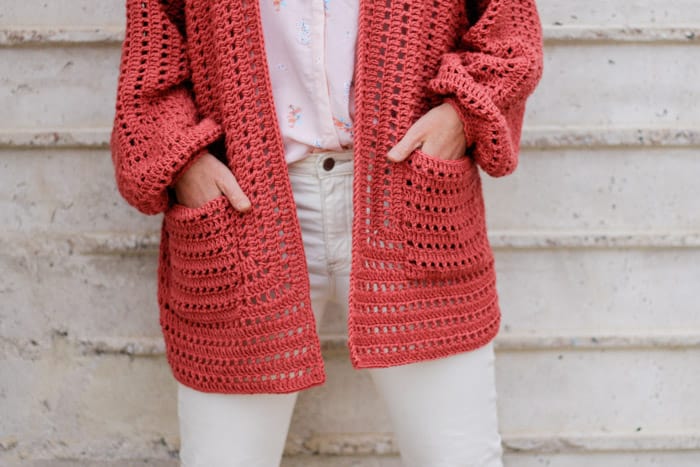 That was so fun! Now what?
Invitation to our Facebook group
Come discuss crocheting day date cardigan patterns and lots of other crochet projects and techniques in our Make & Do Crew Facebook group. Here thousands of helpful crocheters answer each others questions and share their stitches. Come join us here.
Find Your Next Sweater Project
More Free Patterns + Tutorials
Can't get enough free crochet patterns!? Me either. You'll definitely want to breeze through these collections to find your next project.
Learn a New Skill
And when you're ready to master a new skill, check out our detailed guides that include everything you need to know to level up your crochet game.
More Crochet Patterns With Video Tutorials
Now that you've finished your crochet hexagon cardigan, you're ready to try these free crochet pattern with video tutorials. You might also like the women's Campfire Cardigan and the kids' XO Cardigan (sizes newborn-14), both of which are made from hexagons too.
1. The Alchemy Cardigan - a free four part crochet along pattern and video tutorial series
2. The Revival Scarf - free crochet bean stitch triangle scarf with video tutorial
3. The Dwell Sweater - easy crochet sweater video tutorial and free pattern
4. Cabin Boots - free pattern and video tutorial that uses flip flops for soles