We kick off this unique crochet granny square jacket pattern by making–you guessed it–granny squares! Find part 1 of the free pattern and video tutorial below or purchase the complete, printable PDF here.
This granny square jacket crochet pattern is part of a collaboration with Lion Brand Yarns. This post contains affiliate links.
It's rare that you can tuck your crochet sweater project in your purse to work on wherever you go, but these granny squares are just the right size for toting along.
If you're completely new to the Revival Cardigan pattern, you can find the main page with all the resources here.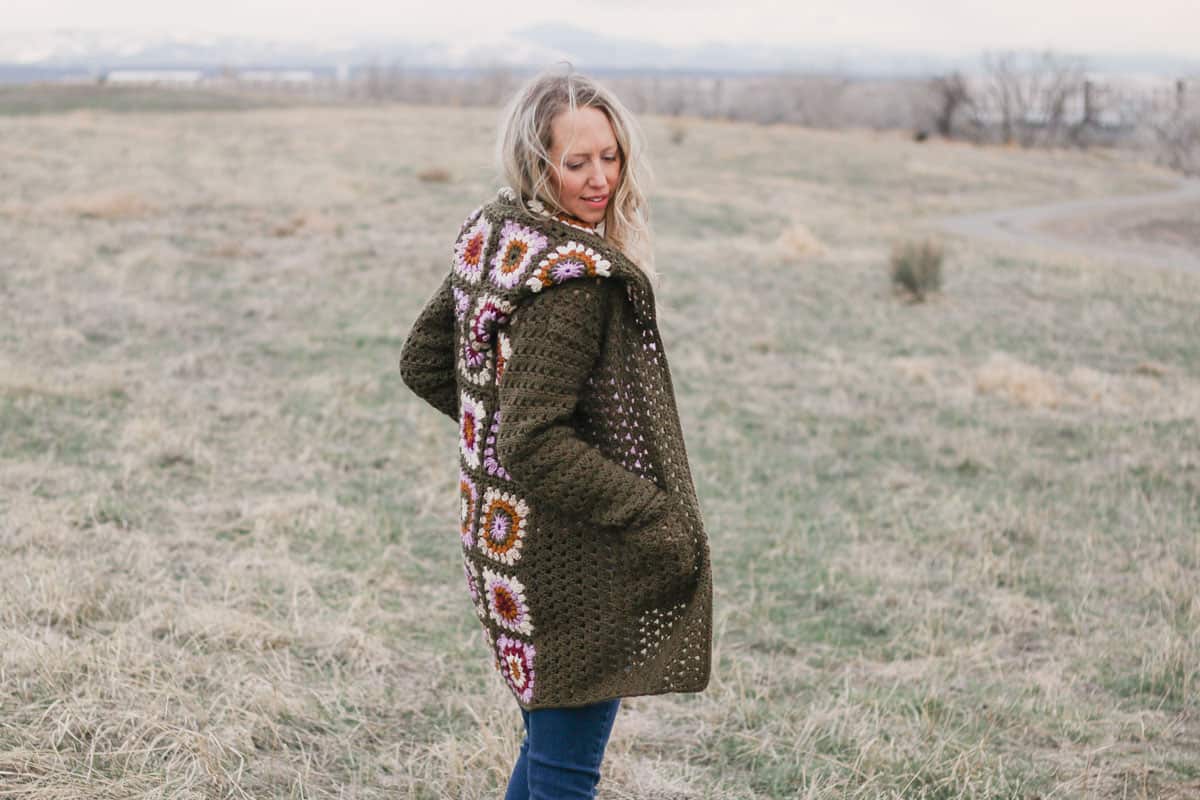 A Modern Take On a Classic Granny Motif
While I love a classic crochet granny square, I knew this cardigan was asking for something less overtly "retro." The sunburst granny square pattern we're using in this crochet sweater jacket gives a nod to the traditional motif while staying modern and fresh.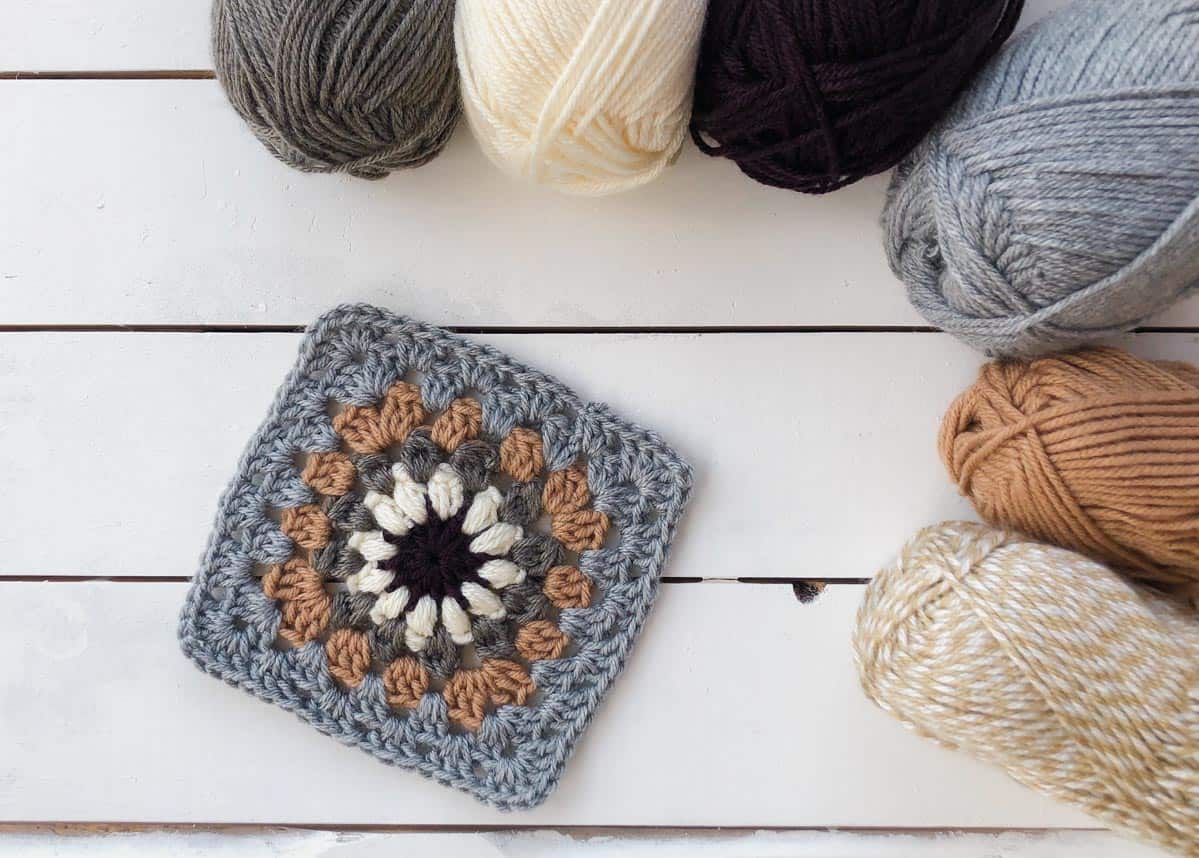 All Sizes Need the Same Number of Granny Squares
No matter what size of crochet granny square jacket you're making, you'll notice that you need the same number of squares. This helps keep the pattern a bit simpler to follow and I hope it means that anyone participating in our casual crochet along can whip them up in a week or two.
The Assembly Line Option
As I was crocheting my grannies, one approach that I enjoyed was making several in an assembly-line fashion. I'd work a Round 1 for several squares, then add a Round 2 to all the squares, then add a Round 3 and so on. This helped me plan out a variety of color patterns (more on that in the pattern below) and also seemed to make them come together faster because I wasn't switching gears with each round.
In my experience, each granny square takes about 20-30 minutes to make so they're pretty satisfying to knock out between meetings or while you're watching a show.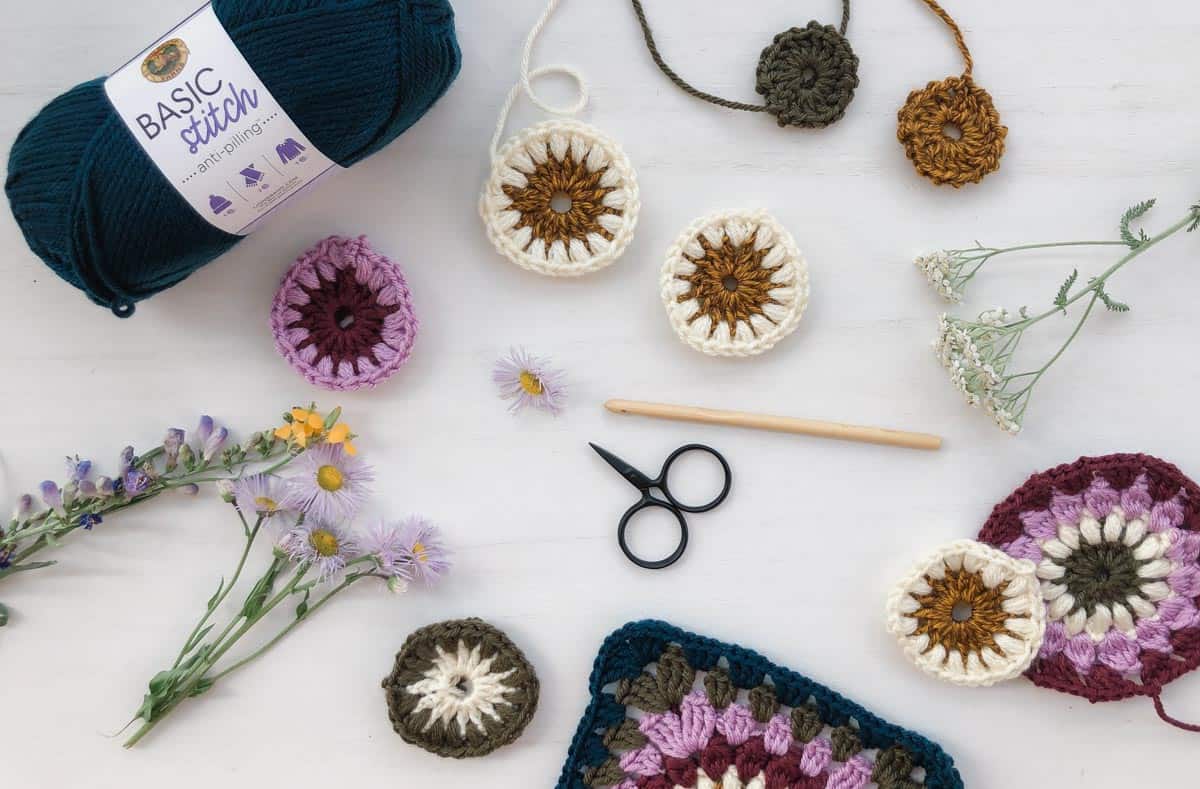 How to Crochet a Sunburst Granny Square Video Tutorial
This granny square pattern includes a lot of so called "special stitches" that can be a little intimidating to read. If you'd prefer to watch a video tutorial to learn how to whip up the granny squares for your sweater, you can find a step-by-step video here.
A Tip For Choosing Yarn Colors
Do you use this little trick for choosing colors? Once I learned this one little trick for choosing colors, I stopped getting quite as stress sweaty in the yarn aisle.
Here's the deal—all colors have a value, which is basically their relative lightness or darkness. Combining colors with different values (some light, some medium, some dark) can create a higher contrast, balanced look.
A project with colors in similar tones can have a nice, subtle vibe. But if your colors are ALL the same tone, your project can end up lacking definition or just looking a little "muddy." Your eye won't be able to find a place to rest.
How to actually assess the value of any color that wasn't a shade of grey though baffled me for the longest time. Then I learned this trick and it has really helped me stop second guessing my color choices the entire time I'm crocheting–-or at least do it a little less!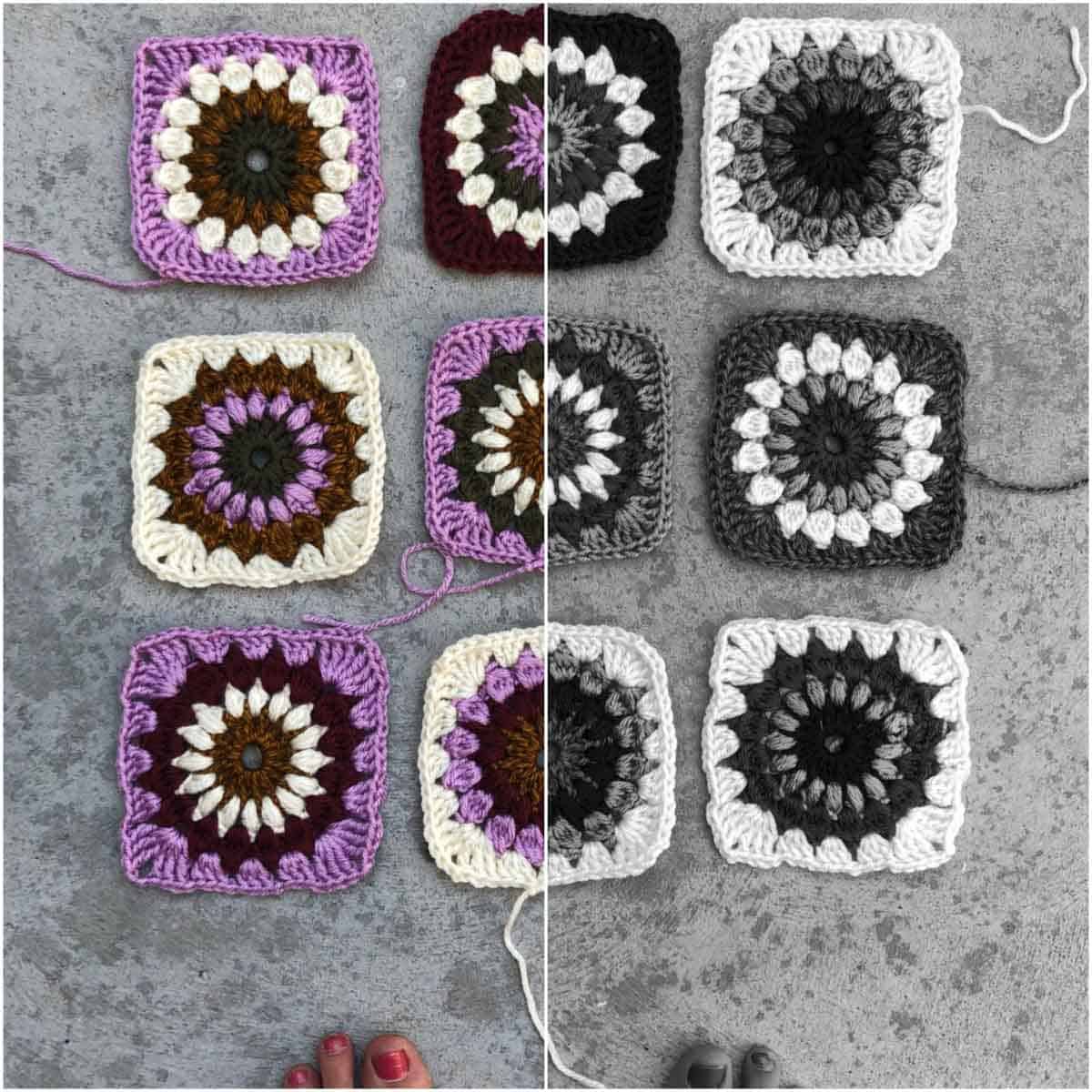 Take a photo of your colors and convert it to black and white. (You can easily do all of this on your phone in the basic camera app.) Doing so reduces colors to their relative value.
Is the level of contrast what you're going for? If not, add a color or two that is noticeably lighter or darker than the rest and take another photo.
See more on arranging colors in the pattern below.
Want to Print the Pattern or Work At Your Own Pace?
As a reminder, you have the option to purchase the ad-free PDF of the complete pattern here. Not only does it include parts 1-4 of the pattern in one place, it's formatted for easy printing and comes with some bonus charts and diagrams.
download the complete pattern immediately ⇨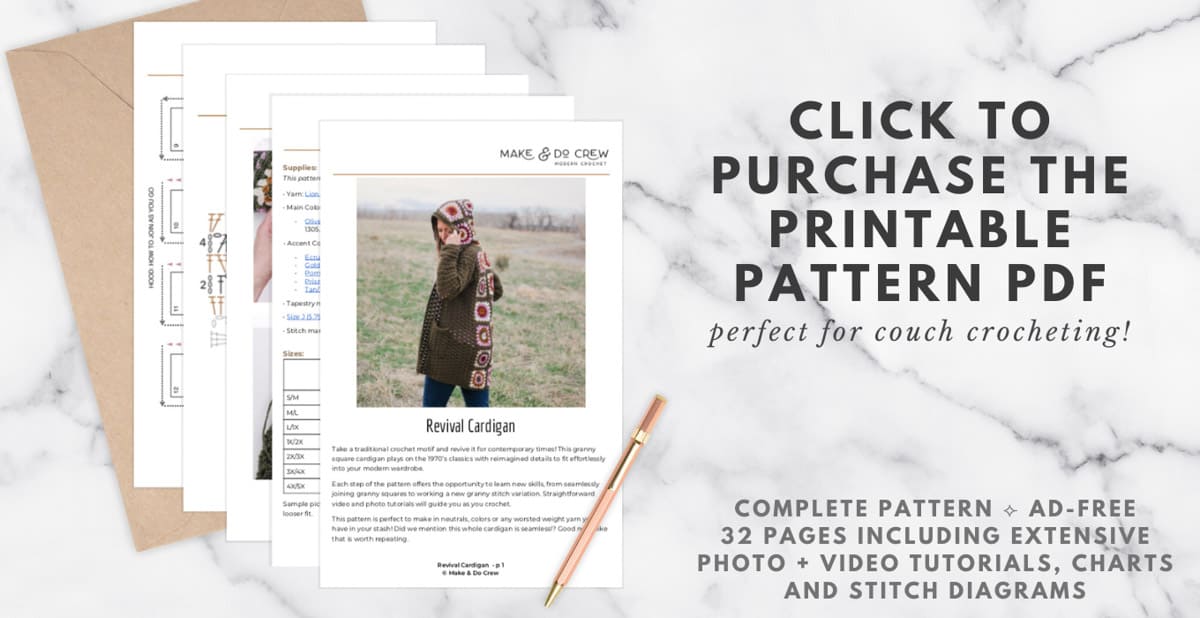 ---
The Revival Cardigan
Free Pattern – Part 1
Purchase the complete pattern as an ad-free, printable PDF here on LoveCrafts or here on Etsy.
Save this pattern to Ravelry here.
Pin it for later here.
Explanation:
Take a traditional crochet motif and revive it for contemporary times! This granny square cardigan plays on the 1970's classics with reimagined details to fit effortlessly into your modern wardrobe.
Each step of the pattern offers the opportunity to learn new skills, from seamlessly joining granny squares to working a new granny stitch variation. Straightforward video and photo tutorials will guide you as you crochet.
This pattern is perfect to make in neutrals, colors or any worsted weight yarn you have in your stash! Did we mention this whole cardigan is seamless!? Good news like that is worth repeating.
Supplies:
• Yarn: Lion Brand Basic Stitch Anti-Pilling (Weight: 4/medium – 185 yds, 3.5 oz)
– Main Color (A): Olive (202-132) – 8 (9, 11, 11, 13, 14, 15) skeins [(approx. 775 (880, 1025, 1100, 1210, 1305, 1485) g)]
– Accent Colors (5 colors, 7 total skeins required for all sizes):
• Ecru (202-098) – 2 skeins
• Gold Heather (202-401) – 1 skein
• Pomegranate (202-138) – 1 skein
• Prism (202-142) – 2 skeins
• Tan/White (202-603) – 1 skein
• Tapestry needle
• Size J (5.75 mm) crochet hook or size needed to obtain gauge
• Stitch markers or safety pins
Sizes / Fits Actual Bust:
Additional measurements included in the PDF.
S/M – 33″
M/L – 37″
L/1X – 41″
1X/2X – 45″
2X/3X – 49″
3X/4X – 53″
4X/5X – 57″
Sample pictured is a size M/L on a 5'9″ model with a 38″ bust. If in doubt, size up for a looser fit.
Gauge:
Each granny square after blocking (4 rounds) = 4.75"
Abbreviations and Glossary (US Terms):
3dcCluster – group of 3 dc (granny st)
ch(s) – chain(s)
ch1sp – space created by 1 ch
ch2sp – space created by 2 chs
dc – double crochet
dc2tog – double crochet 2 together (decrease)
dc3tog – double crochet 3 together (decrease)
rep – repeat
RS – right side
sk – skip
sl st – slip stitch
st(s) – stitch(es)
tch – turning chain
WS – wrong side
yo – yarn over
Special Stitches:
BegDcCl – beginning double crochet cluster – [yo, insert hook in the designated stitch, yo and pull up a loop, yo and pull through 2 loops] 3 times in the same stitch, yo and pull through all 4 loops.
4DcCl – 4 double crochet cluster – [yo, insert hook in the designated stitch, yo and pull up a loop, yo and pull through 2 loops] 4 times in the same stitch, yo and pull through all 5 loops.
Puff – [yo, insert hook in the designated stitch, yo and pull up a loop] 3 times in the same stitch, yo and pull through all 7 loops on hook, ch 1 to close puff.
Partial Puff – [yo, insert hook in the designated stitch, yo and pull up a loop] twice in the same stitch, yo and pull through all 5 loops on hook, ch 1 to close puff.
Want some company while you crochet?
Get support (and camaraderie!) in the Make & Do Crochet Crew Facebook Group here.
Permissions + Copyright:
Please do not publish or share this pattern as your own. You may make items to sell with this pattern. In exchange, please link back this post. Do NOT use my photos as your own sales photos.
GRANNY SQUARES
Tips For Choosing and Arranging Colors:
• It can be helpful to generally alternate between lighter and darker colors each round. This prevents any one square from looking particularly "heavy" or "light" in the overall design.
• Similarly, end each square with a lighter color in Round 4 (or a darker color if using a light-colored main color for sweater). This will provide contrast between the edges of each square and the main sweater.
• If using scrap yarn for granny squares, feel free to use more than six total colors. Also, you can make each granny square identical if a less random look is desired. (Additional yarn in your Round 4 color may be required.)
Notes:
• See abbreviations section above for explanations of each stitch.
• Watch this Sunburst granny square video tutorial or reference photos below for visual guidance while learning this sunburst granny square crochet pattern.
• Sunburst granny square is worked in the round without turning. Each round is finished with a sl st to the first st of the round.
• Ch 3 at beginning of round always counts as 1 dc. Work these chs quite tightly so as to minimize the potential gap they can create in a round.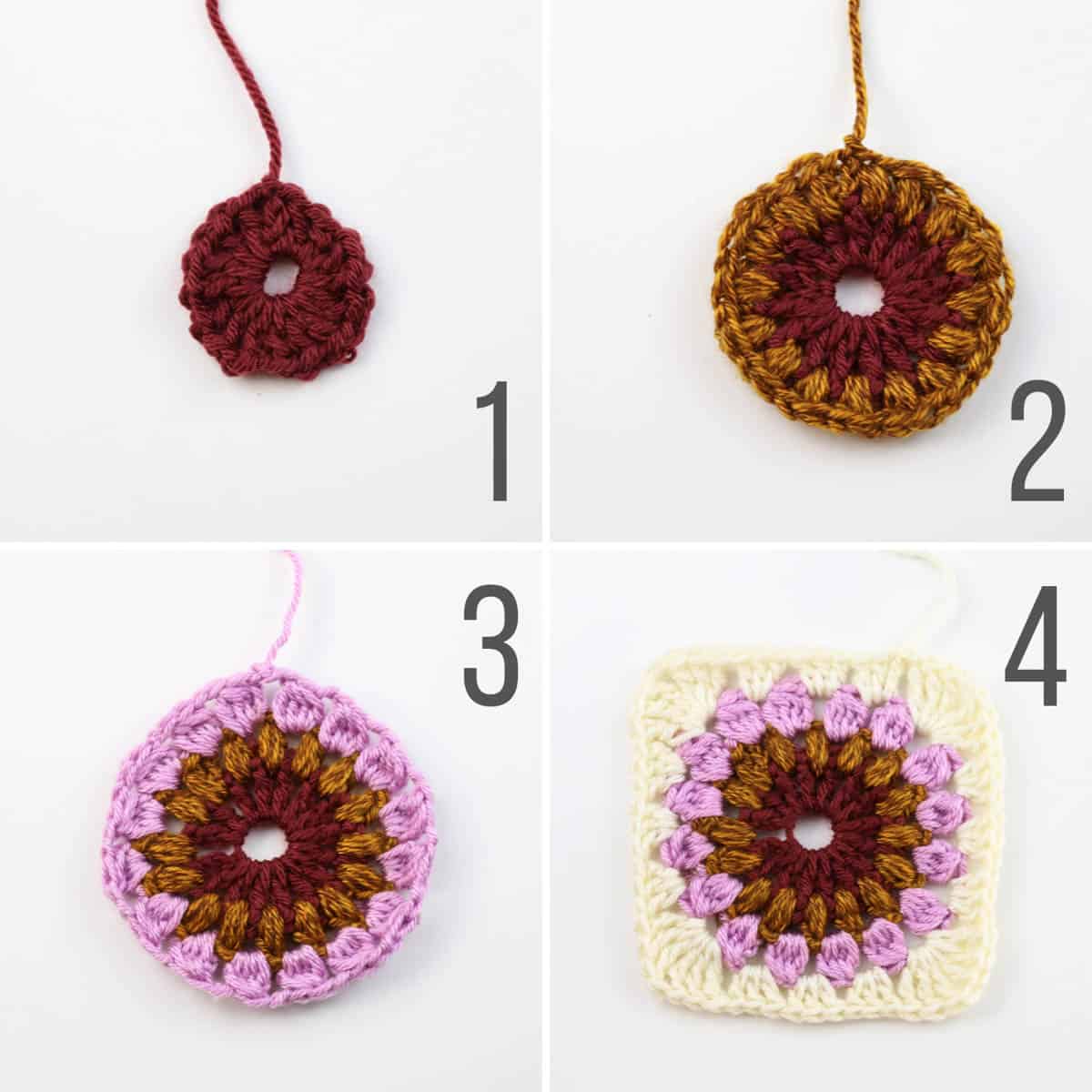 All Sizes: Make 24 granny squares.
Foundation: Create a magic ring (or ch 4, sl st to join).
Round 1: Ch 4 (counts as 1 dc, 1 ch1sp), [dc, ch 1] in ring 15 times, sl st to third ch from beginning of round to join. (32 sts)
Fasten off. Attach next color yarn in any ch1sp.
Round 2: Ch 3, partial puff in same ch1sp as yarn attached in, [puff in next ch1sp] 15 times, sl st to top of first puff to join. (16 puff sts)
Fasten off. Attach next color yarn in any ch1sp.
Round 3: Ch 2, BegDcCl in same ch1sp as yarn attached in, ch 2, [4DcCl in next ch1sp, ch 2] 15 times, sl st to top of first cluster to join. (48 sts)
Fasten off. Attach next color yarn in any ch2sp. Now we will turn our granny circle into an official granny square.
Round 4: Ch 3, 2 dc in same ch2sp as yarn attached in, [3 dc in next ch2sp] twice, [3 tr, ch 1, 3 tr] in next ch2sp, *[3 dc in next ch2sp] 3 times, [3 tr, ch 1, 3 tr] in next ch2sp, rep from * twice more. (4 distinct sides made)
Fasten off.
Blocking
Block all granny squares. To block, pin corners of each square down using T-pins. Direct steam from an iron or steamer at each square. (Do not touch iron directly to yarn, instead hold 8-12" away.) Blocking may seem unnecessary, but it really improves the overall look and shape of the squares.
If you don't have a blocking board, check out this tutorial on using a simple kneeling pad from the dollar store!
Ready for more? Find Part 2 of the free Revival Cardigan pattern here!