Learn how to block crochet hexagons or granny squares with this incredibly easy and inexpensive DIY blocking board.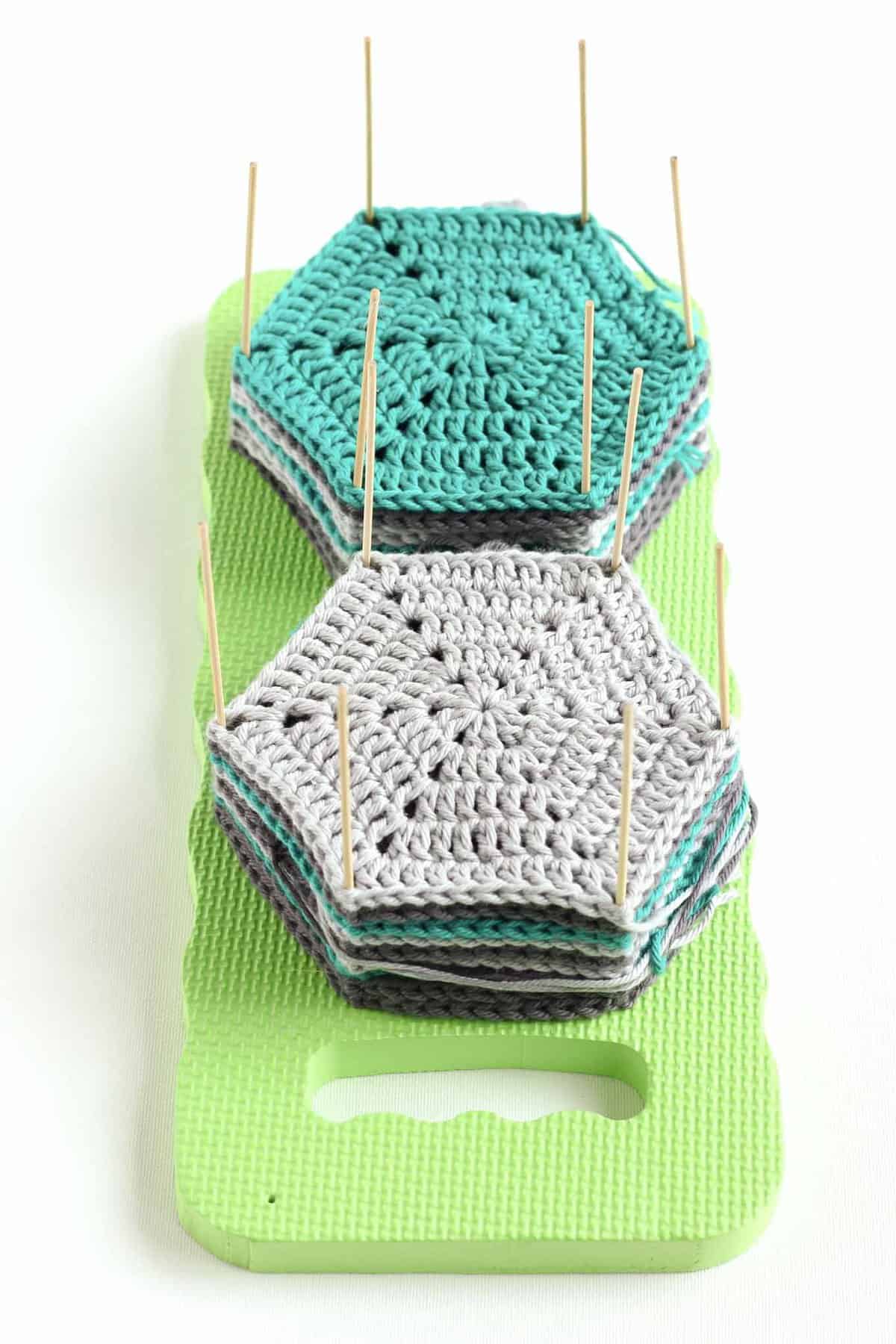 Have you ever had the experience of crocheting so many squares for an afghan that by then end you're finding them tucked into couch cushions, your pockets, under the seat of your car and if you're like me, your kids' mouths?
Lately, I've been making hexagons like a crazy person. (You can be crazy too! Here's the basic crochet hexagon tutorial.) My plan is to use them for a gender neutral baby afghan for a friend's new babe. (UPDATE: Get the free "Happy Hexagons" afghan pattern here!) Before any afganning could take place though, they needed to be blocked.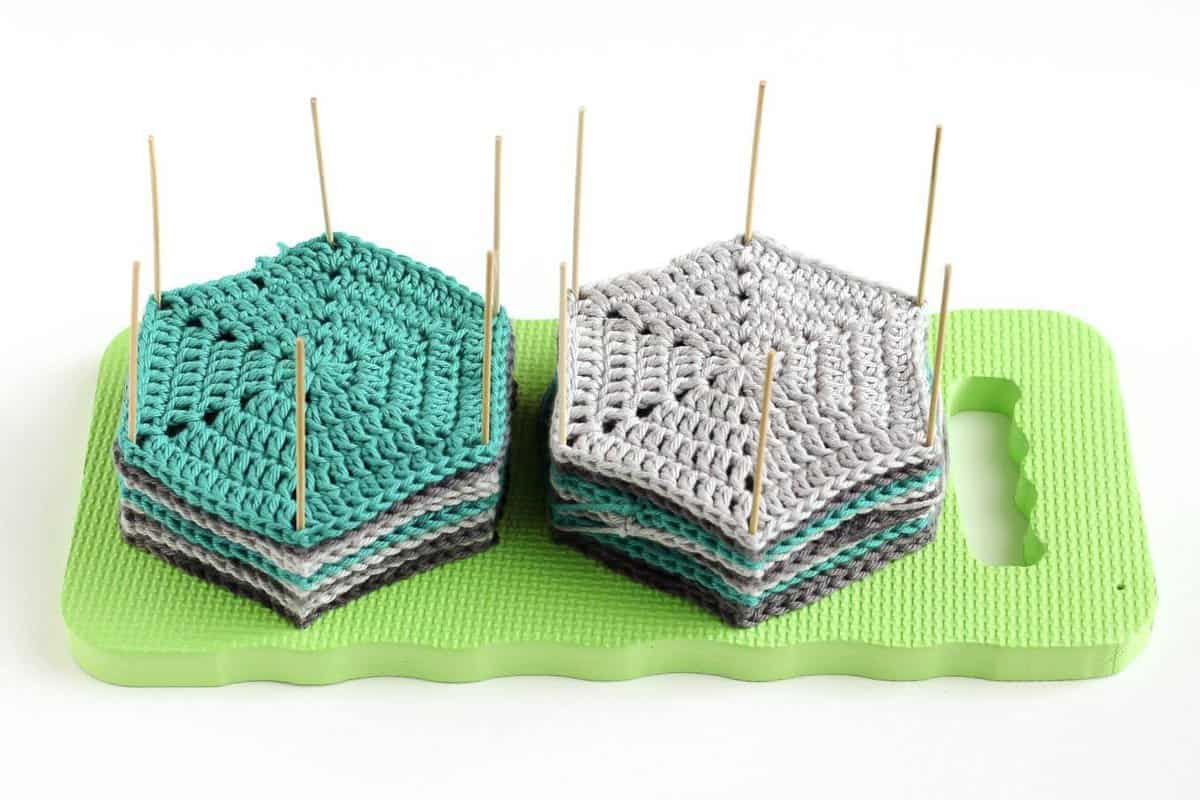 Most knit and crochet projects look better with a bit of blocking to even out all the stitches and fiber, but this is definitely the case when your handmade object is made of cotton and has been balled up in the bottom of your purse for three weeks. In the photo below, the teal hexies haven't been blocked and the grey have. See how the grey just look a bit more "organized" than the teal ones?
Blocking is especially useful in projects with multiple crocheted or knitted "squares" like this because they're much easier to sew together when they're all one size. This homemade blocking board takes literally five minutes and a couple dollars to make and can be reused and reconfigured to fit many different small crochet projects.
DIY Blocking Board Supplies
So you can spend more time finishing your crochet projects and less time shopping, this post contains affiliate links at no extra cost to you.
• foam knee pad meant for gardening (I got mine for a buck at Dollar Tree)
• 6" wooden shish kabob skewers
• ruler
• pen
• spray bottle or iron
How to Make a DIY Blocking Board for Crocheting (or Knitting!)
1. Decide on how large you want your finished crochet object to be. (Obviously, you're not just pulling this out of thin air. Base it on the pattern measurements. Or in this case, I measured several hexagons and took the average.) If you're blocking hexagons, you want to measure the width and height as well as determine a consistent length for the sides.
2. Mark the measurements for the finished object on your gardening pad.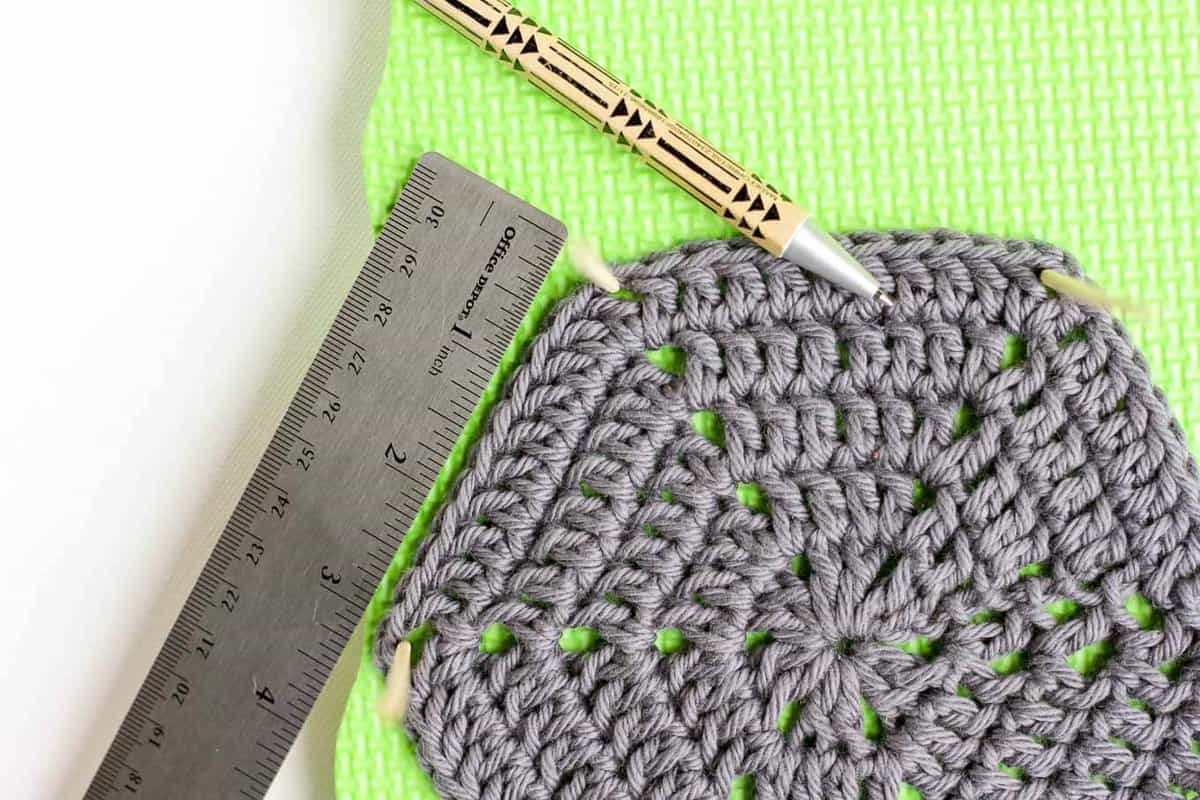 3. Gently insert the wooden sticks at the appropriate places for the size of your crocheted piece. If you are blocking something with longer edges (like this free boho flower headband pattern), place a skewer every 1-1.5" along the edge so as to keep the crocheting from drooping. Take care to insert the sticks straight up and down and not at an angle.
4. Carefully slide your crocheted hexagon or other square onto the sticks. Since I was blocking cotton here, I just needed a bit of moisture to get the fibers to relax and settle in so I sprayed each hexagon with a spray bottle before stacking another on top. (You could also block your crochet project with the steam from an iron. DO NOT put the iron directly on the crochet or on the foam pad though.)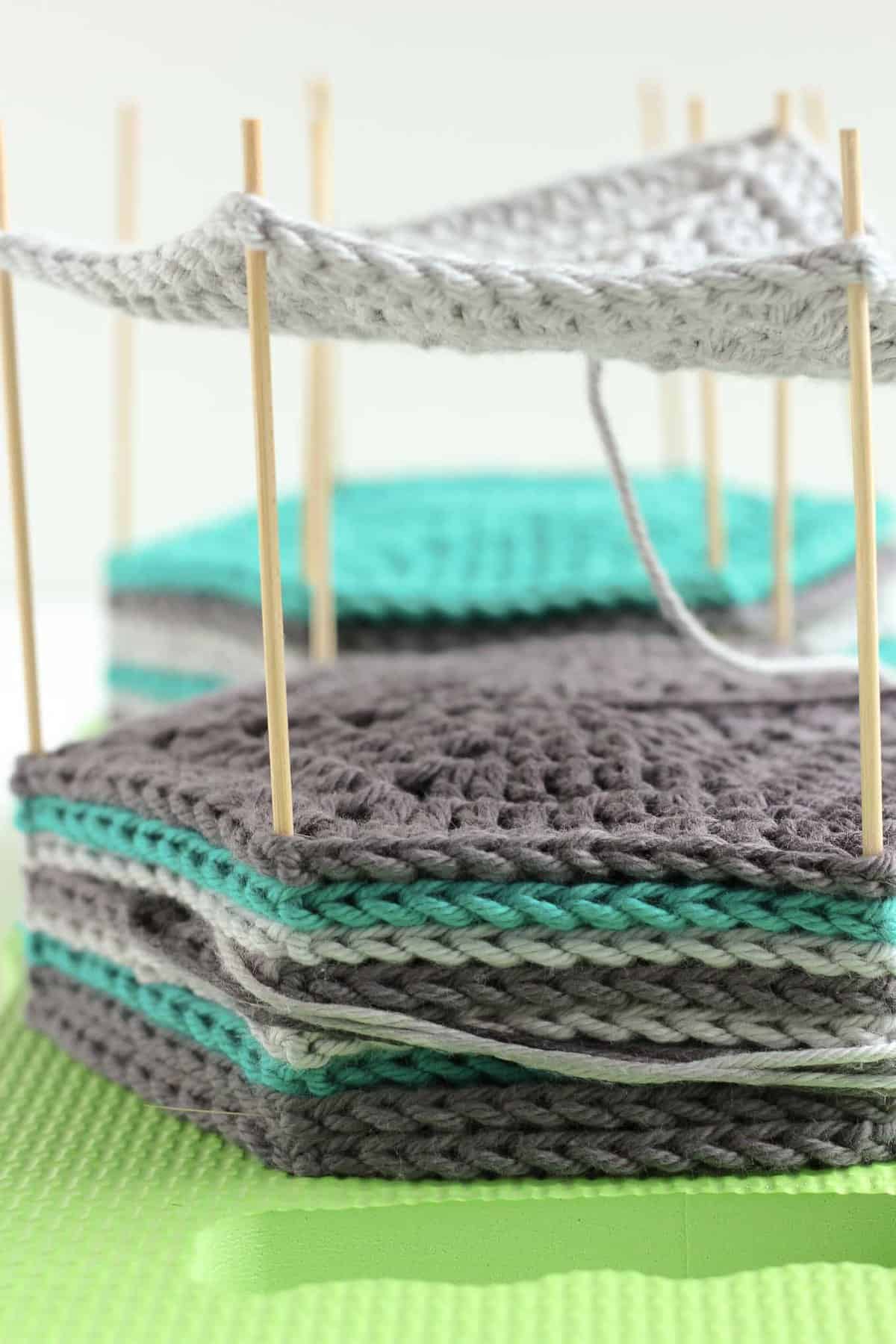 5. Stack a few more hexagons, squares or patches on your homemade blocking board, spraying each as you go. Set the blocking board in a place where the crocheted pieces will easily dry, like an open window. Once you're finished blocking your crochet project, simply remove the wooden sticks and your DIY blocking board for the next project.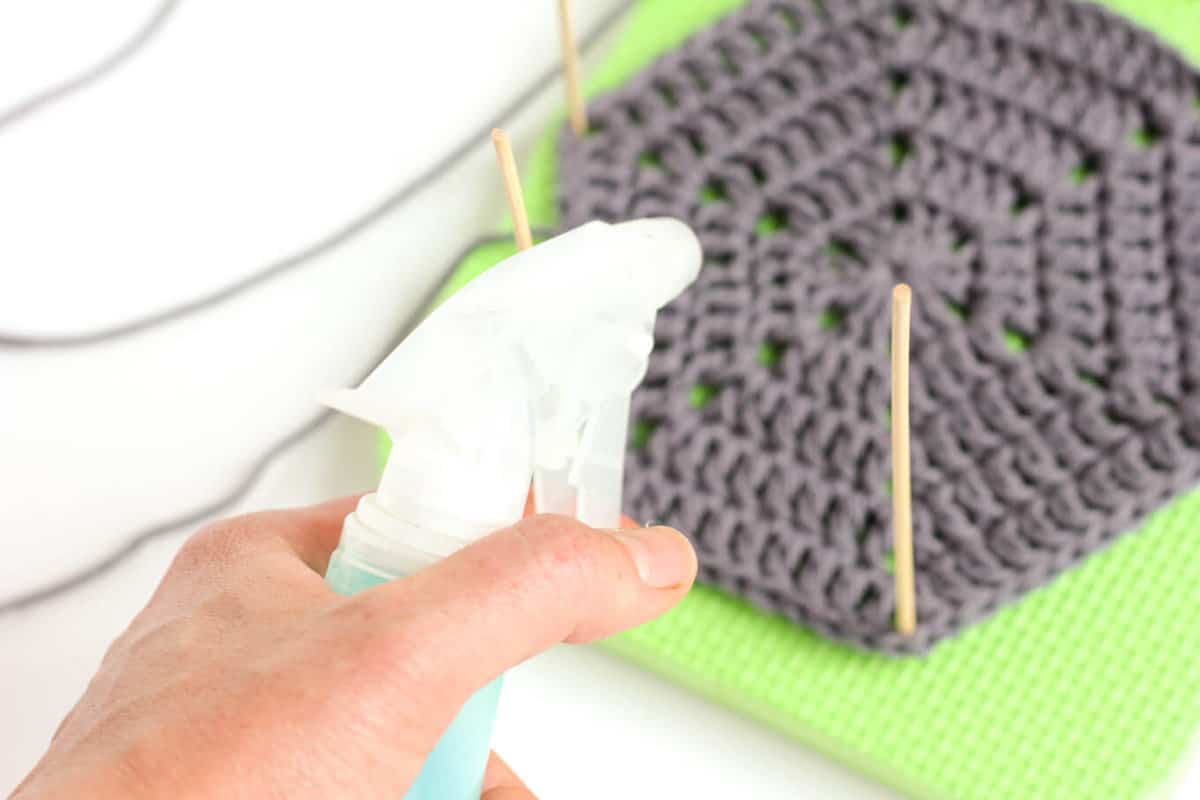 I let my hexagons stay on the blocking board for about 24 hours. When I slid them off, they looked nice and even and just a little more tidy than when I started.
For better or worse, that means I can't put off the somewhat mundane task of sewing them together any longer. 🙂
If you're ready to make your own hexie afghan, check out the free "Happy Hexagons" blanket pattern next.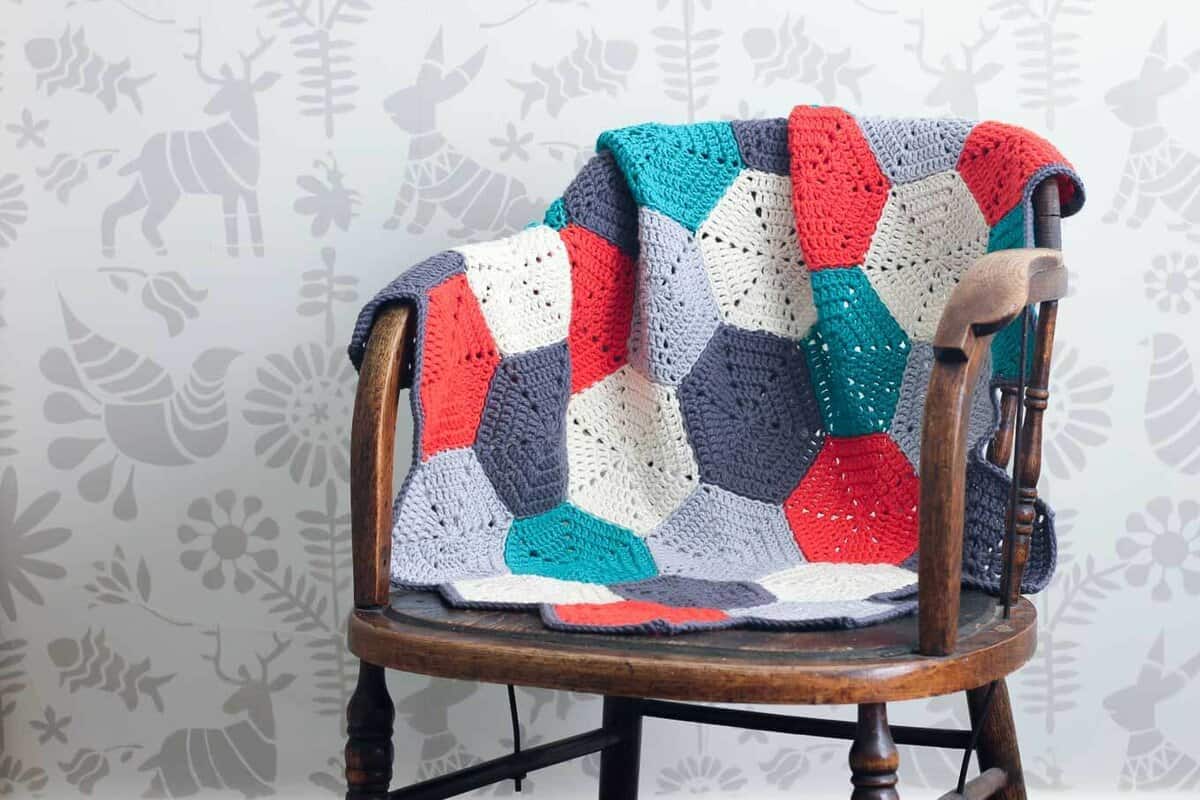 And if you'd like some other free crochet patterns that are small enough to fit on your new DIY blocking board, look no further!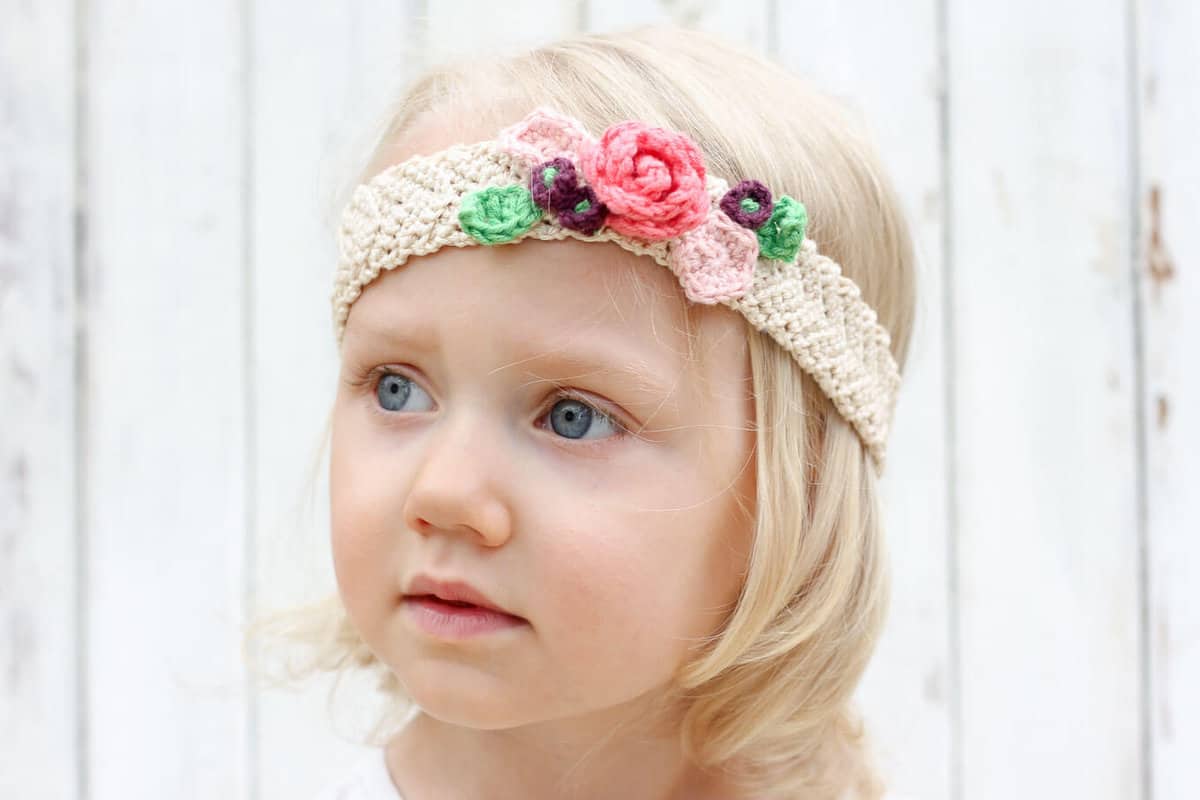 Boho Flower Headband (newborn - adult sizes)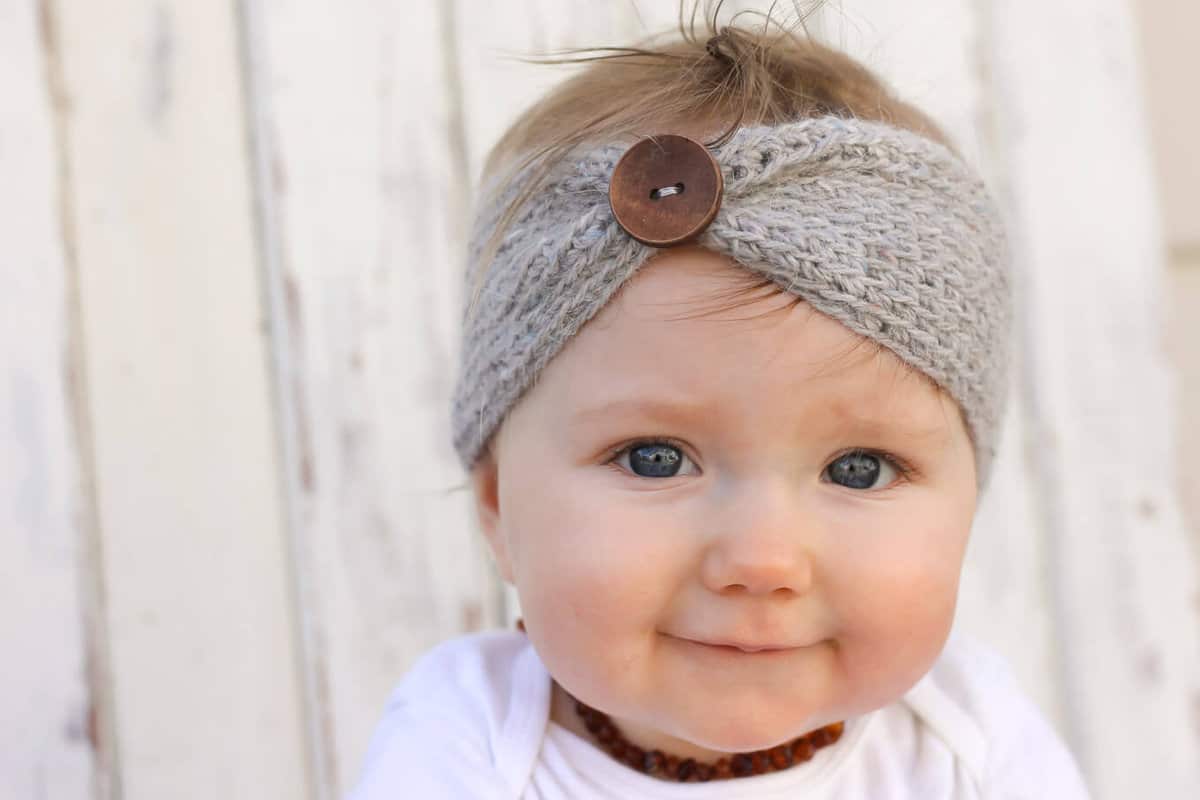 "Aspen Socialite" Crochet Headband (newborn - adult sizes)