Free C2C Crochet Patterns - Graphgans + More
Whether you're just learning how to corner to corner crochet or you've got miles of C2C on your crochet resume, you'll find your next project here!
If you like bold colors, you will love the magic of C2C crochet patterns. Because they're easy to personalize with characters, logos or pictures crocheted into the blanket, C2C blankets and projects also make great gifts.
Our C2C Crochet Book
My mom and I love designing free c2c crochet graphgan patterns and modern corner to corner crochet sweaters and accessories. In fact, we even wrote a beginner's guide to C2C crochet, complete with 15 contemporary patterns.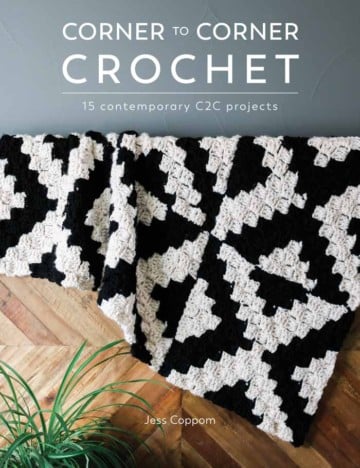 What is Corner to Corner (C2C) Crochet?
Corner-to-corner (C2C) is a crochet technique that is used to create a fabric that increases diagonally. Instead of working back and forth in rows, you'll crochet from one corner of a square or rectangle to the other. You can think of it as rows of stacked blocks that are created using double crochet stitches.
Corner-to-corner crochet can be used to make blankets, graphghans, scarves, sweaters, pillows and more.
Corner To Corner Crochet Patterns of All Types
C2C crochet isn't just for crocheting blankets. Here are a few free crochet patterns that use the corner to corner technique to create something other than a graphgan blanket.
Tips for Working C2C Crochet Patterns 
Whether you're just beginning your corner to corner journey or are a seasoned pro, these helpful tips will make sure your project goes as smoothly as possible.
Go for fewer color changes 
If you'd like to make a graphgan pattern more beginner-friendly, choose a pattern that can be simplified to a two color design. Our corner to corner crochet deer afghan and C2C bunny blanket don't look particularly easy at first glance, but both lend themselves to simplification that's perfect for corner to corner crochet beginners.
Learning how to change colors in c2c crochet will allow you to create more colorful designs as you become more comfortable with your skills. 
Try a pattern made from individual squares
For a more portable project, choose a pattern made up of multiple squares or motifs like our Best in Show blanket or Christmas afghan.
Get good at managing your yarn
When crocheting with multiple colors, things can get really messy, really quickly. In order to avoid trapping yourself in a colorful yarn spider web, it's crucial to learn how to keep your yarn organized.
There are lots of affordable, DIY yarn organizing ideas. Many of them can be created with simple household items like a laundry basket or paper towel holder. 
By keeping your skeins in order from the start, you can spend more time crocheting and less time untangling. 
Opt For Written C2C Pattern Instructions
Our printable C2C crochet graph patterns are always free to download. You can crochet directly from them to make beautiful corner to corner crochet projects.
If you have a few dollars to spare though, upgrading to our premium PDFs on Etsy can be particularly useful in the case of our C2C crochet graphgan patterns.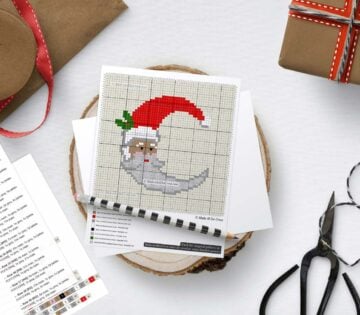 Our corner to corner PDFs include line-by-line written instructions which, when combined with the printable graph pattern, make for faster progress and fewer mistakes.
Learn How to Crochet Graphgans
If corner-to-corner crochet is a totally new technique for you, I think you'll find our How to Corner to Corner Crochet For Beginners guide super helpful. It's an in-depth tutorial that will teach you everything you need to know about c2c crochet, including:
How to work the c2c stitch

How to change colors mid-row

The difference between increases and decreases

Tips for weaving in ends and managing your yarn
How to decrease a c2c crochet blanket?
Decreasing in c2c crochet blanket is as simple as eliminating one tile from each row. Whether you're making a square or rectangle blanket, you will start decreasing once your project has reached its tallest/widest point. Follow this detailed video tutorial on how to decrease in c2c crochet.
How to make a C2C crochet pattern?
Learning how to make your own corner-to-corner patterns is easier than you might think. With my favorite free tool, StitchFiddle.com, you can design your own pixel chart/graph pattern from scratch (use words, illustrations or pictures). Learn more about how to design your own c2c graphgan patterns in this step-by-step guide.
More Afghans + Blankets You May Like
C2C isn't the only way to create beautiful crochet blankets. Here are a few different types of afghans that are just as enjoyable to make as they are to snuggle with.
Printable Free C2C Crochet Graphgan Patterns
If it's corner to corner crochet blanket patterns you're after, you'll find plenty here. You can download and print the graph for each these free patterns. The vast majority of our c2c blankets use worsted weight yarn, meaning you can make fairly fast progress with any of them. 
And if you see something you'd like to save for later, don't forget to save it to your Pinterest board.