Nine unique C2C patterns come together to create this corner to corner crochet dog blanket. The free graph patterns will be released each Tuesday or you can get the full pattern immediately in the premium printable PDF.
This C2C crochet dog blanket pattern is part of a collaboration with Lion Brand Yarns. This post contains affiliate links.
Have your pick of the litter in this corner-to-corner dog blanket pattern. Designed to include a wide variety of popular breeds, you'll get the chance to crochet yourself a whole pack of playful pups. This project uses traditional corner-to corner crochet techniques and throws in a few creative curve balls (hello, C2C popcorn stitches!) to make a show-stopping blanket.
Keep reading for info on yarn, substitutions, customizations and how to get the free C2C dog graph patterns.
Jump to:
How this works
If you'd like to get going right away or prefer having line-by-line C2C instructions to accompany the graphs, you can upgrade to the premium PDF and get the complete pattern immediately.
More C2C Crochet Dog Patterns
Click the link below to go to the blog post and free pattern for the each dog.
Yarn + substitutions
We chose Lion Brand Basic Stitch Anti-Pilling yarn for this corner-to-corner dog blanket because, just like dogs, it comes in a wide variety of neutral colors. Basic Stitch tends to be our go-to for C2C patterns because it wears and washes really well and offers lots of colors at a reasonable price point.
SUBSTITUTIONS: If Basic Stitch is not available near you, you can check YarnSub.com for similar suggestions.
STASH YARN: Using a variety of worsted-weight (category 4) yarns from your stash to crochet the dogs should work just fine also. Because even yarns of the same weight can vary in thickness, just make sure that each yarn is quite similar so that your C2C blocks look their best.
RELATED: How to Shop Your Stash: The Best Patterns for Using the Yarn You Have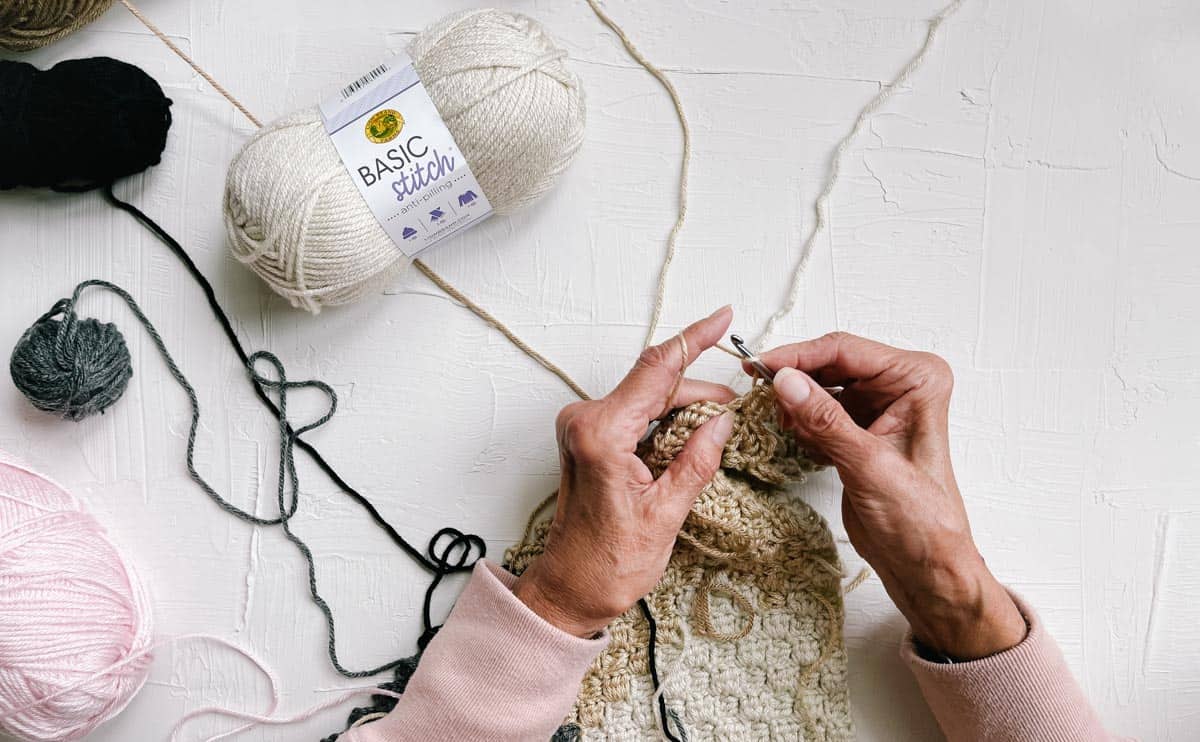 Ideas for customizing
The variety of breeds and colors make these C2C crochet dog patterns are perfect for customizing. Here are a few ways to personalize your dog blanket.
ONE BREED DIFFERENT COLORS: Crochet a blanket of dogs of only one breed. For example, melt the heart of any doodle fanatic with nine differently colored crocheted doodles. Or crochet a grid of black and white french bulldogs to create graphic, eye catching throw.



ADD YOUR DOG'S NAME: If you'd like to add a personalized border to your dog blanket, you can follow this tutorial on How to Design Your Own C2C Crochet Patterns to make a graph pattern with their name in it. If you're following the Best In Show Blanket instructions for borders on each of nine dog squares, you'll want to create a graph that's 91 "tiles" wide. The height can be whatever you'd like, but 20-25 tiles high is a good place to start.

ADD A PAW PRINT BORDER: The paid PDF includes an exclusive C2C border pattern to add to the top and bottom of your dog grid. This is perfect if you'd prefer to have a rectangle blanket or simply want to play up the canine theme!

CROCHET A PILLOW COVER: If a blanket is too much, simply crochet one square to create a cushion cover with a "portrait" of your favorite pet. Make a coordinating square out of single crochet for the pillow back and customize it with your pet's name using this How to Cross Stitch on Crochet tutorial.
Related: Design Your Own Project with These Easy Blanket Stitches
How do I print this pattern?
We are so grateful to those of you who support our small business by upgrading to the premium printable versions of our patterns, so we add extra bonuses whenever possible.
In the case of the Best In Show Dog Blanket PDF, we compiled the line-by-line written instructions for each C2C dog graph. Written graph instructions are incredibly helpful because they:
Reduce the likelihood of mistakes that need to be torn out.
Allow you to crochet much faster than if counting squares in a graph.
Make it easier to set down your work and know right where to pick the pattern back up.
You'll also receive the bonus paw print border pattern to make your blanket a rectangle.
Get the complete set of nine C2C dog graph patterns, the written instructions and all the tutorial photos in the downloadable Best In Show Blanket PDF.
RELATED: Crochet a dog sweater with this easy pattern - in nine sizes!
Get an all-in-one kit
Don't want to source the all the perfect colors of your corner-to-corner dog blanket? We've done it for you in the Best in Show all-in-one kit!
This bundle from Lion Brand includes the Basic Stitch yarn in every color you'll need, plus a free printable PDF of the pattern, including the super helpful line-by-line graph instructions.
Deliver it! Click to purchase the an all-in-one crochet kit ⇨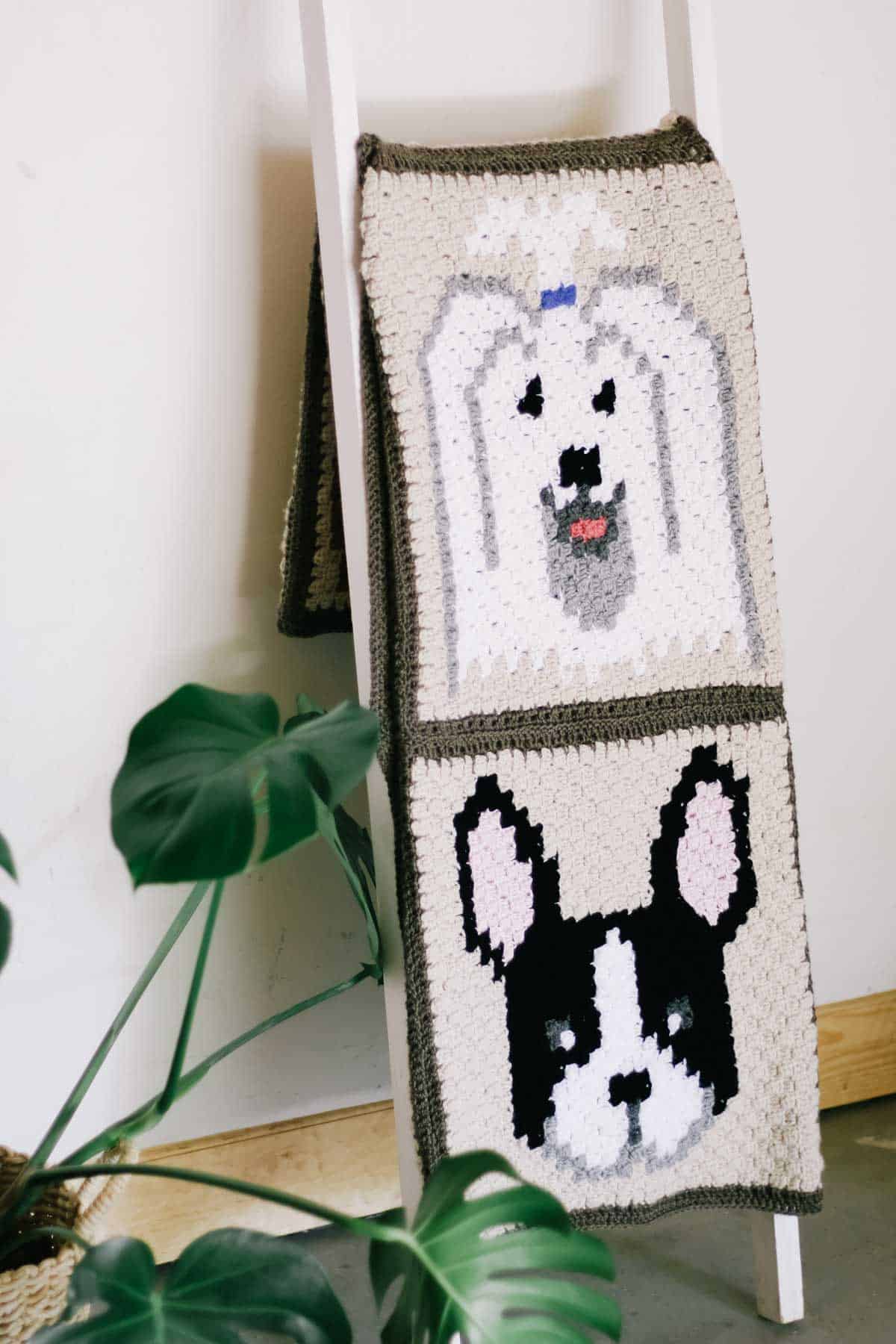 More C2C crochet patterns
We have lots more modern free corner-to-corner crochet patterns you might enjoy. Browse all our C2C patterns here.
---
Best In Show C2C Crochet Dog Blanket
How to crochet the blanket
Purchase the ad-free, printable PDF on Etsy here and on LoveCrafts here.
Save this pattern to your Ravelry here.
Pin this pattern for later here.
Explanation: You'll have your pick of the litter in this corner-to-corner dog blanket pattern. Designed to include a wide variety of popular breeds, you'll get the chance to crochet yourself a whole pack of playful pups. This project uses traditional corner-to corner crochet techniques and throws in a few creative curve balls (hello, C2C popcorn stitches!) to make a show-stopping blanket.
Download free graph patterns
Free pattern includes graph patterns released each Tuesday, beginning July 26. To follow along with written line-by-line C2C instructions for each graph, purchase the printable PDF.
More C2C Crochet Dog Patterns
Click the link below to go to the blog post and free pattern for the each dog.
Supplies:
Order an all-in-one kit from Lion Brand here.

• Lion Brand Basic Stitch Anti-Pilling Yarn (Weight: 4/medium - 185 yds, 3.5 oz)
FOR DOG SQUARES (abbreviation : color name):
• A: Almond (202/121L) - 1 skein
• BP: Baby Pink (202/101F) - 1 skein
• BH: Beige Heather (202/410F) - 10 skeins
• B: Black (202/153) - 2 skeins
• CW: Cedarwood (202/123AS) - 3 skeins
• CH: Charcoal Heather (202/403J) - 1 skein
• HN: Hazelnut (202/122T) - 1 skein
• HP: Hot Pink (202/195) - 1 skein
• MHG: Mahogany (202/126AL) - 1 skein
• RB: Royal Blue (205/109P) - 1 skein
• SH: Silver Heather (202/404J) - 1 skein
• W: White (202/100) - 5 skeins
FOR BORDERS:
• Taupe Heather (202/402) - 3 skeins
• Tapestry needle
• Size H (5.0 mm) crochet hook or size needed to obtain gauge
• 20 Stitch markers or safety pins
• T-pins
• Steamer or iron with steam function (alternative: use a spray bottle)
• Blocking board
Measurements:
Finished blanket measures approximately: 58 X 58"
Each dog block measures approximately: 18 X 18"
Gauge:
10 tiles = 6.25"
Each tile = approx. .6"
Abbreviations and Glossary (US Terms):
ch – chain
dc – double crochet
hdc - half double crochet
popcorn - corner-to corner-popcorn stitch (see below)
rep – repeat
RS – right side
slst – slip stitch
sp – space
st(s) – stitch(es)
WS – wrong side
C2C Popcorn Stitch:
Step 1: Slst into next ch 3 turning space. Ch 3.
Step 2: 5 dc in same sp. Remove hook from fifth dc.
Step 3: Re-insert hook from front to back in first of 5 dc. Then insert hook in
live loop of fifth dc.
Step 4: Keeping hook inserted in first dc, pull loop from fifth dc through
first dc.
Step 5: Ch 1 to close popcorn.
Step 6: Dc in same sp to complete C2C tile.
TIP: C2C popcorn stitches are meant to be viewed on RS of fabric. When
worked on WS rows, simply push them through to the RS so they appear
on the blanket front.
Want some company while you crochet?
Get support (and camaraderie!) in the Make & Do Crochet Crew Facebook Group here.
Permissions + Copyright:
Please do not publish or share this pattern as your own. You may make items to sell with this pattern. In exchange, please link back this post. Do NOT use my photos as your own sales photos.
---
Additional Corner-to-Corner Crochet Resources:
Help with learning corner-to-corner-crochet basics can be found here:
BOOK: Corner-To-Corner Crochet: 15 Modern Projects (I cover all the details you need to know to master C2C in this book!)
ALL THE BASICS: Intro to C2C and the skills you need to get started.
VIDEO TUTORIAL: How to increase and decrease to create a rectangle.
PHOTO TUTORIAL: How to change colors in C2C crochet.
---
How to Read Written Line-By-Line C2C Instructions (included in the PDF)
→ Row 21 [WS]: A11, (B Popcorn) x 6, A4
• Row # is always the same as the number of tiles in that row. (Row 21 = 21 total
tiles)
• Arrow indicates direction of row when RS of blanket is facing up.
• Letter indicates which color of yarn to use. (See "Supplies" for abbreviations.)
• Number indicates how many tiles of each color to work. Therefore, for this
example, you'd work 11 tiles in Color A (typical C2C stitches) , 6 tiles in Color B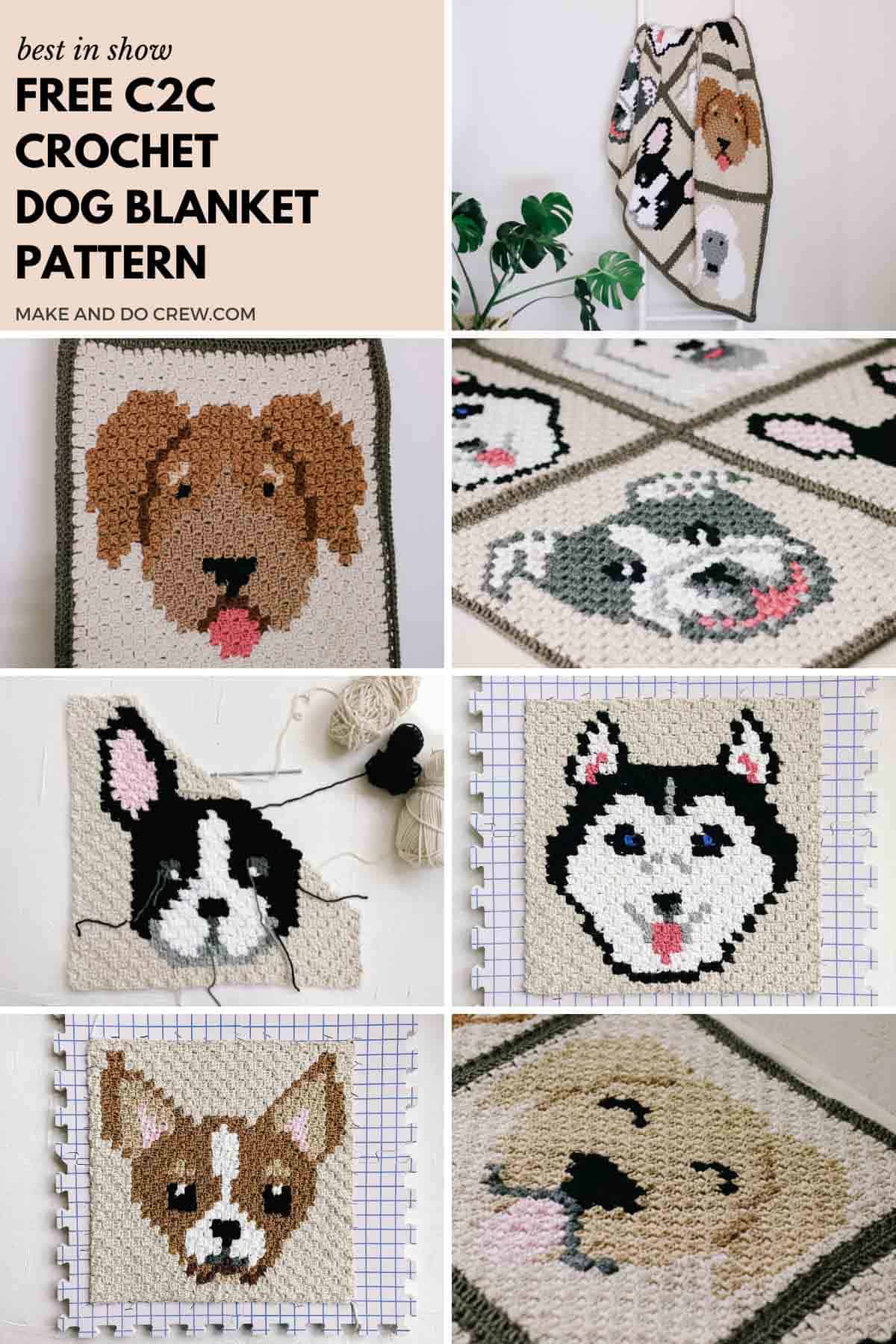 Pin it! Click to pin this pattern for later ⇨
Overall Pattern Notes:
IMPORTANT: All dog graphs are worked in the diagonal box stitch (also called
corner-to-corner crochet) using half double crochet C2C stitches.
Using half double crochet C2C stitches (instead of the more typical double crochet
C2C stitches) allows us to maintain a lot of visual detail in each graph without ending
up with a blanket that's too large to snuggle with on the couch.
This means each tile begins with a chain 5, then a half double crochet is worked in
the third chain from the hook and the next two chains. Similarly at the beginning of
each tile (after the slip stitch), use two chains instead of the usual three you'd use
with a double crochet C2C project.
Blanket Making Process
Crochet Dog Blocks by following graph patterns and written instructions.
Steam block all Dog Blocks to the same size.
Crochet a border around each Dog Block.
Join Dog Blocks together into a blanket.
Complete final border around entire blanket.
Crocheting Dog Blocks
Notes:
• Unless otherwise noted as a popcorn stitch, all tiles are worked in corner to
corner (C2C) half double crochet stitches as described in "Overall Pattern
Notes" above.
• It can be very helpful to wind smaller balls of each color before beginning a
graph. This allows you to keep a color attached when it will be used in the next
row and avoid carrying contrasting colors underneath as you work.
• Each pixel in the graph corresponds with one tile in your afghan. A tile = 2 ch
(the tch, which counts as a hdc) + 3 hdc
• While you may find it faster to work predominantly from the line-by-line
written instructions in the premium PDF, double checking your work against the
graph patterns periodically will help catch any mistakes sooner rather than
later.
• Instead of working a separate gauge swatch, you can begin a graph and
measure gauge about 12 rows in to make sure you're on track. While meeting
pattern gauge is not essential, it will ensure finished blanket turns out
expected size and uses as much yarn as listed in "Supplies" above.
• Because of the nature of C2C crochet, certain tiles of different colors can
appear slightly separated when crocheted. While weaving in ends, you may
choose to "tidy" up designs by visually joining disconnected tiles.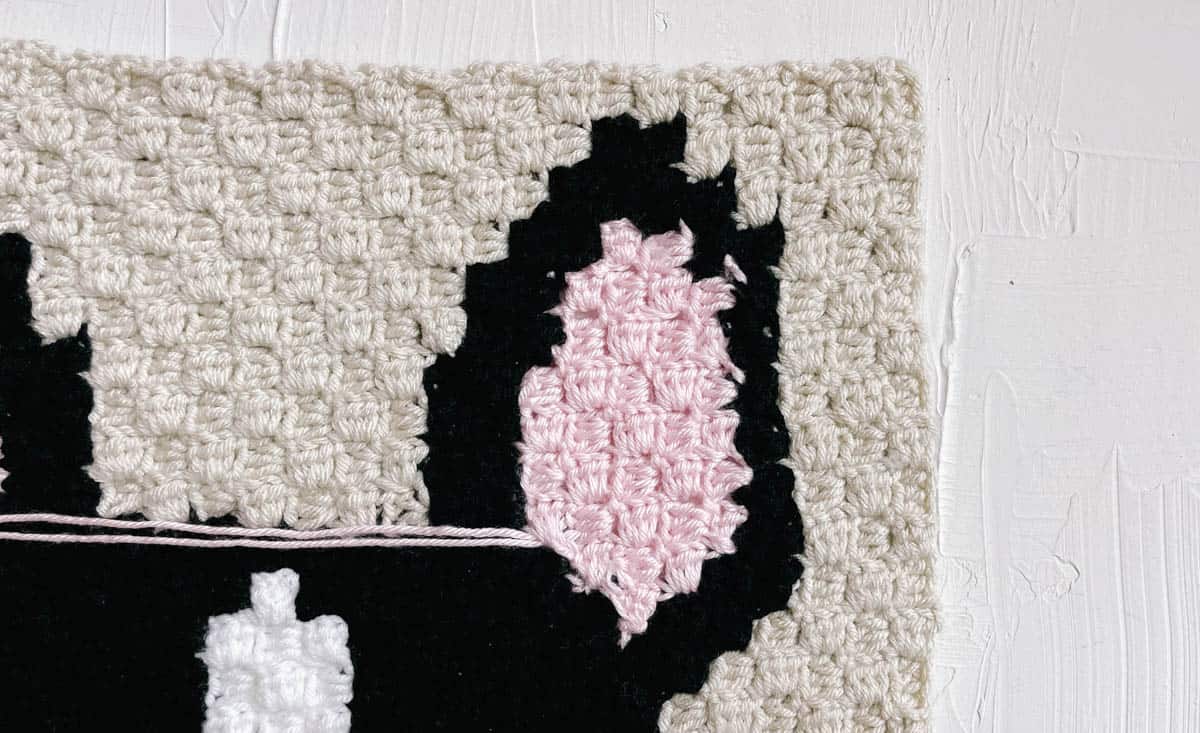 Blocking Dog Blocks
Using T-pins, pin dog square to blocking board so that it measures 18x18".
Direct steam of a steamer or iron at dog square taking care not to touch heat source to yarn. (This can "melt" your yarn!)
Let dog square dry completely before removing from blocking board.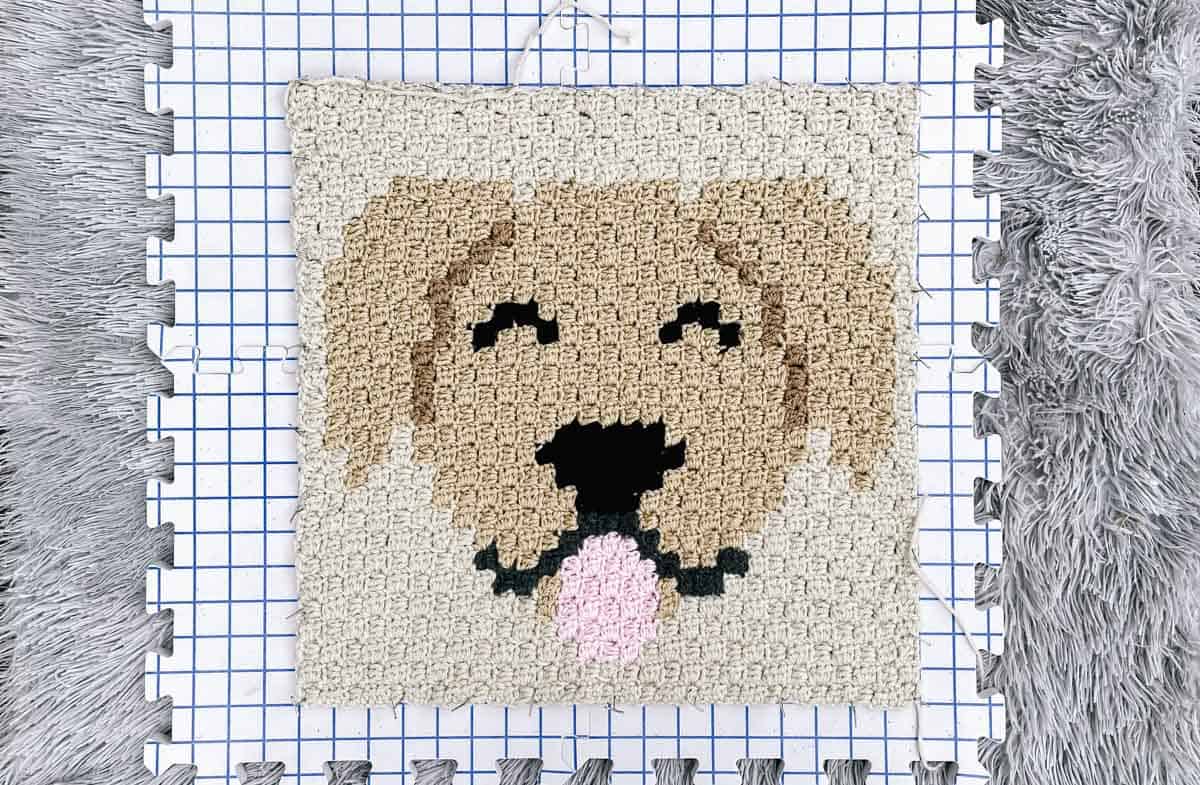 Border Around Dog Blocks
A border is worked around each dog square before blanket is assembled.
With RS facing, attach Border Color yarn between any two C2C tiles. Work Step 1 in
same space yarn was attached in.
Round 1 (RS):
Step 1: Ch 1, sc in same sp between two tiles.
Step 2: Ch 2, sk tile.
Step 3: Sc in next sp between tiles.
Rep Steps 2-3 to corner.
Corner: [sc, ch 1, sc] into corner point.
Rep Steps 2-3 around Dog Square, working corners as described above. At end of
round: ch 2, slst to first sc of round. Do NOT turn.
Round 2 (RS): Ch 3 (counts as 1 dc), *2 dc in ch2sp, sk sc; rep from * around Dog
Square placing [2 dc, ch 1, 2 dc]in ch1sp of each corner point. At end of round: slst to
third ch from beginning of round. Leave a 30 in tail to sew squares together.
Joining Dog Blocks
Determine Layout:
Shuffle the pups around until you're happy with their placement within the overall
blanket. Then ensure all dog blocks are RS down so WS is facing you. (RS/WS
designation is mostly relevant to the designs with popcorn stitches.)
Pin Blocks Together:
Using stitch markers, pin blocks together in three horizontal rows of three blocks. Take care to align C2C tiles in adjacent dog squares for the tidiest-looking join.
Seam Blocks:
Use a tapestry needle and remaining yarn tails when available.
Step 1: On right dog block, insert tapestry needle from underneath, pull yarn through
toward you.
Step 2: On left dog block, insert tapestry needle from underneath, pull yarn through
toward you.
Repeat Steps 1 and 2 until seam is complete. Weave in seaming yarn while tapestry
needle is still attached. Repeat with remaining blocks to create three horizontal rows
of three.
Bring It All Together:
Pin three horizontal strips together, taking care to line up corners where blocks
intersect. Use the same seaming technique to join the horizontal strips.
Final Blanket Border
Attach border yarn in any blanket corner.
Border Round (RS): Ch 3 (counts as dc), *dc in next dc and in each st to corner point, (dc, ch 2, dc) in corner point, rep from * to end of round, join with sl st to ch 3 turning ch. Fasten off.
Weave in remaining ends and – woof woof – you're done! ?
Share your work! Mention @MakeAndDoCrew and tag #MakeAndDoCrew to show off your stitches ⇨
Find your next project
Whether you're into crochet sweaters, C2C crochet blankets, Tunisian or crocheting your own fedora hat, we've got you covered. You can find all our free crochet patterns here.