Hi, I'm Jess. The mess-maker behind Make & Do Crew.
This might be your ideal digital hangout if:
-You long to make things with your hands--real, tangible, non-digital things, just like your grandma did. But you don't necessarily want those things to look like they belong in your grandma's house. (Although I'm sure it's lovely.)
-You stroll through the aisles of West Elm, Anthropologie and Pottery Barn saying, "Hey, I bet I could make that!"
-You like pinning, but you LOVE making.
Alright, come on already—let's make something!
If you can't wait another second to start planning your next DIY adventure, check out a few of my favorite free crochet patterns to add some handmade pizazz to your life:
Poke around the my free crochet patterns, check out my step-by-step tutorials or send me a note if there's a yarny project that could use the help of a creative teammate.
And if you're a fan of corner to corner crochet, check out my book, "Corner To Corner Crochet: 15 Contemporary Projects" to learn all the basics of this magical technique. (You can see a video flip-through of the entire book in the video below.)
If you'd like to know a little more about me:
I started a blog called Make and Do Girl in 2011 to document all my crafty adventures. A few years, 1,208 handmade pom poms and two babies later, Make and Do Girl officially has a crew. At times to my husband, Mike's, chagrin, the making and doing is no longer happening solo. Oh yes, this tangled nest of yarn, sweat and popsicle sticks is now a family affair.
I've been DIYing for a long time. Like I suspect I might have knit my own placenta in utero. Creating is just what has always made me happy. I was in kindergarten when I decided to undertake one of my first epic DIY endeavors.
I wanted to make a quilt. (Blame it on the Laura Ingalls' Wilder girl crush.) My mom could have said, no Jess, you might poke your little five-year-old eye out with that needle, now go outside and play with a stick. But instead, she rummaged up a book of wallpaper samples, tore out the attached fabric swatches and said go to town, kid.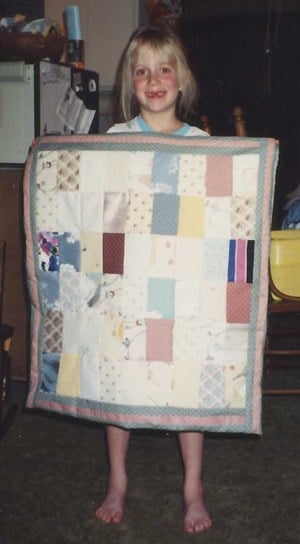 It was about that age that my mom also nicknamed me the "Make and Do Girl." Although really, she is the master of make and do. Part preschool teacher, part thrifty hippie, that lady's DIY resume reads like a Pinterest feed. On top of that, my dad refinishes antique furniture and he built the house that I grew up in.
Consequently, my childhood was filled with more power tools than My Little Ponies and I was lucky enough to grow up thinking anything could be made with a little ingenuity, a drill and some homemade play dough.
Before starting Make & Do Crew, I worked in advertising doing stuff most people would generally call "creative." But whether you work in an accounting office or a grocery store, I believe we all have a little maker and doer inside of us. I hope that the tutorials and ideas you find here pump up your inner maker elf.
Feel free to drop me a note (jess [at] makeanddocrew [dot] com), follow Make and Do Crew on Instagram and Pinterest and subscribe to our newsletter for exclusive free patterns and tutorials. I look forward to making and doing with you!

Top Photo Credit: Lucky Malone Photography
Quilt Photo Credit: My mom (if that wasn't implied)