Learn all the essentials of how to corner to corner crochet including c2c increases, c2c decreases and how to read a graphgan chart.
UPDATE: I've put together a video tutorial that covers all the basics of how to corner to corner crochet! Check out the photo tutorial below and then head here to watch the video.
A couple of years ago I stumbled across Sarah from Repeat Crafter Me's corner to corner afghan patterns and fell in love with the idea of being able to crochet designs in a totally new way. If you're unfamiliar with c2c crochet, Repeat Crafter Me should be your first stop because Sarah has a site full of corner to corner inspiration.
This post contains affiliate links.
Corner to corner crochet (c2c) is a technique that works just as it sounds–you crochet little "tiles" at a diagonal, increasing each row by one tile until your project is tall and wide enough, at which point you start decreasing each row.
Corner to corner crochet can be used to make striped afghans like this, but I absolutely love it for the fact that you can design a graph of anything that you want and then essentially paint by number with yarn to turn it into a c2c graphgan. (Graphgan = afghan that's made from a graph.)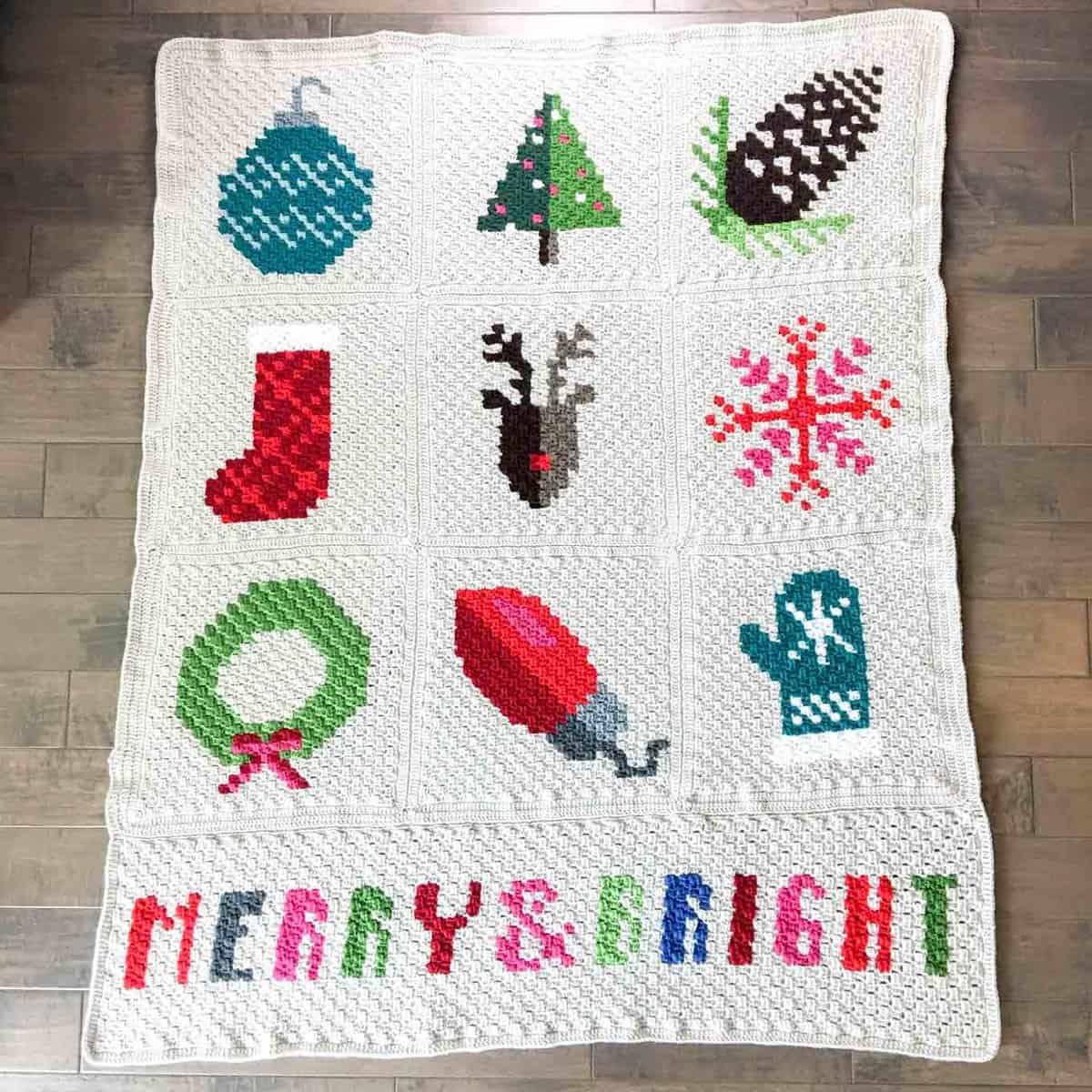 Last year, I took on the (overly?) ambitious project of designing a corner to corner crochet Christmas afghan for my family. While it was quite a big project, we love how it turned out and will use it for years (hopefully even decades!) to come. (You can find all the free patterns here!)
I've also used corner to corner crochet to design my Nordic snowflake super scarf and the "Be a Deer" afghan. As you can see, c2c is a really versatile crochet technique that opens up a whole new world of design possibilities.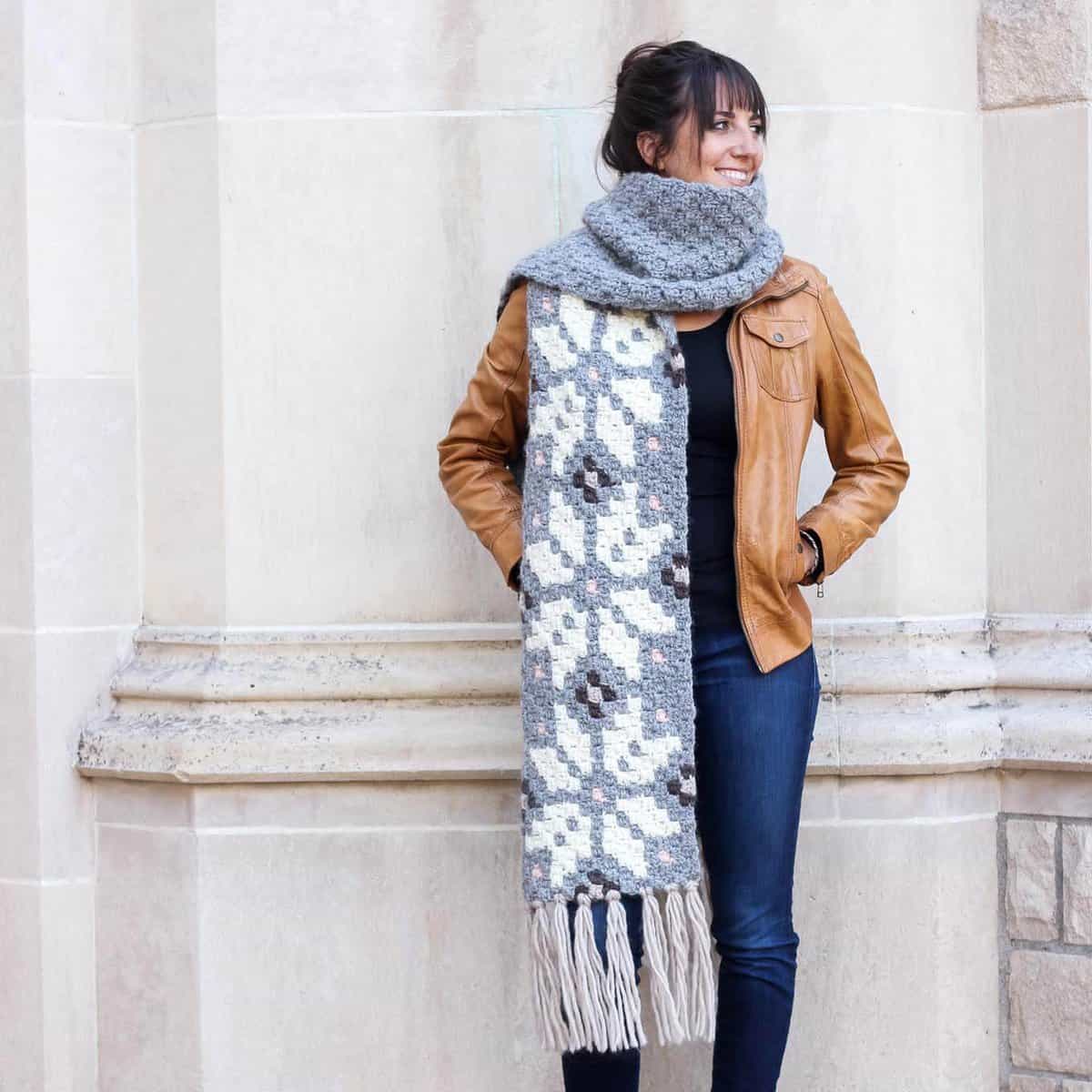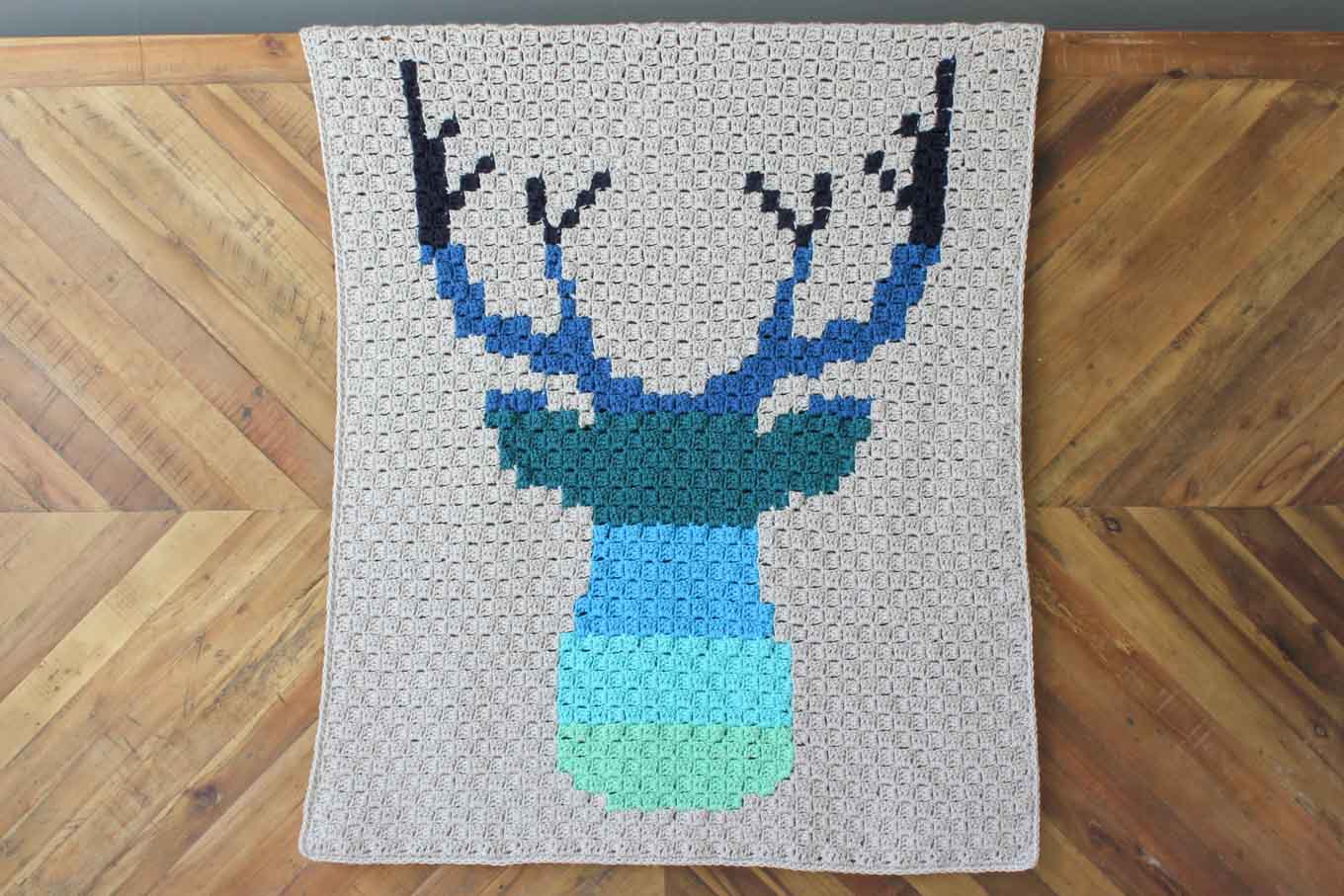 Today, I'd like to show you the basic skills you need to corner to corner crochet, including how to increase, how to decrease and how to read a c2c chart. You can learn how to change colors with c2c crochet and how to manage all the different skeins while you're working in this c2c tutorial post.
A quick note on increasing and decreasing: In the first stitch of corner to corner crochet, you're always increasing or decreasing. There's no such thing as a regular, non-increase or non-decrease first stitch. Decreasing is simply the term for not increasing any more and therefore not making your project any wider/taller on that edge.
How To Corner To Crochet Increase
Any corner to corner crochet project will always begin with increase rows. You'll increase by one tile per diagonal row until your desired dimensions are reached and then you'll begin decreasing. It's relevant to note that if you're making a rectangle, like I did in my Nordic super scarf, you might be increasing on one side of the row and decreasing on the other side so as to keep the total number of tiles per row the same.
Here is a step-by-step photo tutorial of the c2c increase stitch with more written details below the photos. Watch a video tutorial of these steps here.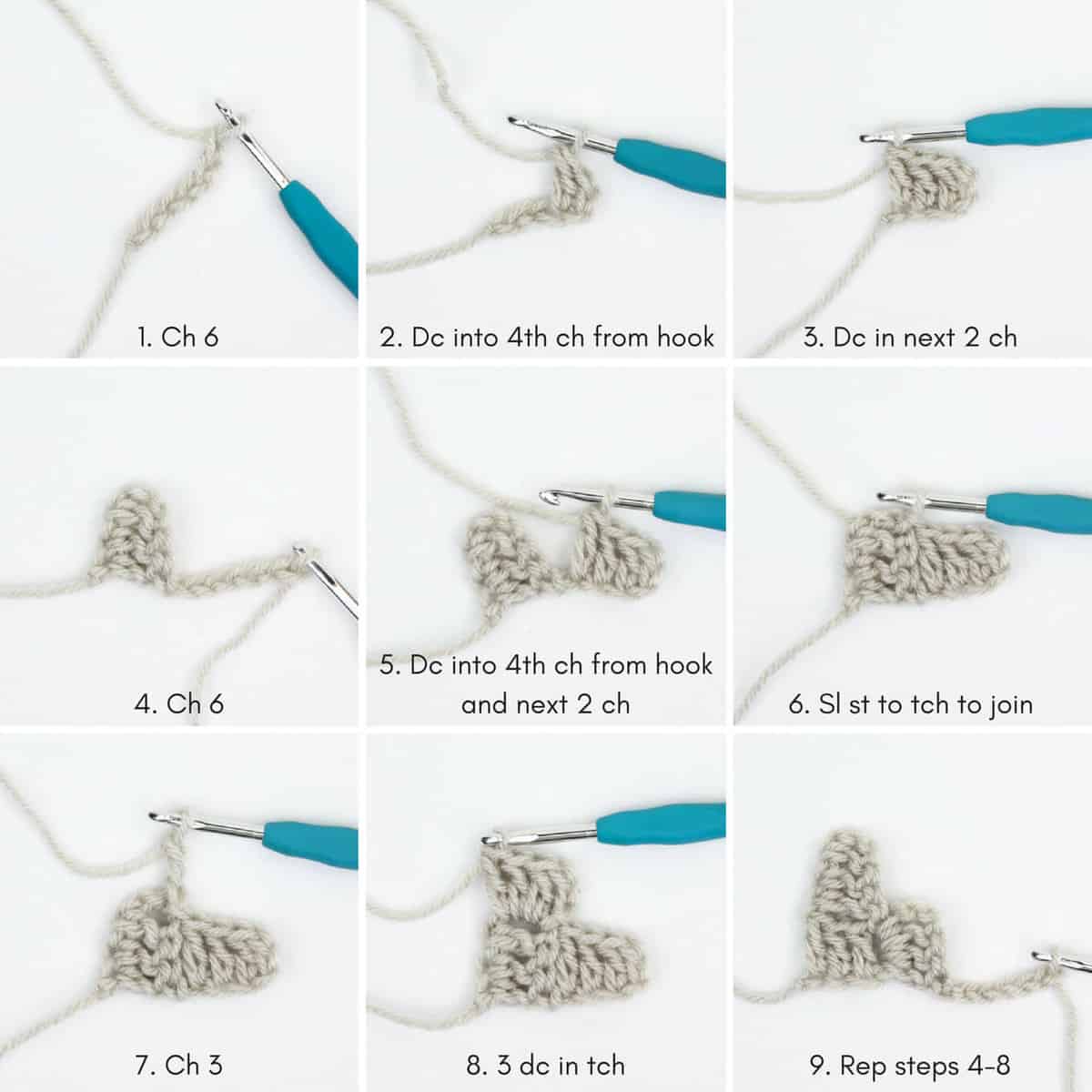 ROW 1:
Step 1: Chain 6
Step 2: Double crochet into the fourth chain from the hook
Step 3: Double crochet in the next two chain
ROW 2:
Step 4: Chain 6
Step 5: Double crochet in fourth chain from the hook and next two chains
Step 6: Slip stitch into the ch-3 turning chain from the previous row
Step 7: Chain 3
Step 8: Double crochet 3 in ch-3 turning chain
ROW 3 and beyond:
Repeat steps 4-8
How to Corner to Corner Crochet Decrease
I find the "decrease" term slightly confusing because when this stitch is worked, the row doesn't actually look as if it's decreasing. Instead, it looks like a flat edge. In reality, the decrease stitch is eliminating one tile from each row you're crocheting. (See how the top edge and the right side edge are flat as the last section of the square is built below? That's thanks to the decrease stitch.)
You'll work the corner to corner decrease stitch as soon as you've reached the widest/tallest point in your graph.
Here is a step-by-step photo tutorial of the c2c decrease stitch with more written details below. (In this example, my desired graph would only be three tiles wide. So when I reached the third tile, I would begin to decrease so as not to make the project any wider.) Watch a video tutorial of these steps here.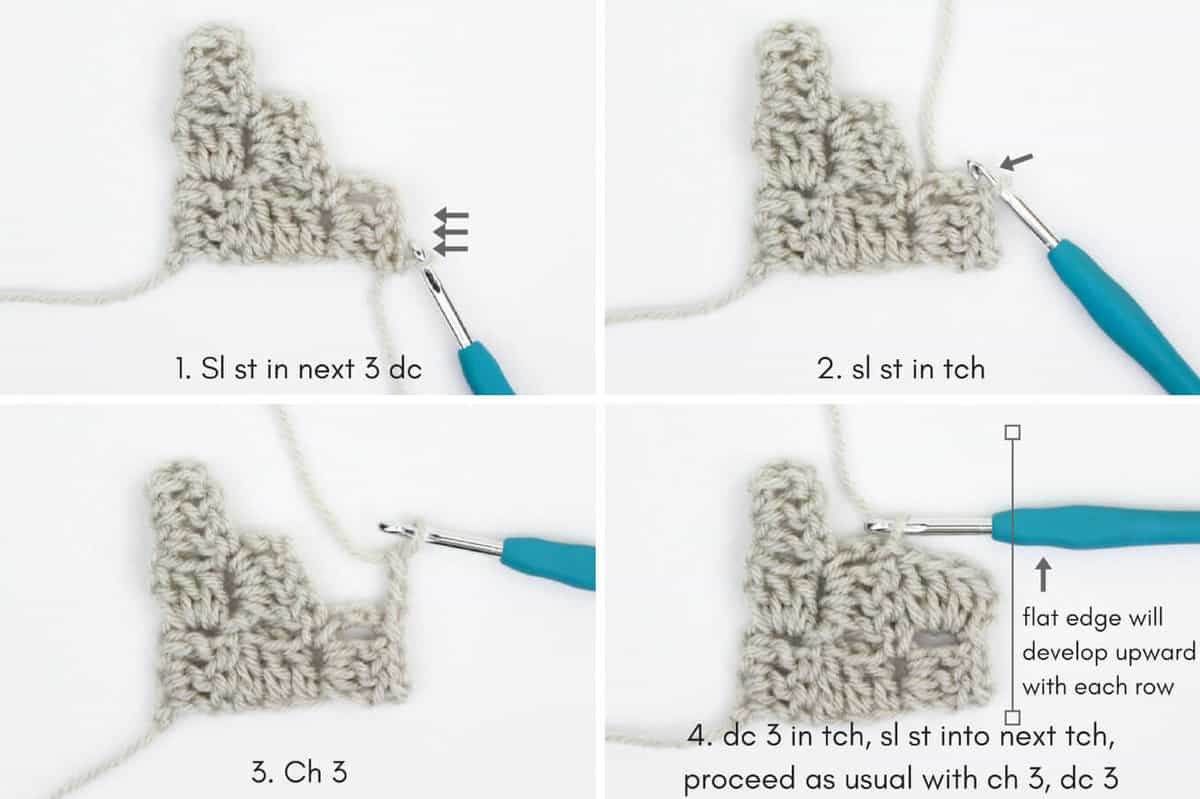 Step 1: Instead of chaining 3 as you usually would, slip stitch in each double crochet
Step 2: Slip stitch into ch-3 turning chain
Step 3: Chain 3
Step 4: Double crochet 3 in ch-3 turning chain of previous row.
How to Read a Corner to Corner Crochet Chart
Corner to corner crochet graphs can be used to create words, characters and graphic designs. Using StitchFiddle.com, you can even translate a photo into a c2c graph!
Corner to corner graphs are typically worked from the bottom right corner to the top left corner as illustrated in the diagram below. (I didn't know this at first though and worked my entire first c2c project "backwards"–it really doesn't matter though. The image will turn out the same either way.)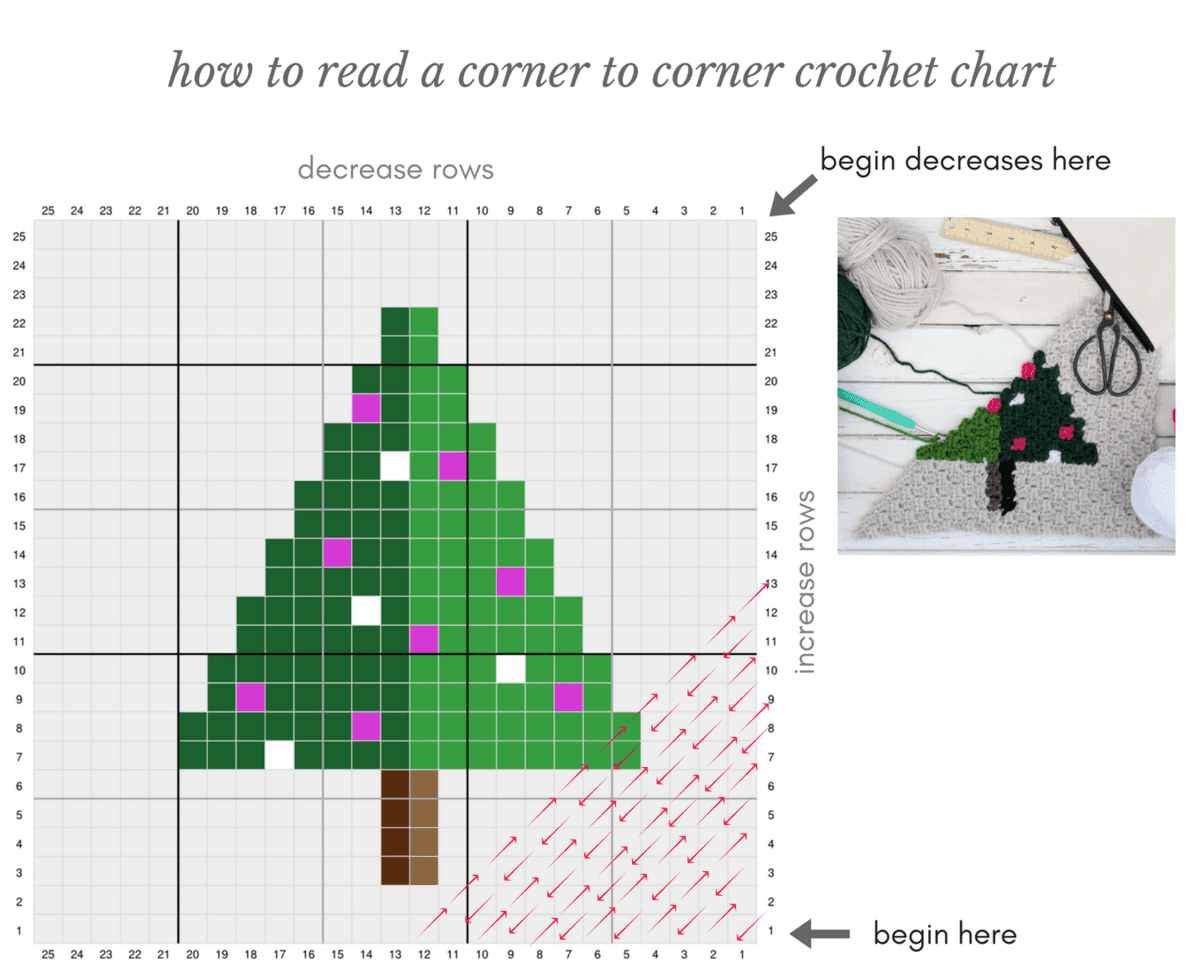 The increase stitch is worked at the beginning of each row until the longest row in the graph pattern is completed, at which point the decrease stitch is used to start each row. It's important to note that when working a rectangle graph, there will be a point at which you are increasing at the beginning of every other row and decreasing at the beginning of each of the other rows. This will keep the total number of tiles per row the same. I talk about this a bit more in the How to Corner to Corner Crochet video tutorial.
Some corner to corner crochet projects include written instructions that tell you how many tiles of each color to work in a given row. (They would look something like Row 17: 4 B, 17 C, 9 D, with each letter representing a different color of yarn.) Written c2c instructions are really helpful because the prevent you from needing to do a lot of counting on the graph.
I tend to be sort of a "map reader" crocheter though so I really like to look at charts and graphs. When working a corner to corner chart, I like to use a ruler and pencil to draw lines diagonally through each row. Then I highlight each row after I complete it so that I easily know where I'm at in the graph.
When in doubt, count your tiles! It's a real bummer to get further along in the project and realize you made an error with one tile a ways back. (Trust me, I did this last night. So. much. frogging.)
What Yarn to Use
You can really use any yarn you'd like to c2c crochet. I have used Lion Brand Vanna's Choice for a lot of my graphgan style projects because the color selection is so fantastic and the worsted weight works well for c2c designs. When I'm "illustrating" with yarn, I like to have as many colors in my toolbox as possible and Vanna's Choice offers over 70 options!
Additional Resources
I hope this post has answered some of your questions about how to corner to corner crochet! In Part 2 of this post, I show you how to change colors with c2c crochet and how I keep all my unruly yarn under control! You can find that here!
You can find all my free corner to corner patters here.
In addition to Sarah's "Learn to Corner-to-Corner Crochet" video course, there are a few other resources I've found helpful in learning how to c2c crochet.
-This video by the Crochet Crowd is great for beginners who want to see the stitch in action. Mikey has a very clear way of explaining how c2c works.
-ChiWei from 1 Dog Woof has compiled all of her corner to corner crochet resources into one helpful list. I learned a lot from her when I was figuring out how to corner to corner crochet.
If you love learning new crochet techniques as much as I do, you might also enjoy these tutorials:
How to Change Colors in Corner to Corner Crochet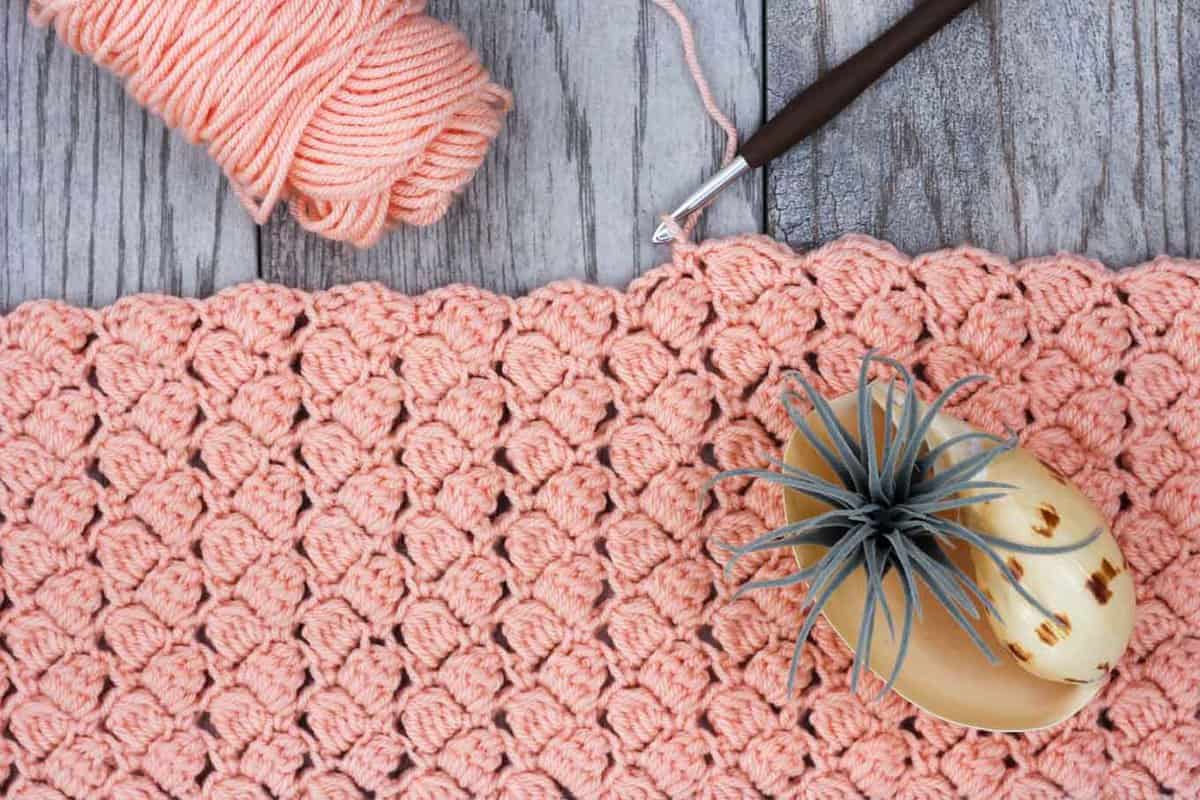 How to Crochet the Side Saddle Stitch – video tutorial


WANT MORE FREE CROCHET PATTERNS?
I've got more free crochet goodness for you that'll knock your little handmade socks off.