Are you ready to learn how to C2C crochet? Corner to corner crochet can be used to make fast blankets, easy scarves, sweaters and many more colorful crochet projects. This in-depth crochet tutorial will teach you all the basics of C2C crochet including how to work the C2C stitch and change colors.
I'll also share how to design your own C2C graphs, how to keep your yarn under control and lots of tips for reducing the ends to weave in.
RELATED: 25+ Temperature Blanket Patterns
Diagonal Box Stitch
When you're corner to corner crocheting, you're technically using a stitch called the Diagonal Box stitch. The diagonal box stitch can be worked using double crochet (dc) or half double crochet (hdc) stitches.
Using double crochet has the benefit of being faster because each stitch is larger. On the other hand, half double crochet allows for more detailed yarn "illustrations" because each tile is smaller. A pattern should indicate whether it uses C2C double crochet or C2C half double crochet stitches.
In order to crochet a C2C square or rectangle, you need to know how to both increase and decrease using the diagonal box stitch. Combining those two techniques is how you'll create any dimensions you want for your square or rectangle.
Tools + Supplies
Corner to corner crochet requires the same tools as traditional crochet, but a few extra items can go a long way in making the technique fun and enjoyable.
• Ruler - Helpful when drawing a line through each row in the graph pattern as you complete it. You'll also want to do a test swatch and measure your gauge before starting a project.
• Clip Board - Placing your graph on a clipboard while you crochet on the couch makes it much simpler to cross off rows as you work. Less time looking for your pencils or highlighter means more time to crochet!
• Tapestry Needle - For weaving in ends. For denser, fabric-like yarns, you might find it helpful to use a sharper upholstery needle or a small crochet hook.
• Scissors - Keep a small pair handy for switching colors and trimming ends.
• Bobbin Tools - Clothespins, binder clips or industrial clips allow you to wind off a small ball of yarn and clip it to the project or a sturdy object nearby. This helps make multi color projects more manageable.
• Bobbin Management System - You'll develop your own method for keeping your separate bobbins or yarn balls organized when switching colors.
For example, you can try holding all your skeins in a laundry basket and threading each color through a separate hole when you need to use it. This prevents the balls from rolling around on the floor.

Separate tissue boxes, a shoe box with holes poked in the top or a bottle drying rack all make easy ideas for keeping yarn organized while C2C crocheting.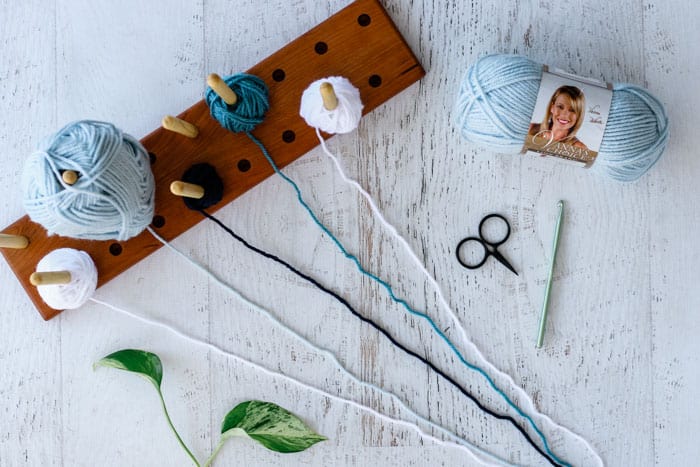 Understanding C2C Crochet Patterns
C2C patterns usually include some combination of a graph pattern and, often, written instructions. The graph (also known as a C2C chart) helps you visualize what the corner to corner pattern looks like as a whole. You can think of the graph pattern like a crochet "map."
If a C2C pattern includes written instructions as well, you're in luck!
Line-by-line written instructions tell you exactly how many tiles of each other to crochet in each diagonal row. This eliminates the need to count the pixels on the graph pattern.
While not all C2C crochet patterns include written instructions, many do. Following a written pattern and checking it against the graph pattern often can be the fastest way to C2C crochet. Using both together will also help you avoid mistakes!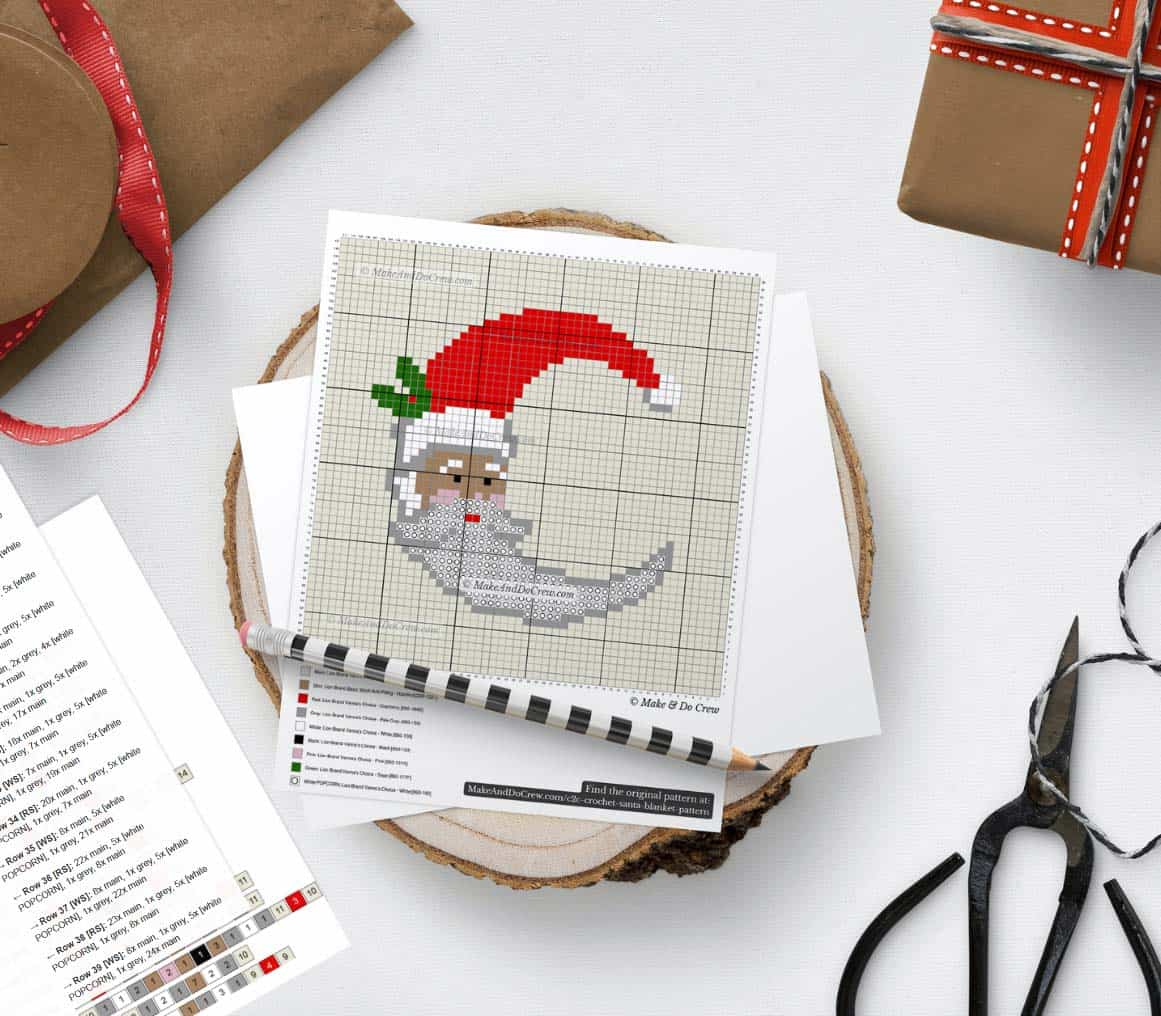 How to Read a C2C Chart
Each pixel in a chart pattern represents one C2C "tile." Each tile is typically made with three double crochet or half double crochet stitches. (More on that below in the how to increase/decrease sections.)
TO BEGIN: Each project starts in the lower right corner of the graph. This is true whether you're a right handed or left handed crocheter. You'll increase by one tile per row until the longest row(s) of the pattern has been completed.
This is the same place at which the desired width is achieved. At this point, you'll begin decreasing by one tile per row until you've reached the final tile in the upper left corner of the graph.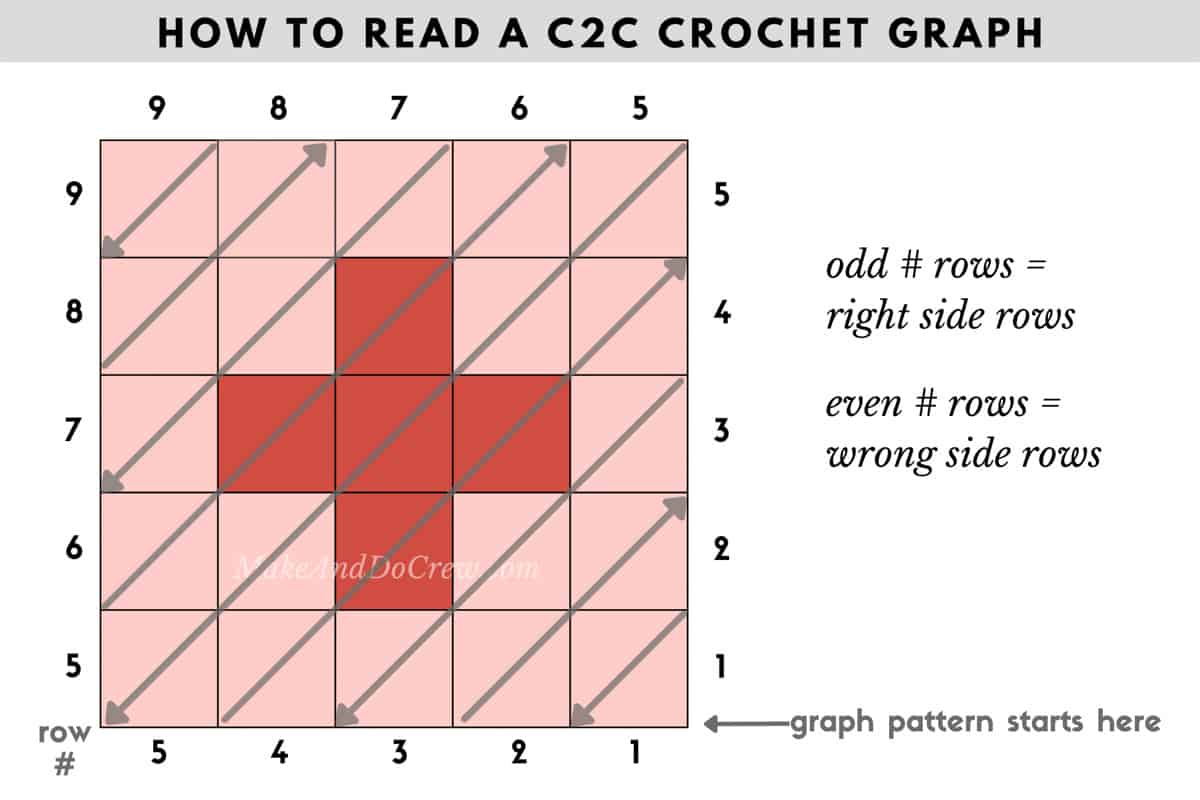 PRO TIP: I find it very helpful to highlight or cross off each graph row as it's worked. This helps you keep your place in the pattern and count your tiles more easily.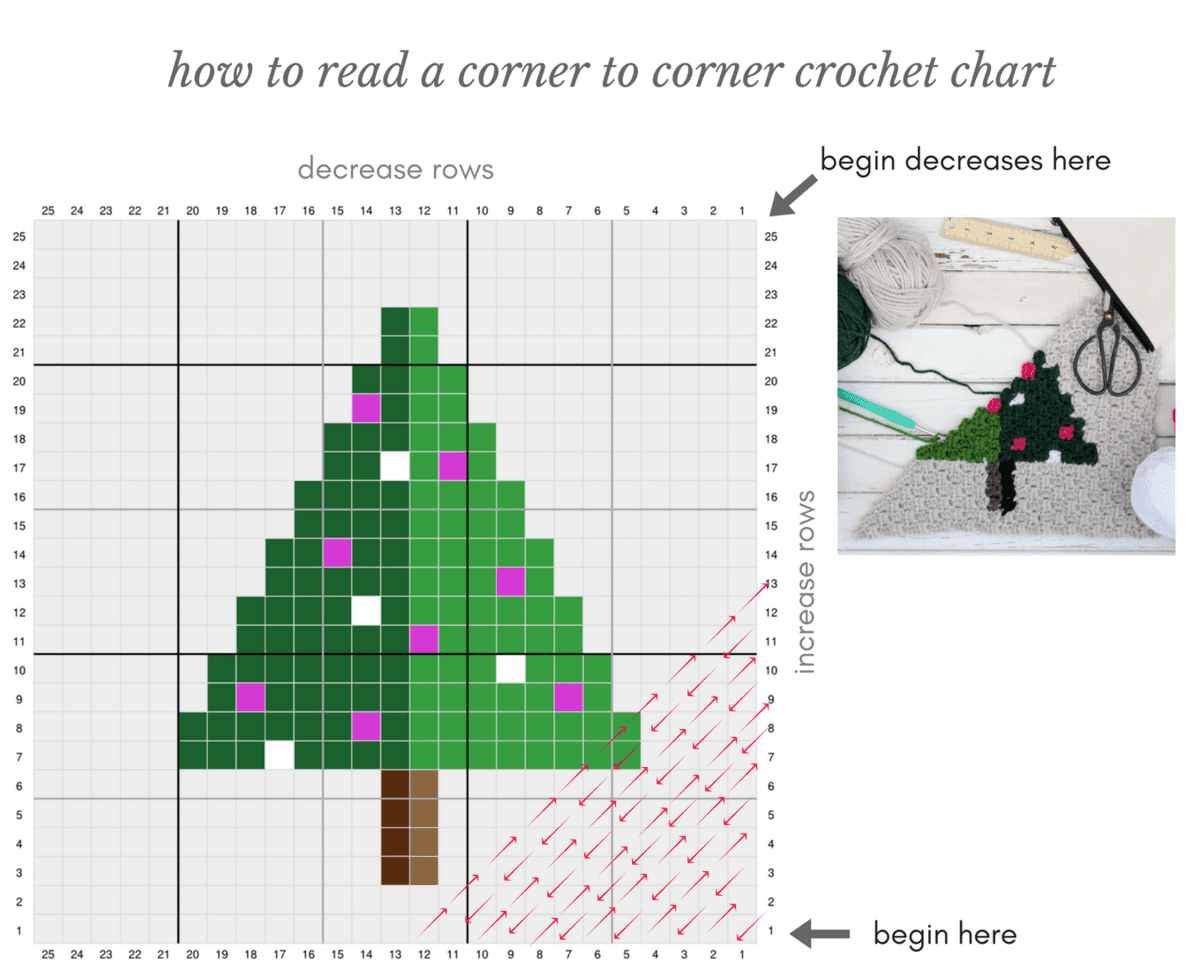 (When I taught myself how to C2C crochet, I didn't know to start in the bottom right corner. I worked my entire first c2c project "backwards" – ha! It really doesn't matter though. If you're following a graph, the image will turn out the same either way.)
How to Read a C2C Written Pattern
I personally find line-by-line instructions worth their weight in gold! All our premium ad-free C2C patterns on Etsy include both a graph as well as written line-by-line instructions.
You may find it faster to work predominantly from the written pattern, but I recommend checking your completed progress against the graph every few rows. This helps you catch any mistakes sooner rather than later. (I've learned this the hard way!)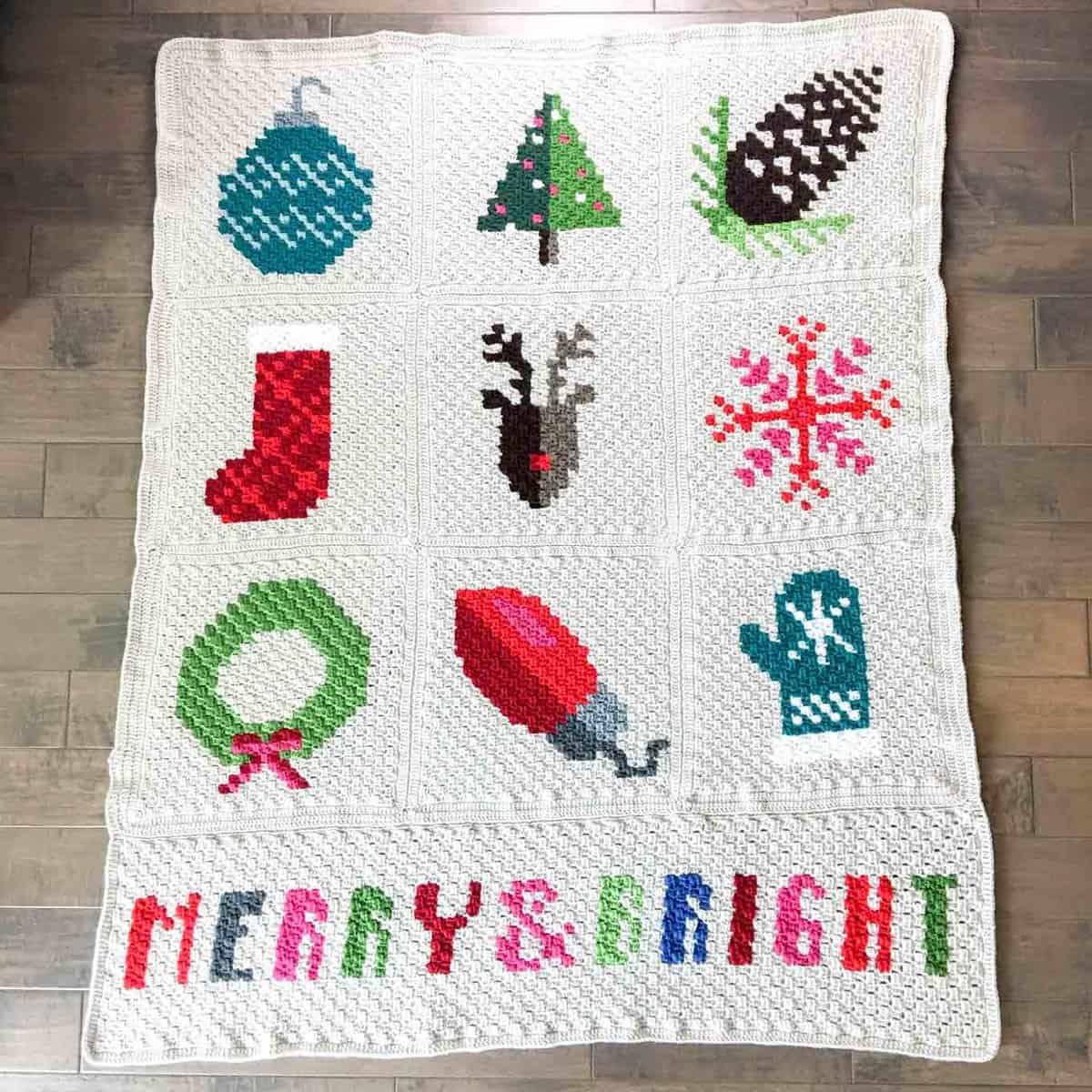 How to Corner to Corner Crochet Decrease
The "decrease" term in C2C can be slightly confusing because it has a different effect than we think of in traditional crochet.
In C2C, a decrease eliminates one tile from each row, thereby creating a flat edge. You'll work the C2C decrease stitch at the beginning of each row once you've completed the longest row in your graph.
See how the top edge and the left side edge are flat as the last section of the bike pattern is finished below? That's thanks to the decrease stitch.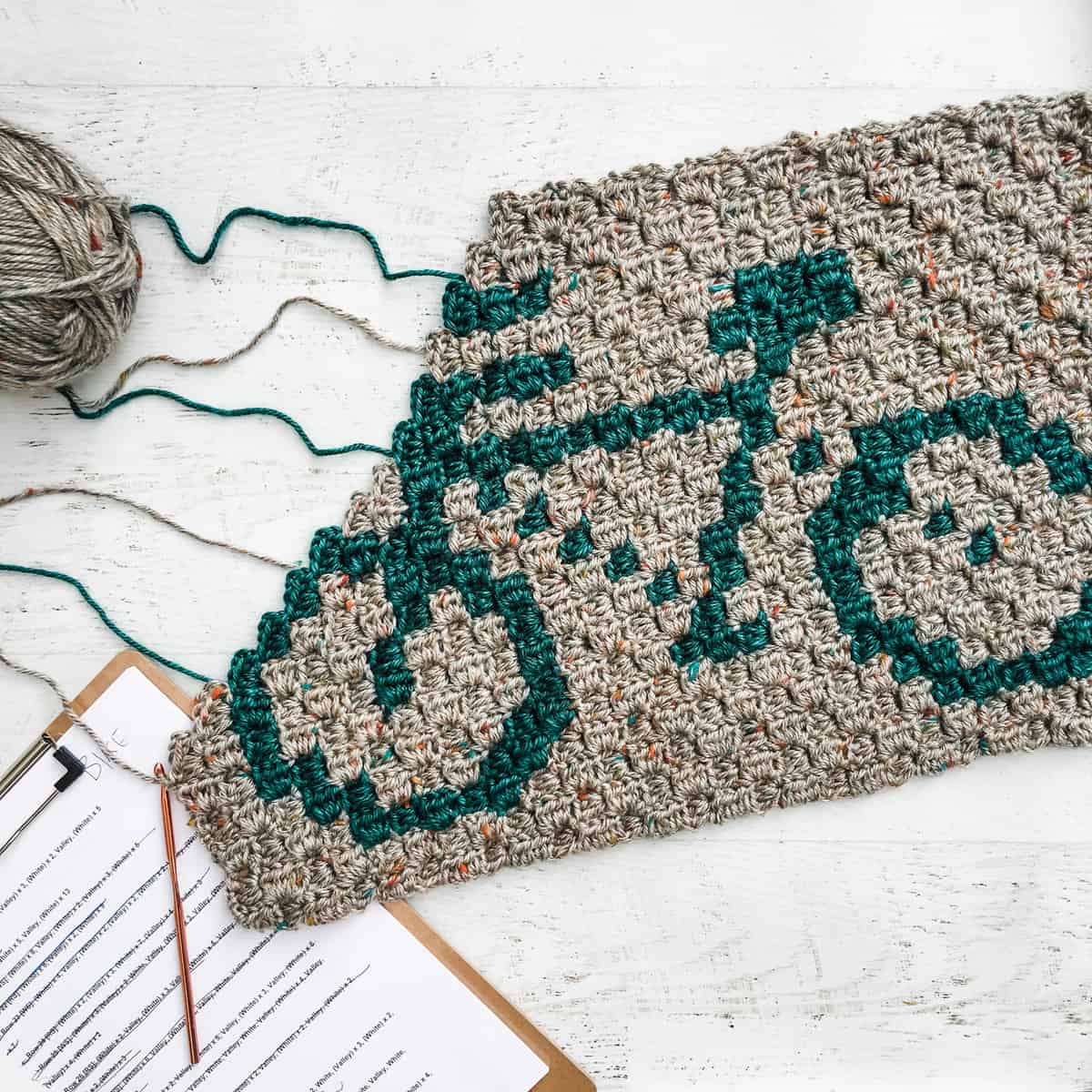 Step-By-Step Instructions
Follow the step-by-step photo tutorial below or watch the C2C crochet video tutorial if you prefer.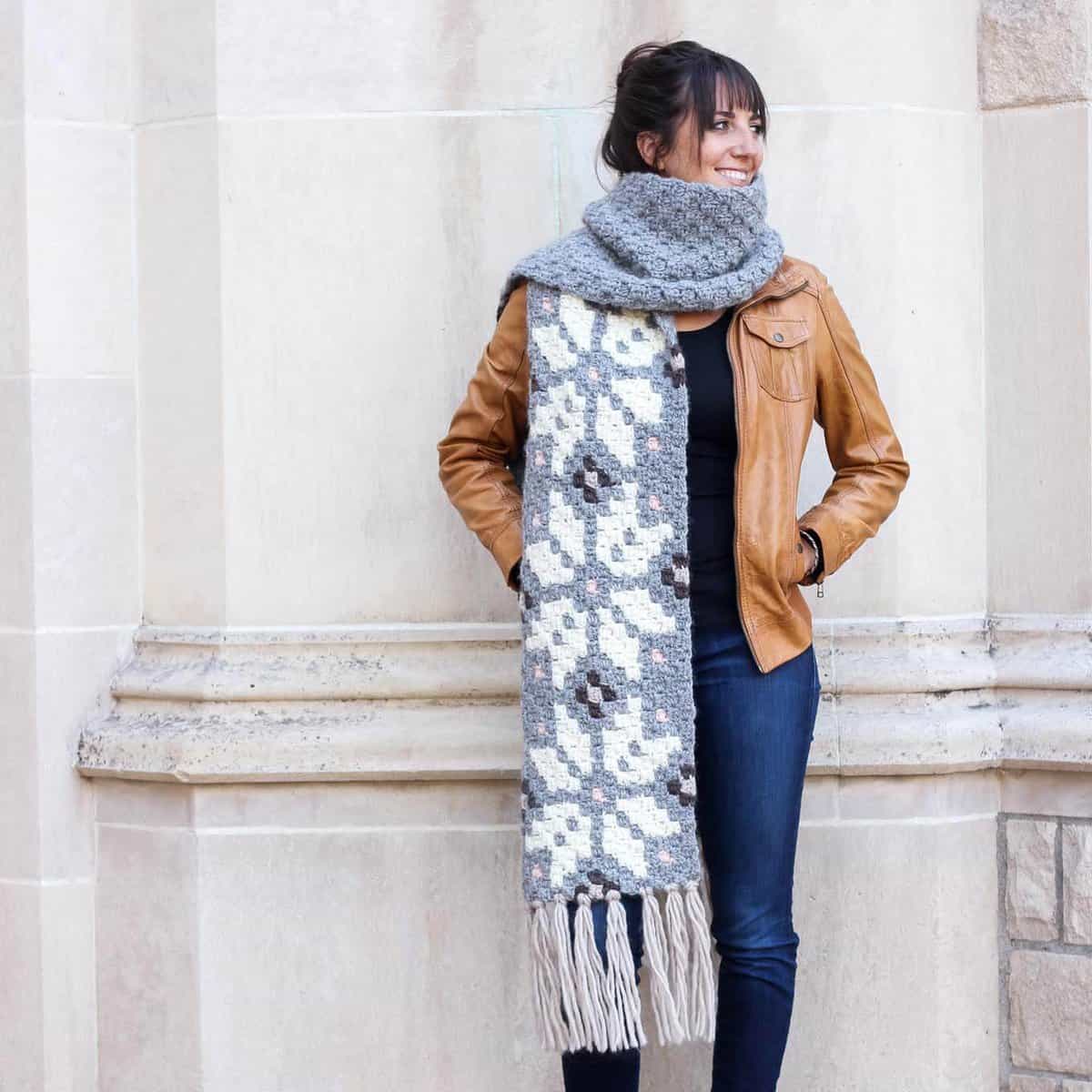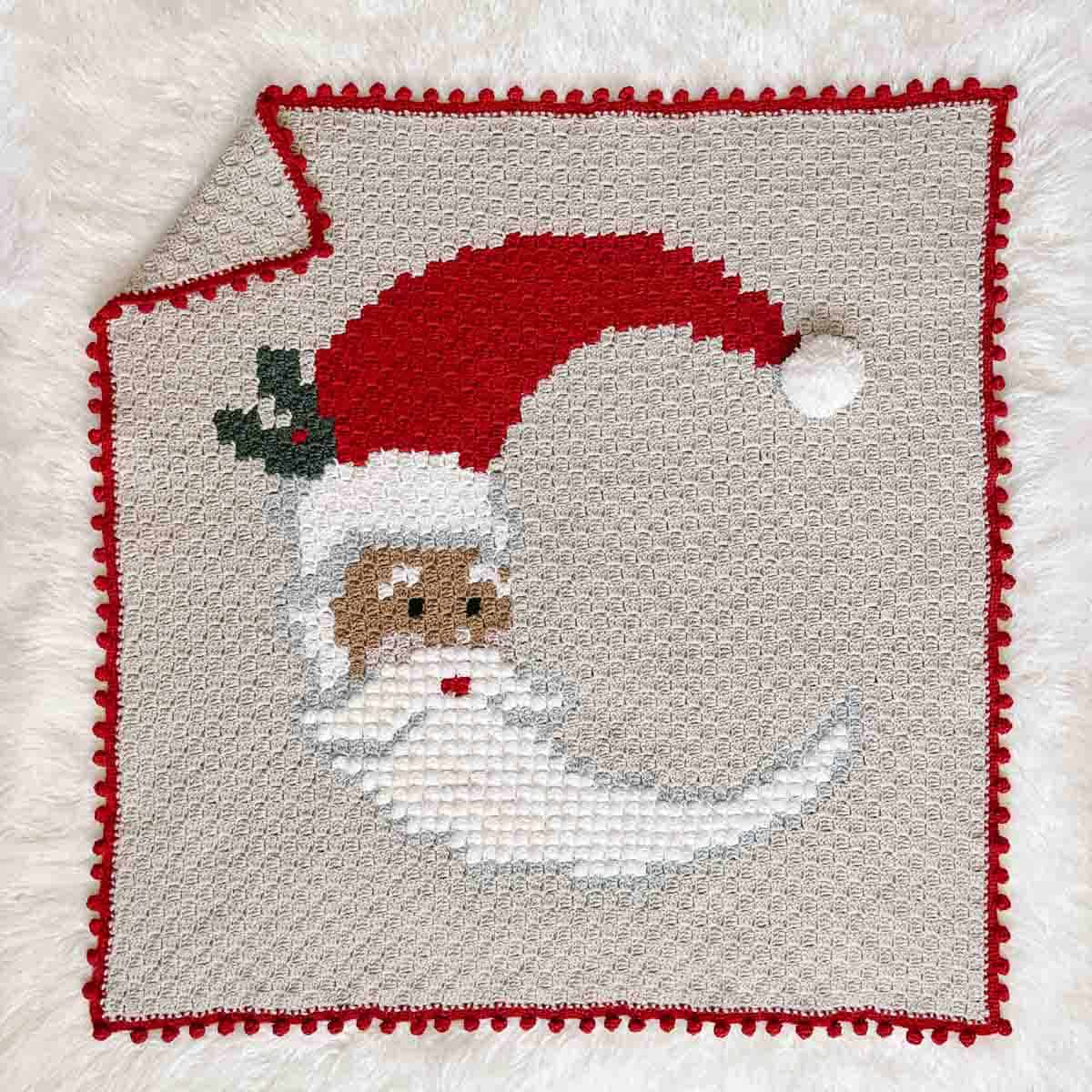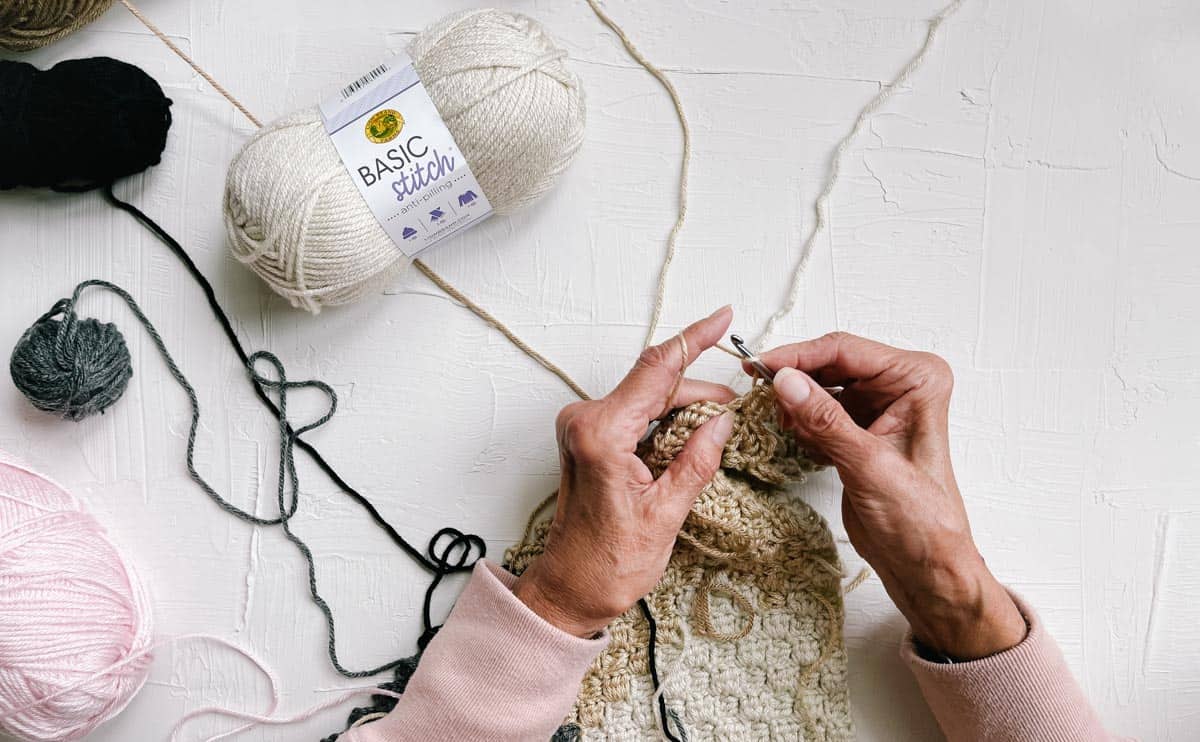 Free Corner to Corner Crochet Patterns
We have a variety of modern free C2C crochet patterns for you to practice this magical technique:
Throw Blanket Patterns
Pillow + Cushion Patterns
Sweater Patterns
Accessory Patterns
Free C2C Crochet Baby Blanket Patterns
There's nothing like a squishy baby to get my creative juices flowing. Can you relate? If you'd like to crochet smaller blanket, here are some C2C crochet baby blanket patterns.
I'm including notes on how to make the pattern beginner-friendly if you'd like.