Whip up this modern corner to corner crochet blanket for your couch, nursery or bedroom. Get the free pillow pattern that coordinates with this graphgan in Part 1.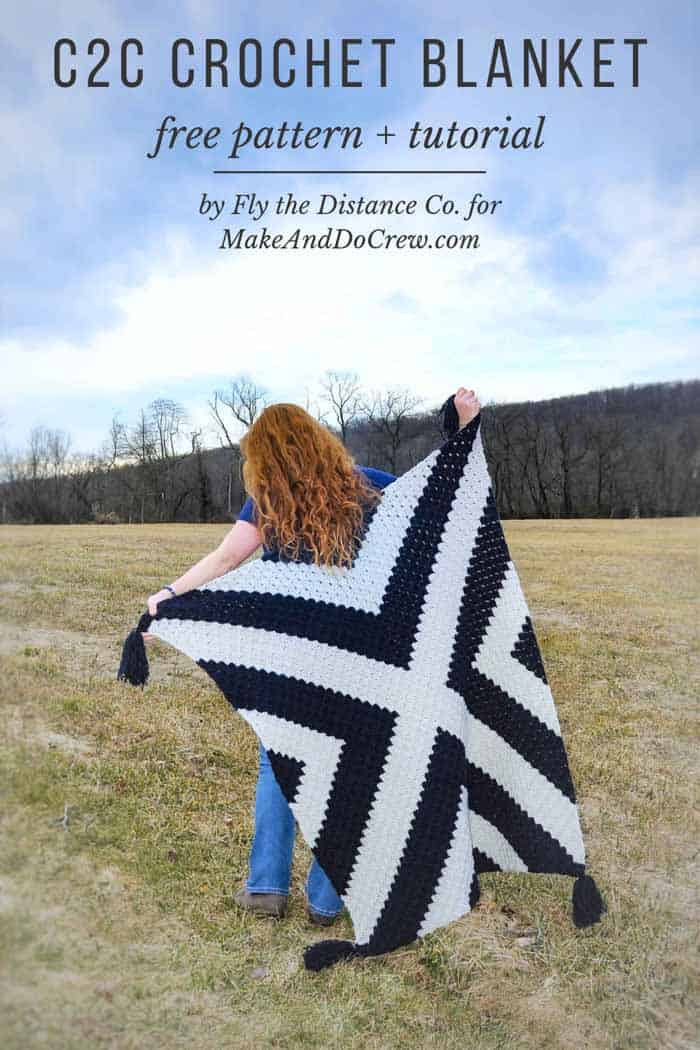 Thanks to Lion Brand Yarns for providing the yarn for this free corner to corner crochet blanket pattern. This post contains affiliate links.
Welcome back to the Make & Do Crew guest designer series. While I'm getting to know the newest baby in our family, Jessie from Fly the Distance Co. is sharing her free corner to corner crochet blanket pattern with us today! You can see lots of of Jessie's crochet patterns her blog, Fly the Distance Co. And be sure to check her out on social media too: Instagram and Pinterest. Jessie, take it away!

The Inspiration for My Corner to Corner Crochet Blanket
The matching Corner to Corner Boho Lapgan is the perfect companion to the Boho Throw Pillow found in Part One! This X Marks the Spot lapgan makes a great addition to any style décor or for keeping the chill off while enjoying a campfire and the stars!
After creating a mini version of this symmetrical pattern with the throw pillow in Part One, diving into this lapgan pattern will seem like a breeze! In the first part of this C2C Boho Crochet Pillow and Lapgan set, we tackled the basic design pattern on a smaller scale. Now, moving on to the second part, the lapgan, the design is similar but extended over a larger scale.

Easily Organize a Large Scale C2C Crochet Project
Because everyone following along is at a different level, I've come up with a few ways to break down this lapgan project (and any other large-scale crochet projects) into manageable pieces! If you are more experienced, scroll down for the pattern!
The symmetrical pattern for the boho pillow and lapgan was created specifically to make it as easy to manage as possible without sacrificing detail. When starting such a large project like a blanket it can seem a bit overwhelming if you are just starting out, especially with a number of yarn lines and color changes. Think of it in thirds.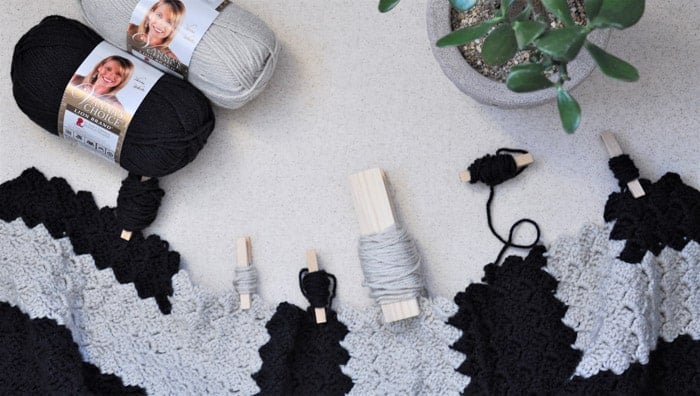 At the first stage of the pattern there is a maximum of seven lines running at one particular time. Here, the project is small and can be managed with various techniques. As the project grows in size the number of color changes and yarn lines running into it begins to decrease. This makes flipping your lapgan and keeping your yarn lines untangled easier to handle.
In the second stage of the pattern the number of color changes decreases to three. Then, at the center and longest length of the design, it decreases to just one color that is used for quite a few rows! This allows for a much-needed break!
As the pattern begins to decrease along both edges into the third stage of the pattern the number of yarn lines needed increases. Because the pattern is symmetrical, you've already done it once so the second time should be much easier! Although you will have a bulkier project at this point the steady decrease in each row makes the time go by much faster and makes it easier to turn and manage your yarn lines.
RELATED: 40+ Modern Free Crochet Blanket Patterns
Easy Care, Washable Yarn for C2C Blankets
I love using a worsted weight yarn for corner to corner projects and Lion Brand's Vanna's Choice is my favorite. Not only is it affordable but the colors in this line speak straight to my heart! The array of colors and coordinating hues are constantly causing crafty, creative mind disruptions as I fantasize about possible future projects!
Be sure to check out part one, the boho c2c pillow pattern, to get a glimpse of a few colors to fit any color palette! Not only does the color speak to my heart but so does the mission to give back. With portions of the proceeds going to support St. Jude Children's Research Hospital it's like each little project helps a little to make the world a better place. And who doesn't want to be a part of that!?
Need to Learn How to Corner to Corner Crochet?
These tutorials will help you build the skills to make this C2C blanket and pillow set! First, head to our how to corner to corner crochet guide for beginners.
BOOK: Corner-To-Corner Crochet: 15 Modern Projects
(Learn all the details you need to know to master C2C in this book!)
VIDEO TUTORIAL: How to Increase and Decrease to Create a Rectangle
PHOTO TUTORIAL: How to Change Colors in C2C
BLOG POST: How to Keep Your Yarn Organized Using Household Objects
Related: 40+ Best Crochet Crochet Stitches for Blankets
More Free C2C Crochet Patterns + Tutorials
If you love corner to corner crochet, don't miss our C2C crochet skills video tutorial, as well as these fun corner to corner crochet patterns!
1. C2C How-To Video Tutorial // 2. Bunny Blanket // 3. Modern C2C Christmas Afghan // 4. Free Range C2C Kimono
"X" Marks The Spot
Free Corner to Corner Crochet Blanket Pattern
Save this for later on Pinterest here.
Explanation:
This corner to corner boho pillow and lapgan crochet pattern set is the perfect project to fit any style décor and personality! The nature adventure inspired matching patterns can easily liven up your own little corner of comfort!
Supplies:
• Lion Brand Vanna's Choice Yarn (Weight: 4/Medium – 170 yards, 3.5 oz)
- Linen (#860 - 099) - 7 balls
- Navy (#860 - 110) - 5 balls
• Size H (5.0 mm) crochet hook
• Tapestry needle
• Stitch markers
• Scissors
• Printed copy of corner to corner crochet lapgan graph (download it here)
Sizes/Measurements:
• One size - 40" x 50"
Gauge:
• 5 tiles = 4 inches
Abbreviations and Glossary (US Terms):
sc – single crochet
dc – double crochet
c2c – corner to corner
ch – chain sl st – slip stitch
< - indicates downward direction of c2c tiles on the graph (right side)
> - indicates upward direction of c2c tile on the graph (wrong side)
RS – right side
WS – wrong side
yo - yarn over
Overall Pattern Notes:
• The pillow and lapgan graphs are available for free to download! Find the C2C pillow graph here, and the C2C blanket graph here.
• Begin the first c2c tile in the lower right-hand corner of the graph as indicated by the
numbers. This is row one in the written instructions for the pillow pattern.
• Each square on the graph represents one c2c tile. A c2c tile is a ch3 + 3dc. Learn more about how to corner-to-corner crochet and read a graph pattern.
• If you are not familiar with color changes along decreased edges, follow the below instructions: (For reference, the Navy colored tile is the old color and the new color is Linen.)
1.) Join tile to the row below, turn & ch1
2.) Sl st in tops for the next TWO dc sts as usual.
3.) At the last dc st, insert hook and yo BOTH the old color and new color and pull through.
4.) With both colors on the hook, pull the new color strand through the loop of the old one.
5.) Tighten the strands up and ch3 to start the next tile.
Follow along with the free graph to complete the pattern. Be sure to adjust your graph for your choice of color if you would like a different contrast! It is helpful to use a pencil and a ruler to diagonally cross off a row once it is done. Separating your skeins of yarn into smaller bobbins at the
beginning will help you later on!
Finish by weaving in those annoying ends and adding your finishing touches!
Adding a Border
If you wish to add a border to the lapgan, choose a spot in between two tiles.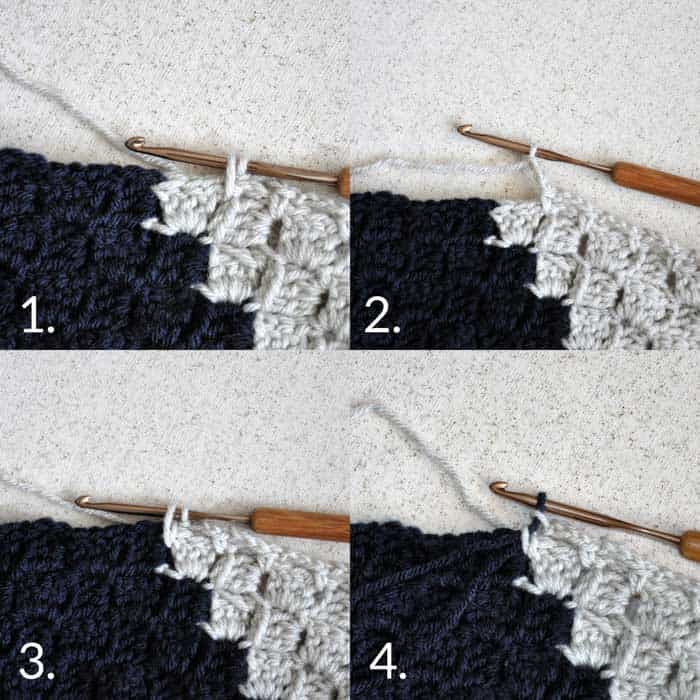 1.) Sl st and sc in the same space.
2.) Ch2 and skip a tile.
3.) Sc into the next space between tiles
4.) Repeat along edge, creating 2sc in each corner.
Because the color changes in the design go to the edges there are two ways to create the border. Choosing one color and crocheting around will show distinctly along the areas of the opposite color (i.e. a Linen border will stand out along the Navy tiles).
If you want to keep the design prominent with an "invisible" border, follow the same instructions above but change colors of the border at the change in tile color. Yes, this will create more ends to weave in, BUT you'll love the disruption-free flow of the final piece!
Adding Some Tassels or Fringe
This boho inspired design is yelling for some extra pizazz! Adding some large, fringy tassels to the
corners definitely adds some flare! There are many options for you to choose from too! If you aren't sure how to create fringe or tassels check out this square blanket for a video!
I hope you love the end result of this corner to corner boho pillow and lapgan crochet pattern as much as I do! There are so many opportunities with this design to make it unique to you and I would
love to see your little masterpiece on Instagram or drop a comment below!
Thanks again to Jessie of Fly the Distance Co. for sharing this free corner to corner crochet pillow pattern! Be sure to check out Jessie's blog for more free crochet patterns, tips and tutorials!
More Free Modern Corner to Corner Crochet Patterns + Tutorials
If you're interested in more free corner to corner crochet patterns and tutorials, here are a few of the most loved by M&DC crocheters. You can always peruse all our free C2C patterns here.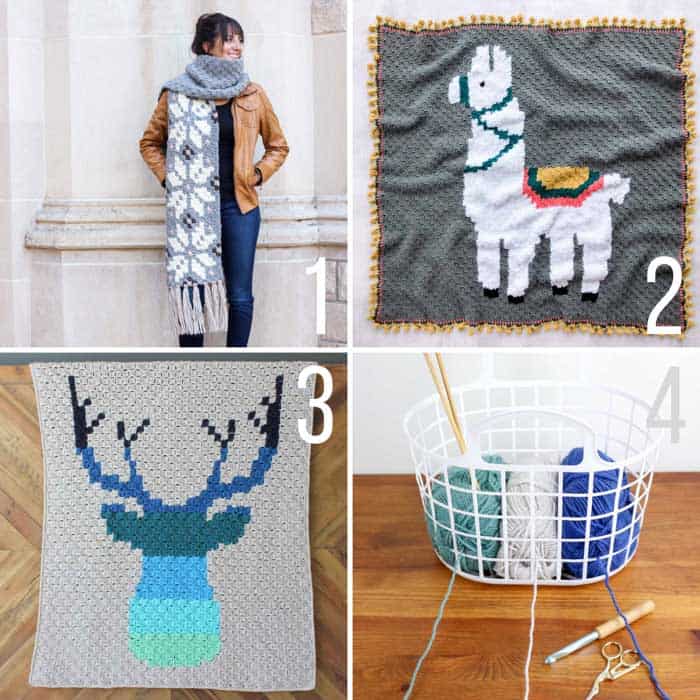 1. Nordic Snowflake Scarf- Whether you live in the North Pole or just want to jump on the super scarf trend, this nordic crochet super scarf pattern will keep you feeling warm, but lookin' hot all winter long.
2. Alpaca Blanket - Indulge your alpaca infatuation with this generously sized baby blanket or lap afghan!
3. Be A Deer Afghan - Hello ombre! This corner to corner crochet deer afghan will be a hit with your favorite baby, hipster or hunter.
4. How to Keep Yarn Organized - If you like to spend more time knitting or crocheting than untangling yarn, this list of DIY yarn holder ideas using household objects is for you!