In this video tutorial, learn how to join corner-to-corner crochet pieces together without a visual seam (and with no actual sewing!) 

This C2C crochet video tutorial is part of a collaboration with my friends at Lion Brand Yarn. This post contains affiliate links.
I've tried many ways to join corner-to-corner crochet pieces together, but recently my mom and I figured out a technique that requires NO sewing, NO visual seam and NO crazy number of ends to weave in. It worked so surprisingly well that we used it on the Free Range Kimono pattern to add the sleeves and today I'd like to teach you how to do it yourself step-by-step.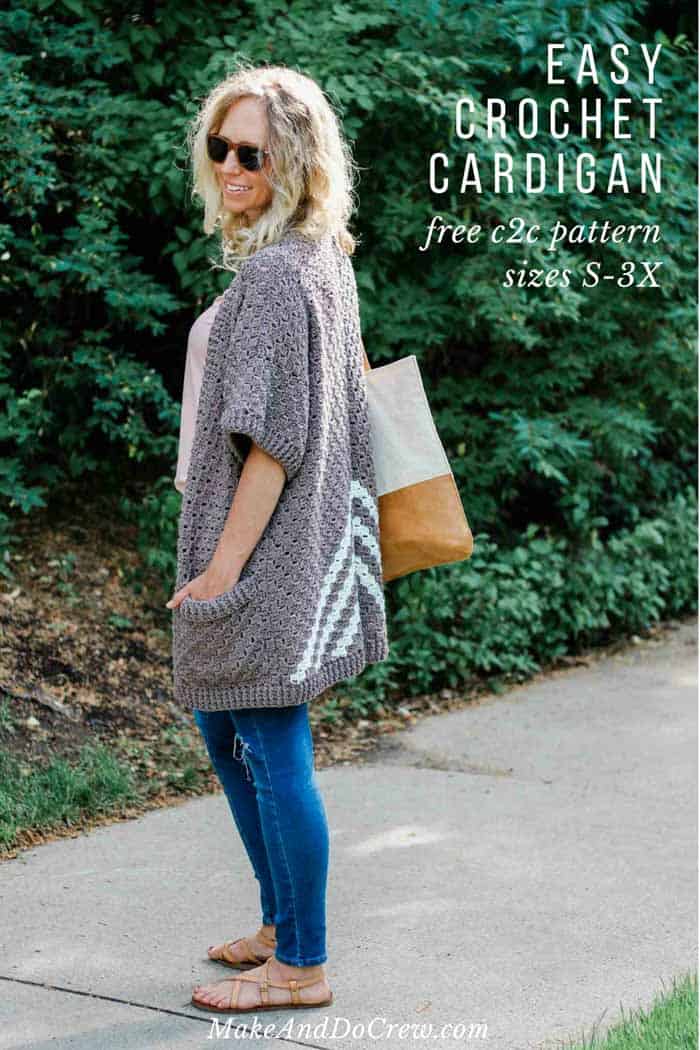 Knowing When to Join C2C Crochet Pieces
This seamless way of joining your corner-to-corner pieces is useful anytime you want to make more than a simple square or rectangle using C2C crochet. As you can see in the photo below, you can actually add additional squares or rectangles in this simple way to create more complex shapes--like we did for the sleeves of the Free Range Kimono!
This strategy for how to join C2C crochet pieces could also work if you're making something like an graphgan from many squares or rectangles. Instead of crocheting them individually, you could join them as you go with this method.
How to C2C Crochet: Basic Skills
This video tutorial below on joining C2C squares assumes a basic knowledge of how to corner-to-corner crochet. New to this altogether? No sweat! We've got you covered with several beginner C2C tutorials:
• VIDEO TUTORIAL: How to Increase and Decrease to Create a Rectangle
-This addresses the crochet diagonal box stitch and basic concepts of c2c
• PHOTO TUTORIAL: Increase and Decrease to Create a Rectangle
-If you prefer learning at your own pace, this covers the same basic concepts as the video above with lots of detailed photos
• PHOTO TUTORIAL: How to Change Colors in C2C
-Learn how to switch colors in corner to corner crochet and when to cut or carry your yarn
Want to practice the basics of corner-to-corner crochet like increasing, decreasing, and changing colors at the end of a row? This C2C blanket is the perfect beginner project to hone your skills.
Video Tutorial: How To Join C2C Crochet Pieces Seamlessly
Learn the method for joining corner-to-corner crochet pieces in the video tutorial below and then scroll down further step-by-step right and left handed photo tutorials.
Links Mentioned In The Video:

•
Free Range Kimono
- free C2C cardigan pattern
• Intro to Corner-to-Corner Crochet video tutorial
How To Join C2C Crochet Pieces - Right and Left Handed
If you're more of a go-at-your-own pace learner, these photo tutorials cover all the steps covered in the video above. Consider pinning these photos for later as a handy cheat sheet!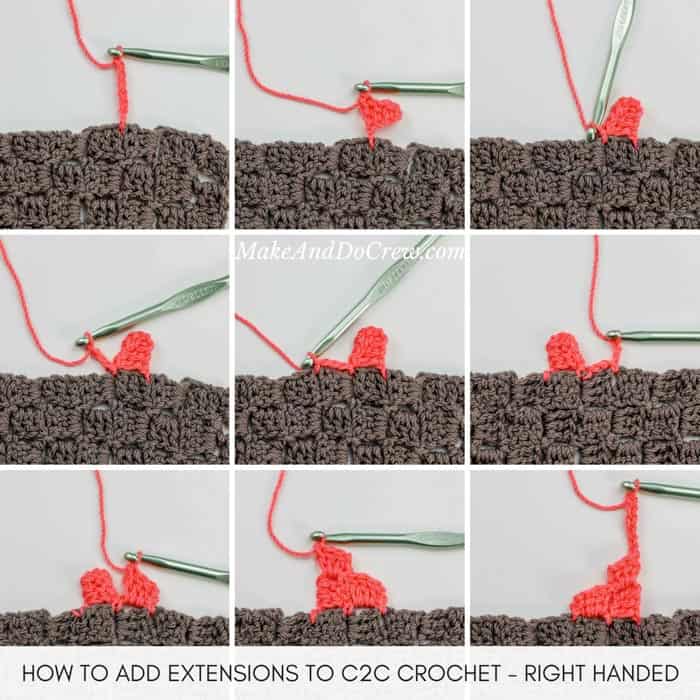 More Free C2C Crochet Patterns
Now that you know how to join C2C crochet pieces seamlessly, you might be looking for some new free patterns to try. Below are a few reader favorites. You can always find all of Make & Do Crew's free C2C crochet video tutorials and free patterns here.
1. Be a Deer Afghan – free ombre C2C blanket pattern
2. Alpaca Love Blanket – free C2C graphgan pattern for babies or adults
3. Nordic Snowflake Super Scarf – free modern corner-to-corner crochet pattern
4. Christmas Keepsake Afghan – a collection of free C2C graph patterns to create your own holiday heirloom