Made from a simple rectangle, you'll be able to finish this extremely easy free crochet bunny pattern in a couple of hours. Get the free pattern + tutorial below or purchase the ad-free, printable PDF here.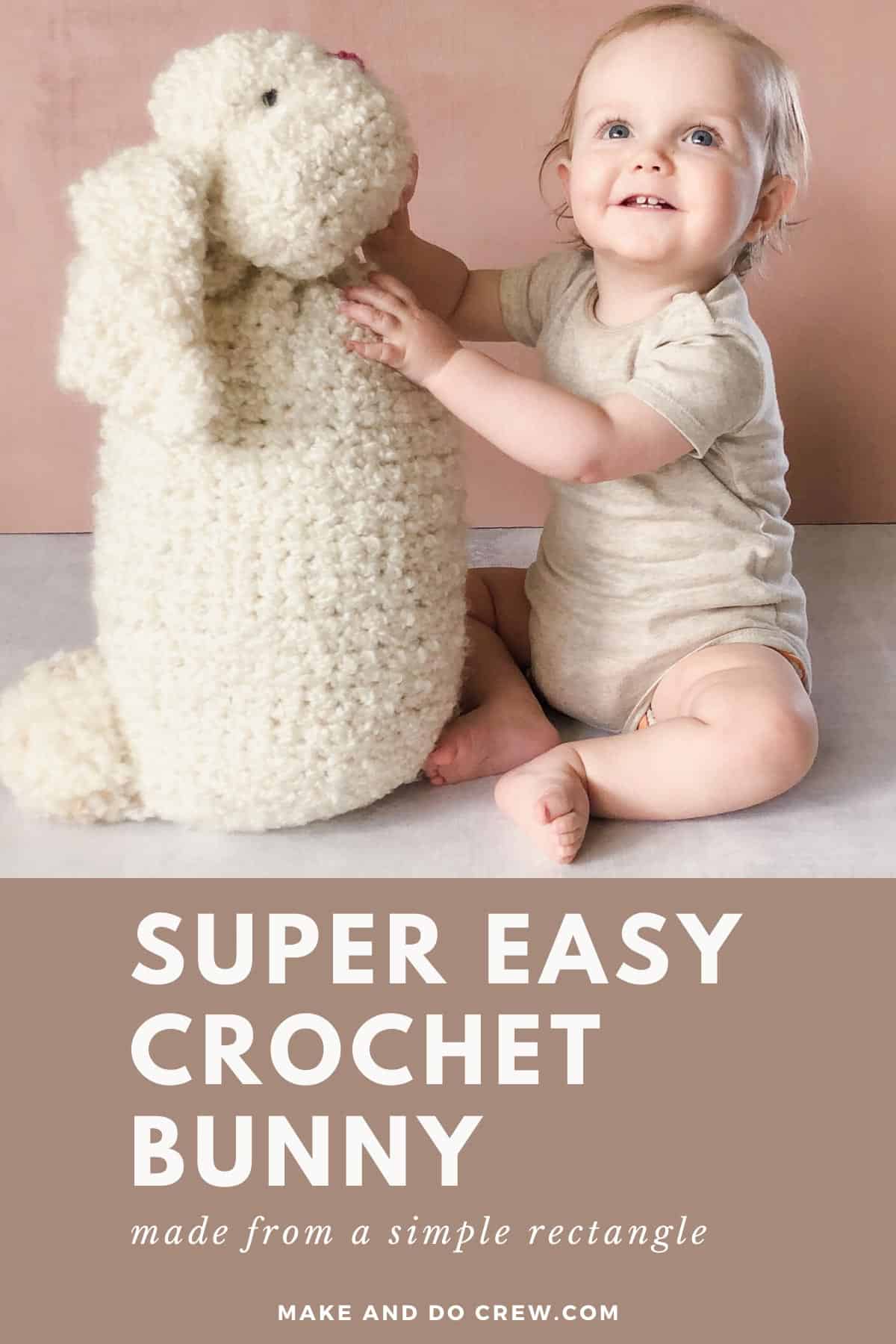 This easy rectangle bunny crochet pattern is part of a collaboration with Lion Brand Yarns. This post contains affiliate links.
If you need a quick crochet baby shower gift, an inexpensive Easter basket surprise or you just want a beginner-friendly project to use up some stash yarn, this easy crochet bunny is hop-py to help!
Read on for all the yarn and pattern details or scroll down a bit for the complete free crochet pattern and tutorial.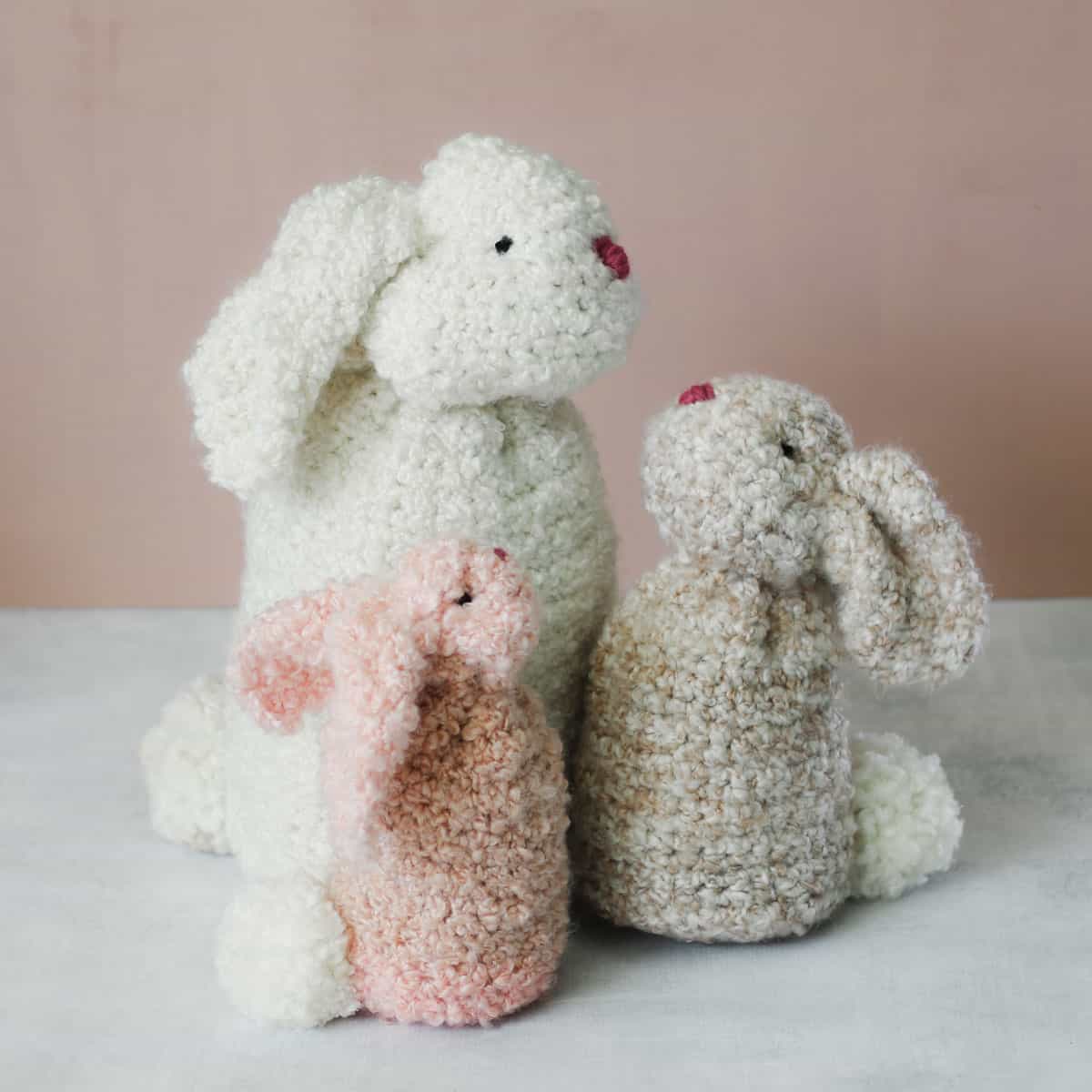 The absolute easiest crochet bunny pattern
I know it might sound like there's some catch. A crochet bunny made from just a rectangle?
It's true.
For this project, I was inspired by this knit bunny made from a square as well as this Waldorf-style arm-knit bunny pattern. Seeing these a while back got me thinking that I could figure out how to make a giant bunny from only a crochet rectangle.
click to pin this pattern for later ⇨
A crochet a bunny from a rectangle? Really?
Lo and behold, a few hours later I had a super soft crochet rectangle that I began experimenting with. I knew I wanted this crochet bunny pattern to be great for beginners. Like making-your-first-swatch beginners. And I'm happy to report these little rabbits fit the bill!
Bonus: your kids and grandkids will think you're something akin to Santa because you can whip up toys while they sleep!
If you're at home right now teaching a beginner to crochet for the very first time, this crochet Easter bunny pattern offers a really fun way to turn a beginner rectangle swatch into something besides a washcloth. (Especially if you happen to be teaching kids. Homeschool crochet bunny lessons anyone!? 😉 )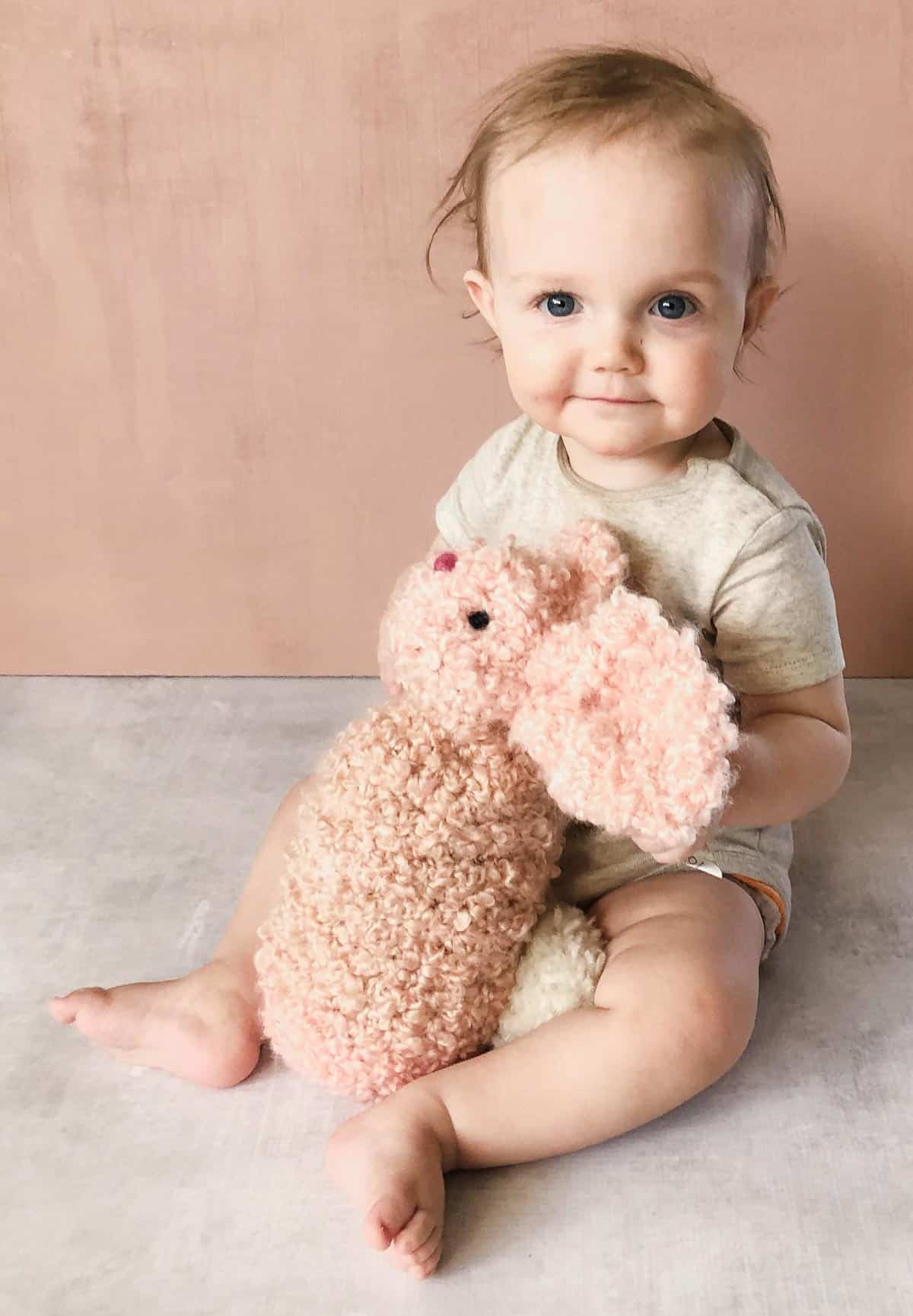 Video: See how a crochet bunny comes together
This process is so fun, I just had to show you in a video. Watch this quick :30 pattern overview to see how simple rectangle transforms into a squishy bunny toy (with some cute stop motion too!)
Crochet a soft floppy bunny with fuzzy yarn
For these bunnies I used Lion Brand's Homespun Thick and Quick which honestly worked out even better than I hoped. This yarn is nice and chunky which means even the large crochet bunny toy only took a few hours to make.
In the past, I've been hesitant to crochet with Homespun yarn because I thought finding my stitches would be more trouble than it's worth. Surprisingly though, it was no problem at all. I think that using a tension that was neither super tight or super loose is pretty helpful. When in doubt, you can simply feel for the next stitch with your thumb before inserting your hook.
Another reason this pattern a good use of fuzzy yarn is that it's not important to keep a perfect stitch count. If you lose a stitch or pick up an extra one along the way, your little bunny will be just fine. This is another reason this free crochet bunny pattern is perfect for beginners.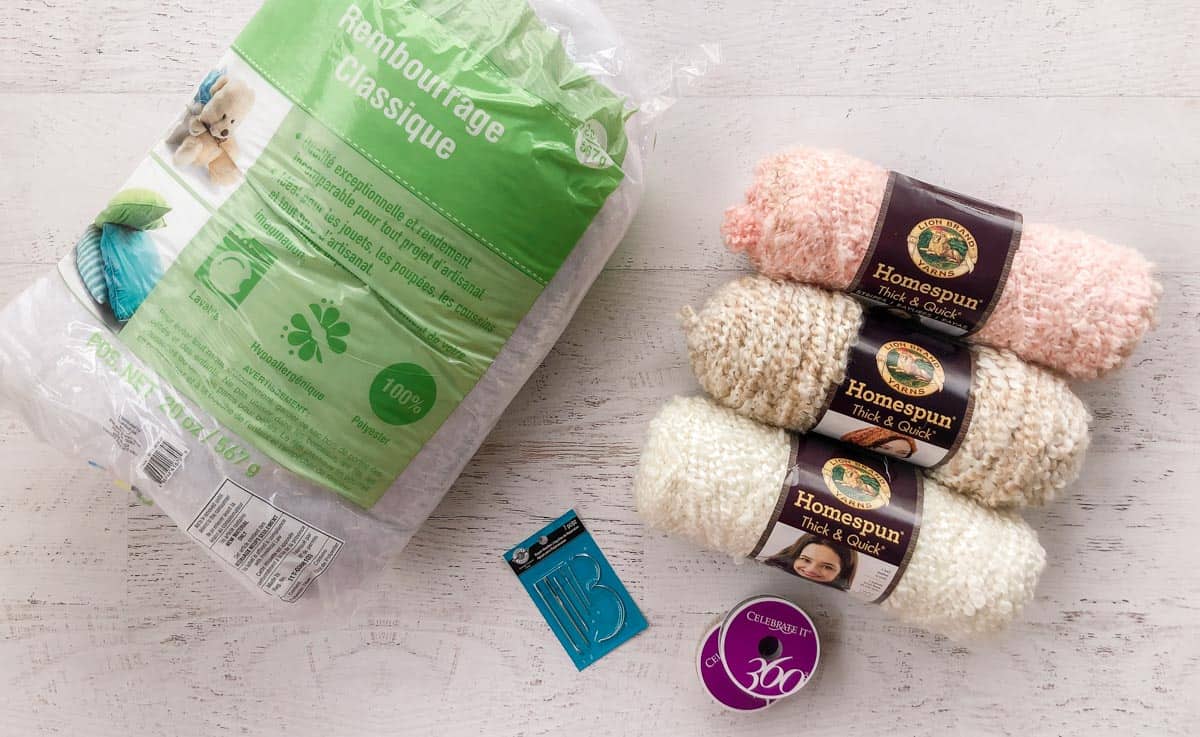 Or substitute any yarn from your stash
I know many of us are at home, possibly with limited financial resources right now. Luckily this crochet bunny pattern can really easily be made with any yarn you have on hand.
Simply use a hook that will create fairly tight stitches (so as to better disguise the stuffing inside your bunny). I've included instructions in the tutorial below on how to customize your this pattern to make any size crochet bunny you wish.
I'd love to see a really large crochet bunny toy with big long ears. Wouldn't that be cute? For a shorter, more squatty version, simply crochet a bunny from a square instead of a rectangle.
More free crochet patterns for Easter
These easy rectangle bunnies are great if you need an affordable, last minute crochet Easter gift idea. I think they would also work well for baby shower gifts.
If you'd like more free bunny crochet patterns, you're in luck! You can always find all our patterns for babies and kids here.
Bunny Hat // Carrot Rattle Toy // Bunny C2C Blanket
---
How to Crochet a Bunny From a Rectangle - free pattern + tutorial
Purchase the ad-free, printable PDF here.

Save this pattern to your Ravelry here.
Pin it for later here.
Whether you need a quick baby shower gift, an inexpensive Easter basket surprise or you just want a very beginner-friendly project to use up some stash yarn, this bunny is hop-py to help!
You'll find this pattern extremely easy to customize and substitute yarns, making it simple to work up in many different sizes, colors and textures. Since it requires only single crochet stitches and some very basic seaming, it is a perfect project for beginner crocheters who'd like to make something adorable with their first practice swatch.
Be warned though, these bunnies are addictive! You won't be able to crochet just one!
Supplies:
• Lion Brand Homespun Thick & Quick (Weight: 6/super bulky - 160 yds, 8 oz)

Colors pictured:
- Small Bunny: Coral Stripes (792-201) – ½ skein
- Medium Bunny: Pearls (792-412) – 1 skein
- Large Bunny: Dove (792-497) – 2 skeins
• 4 yds of worsted weight yarn for seaming (ideally in similar color to bunny color)
• 1 yd of dark-colored yarn for eyes
• 1 yd of pink yarn for nose
• Fiber fill
• Tapestry needle
• Size L (8.0 mm) crochet hook or size needed to obtain gauge
• Stitch markers or safety pins
• Pom pom maker or piece of cardboard
Sizes (measured from tail to head):
Small: approx. 10.5"
Medium: approx. 13.5"
Large: approx. 21"
Gauge:
8 sc x 8 rows = 4"
Gauge is not critical and can be difficult to count if using the suggested fuzzy yarn. It's more important to choose a hook that makes your stitches fairly tight.
Abbreviations and Glossary (US Terms):
ch – chain
PM – place marker
rep – repeat
sc – single crochet
st(s) – stitch(es)
WS – wrong side

Want some company while you crochet?
Get support (and camaraderie!) in the Make & Do Crochet Crew Facebook Group here.
Permissions + Copyright:
Please do not publish or share this pattern as your own. You may make items to sell with this pattern. In exchange, please link back this post. Do NOT use my photos as your own sales photos.
Overall Pattern Notes:
• This pattern is easily modified to use whatever yarn you have on hand! Choose a hook size that will create fairly tight stitches so inner stuffing is better disguised.
• Similarly, you can really create any size bunny you wish. Simply crochet a square and then add about 20% more height. (For example, if your square is 10", continue crocheting until you've formed a rectangle that's 12" tall.)
• Pattern is written with smallest size first, followed by the larger sizes in parentheses. Small (Medium, Large) It can be helpful to go through the pattern and circle all numbers pertaining to your size before you begin. Alternatively, reference the chart above for an easy formula for this simple pattern.
• Bracketed numbers at end of row instructions are the number of stitches row should contain for each size. [Small, Medium, Large]
MAIN RECTANGLE
Foundation Row: Ch 26 (36, 47).
Row 1: Sc in second ch from the hook, sc in each remaining ch; turn. [26, 36, 47]
Row 2: Ch 1, sc in each sc to end of row; turn.
Rep Row 2 until rectangle measures approximately 14.5 (19.5, 22)". Fasten off. Weave in ends with a tapestry needle.
Follow instructions on next page to transform your rectangle into a bunny.
TURN YOUR RECTANGLE INTO A BUNNY!
1. Once Rectangle is Complete
The following steps can be completed with a tapestry needle any yarn that's a similar color to your rectangle. If available, choose a yarn doesn't break easily.
2. Fold to A Right Angle
Fold one top corner down until it is flush with the opposite rectangle side. Place a stitch marker (or safety pin or scrap of yarn) to mark where top edge hits rectangle.
3. Fold In Half To Markers
With rectangle flat again, fold top edge toward markers. Place stitch markers at edges of crease.
4. Fold In Half Vertically
With rectangle flat again, fold in half vertically. Place marker in top edge at crease. You should now have 5 stitch markers places.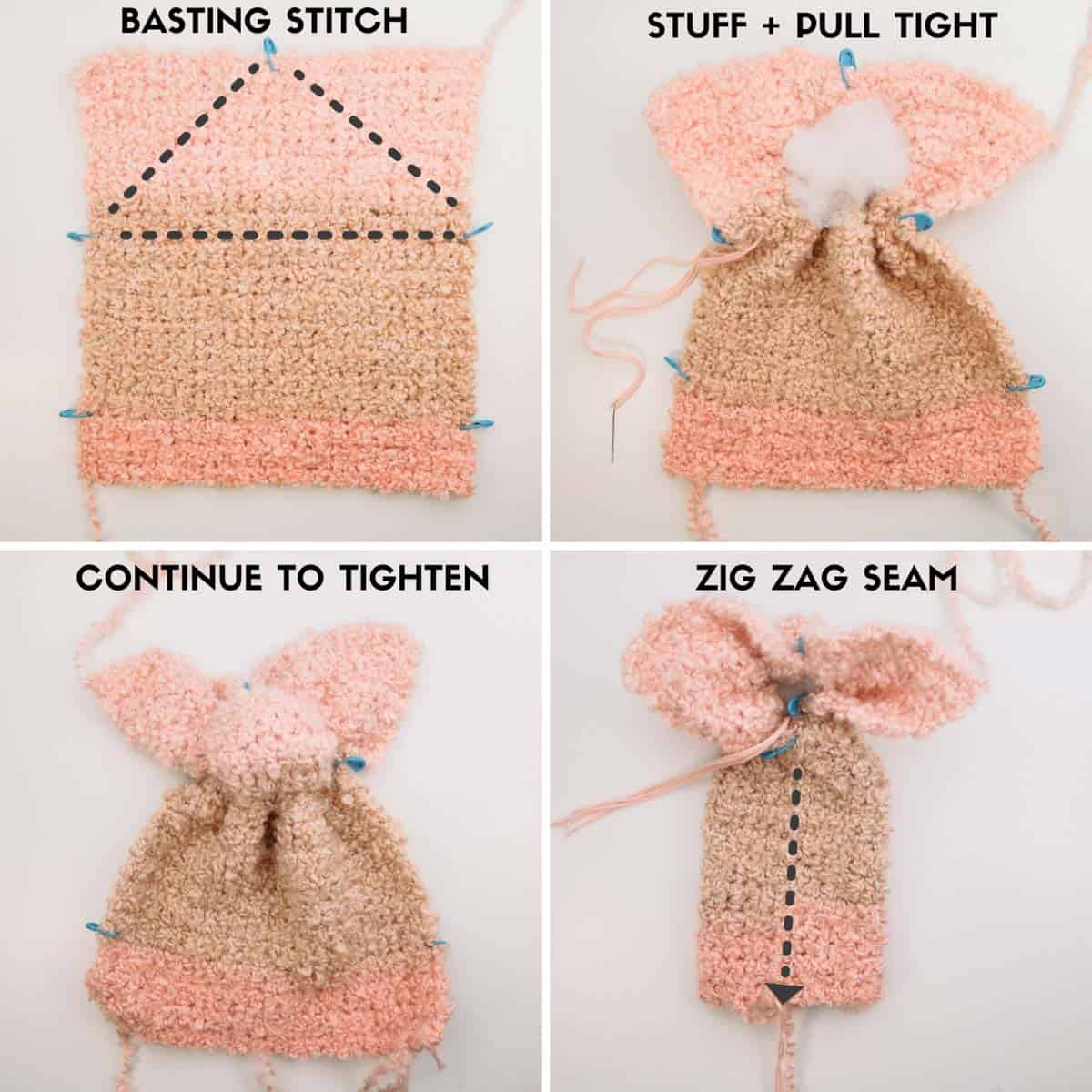 5. Form the Head
With tapestry needle and doubled over strand of yarn, begin at top stitch marker and sew with a basting stitch toward one side marker. Continue across rectangle to opposite side marker and then back up to top marker. Cut off needle keeping yarn tails as long as possible.
6. Stuff + Scrunch
Begin pulling stitching around the face tight, attempting to scrunch each side of your triangle evenly. Meanwhile, add a handful of fiber fill as you scrunch.
7. Tighten Some More
Once stitching is as tight as possible, simply leave as is and move onto step 8. (Do not tie knot yet.)
8. Seaming Back
Use stitch markers to pin sides of rectangle together. Beginning at top of head, use a new doubled over strand of yarn to zig zag seam to bottom of rectangle.
Tie a simple sewing knot but do not fasten off yarn. (This prevents back seam from puckering when bottom of bunny is pulled tight.)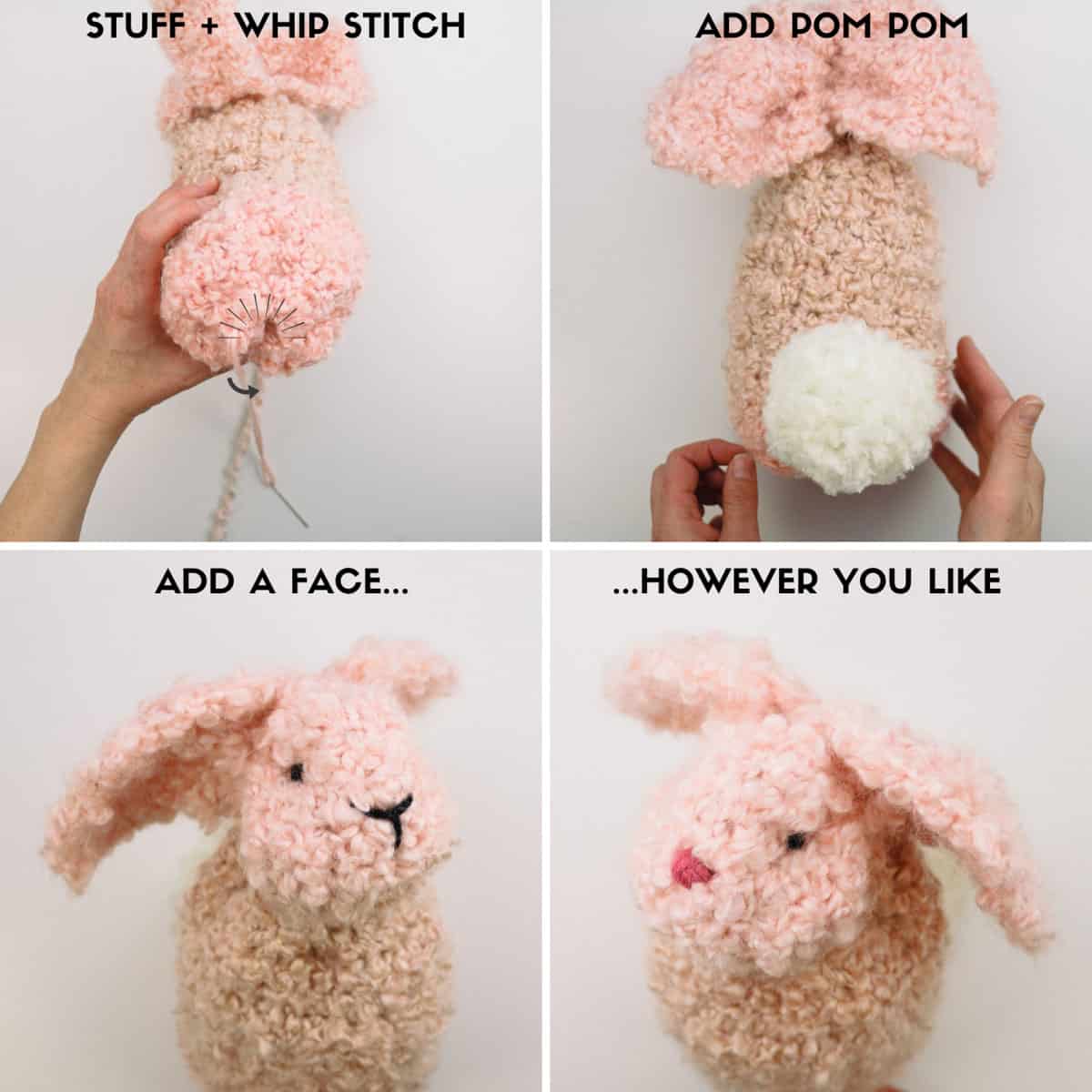 9. Stuff + Seam Bottom
Fill body with as much fiber fill as desired. Using attached yarn and needle, whip stitch around rectangle bottom. Pull as tight as possible, using a few stitches to close bottom hole if visible. Fasten off.
10. Add a Pom Pom
Using either a piece of cardboard or a pom pom maker, create a pom pom tail and join it to your bunny. Learn how to make a pom pom here.
11. Add Eye Dimples
Using yarn desired eye color yarn, tack bunny cheeks together. To do this, tie a knot in your yarn, insert it into the bunny's face and fiddle with the knot until it's been absorbed into the face.
Next, make a small stitch near the first eye, insert needle back through bunny head and make a small stitch near the second eye. Pull tight. Do this as many times as necessary to indent the eye "sockets" slightly.
12. Finish Face
With yarn still attached, sew eyes in place however you'd like. Try buttons as an alternative. (Of course, avoid buttons if gifting to a baby or toddler because they can be a choking hazard.)
Add a triangle nose using a scrap of pink yarn. Try a "Y" shaped nose for a different look.
You know what they say about bunnies...grab some stash yarn and make a dozen more!
I love to see your finished projects! Use #MakeAndDoCrew and tag me Instagram (@MakeAndDoCrew) to show off your stitches and have a chance to be featured.
More free crochet patterns for babies and children
We've got lots for inspiration for you to crochet for your favorite youngsters. You can check out all our free crochet patterns for babies and kids here.
More Amigurumi Patterns You Might Like
Once you've learned the basics of crocheting amigurumi, you're ready to tackle this fun and creative plushie patterns.