[ez-toc]
Octopus Appliques + Lovies
If amigurumi isn't your favorite technique, you can still show your cephalopod love with these appliques, blanket square and lovie patterns. Each of these would work well as part of an ocean-themed nursery or child's bedroom.
Small Plushies
What can make an already adorable octopus even cuter? Making it smaller! Check out these octopus patterns and their teeny tiny tentacles.
Large Stuffies
Small octopus plushies are cute but they aren't the best for snuggling. That's where these large stuffies come in!
You can also consider how the plushie will be used when choosing your yarn. For example, if you are making a toy for a kid, choose something that can be machine washed and is soft, like Lion Brand's Vel-Luxe yarn. Here are some Lion Brand yarns that I like to use that give amigurumi octopuses good stitch definition: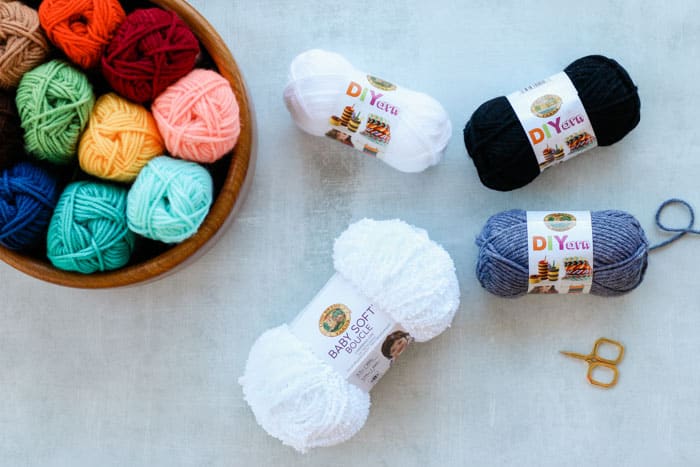 Extra Soft + Squishy Yarns
Here are some yarns I like to use to make extra soft or otherwise textured octopus plushies:
Related: How to Shop Your Stash: The Best Patterns for Using the Yarn You Have
Step 1: Read through the entire pattern and make sure you have all the supplies you need. Also decide if you want to add any of your own accessories, like a bow, and plan at what point in the pattern you'll do that.
Step 2: Like most amigurumi patterns, an octopus begins with a magic loop. Some patterns might use a slip not instead, but that is less common.
If you haven't already learned how to make a magic circle, now is a good time to practice.
Here is a magic circle (aka magic loop) video to help you work on this foundational technique!
Step 3: If your pattern makes the body of your octopus first, the next step is to make multiple rounds of single crochet stitches. For most simple octopuses the body will look quite a bit like a sphere.
Step 4: Tentacle time! Some patterns will have tentacles as something you seam on once everything else is done. However, many patterns are no-sew and crochet the limbs right onto the main body.
Step 5: Once the body and limbs of your octopus are mostly done, you might add safety eyes or embroidered features. Your pattern should give you some guidance on where and how to do this.
PRO TIP: Use a water or air-soluble fabric pen to mark where the eyes and facial features will be on your octopus. Then you can decide if you want to move them without having to pull out any stitches.
Step 6: Once all of the necessary features are made, you'll stuff and seal up your octopus. Make sure you weave in your ends well, especially if you will be giving the stuffie to a child.
Step 7: It's time to make any extra accessories, like a top hat, bow, or wire glasses. Even if your pattern doesn't call for these, you can add them after the fact to give your amigurumi octopus some extra decoration and personality.
If you like your octopus as-is, that is okay too!
Step 8: Enjoy your handmade crochet amigurumi octopus!
If you have crocheted for a while and know you tend to have loose stitches, it can be beneficial to use a smaller hook to make sure the body of your octopus is tight enough.
If you naturally tend to have tight stitches, you're in luck! While tension can still be a problem with amigurumi, having tight crochet stitches can be a big advantage since they help hold the stuffing securely inside your toy.
FAQs
More Amigurumi Patterns You Might Like
Once you've learned the basics of crocheting amigurumi, you're ready to tackle this fun and creative plushie patterns.