This free crochet baby toy pattern makes a quick DIY gift for all the tiny "bunnies" in your life.
Last week I shared a free crochet bunny hat pattern and today I'd like to show you how to make the perfect crocheted baby toy to go with it. If you need a baby shower gift idea or want to make your favorite munchkin a handmade present for their Easter basket, these two patterns together make a sweet little gift set.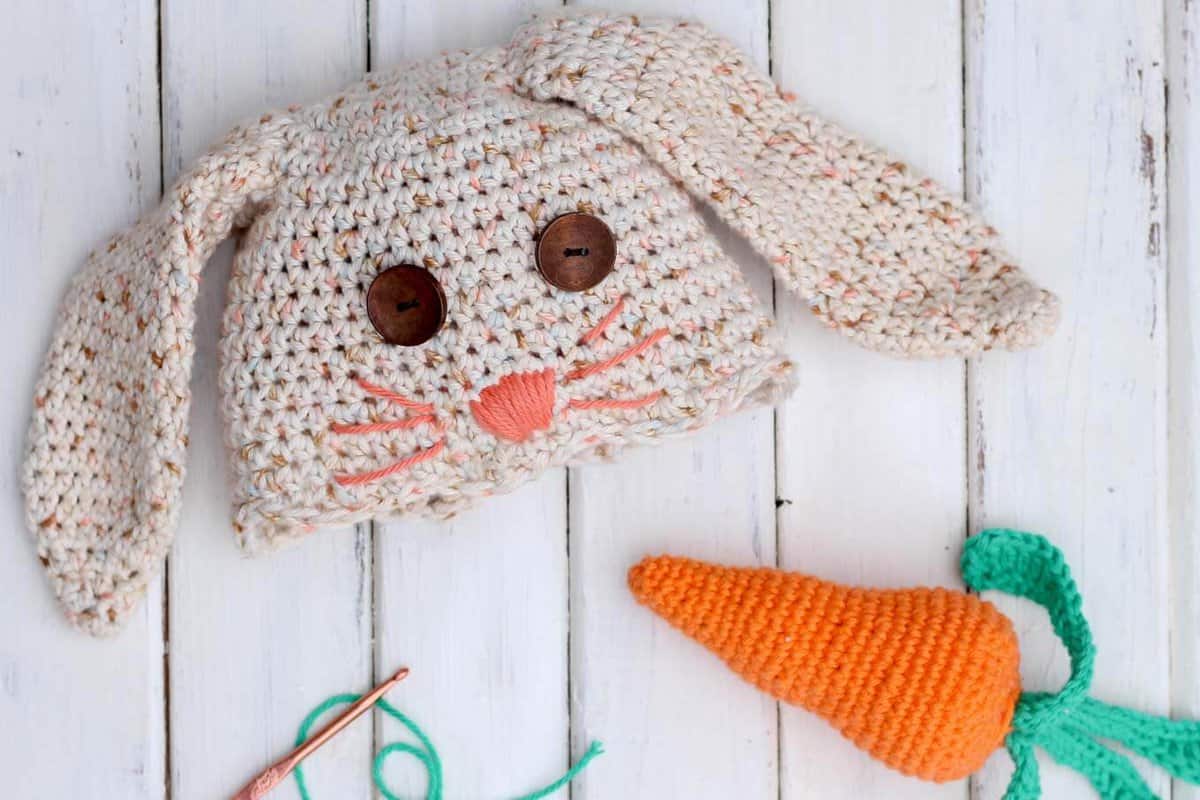 And of course, if you know a vegan baby, this veggie rattle is a total slam dunk! 🙂
(Psst--there are lots more free crochet hat patterns where this came from.)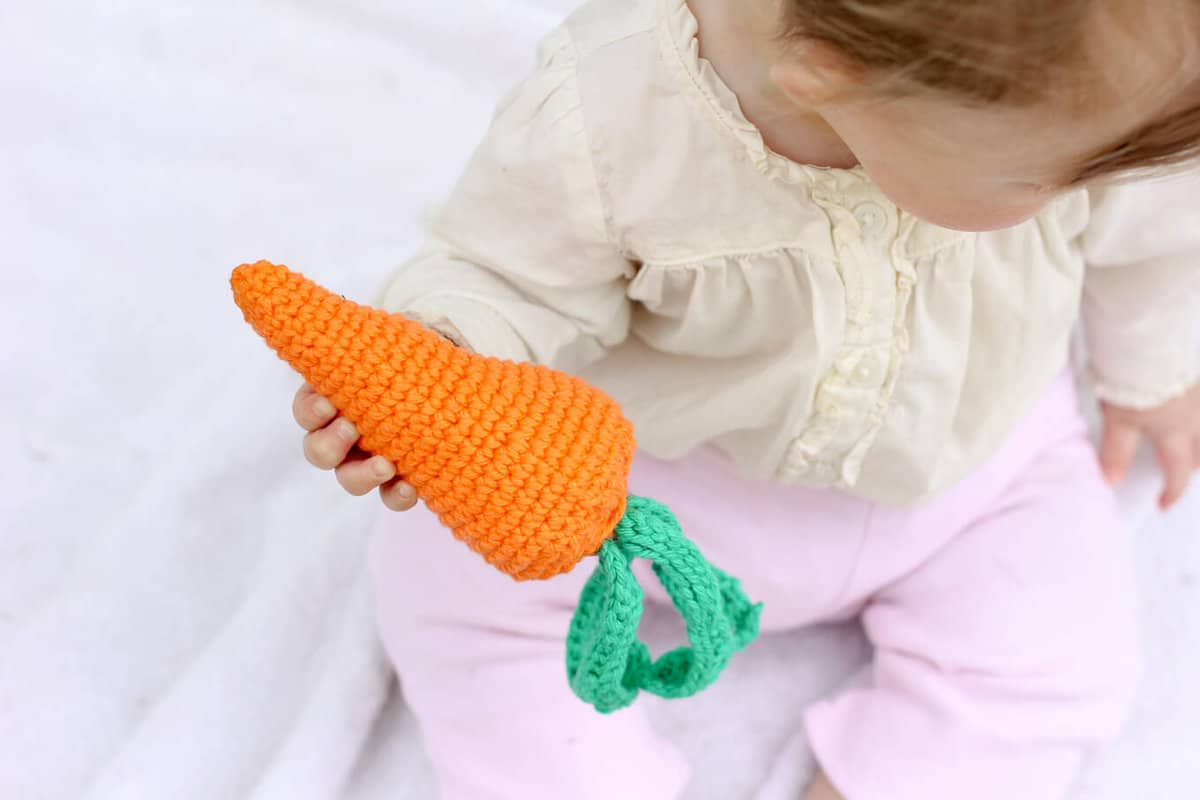 When planning this amigurumi carrot, I knew I wanted it to jingle. The trouble is, when you put a jingle bell inside a crocheted toy and then pack stuffing around it, the jingle bell isn't able to move around enough to make a legit, satisfying jingle sound. And nobody likes a muffled jingle!
The solution? Dive into the depths of the craft room, of course! I've been saving the small plastic containers that come with my hydrogen peroxide contact solution for a while, knowing they'd come in handy for something. Turns out they work perfectly to give the jingle bell a little space to move around and do its thing inside a crocheted stuffie.
If you were blessed with 20/20 vision and can't get your hands on one of these little cases, any small container will work. Try a mini Altoids box or one of those round plastic containers junk toys come in from a 25 cent machine.
This easy crochet pattern can be made in one sitting while you catch up on "House of Cards." I used 100% cotton yarn because I preferred a yarn that isn't fuzzy since this toy is going to get a lot of chewing action. You can really use any worsted weight yarn you'd like though.
A reminder: when crocheting amigurumi, use a crochet hook that's smaller than the gauge on the yarn label calls for so that your stitches are really close together. Especially when you're making a toy that's going to be sucked on, you want to make sure there's no stuffing poking out.
Seeing your finished projects brings me so much joy! I'd love for you to tag me on Instagram to show me your DIY successes (or even less-than-successes!)
Carrot Crochet Rattle Supplies
So you can spend more time sowing your yarn garden and less time shopping, this post contains affiliate links at no extra cost to you.
Lily Sugar 'n Creme yarn - Mod Green + Hot Orange
G/6 (4.00 mm) crochet hook
Stitch marker or scrap of yarn
Jingle bell
Small plastic container to hold jingle bell
Tapestry needle
Stuffing (poly-fil)
Abbreviations
ch - chain
sc - single crochet
dc - double crochet
sl st - slip stitch
sc-dec - single crochet decrease
fsc - foundation single crochet (video tutorial)
Free Crochet Carrot Toy Pattern
You may make items to sell with this pattern. In exchange, please link back to my homepage (MakeAndDoCrew.com) as well as to this post. Do not use my photos as your sales photos. Now let's make something awesome.
This baby rattle pattern is crocheted in a spiral, meaning that you won't be joining each round. You'll just keep crocheting around and around, without "stepping" up at the beginning of each row.
You'll still want to mark the beginning of your row so that it's easier to count your stitches. I like to just put a scrap of yarn at the beginning of a row and essentially crochet around it so that it stays put. Then after crocheting a few rows, I just pull it out and place it at the beginning of my next row.
To crochet the carrot:
Round 1: Using a magic ring, sc 6, join. (6 sc total)
Round 2: [2sc in first stitch, sc, sc] 2 times (8 sc total)
Round 3: work even in sc (8 sc total)
Round 4: [2sc in first stitch, sc, sc, sc] 2 times (10 sc total)
Round 5: sc around (10 sc total)
Round 6: [2sc in first stitch, sc, sc, sc, sc] 2 times (12 sc total)
Round 7: [2sc in first stitch, sc, sc, sc] 3 times (15 sc total)
Round 8: work even in sc (15 sc total)
Round 9: [2sc in first stitch, sc, sc] 5 times (20 sc total)
Round 10 - 15: work even in sc (20 sc total per round)
Round 16: (2sc in first stitch, sc, sc, sc, sc] 4 times (24 sc total)
Round 17: work even in sc (24 sc total)
Round 18: (2sc in first stitch, sc, sc, sc, sc, sc] 4 times (28 sc total)
Round 19: work even in sc (28 sc total)
Round 20: (2sc in first stitch, sc, sc, sc] 7 times (35 sc total)
Round 21-24: work even in sc (35 sc total per round)
Round 25: [sc-dec using first 2 stitches, sc, sc, sc] 7 times (28 sc total)
>Round 26: [sc-dec using first 2 stitches, sc, sc] 7 times (21 sc total)
Round 27: [sc-dec using first 2 stitches, sc] 7 times (14 sc total)
Round 28: sc-dec around (7 sc total)
Fasten off and keep a long tail to attach the carrot greens.
To crochet the greens:
Make 2. If you'd like the two strands of greens to have different lengths, reduce the number of total foundational stitches (fsc) for one of the greens and then simply slip stitch (sl-st) fewer stitches in the middle (just stop slip stitching 8 stitches before the end of the foundation row so you can complete the leaf pattern.)
Row 1: fsc 40, ch 1 (Learn how to do a foundation single crochet stitch in this video from PersiaLou.)
Row 2: 5 dc in next 5 fsc, 3 sc in next 3 fsc, sl-st in next 24 fsc stitches, 3 sc in next 3 fsc stitches, 5 dc in next 5 fsc stitches (to the end of row). 3 sc around the corner of the last dc to meet at the corner of the original foundation stitch.
Stack the greens on top of each other to form an "X." Fold them upward and use a tapestry needle and piece of orange yarn to tack them together.
Insert the base of the greens into the open carrot top. Use orange yarn to sew some criss cross stitches, ensuring the greens are sufficiently attached. Fasten off.
We parents are always trying to get their kids to eat more vegetables, so who wouldn't like to receive a nutritious crocheted carrot baby toy for their wee one? I mean, just look at how strong it makes little Popeye here.
Don't forget to pin and download the free bunny hat pattern. Wouldn't the set be sweet for Easter photo props?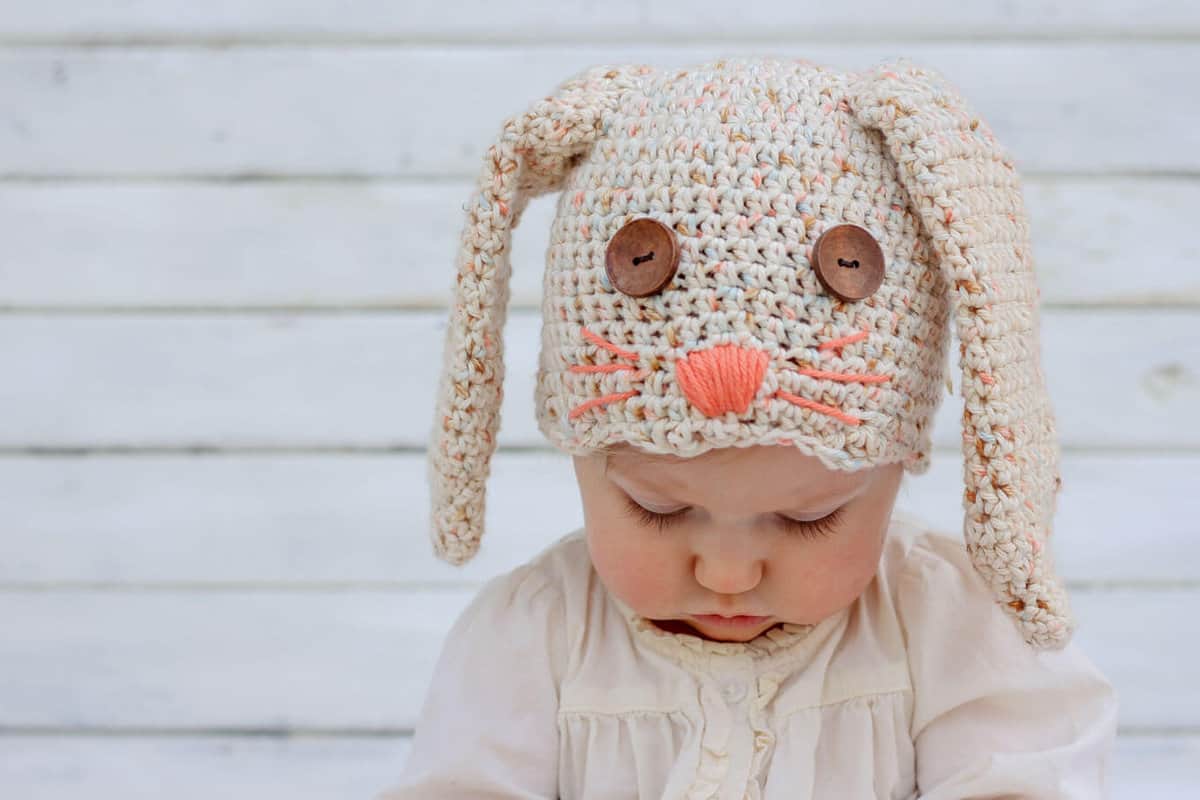 More Amigurumi Patterns You Might Like
Once you've learned the basics of crocheting amigurumi, you're ready to tackle this fun and creative plushie patterns.