In this quickie tutorial, I'm going to share how to make a pom pom for a hat and how to easily attach it.
Don't let the "hat" in the title stop you from making pom poms for other uses though--pom poms make everything better! (Like wreaths and rugs!)
The potential of pom poms is actually the reason that I won't get rid of any yarn in my stash. Not even the little straggly pieces that have really have no hope of ever being knit or crocheted into anything. They could become fluffy little balls someday and thus, they remain safely strewn about tucked away in my craft room.
Related: 27+ Free Crochet Hats and Beanies for Adults
POM POM SUPPLIES
• yarn
• a piece of cardboard (Toilet paper tubes work well!)
• scissors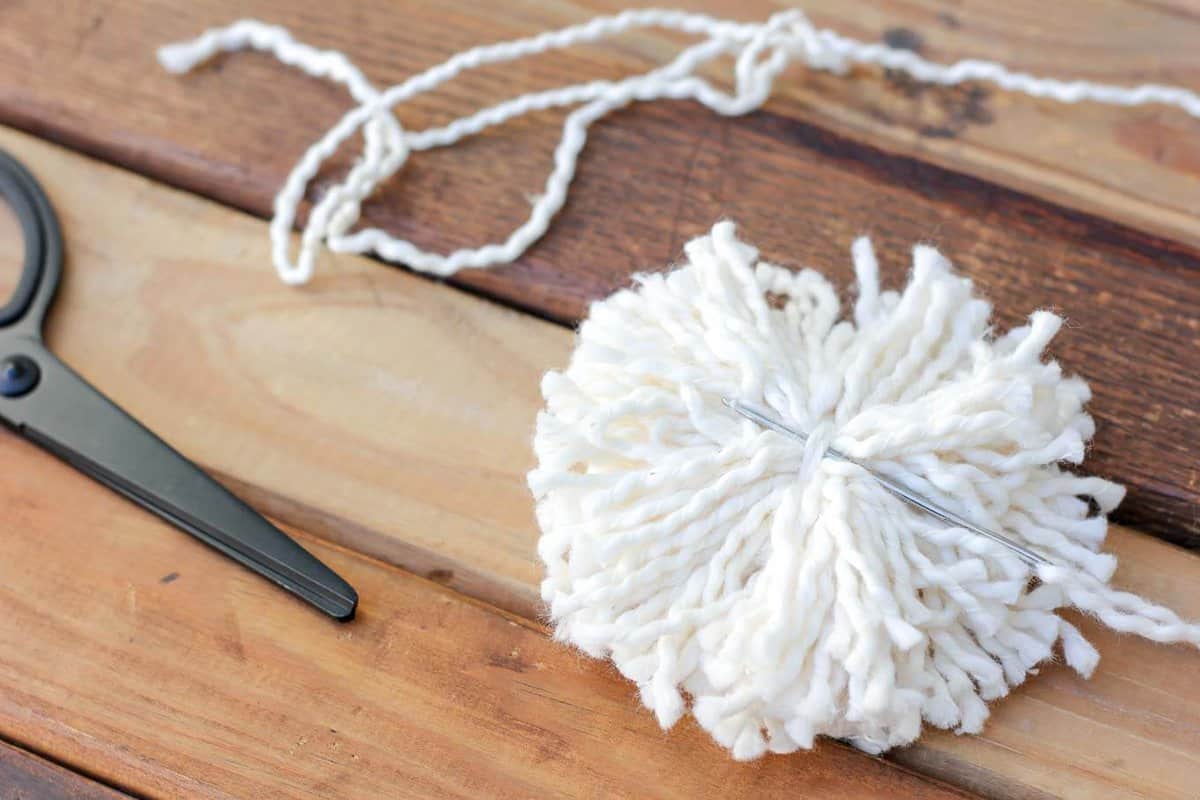 INSTRUCTIONS

1. Cut a piece of cardboard that is approximately half the width you'd like your pom pom to be. The wider the cardboard, the longer each strand of your pom pom will be. Lie a 8-ish" piece of yarn parallel to your cardboard. This will become your pom pom's "belt."
2. Wrap your yarn and cardboard will yarn as pictured. Don't hold back here. Wrapping too little will result in a wilted-looking pom pom. If your cardboard is bigger, you'll also need to wrap more times to give your pom pom enough poofy-ness.
3. Continue to wrap until you've loaded up your cardboard with a good snuggle of yarn.
4. Use the short "belt" piece of yarn to tie a tight knot around all of the wrapped yarn. Really synch it down as tightly as you can.
5. Flip your cardboard over and cut through the middle of all the pieces of wrapped yarn. Keep your pom pom laying flat and wrap the middle "belt" yarn back around the pom pom and tie it as tightly as possible one more time.
6. Fluff your pom pom and trim all the pieces of yarn to the same length.
HOW TO ATTACH A POM POM TO A HAT
1. Using a tapestry needle and a piece of yarn that's the same color as your crochet hat, pull your needle underneath the "belt" of the pom pom.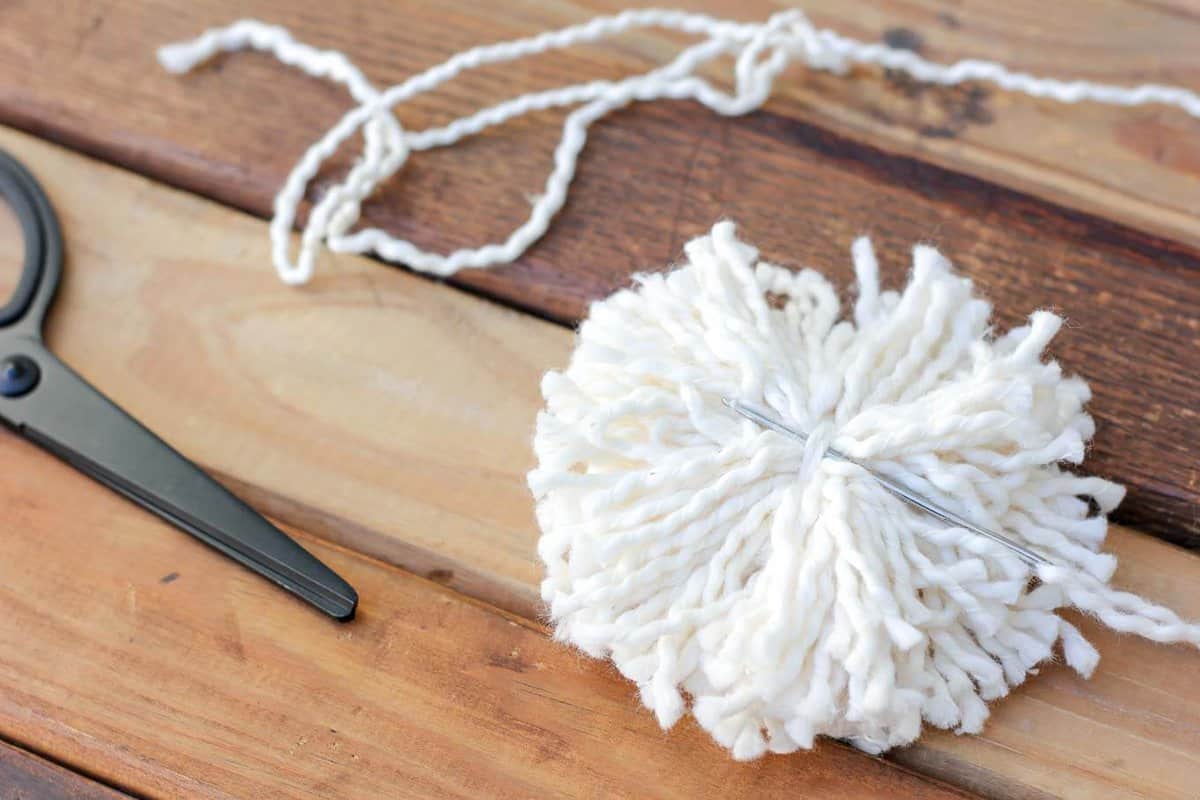 2. Pull the needle through one or two stitches of the "fabric" of your crocheted hat.
3. Repeat steps 1 and 2 so that your yarn in wrapped through your pom pom and your hat twice. Pull the yarn together and tie it in a few knots.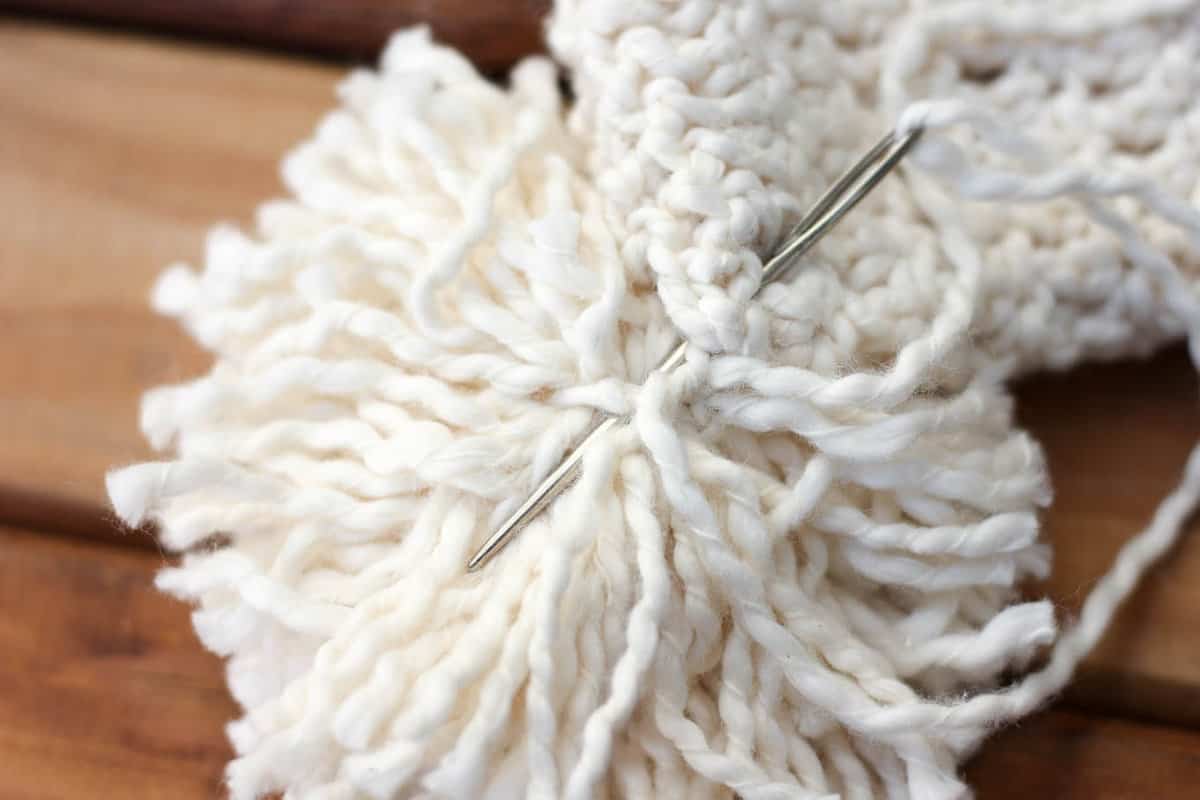 Now if you'd like to test out your pom pom making skills, check out these tutorials where you can put them to good use:
Crochet Elf Hat Pattern (With Ears!)
How To Make a Pom Pom Rug