For crocheters looking for almost-instant gratification, this 4.5 hour afghan pattern will deliver in no time flat. Worked with chunky yarn in simple stitches, this is a very easy "big" crochet project that works up faster than most scarves! Get the free Presto Throw pattern below or purchase the ad-free PDF here.
This 4.5 hour afghan pattern is part of an ongoing collaboration with my friends at Lion Brand yarn. This post contains affiliate links.
If you would have told me when I was a little 12-year-old mini crocheter roaming the aisles of craft stores that someday I would get to help announce new yarn lines, I would have thought my short little life was complete.
So today I feel honored to do just that--tell you about three new, fantastic Lion Brand yarns I got to try that you can now get your hands on too at LionBrand.com.

The first yarn I'm thrilled to share with you is an extension of an old fave, Lion Brand Wool-Ease Thick & Quick. This is the chunky, versatile standby that I've used in the crochet Lineage Lapghan, the Cabin Boots with Flip Flop Soles, the Sierra Slipper mukluks and the knit Huggle hooded cowl.
Wool-Ease Thick & Quick is also what in used in the Presto 4.5 Hour Afghan pattern I'm sharing below. The new Bonus Bundle options are not only twice as big as the usual 5-6 oz skeins, but there are some new exclusive colorways that you can only get at LionBrand.com.
I'm pretty certain that the two additional yarns that are part of the Bonus Bundle series could change your crochet life. First, there's the Touch of Alpaca Bonus Bundle, which is the same yarn I used in my free Greyscale Poncho pattern. This worsted weight yarn is part luxurious alpaca, part practical acrylic and seriously just a yarn dream come true. The Bonus Bundle skein is a massive 415 yarns, making it a really affordable way to use a "fancy" yarn in your crochet projects. (Get the free pattern and video tutorial for the At First Blush Triangle Scarf pictured below here.)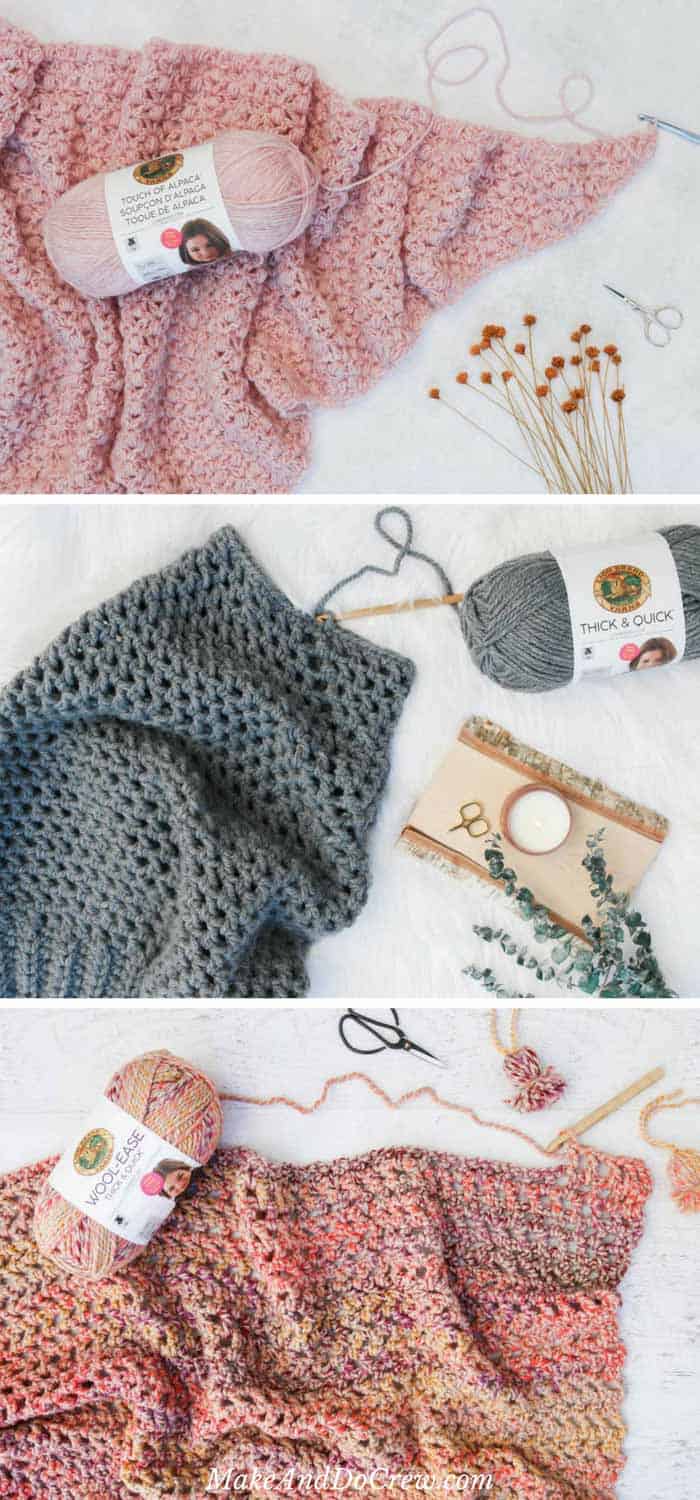 Secondly, the new Thick & Quick Bonus Bundle yarn is going to make all you non-wool-lovers veeeeerrrry happy! This super soft, chunky yarn is a 100% acrylic alternative to the fan favorite Wool-Ease Thick & Quick. I have to say, this yarn is so smooth and easy to work with and because it's the same weight as its wooly cousin, you can swap it for any instances where a pattern calls for Wool-Ease Thick & Quick.
I'll be sharing free crochet patterns for Thick & Quick and Touch of Alpaca yarns in the next two weeks, but for now, you can go check out any of these yarns at LionBrand.com.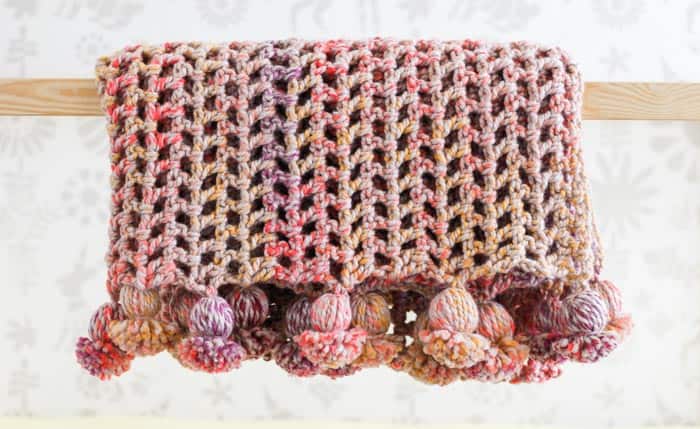 Today, I can't wait to tell you about how you can make an entire, squishy, textured throw in one day. Seriously, this 4.5 hour afghan only requires around 3-3.5 hours of hands on crochet time and then another hour of pom pom tassel assembly.
If you're a beginner crocheter who wants to try a larger project, this very simple 4.5 hour afghan pattern is a great way to sink your teeth into something totally impressive, yet manageable. While this sample is made in the gorgeous and playful new colorway called "Spice Market," I also think this super fast crochet blanket pattern would look beautiful and sophisticated in a cream or grey color.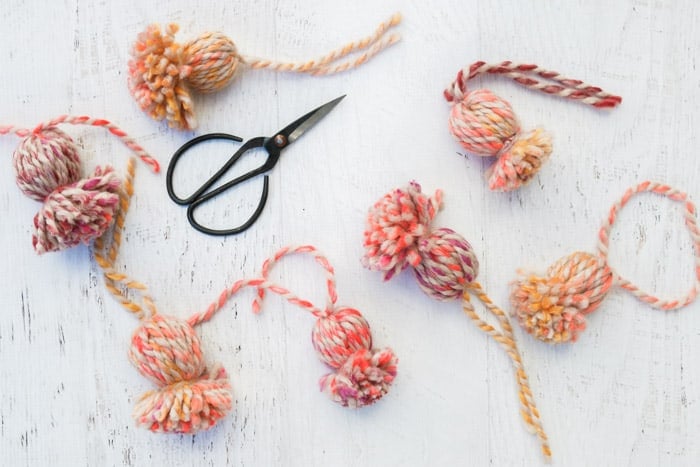 Adjusting the style or placement of pom pom tassels could also change the look of this pattern, so feel free to experiment with adding "flair" to the edge of your afghan. (You can find my basic pom pom tutorial here.) I can't wait to see what you make with this super simple, fast blanket pattern! And when you're ready, you can find all my free crochet afghan patterns here.
Please do not publish or share this pattern as your own. You may make items to sell with this pattern. In exchange, please link back to MakeAndDoCrew.com and do not use my photos as your own sales photos. Now go make something awesome!
Related: 33+ Crochet Border Patterns for Blankets
Presto 4.5 Hour Afghan
Free + Fast Crochet Blanket Pattern
Purchase the ad-free, printable PDF here.
Add this pattern to your Ravelry favorites here.
Pin it for later here.
Explanation:
In less than five hours, you can whip up a chunky throw that's equal parts whimsy and luxury. Using very basic chain and double crochet stitches, you'll breeze through the body of the afghan in about three and a half hours and then add some pizazz with squishy tassels. This pattern is appropriate for confident beginners and anyone who likes to finish an entire afghan in a day!
Supplies:
• Lion Brand Wool-Ease Thick & Quick Bonus Bundle (Weight: 6/Super Bulky - 174 yds, 10 oz)
- Color: Spice Market (#641-615) – 4 skeins
• Tapestry needle
• Size Q (15 mm) crochet hook
• Size I (5.5 mm) crochet hook – exact size isn't critical
• Tassel maker or 3.75" cardboard toilet paper tube
• Scissors
Abbreviations (US Terms):
ch – chain
ch1sp – the space created by one chain
sp(s) – space(s)
dc – double crochet
tch – turning chain
st(s) – stitch(s)
sk – skip
Measurements:
42" x 52" (excluding tassels)
Gauge:
6 sts x 3.25 rows as worked in pattern = 4"
Overall Pattern Notes:
• Ch 4 at the beginning of a row counts as 1 dc and ch1sp. Work these chains slightly tightly to ensure ch1sp matches the ch1sps of the rest of the row.
• Ch 3 at the beginning of a row counts as one dc.

THE AFGHAN
Notes:
• To adjust afghan size, work any even number of chains.
Foundation Row: Using larger hook, ch 82.
Row 1: Dc in sixth ch from the hook, *ch 1, sk 1 ch, dc in next ch; rep from * to end of row; turn. (39 ch1sps)
Row 2: Ch 3, dc in first ch1sp, *ch 1, dc in next ch1sp; rep from * until end of row, dc in third ch of tch; turn.
Row 3: Ch 4, dc in first ch1sp, *ch 1, dc in next ch1sp; rep from * until no ch1sps remain; ch 1, dc in third ch of tch; turn.
Repeat Rows 2 and 3 to create 40 total rows. Fasten off and weave in ends.
ADDING TASSELS
See below for a visual tutorial. Make 18 tassels.
Using MC yarn and a cardboard tube cut to 3.75" (or a tassel maker), wrap yarn approximately 33 times around the tube lengthwise. Insert 10" strand of yarn underneath wrapped yarn on one end of the tube. Tie a few secure knots, but do not trim these pieces. Use sharp scissors to cut the wrapped yarn at the other end of the tube.
Fold the resulting strands of yarn in half and wrap a 10" piece of yarn around the top of the strands to create a small sphere of yarn. (See the 9:20 point in the Revival Scarf video tutorial for a quick visual lesson in tassel making.)
Along both shorter edges of the blanket, space tassels so that there is one in each corner and four rows between each additional tassel.
To secure tassels, use the tails on the top of the tassel to tie a double knot in afghan space. Then pull tails to outside of afghan row (near the tassel) and tie another double knot.
Insert smaller hook through the bottom of the tassel, pick up tails and pull them inside tassel to hide them. Trim each tassel to a similar length.
Wrap up in your new Presto Throw and decide what you want to do with the second half of your day!
I love to see your finished projects! Use #MakeAndDoCrew and tag me Instagram (@MakeAndDoCrew) to show off your stitches and have a chance to be featured.
If you're in the mood to whip up another afghan, here are a few more free crochet blanket patterns from Make & Do Crew:
1. The Sedona Fringed Throw - free crochet afghan pattern
2. Granny Gives Back - free hooded crochet blanket pattern
3. Hygge Holiday - free very easy crochet afghan pattern
4. Hooded Panda Blanket - free crochet afghan pattern for kids