This collection of Lion Brand Mandala yarn free crochet patterns includes beanies, scarves, blankets, sweaters, mittens and more! Go ahead and paint your world colorful with this magical self-striping yarn!

This collection of Mandala yarn free crochet patterns is part of an ongoing collaboration with my friends at Lion Brand Yarn. This post contains affiliate links.
Ever since Lion Brand debuted Mandala yarn last year, I've loved seeing all the free crochet patterns people are designing with it. All the magical colors and combinations are just such an invitation to dream about a new project, aren't they? 
What to make with Lion Brand Mandala yarn?
What I love about this yarn besides the magical way it creates stripes with zero ends to weave in is that it's slightly thinner than a worsted weight yarn (category 3/dk), so you get a lot more yardage in one skein. About 590 yards! That's enough yarn to make and entire shawl or scarf with one simple ball of yarn.
It also means you can hold a few strands together to make create really interesting color effects. My mom and I used three strands Mandala yarn held together to make these cross-stitch-style pillows last summer. Isn't it cool how the ombre effect is accentuated by holding multiple strands together?

Colors of Lion Brand Mandala Yarn
Lion Brand recently released a few new colorways of this super popular yarn, which I'm so excited to try. While many of the options have previously been quite bright, there are now some more neutral colors that I think will be gorgeous for garments or afghans. You can see all the colors of Lion Brand Mandala yarn here (including lots not pictured below!)

As if that's not enough eye candy, there are even MORE colors in the new baby line of Mandala yarn! I think Echo Caves is gorgeous and so sophisticated for a "baby" yarn.
Free Crochet Patterns Using Mandala Yarn
I've seen so many inspiring Mandala yarn free crochet patterns recently that I decided to collect some of my favorites to share with you. As you scroll through them below, check out how the same different colorways play out differently in different patterns. So cool, huh? (One other pattern not included here that would be a great to use Mandala for is my free crochet Desert Winds Triangle Scarf. You could make the whole thing with just one skein!)
Also, if you love Mandala as much as I do, you might like to join this Facebook group where people share and discuss crochet and knit patterns that can be made with Mandala yarn. I'm not affiliated with this group, but I am a member of it and I'm thrilled that it exists for Mandala yarn lovers like us!
Okay! Now onto the free crochet patterns to make with Mandala yarn!
Lion Brand Mandala Yarn Free Crochet Patterns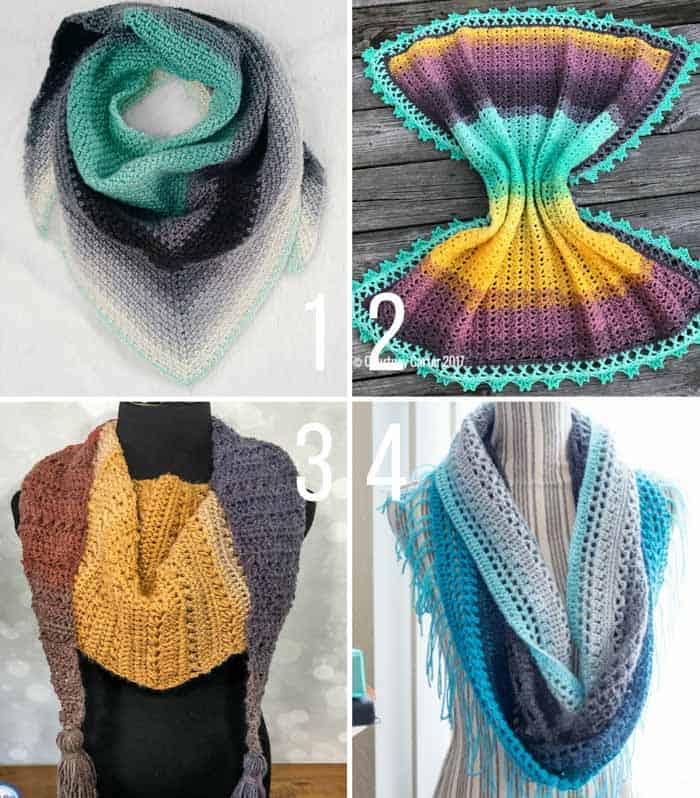 1. The Madeline Crochet Triangle Scarf by Ginger Knots – Simplicity is the name of the game when it comes to the Madeline Crochet Triangle Scarf by Ginger Knots. Using one skein of Mandala yarn and the moss stitch, this is an ideal pattern for beginners, especially because it includes a video tutorial.
2. The Orchid Lace Baby Blanket by Crocheting Crazy – I love how cheerful this Mandala baby blanket pattern is. And the border! Isn't it stunning? You can see this baby blanket worked in Mandala yarn here and get the free crochet pattern here.
3. The Crunching Leaves Mod Crochet Scarf by Left in Knots – Grab your Mandala yarn, crochet hook, and pumpkin spice latte! This Mod Crochet Scarf by Left in Knots uses the star stitch and the Mandala "Centaur" colorway to create a beautiful not-too-thick, not-too-thin triangle scarf. The warm colors will have you waiting for a cool day to play in the leaves.
4. The Crochet Mandala Cowl by Crafty Tutorials – The lightweight Mandala yarn and elegant fringe adds to a beautiful drape and texture on this free Mandala yarn crochet cowl. The cool tones of the Mandala "Mermaid" colorway will leave you daydreaming of sandy beaches and ocean mist.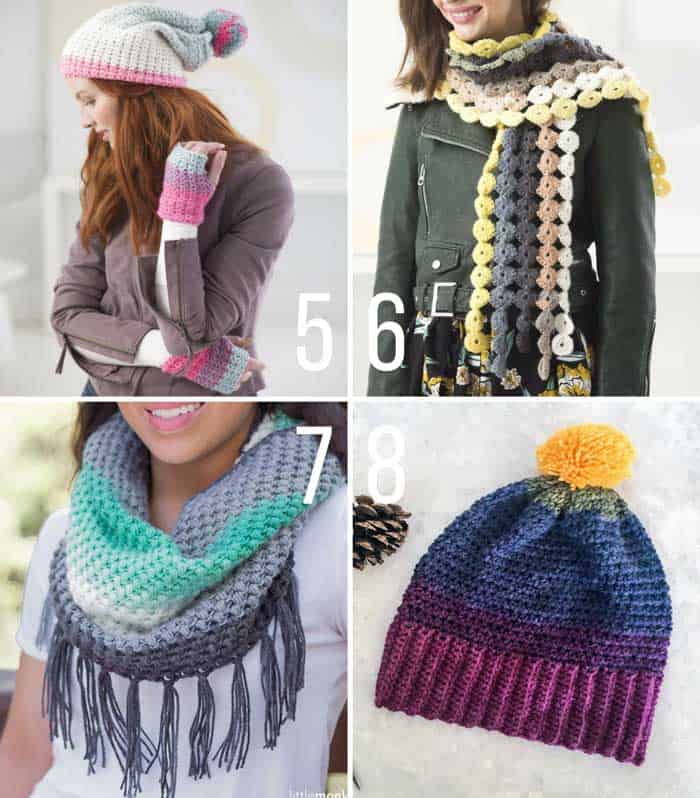 5. The Crochet Hat and Mitts by Lion Brand – Whip up two crochet projects for the price of one! All you need is one skein of Mandala yarn to make this adorable matching hat and mitts set.
6. The Crochet Motif Scarf by Lion Brand – The unique construction of this Crochet Motif Scarf by Lion Brand is perfectly suited for the self-striping Mandala yarn.
7. The Spring Bean Crochet Cowl by Little Monkeys Crochet – This Spring Bean Crochet Cowl by Little Monkeys Crochet has me in the mood for some mint ice cream! I love how the simple texture, created by the bean stitch, shows off the calming colors of the "Genie" Mandala yarn. This is a surprisingly easy pattern.
8. The Crochet Chroma Hat by Left in Knots – The simple Crochet Chroma Hat will be your next go-to free hat pattern. The basic pattern works up quickly and is easily adjustable for different sizes.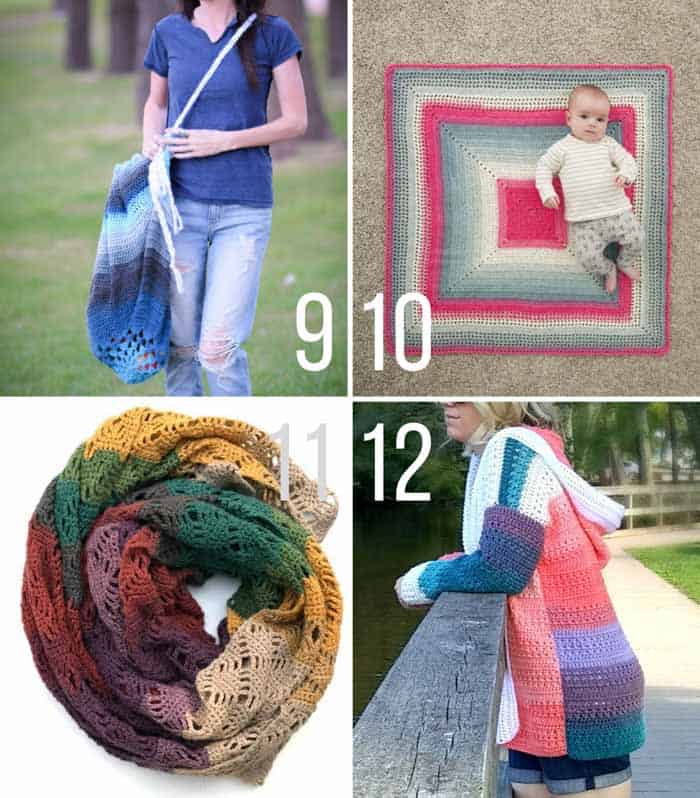 9. The Mandala Crocheted Blanket Bag by Mama in a Stitch – A bag and a blanket, all in one! Using mostly double crochet stitches, this Mandala Crocheted Blanket Bag works up quickly and will make all your adventures a little more convenient (and colorful!)
10. The Crochet Whitby Baby Blanket by Lion Brand – This easy crochet baby blanket has a clean, geometric look and is worked in one piece. The best part is you can choose any Mandala yarn colorway to personalize the blanket for the the little recipient.
11. The Wrap Me in Diamonds Crochet Scarf by Stitching Together – Who knew that single crochet and double crochet could create such an elegant scarf? The diamond lace stitch does just that in this beautiful crochet scarf by Stitching Together.
12. The Colorblock Crochet Cardigan by Croyden Crochet – The vibrant colors of the "Pegasus" Mandala colorway make this Colorblock Crochet Cardigan one of most fun alliterations you'll ever make.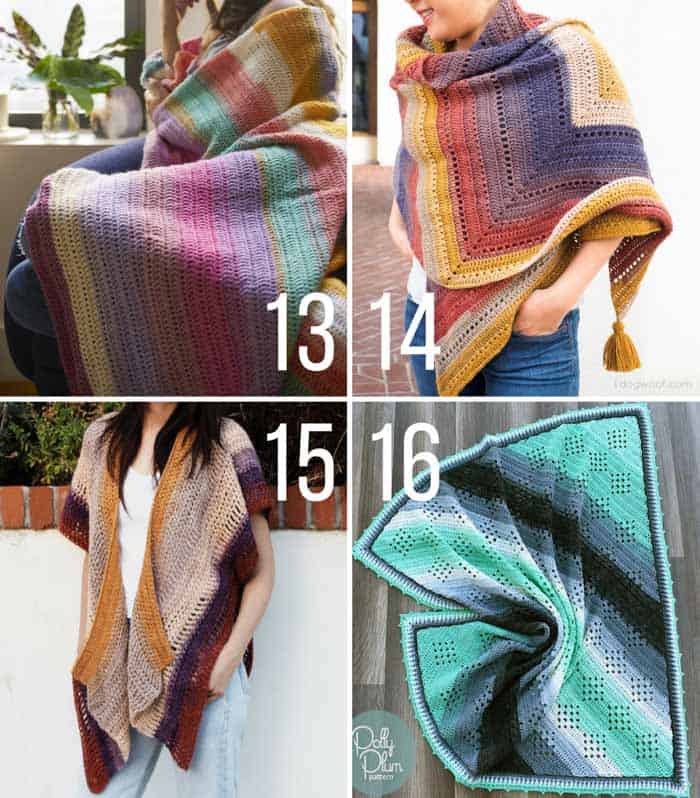 13. The Beginner's Delight Crochet Afghan by Lion Brand – This afghan has surprisingly few ends to weave in thanks to the self-striping Mandala yarn and should be a cheerful staple on everyone's couch.
14. The Adirondack Crochet Wrap by 1 Dog Woof – Calling all geometry lovers! This amazing Adirondack Crochet Wrap by 1 Dog Woof is created by connecting three large triangles to form a trapezoid. Wear it as a wrap or as a scarf–you won't need a math degree to make this simple shawl pattern.
15. The Swallowtail Crochet Cardigan by Two of Wands – The construction of this cardigan is based on two simple panels. If you can crochet a rectangle, you can make this crochet cardigan pattern!
16. The Granny in the Sky With Diamonds Crochet Baby Blanket by Polly Plum (PAID PATTERN) – While this Mandala crochet pattern isn't free, I just had to include it because I think it's such a beautiful and delicate use of this yarn. And you can make it with only three cakes of Mandala!
If you've never tried Mandala yarn, hop over to LionBrand.com to see what you're missing! Then pin this post for later so you have all the inspiration needed to start your next free crochet pattern using Mandala yarn!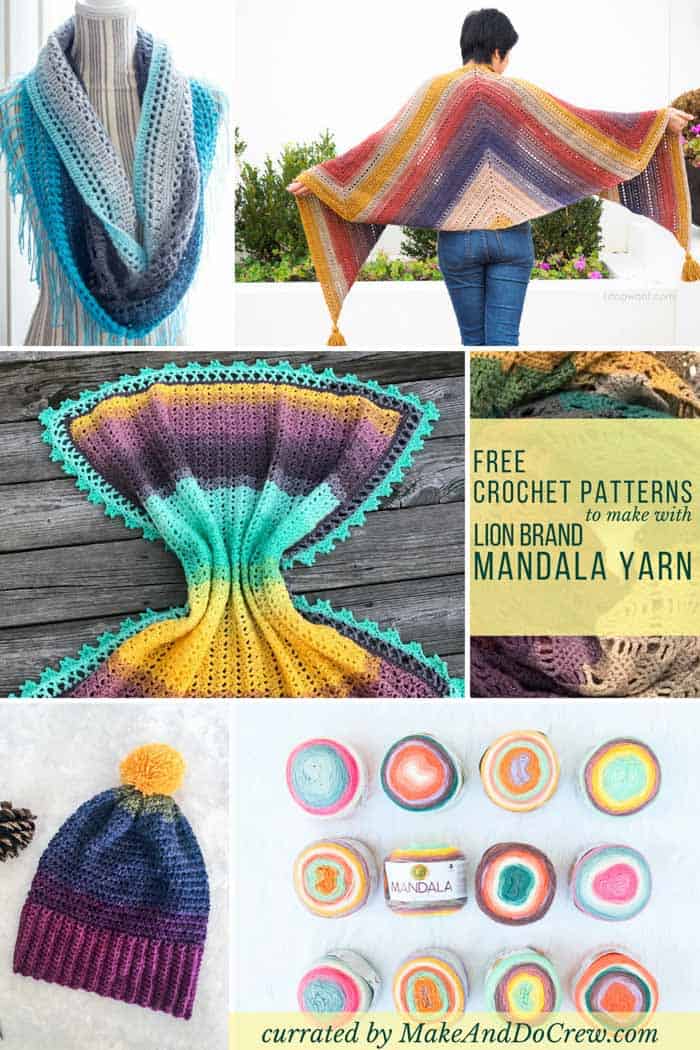 WANT MORE FREE MODERN CROCHET PATTERNS?
Join over 78,000 crew members who are learning from our weekly crochet tutorials and free patterns.