Put your own spin on any crochet or knit pattern by deconstructing yarn cakes to design stunning gradients. In this video tutorial, you'll learn how to take apart your Mandala yarn, how to choose colors and plan your gradient step-by-step and how to know if you'll have enough yarn. (This is the same technique used in the Remix Cardigan. Get the free crochet pattern here!)
This tutorial on how to remix yarn cakes is part of a collaboration with my friends at Lion Brand Yarn. This post contains affiliate links.
Last week I shared the Remix Cardigan pattern in which I deconstructed Lion Brand Mandala yarn to deliberately create a gradient as I crocheted. The whole colorful thing was way out of my neutral-lovin' comfort zone, but man was it fun! Every bit of it felt like being a kid playing with a box of new oil pastels in art class.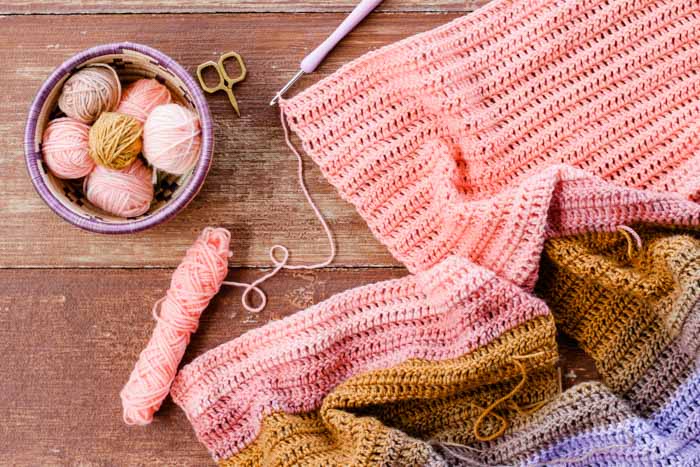 So today in this video tutorial, I want to walk you step-by-step through how to create your own gradients with any type of deconstructed yarn cake using some of the tips I figured out with the Remix Cardigan.
The process can be used in almost any crochet or knit pattern and leaves you with surprisingly few ends to weave in. In the video below, we discuss exactly how to choose which yarn cakes to combine, how to deconstruct your Mandala (or other) yarn cake and how to use a simple, inexpensive kitchen scale to plan your gradients and color transitions.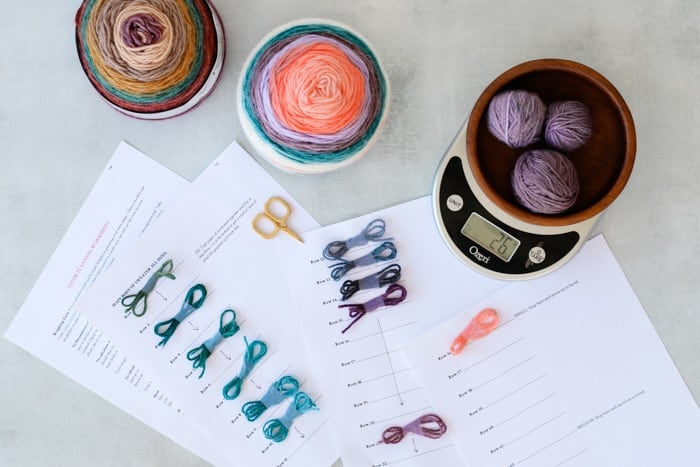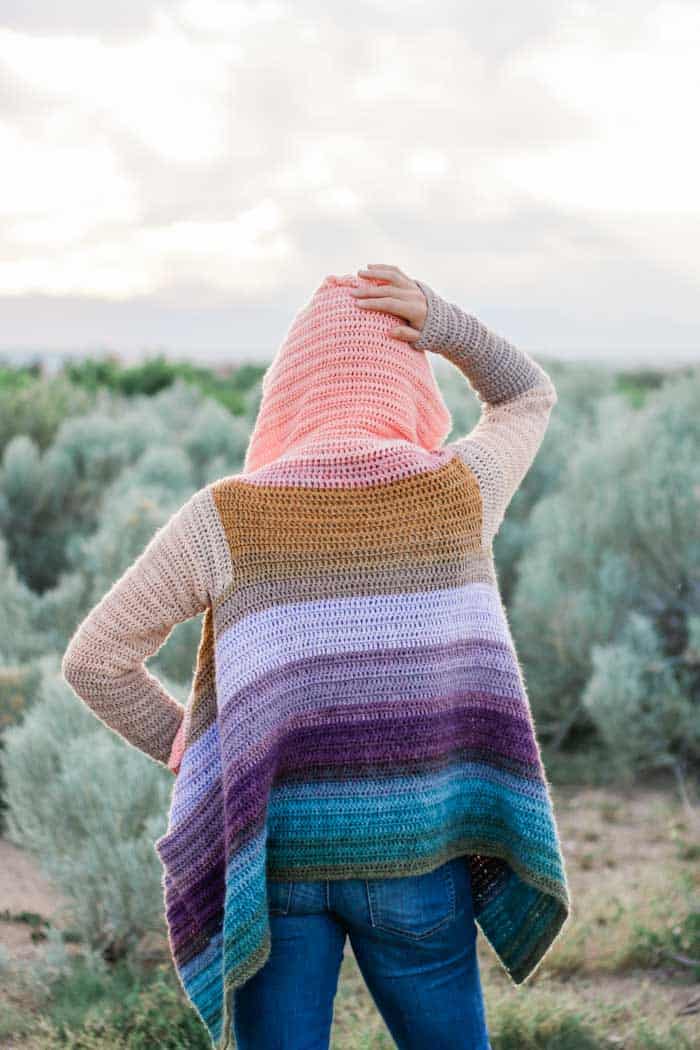 If you're more of a reader than a watcher, scroll down a bit further for additional written notes on deconstructing yarn cakes to form gradients in your crochet or knit patterns. And if you're altogether more of a write-it-down kind of learner, you can find the a written tutorial with worksheet for planning your Remix Cardigan in the ad-free, printable PDF. It even includes exactly how many grams of yarn you'll need for each section of the pattern, so you can allocate your colors accordingly. Purchase the PDF here.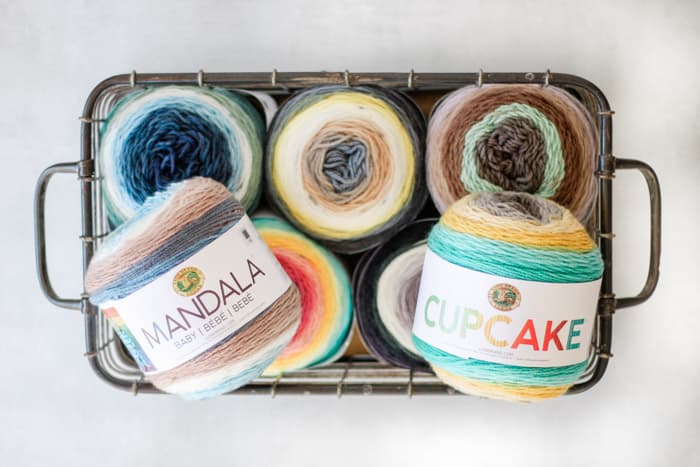 How to Design Gradients with Deconstructed Mandala Yarn Cakes Video Tutorial
Links mentioned in the video:
• YARN: Lion Brand Mandala (original), Lion Brand Mandala Baby and Lion Brand Cupcake
• The Remix Cardigan free crochet pattern
• The Remix Cardigan ad-free, printable PDF with color planning worksheet
• Deconstructed yarn cake inspo on Instagram: @miramarwoods and @montana.crochet
How To Remix Mandala Yarn Cakes Written Tutorial
Important Things to Keep in Mind:
• Let this part be fun! You're an artist painting with yarn! Try to find joy in the process because whatever you end up will be unique and beautiful in a one-of-a-kind way.

• You'll need more yarn than a pattern calls for to crochet or knit a pattern this way because you won't likely use every inch of a skein. Luckily yarns like Lion Brand Mandala have a ton of yardage for the price, so "wasting" a bit is not going to cost a lot of money. Scroll to the bottom of the post for ideas on how to use your leftover cake yarn!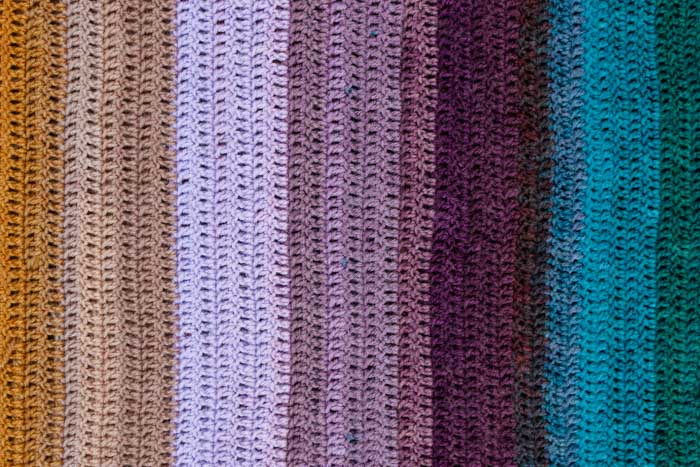 What Type of Patterns Can I use?
Technically, you can try this deconstructed yarn cake technique on any knit or crochet pattern. If you want to be semi-precise about your gradient or ombre-effect though, working a pattern where most of the rows/rounds have the same number of stitches will help simplify what you'll learn below. (Essentially this means any pattern based on a rectangle or square will probably work.)
Here are a few free crochet patterns from Make & Do Crew that are perfect candidates for making with deconstructed yarn cakes.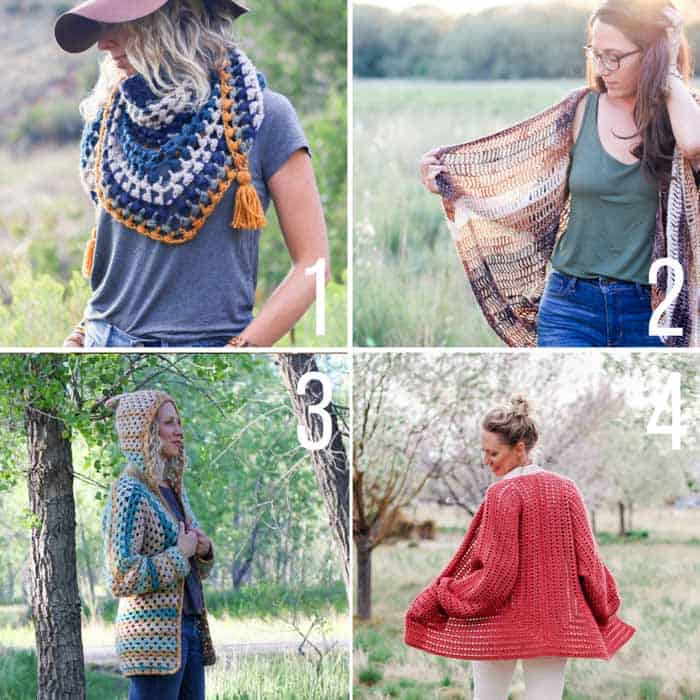 Which Yarns to Use:
While you can really use this technique with any cake yarn, I'm really excited that Lion Brand has recently released some new yarns that are identical to Mandala in weight and fiber content, so you can combine any of the colors of any of these yarns into one gradient. There are SO many possibilities!
Here are some cake yarns to check out:
• Lion Brand Mandala (original)
• Lion Brand Mandala Baby
• Lion Brand Cupcake
How to Choose Which Colorways To Combine:
This will vary a lot based on your artistic vision, so please don't feel limited by what I tried with the Remix Cardigan. My approach with that sweater though was to use two different colorways that has similar types of tones, albeit in a wide range of colors. You can see both Pegasus Mandala and Warlock Mandala have lots of reds/oranges, blues/greens and purples that feel like they're sort of "related" to each other. This allowed my gradient to have a lot of nuanced color transitions within about five main colors.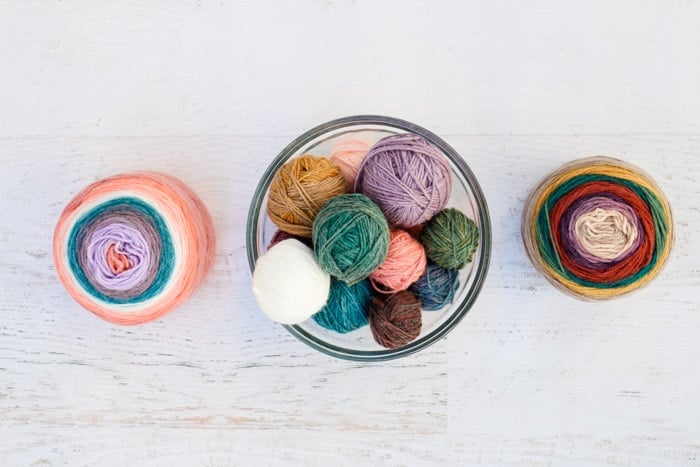 The Secret Weapon in Planning a Yarn Gradient: A basic kitchen scale can be super helpful in planning your yarn usage. (This is the $10 one I use.) If you don't have access to a scale, you can still use these technique to plan out the relative gradient you plan to create. The scale just allows you to be more precise.
To Deconstruct Cakes: Deconstruct yarn cakes by winding off each color into its own separate ball. Take care to divide out the blended or transitional colors into their own balls so that each individual color is isolated. (See photo below.) I keep each individual color in its own small ball, so I have a ball of each color from each skein. This allows me to create small gradients within one color if the different cakes happen to vary in dye lot.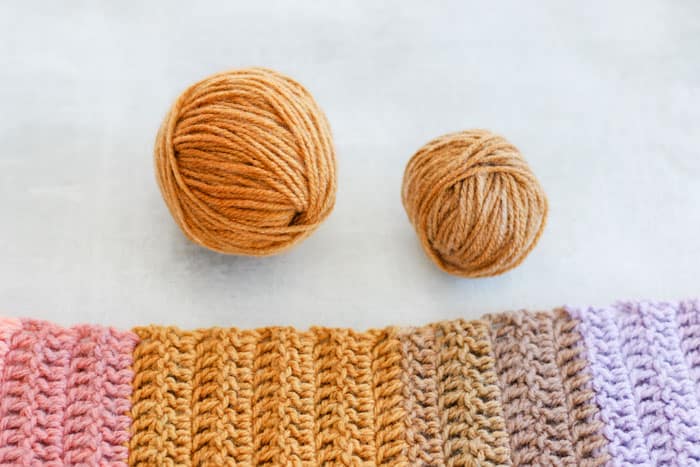 To calculate weight of one row pattern: Work first 3 row. (Choose color you'd like to have at the beginning of the pattern so that you can just carry on with the pattern after completing this section.) Weigh those 3 total rows in grams. Divide that number by 3. This equals the approximate amount of yarn in grams needed for each row.
How to plan your gradient: Once all colors are separated, play around with the balls until you have an order that pleases you. Consider the relative lightness or darkness of a color next to another color as well as which colors naturally blend into each other well (like blue to purple). At this point, it's also wise to consider which colors you'd like to set aside for parts of the pattern that are less of the main focus like sleeves, pockets, straps, etc.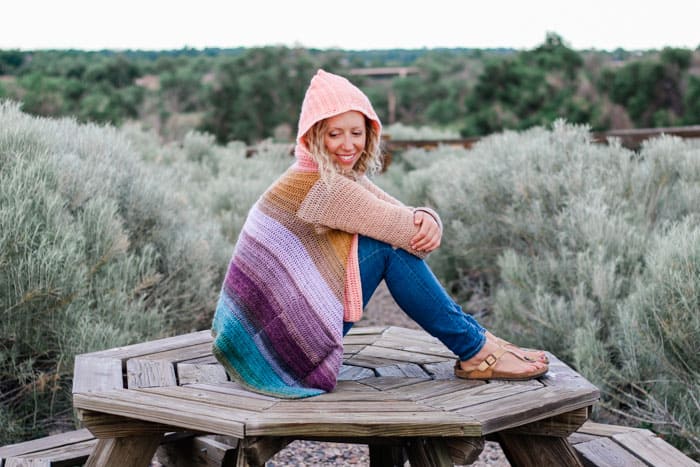 How to use this information: Use the knowledge of the approximate weight of one row to assess how many rows you can create in each color. To calculate this: weigh all the yarn of one color in grams. Divide that number by the number of grams needed for one row (calculated above).
You will have more yarn than you need, so it's okay to not include every color or use all the yarn in one color. When planning your gradient, look at individual balls of each color to determine if the dye lot varies a bit and take that variance into account in your gradient.
How to use leftover yarn:
Below I've included some of my favorite free crochet patterns that would be perfect to make with your leftover cake yarn.
1. The Campfire Cardigan - free crochet sweater pattern
2. Tributary Blanket - free crochet baby blanket pattern
3. Dawn Till Dusk Triangle Scarf - free one skein crochet pattern made with Lion Brand Mandala (+ video tutorial!)
Ω4. At First Blush Triangle Scarf - easy, tasseled crochet shawl (+ video tutorial!)