This easy, modern cowl is going to become your go-to accessory for fall and winter! Plus, this Caron Cakes Yarn free crochet pattern is simple to make even if you're not an experienced pattern-reader. As always, the free pattern is below, or you can purchase an handy ad-free, printable PDF here.
How's your neck doing today? Could it use a hug?
Well, you're in luck then because I'd like to show you how to quickly whip up a little diddy that wont want to take off until April. To me, this cowl is the perfect combination of a timeless scarf style with detailed, elegant (and seriously simple to learn) stitch pattern in modern and stylish colors. Thanks for that, Caron Cakes. Choosing colors myself is SCARY.
Aren't these colors just great together? If you haven't yet tried Caron Cakes yarn (available exclusively from Michael's), you should at least allow yourself the chance to peruse the color choices and dream of which you'd choose. And Michael's just started offering Caron Cakes yarn online in addition to in-store, so now no one has to miss out!
I love thinking about the people closest to me and assigning them each a Caron Cakes color palette. When I saw this "Royal Icing" color, I knew it would be total heart eyes on my sister, Mich.
Mich has been working on learning new crochet stitches lately (remember this amazing chunky afghan she whipped up?), so I bought her a skein of Caron Cakes yarn, gave her my "H" hook and this is what she came up with. Isn't she a rockstar?!
This Caron Cakes yarn free crochet pattern consists of learning just one unusual stitch called the "Odd Forked Cluster" stitch, but even if you haven't read a lot of patterns, I've got you covered with a chart that should help explain things.
And if you end up falling in love with this yarn like I have, you might want to make my "Desert Winds" triangle scarf, a free crochet pattern that also uses Caron Cakes yarn.
More Free Crochet Scarves + Shawls Patterns
Whether you adore c2c crochet scarves, Tunisian crochet shawls or gorgeous lace scarves, we've got you covered. Many of these patterns make quick gifts to crochet and great gift ideas for Mother's Day.
See more free crochet scarves + shawls patterns →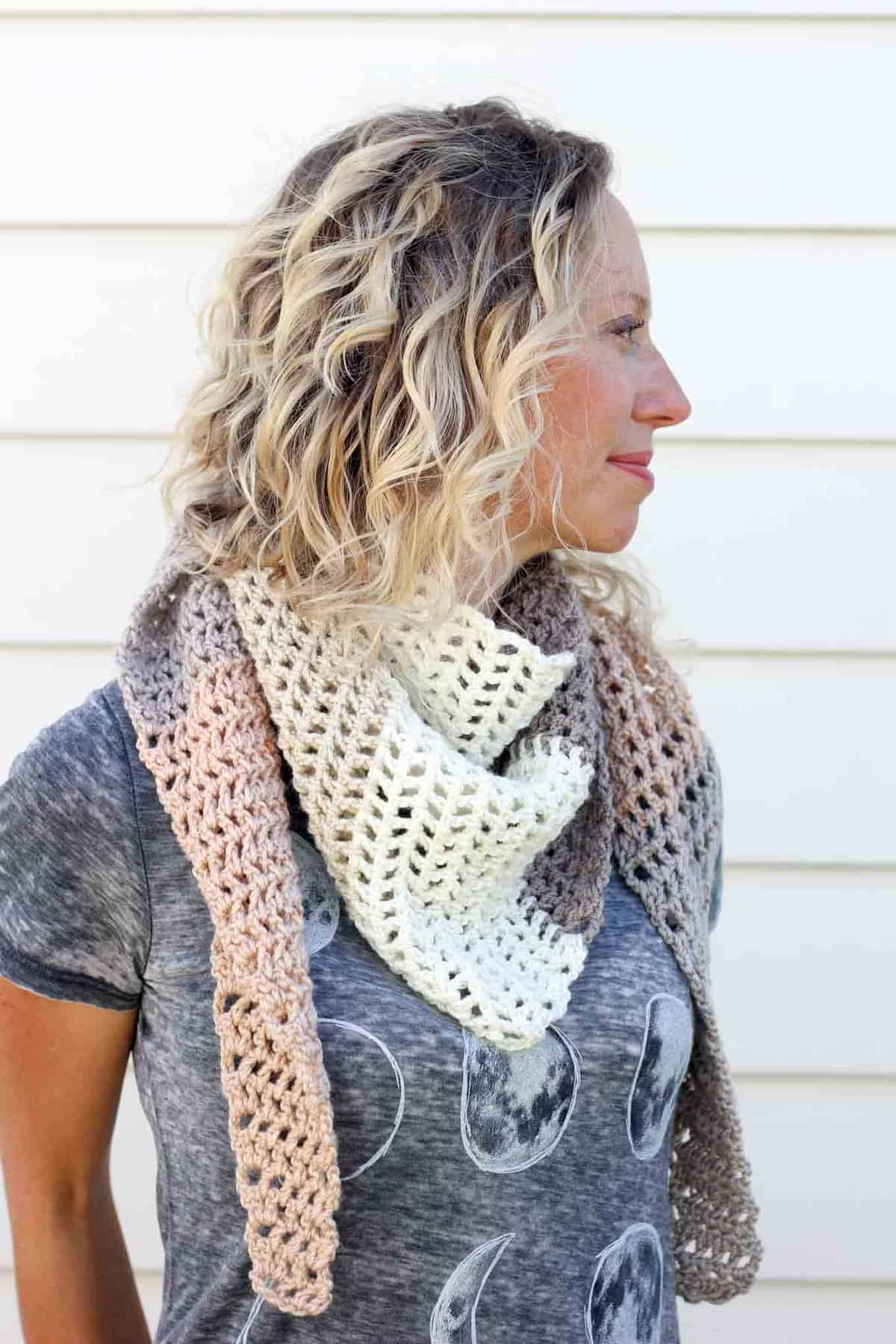 "Piece of Cake Cowl" Using Caron Cakes Yarn - Free Crochet Pattern
Purchase the convenient ad-free, printable PDF here.
Add the "Piece of Cake Cowl" to your Ravelry favorites here.
Sizes: One size: 8.5" x 54" loop
Supplies:
So you can spend more time crocheting and less time shopping, this pattern contains affiliate links at no extra cost to you.
• Caron Cakes – 1 skein "Royal Icing" or approx. 383 yards worsted weight yarn
• Tapestry needle
• Size H [5 mm] crochet hook (I really like this affordable set!)
Gauge:
Not critical for this pattern.
Abbreviations:
ch – chain sp – space
sk – skip hdc – half double crochet
yo – yarn over tch – turning chain
OFC (Odd Forked Cluster) – yo, insert hook into ch or st as indicated, yo, draw loop through, yo, draw through 2 loops, insert hook in next ch or st, yo, draw loop through, yo, draw through all 3 loops on hook.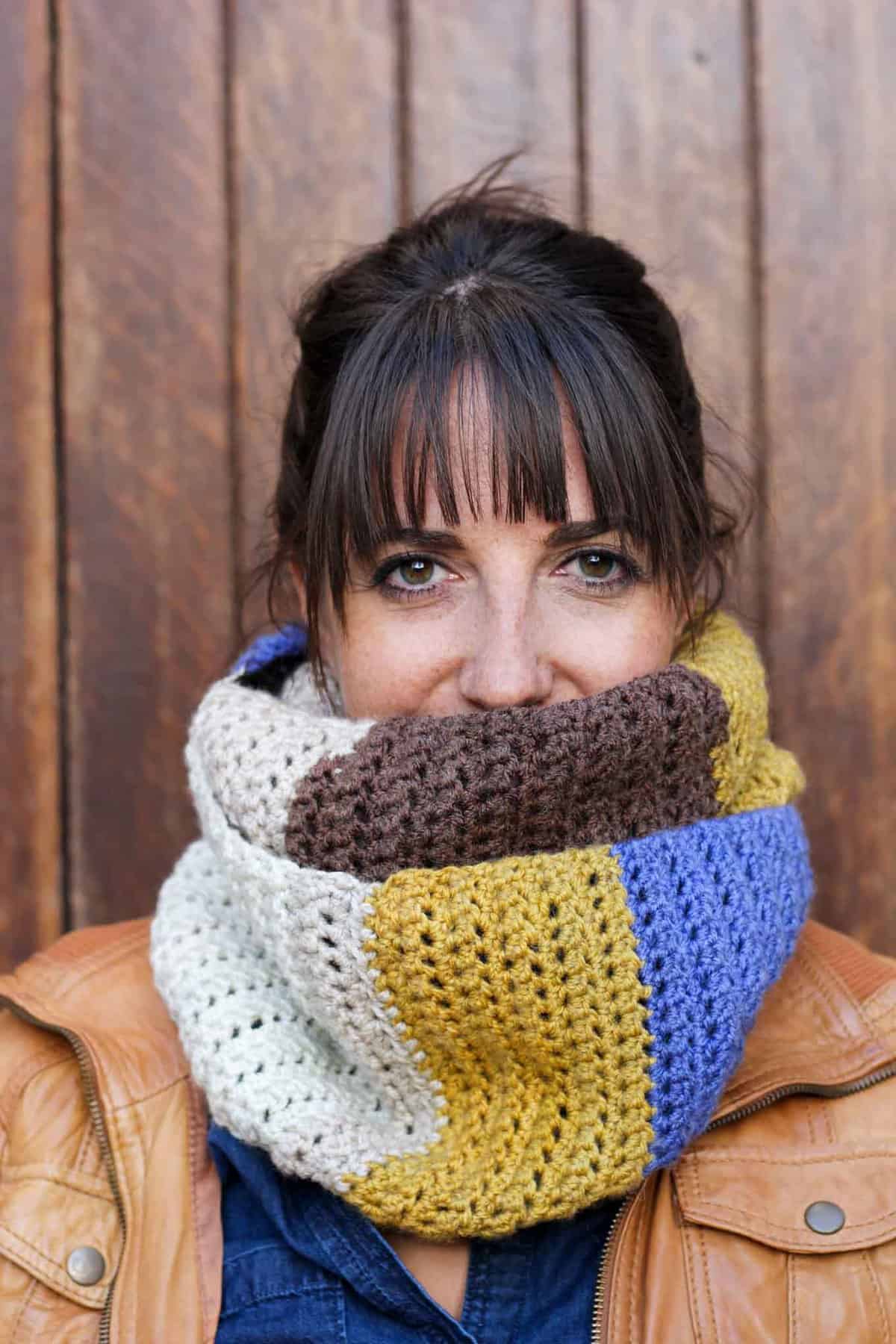 Pattern Notes:
This scarf pattern is worked as a long rectangle and then sewn together into a loop.
Foundation Row: ch 25.

Row 1: Sk 2ch (counts as 1hdc), 1 OFC inserting hook first into third and then fourth ch from hook, *1 OFC inserting hook first into same ch as previous OFC then into next ch; rep from * until 1ch remains, 1 hdc in last ch; turn.
Row 2 : Ch 2 (counts as 1hdc), 1 OFC inserting hook first into first st and then next st, *1 OFC inserting hook first into same st as previous OFC then into next st; rep from * ending with 1 hdc in top of tch; turn.
Repeat Row 2 for approximately 54" or until about 3' of yarn remains in your skein.
Finishing
Fasten off. Use a mattress stitch to sew the rectangle ends together, taking care to line up the stitches one for one. Work in the outside loop of each stitch. Reference this helpful tutorial for photos.
Pop that cowl over your head and don't take it off until bathing suit season!
That was so fun! Now what?
Invitation to our Facebook group
Come discuss crocheting cake yarn patterns and lots of other crochet projects and techniques in our Make & Do Crew Facebook group. Here thousands of helpful crocheters answer each others questions and share their stitches. Come join us here.
More Free Scarves + Shawls Crochet Patterns
If you like learning new crochet stitches as much as I do, you might like these video tutorials:
How to Crochet the Suzette Stitch Video Tutorial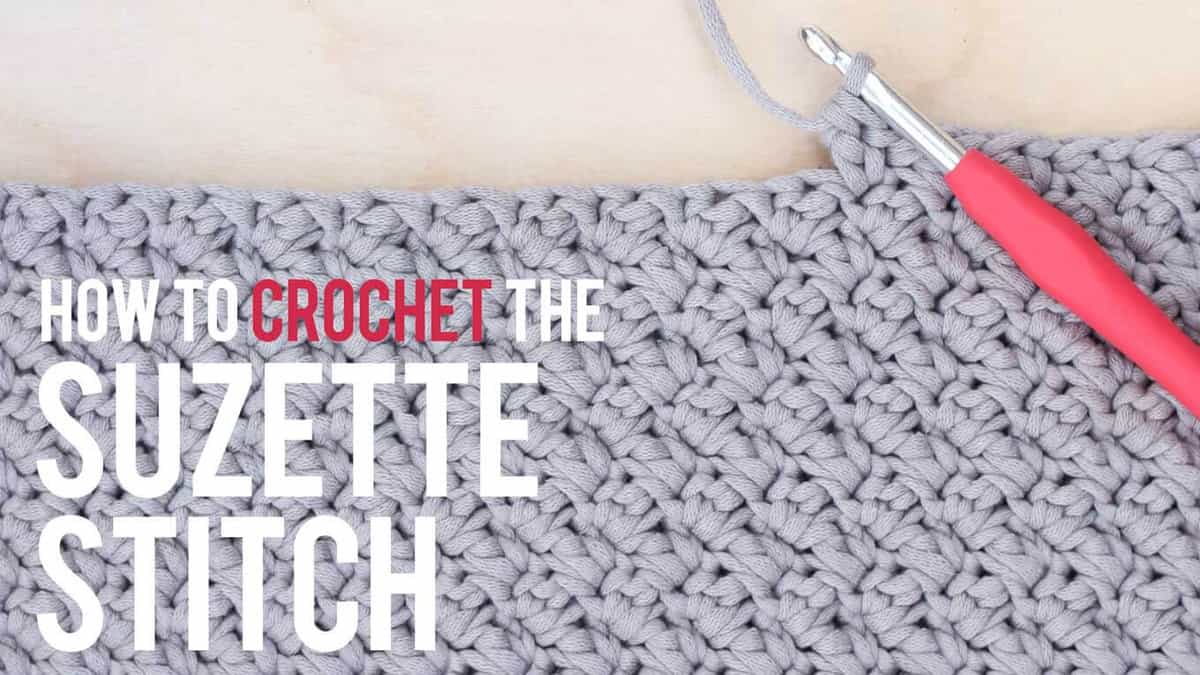 How to Crochet the Side Saddle Cluster Stitch Video Tutorial