Toss on this modern crochet triangle scarf to head out to the desert, the mountains...or just the grocery store. This free Caron Cakes crochet pattern takes all the stress out of choosing colors because the skein does it for you! Get the free pattern below or download the inexpensive, ad-free PDF here.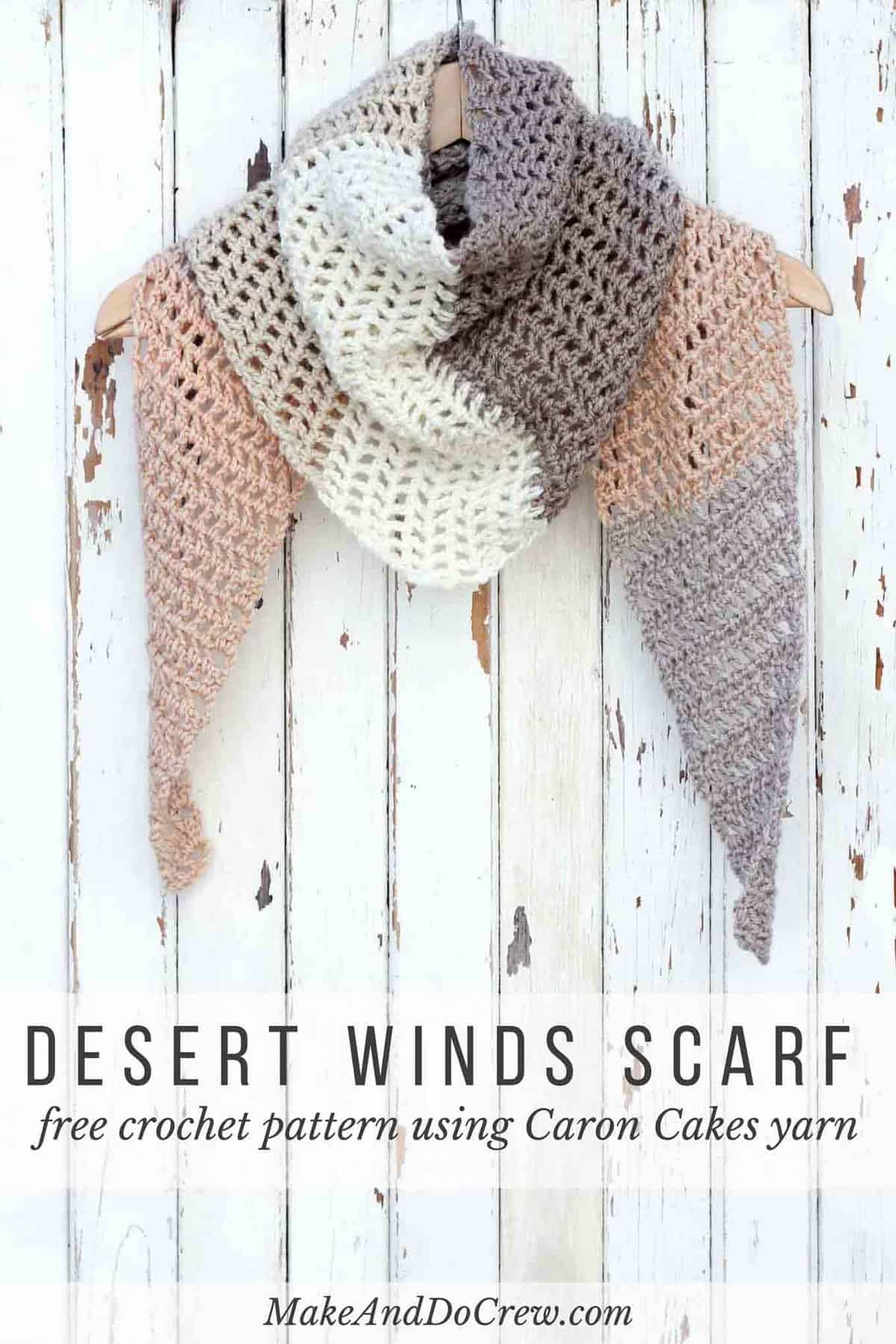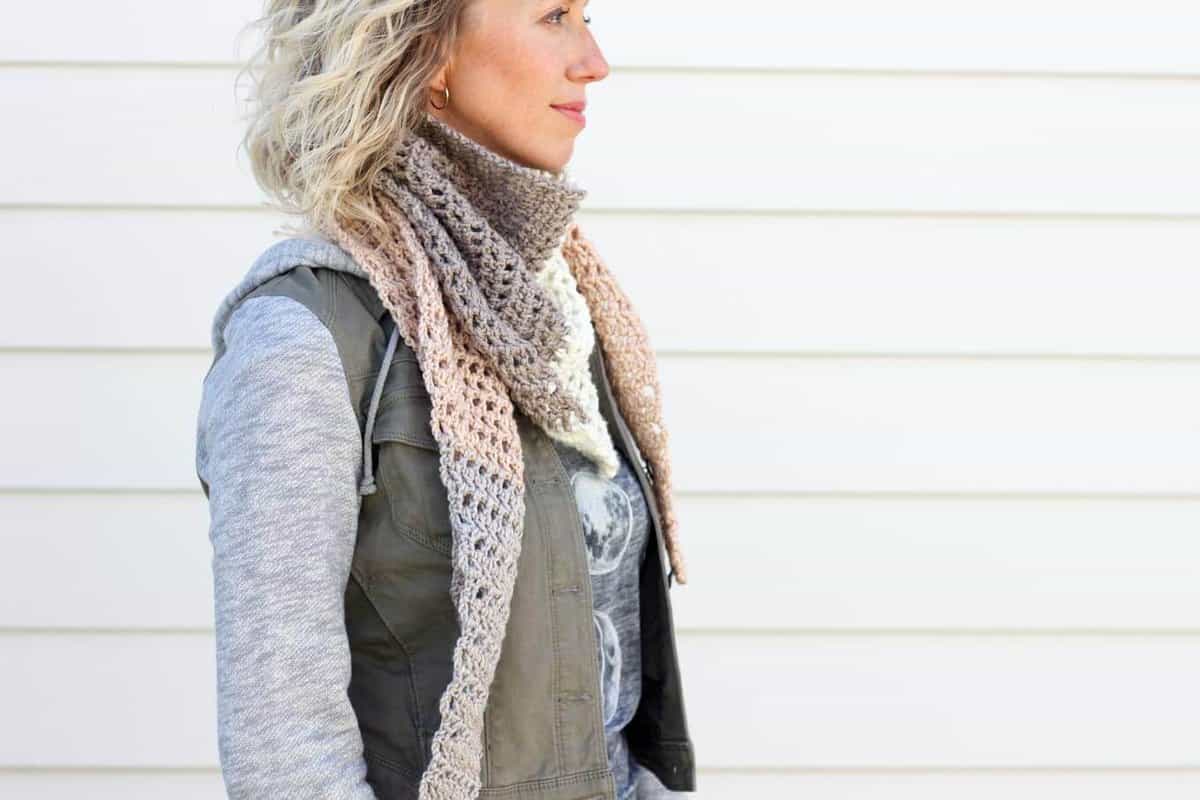 Fellow crocheters are ALL ABOUT this yarn. Are you one of them? For a few weeks, Caron Cakes was all I heard about on Instagram and in Facebook crochet groups.
I watched on, intrigued, but slightly less enthusiastically because I thought all the color options were vivid and bright, and you know, I'm kind of a neutral Nancy when it comes to most colors. Then I found the color way called Buttercream.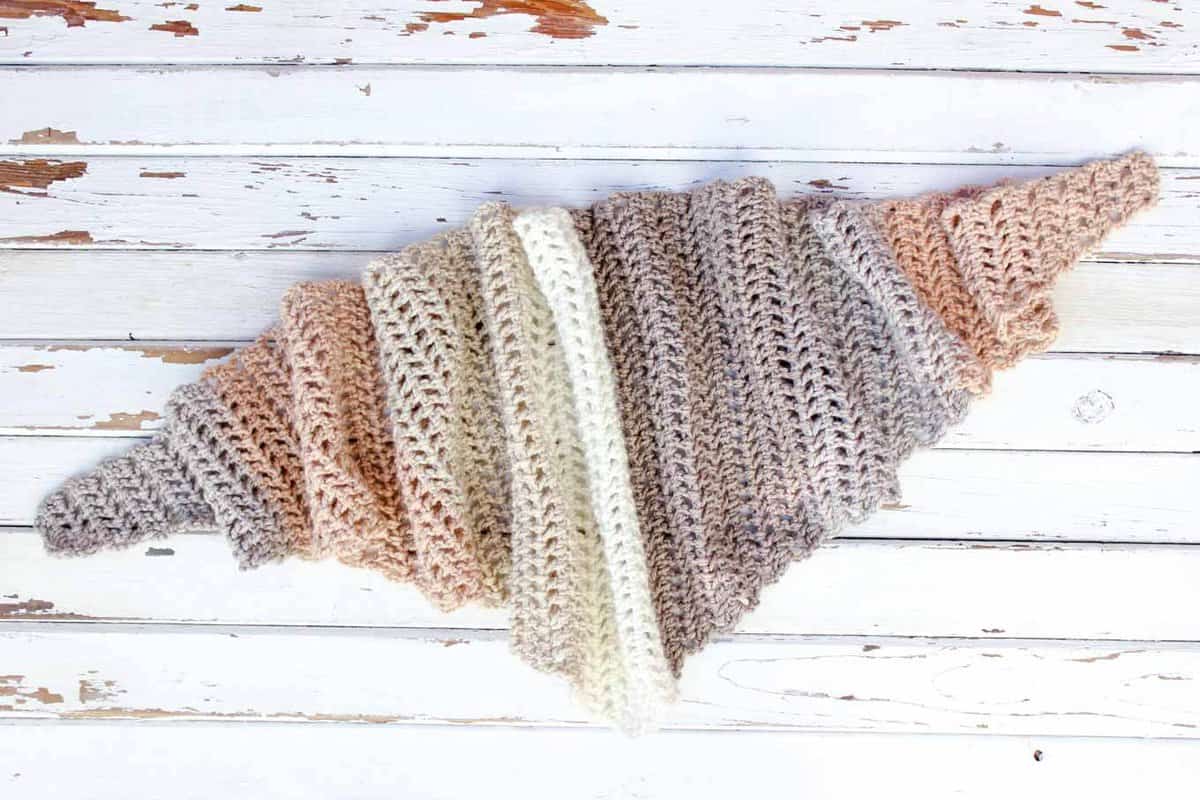 Oh, sweet Buttercream. I like to eat you, so of course, I'd love to crochet with you!
In case you're unfamiliar with the Caron Cakes hullabaloo, it's a yarn that's available exclusively at Michael's and it has unusually long color runs so you can get nice chunks of color in your project without creating a variegated look.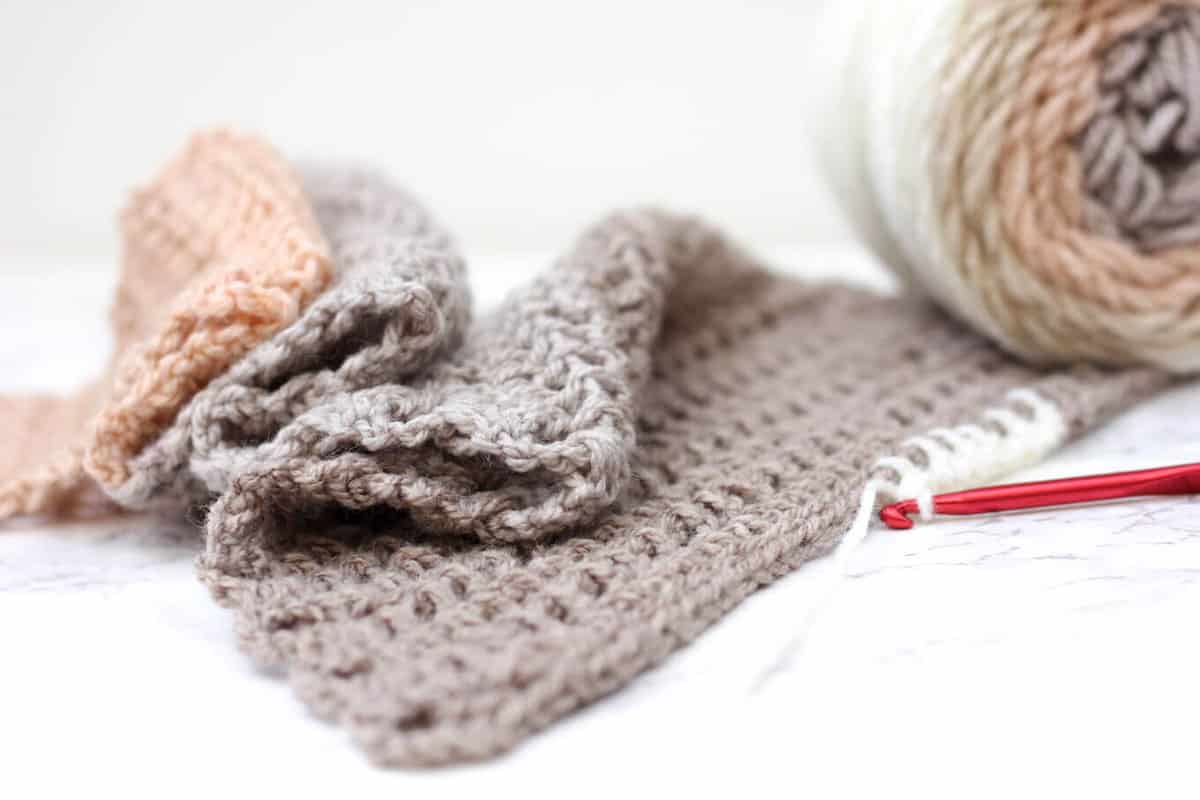 Honestly, the thing I like most about Caron Cakes is that I'm not responsible for choosing the colors. There is no stress like that I feel standing in the middle of a yarn aisle, trying to decide on which colors are going to join the polygamous arranged marriage I'm coordinating for them.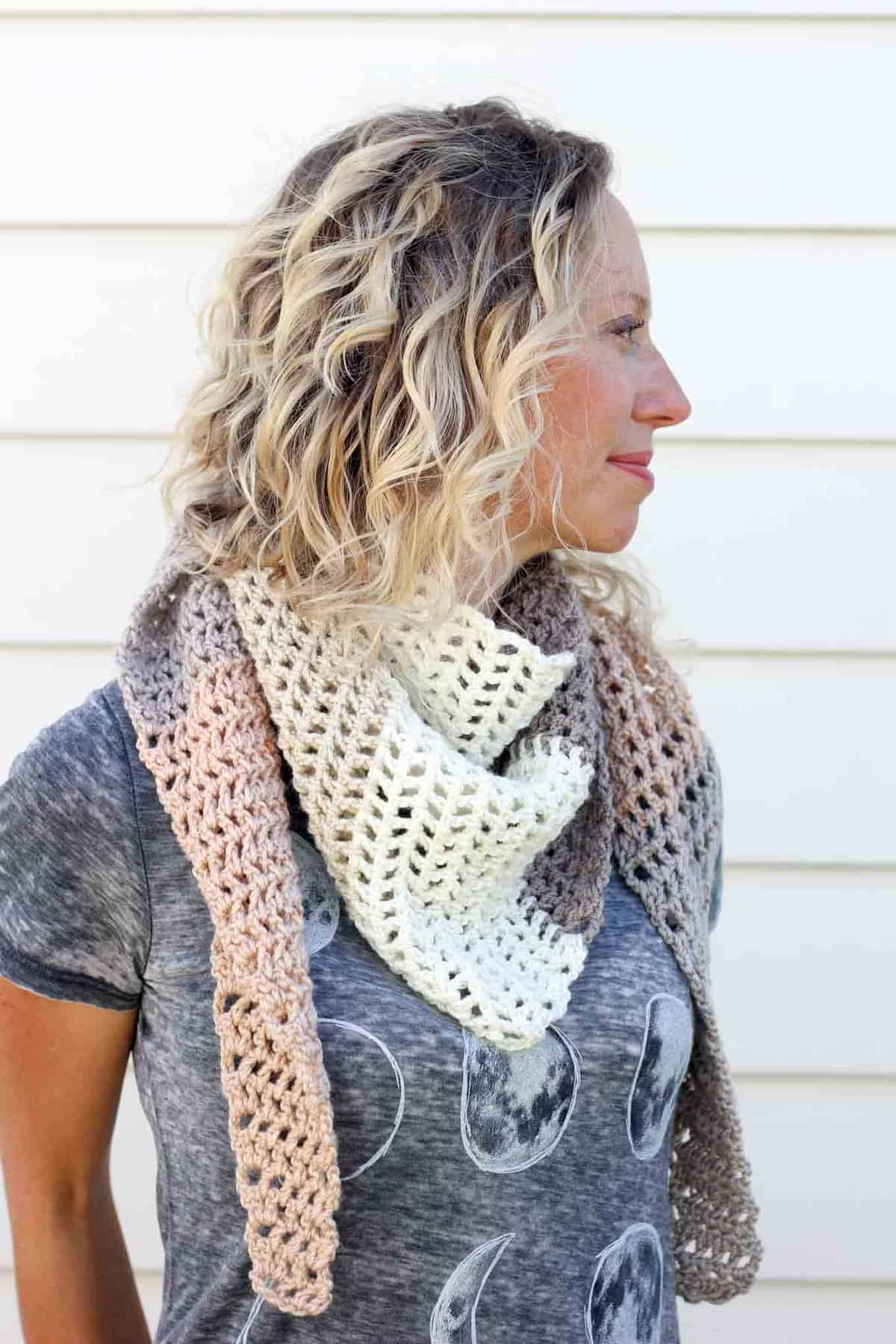 I find it so overwhelming! But this Caron Cakes pattern takes all the anxiety out of crocheting a scarf --just pick one skein and get moving!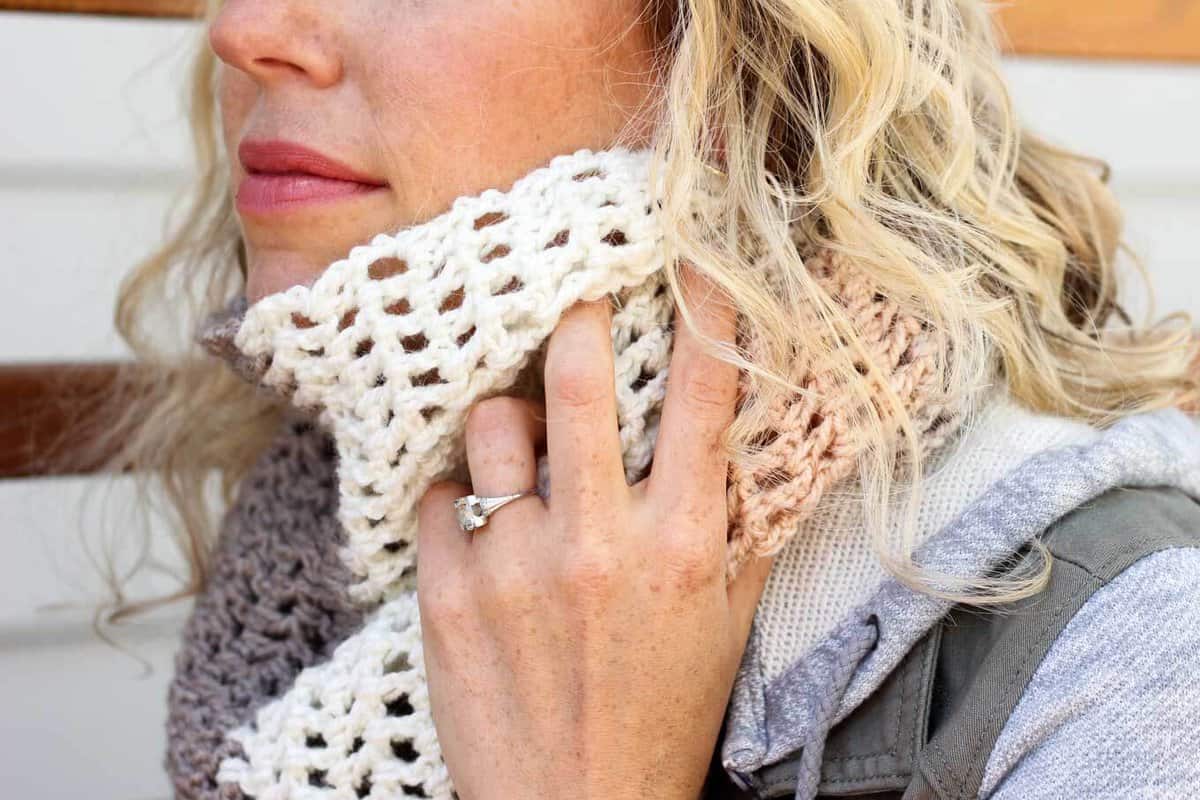 Because this is a one skein crochet project, it makes a really affordable and customizable DIY gift idea. Each time I hold a skien of Caron Cakes in a different color, I think, "Oh, these colors look just like so and so!" It's so fun to think about which color way most embodies each of my closest friends.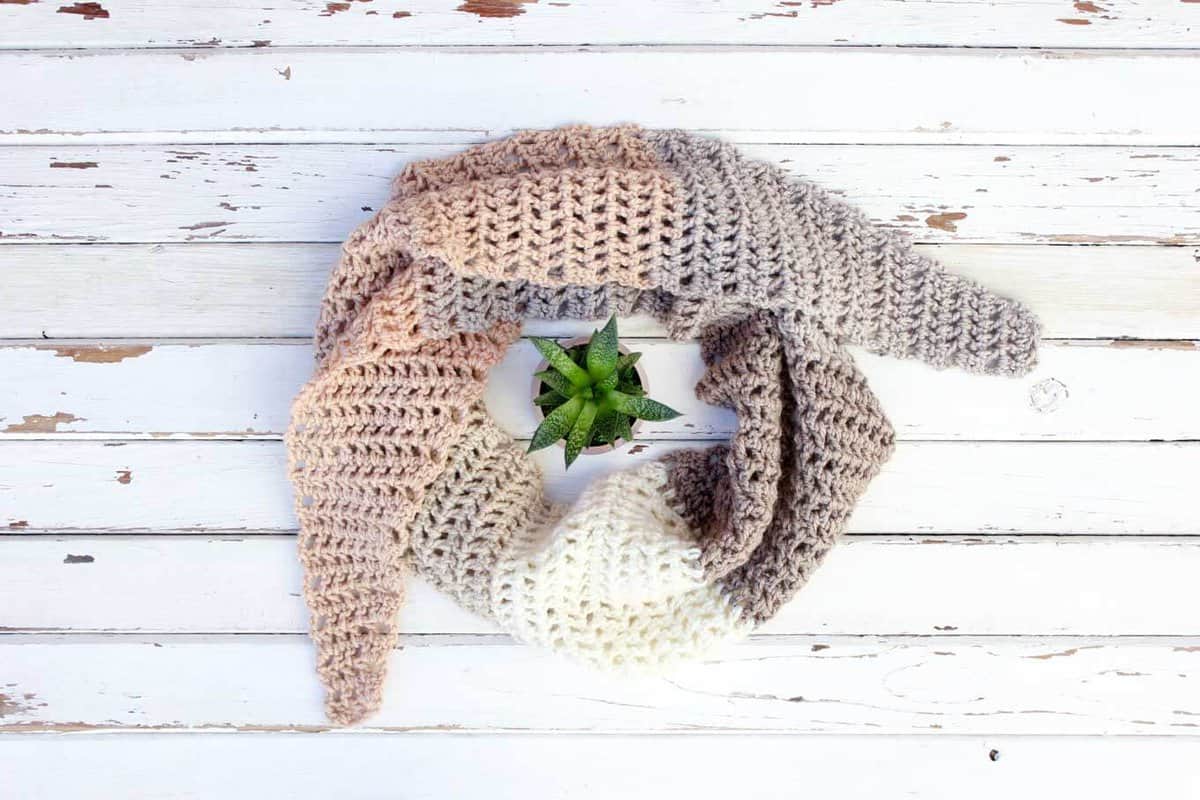 Of course, you can make this triangle scarf pattern in any yarn you choose though!
The actual construction of this scarf is quite simple. You just increase for a bunch of rows and then you decrease for a bunch of rows. I know some of you appreciate a chart, so I've drawn one below in case it helps you visualize the increases.
Please do not publish or share this pattern as your own. You may make items to sell with this pattern. In exchange, please link back to this post. Do NOT use my photos as your own sales photos. ­­Now let's make something awesome!
More Free Crochet Scarves + Shawls Patterns
Whether you adore c2c crochet scarves, Tunisian crochet shawls or gorgeous lace scarves, we've got you covered. Many of these patterns make quick gifts to crochet and great gift ideas for Mother's Day.
See more free crochet scarves + shawls patterns →
Desert Winds Triangle Scarf - Free Caron Cakes Crochet Pattern
Download the printable, ad-free pattern here.
Add this pattern to your Ravelry queue.
Sizes: One size: 70" x 14" at widest triangle points
Supplies:
So you can spend more time crocheting and less time shopping, this post contains affiliate links at no extra cost to you.
• Caron Cakes – 1 skein "Buttercream" or approx. 315 yards worsted weight yarn
• Tapestry needle
• Stitch marker
• Size H [5 mm] crochet hook (I really like this affordable set!)
Gauge:
Not critical for this pattern.
Abbreviations:
ch – chain
sp – space
sl st – slip stich
dc – double crochet
tch – turning chain
addl – additional
dc2tog – double crochet two together (double crochet decrease)
Pattern Notes:
This scarf is worked from one side to the other by first increasing on every other row and then eventually decreasing on every other row. The increases/decreases always take place on the same side. It's helpful to put a stitch marker on that side somewhere so that you can easily recognize if it's an increase/decrease row.
Take a look at the order of the colors in your Caron Cakes skein to decide if you want to pull your yarn from the center of the cake or the outside. The yarn color that is at the opposite end from where you begin may not get used. You can use this leftover yarn to make fringe or tassels if you desire.
Each row ends with two double crochets that aren't separated by a chain. (Reference photo below for a visual.)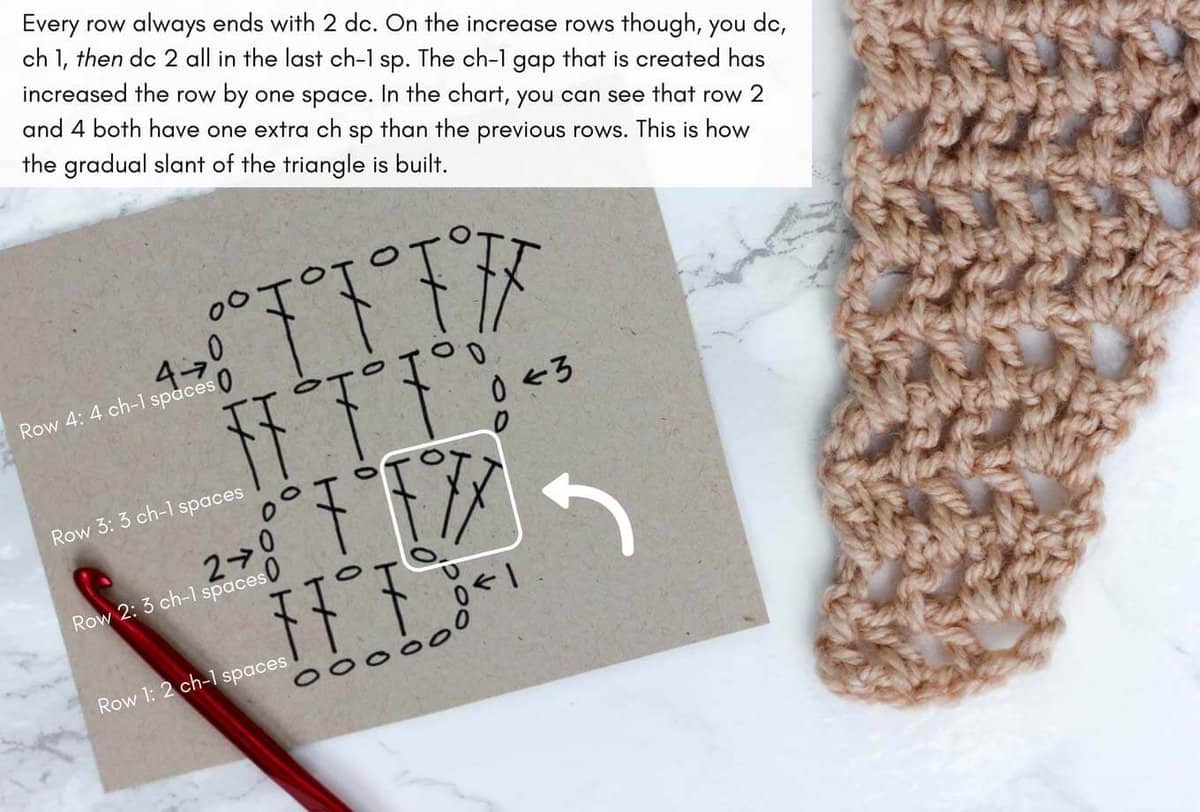 Foundation Row: ch 9.
INCREASING - reference the photo above for additional help
Round 1: 1 dc into sixth ch from hook, 1 ch, skip 1 ch, 1 dc into next ch, 1 dc into last ch; turn.
Row 2 (increase row): ch 4 (counts as 1 dc and 1 ch), skip first 2 dc, 1dc into first ch-sp, *1 ch, sk 1 dc, 1 dc into next sp; repeat from * to end of row, work addl (1 ch, 2 dc) in tch; turn. (tch should have dc, 1 ch, 2 dc in total)
Row 3: ch 4, 1 dc in first ch-sp, *1 ch, skip 1 dc, 1 dc into next sp; repeat from * to end of row, work 1 addl dc in tch; turn.
Repeat rows 2 and 3 until work has 32 ch-sp and measures about 33". End with a row 3.
DECREASING - reference photos below for additional help.
Row 1 (decrease row): ch 4, 1 dc in first ch-sp, * 1 ch, skip 1 dc, 1 dc into next sp; repeat from * until 1 ch-sp and tch remain, ch 1, dc2tog over next ch-sp and tch; turn.
Row 2: ch 4, 1 dc in first ch-sp, *1 ch, skip 1 dc, 1 dc into next sp; repeat from * to end of row, work 1 addl dc in tch; turn.
Repeat rows 1 and 2 until 2 ch-sp remain (including tch-sp). End with a row 2.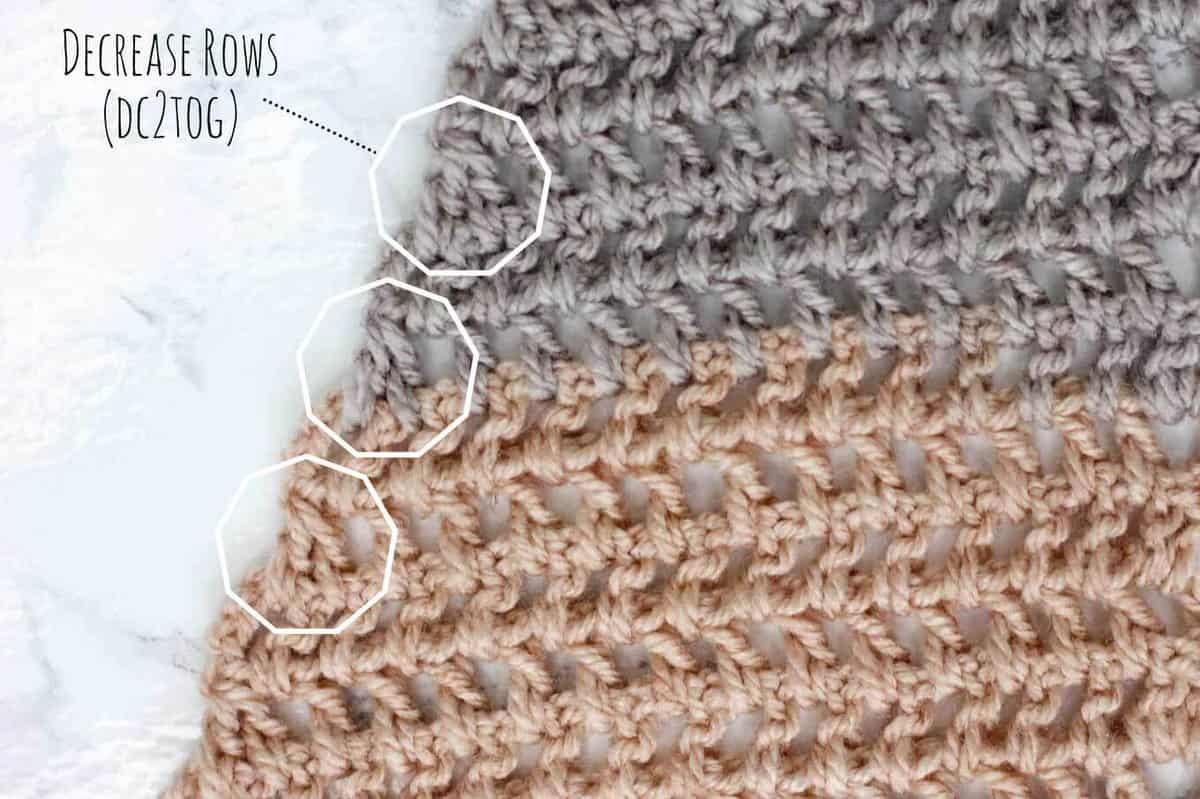 Fasten off and weave in ends.
Throw your scarf around your neck, grab your canteen and head to the land of cacti and red rocks!
That was so fun! Now what?
Invitation to our Facebook group
Come discuss crocheting Desert winds triangle scarf patterns and lots of other crochet projects and techniques in our Make & Do Crew Facebook group. Here thousands of helpful crocheters answer each others questions and share their stitches. Come join us here.
More Free Scarves + Shawls Crochet Patterns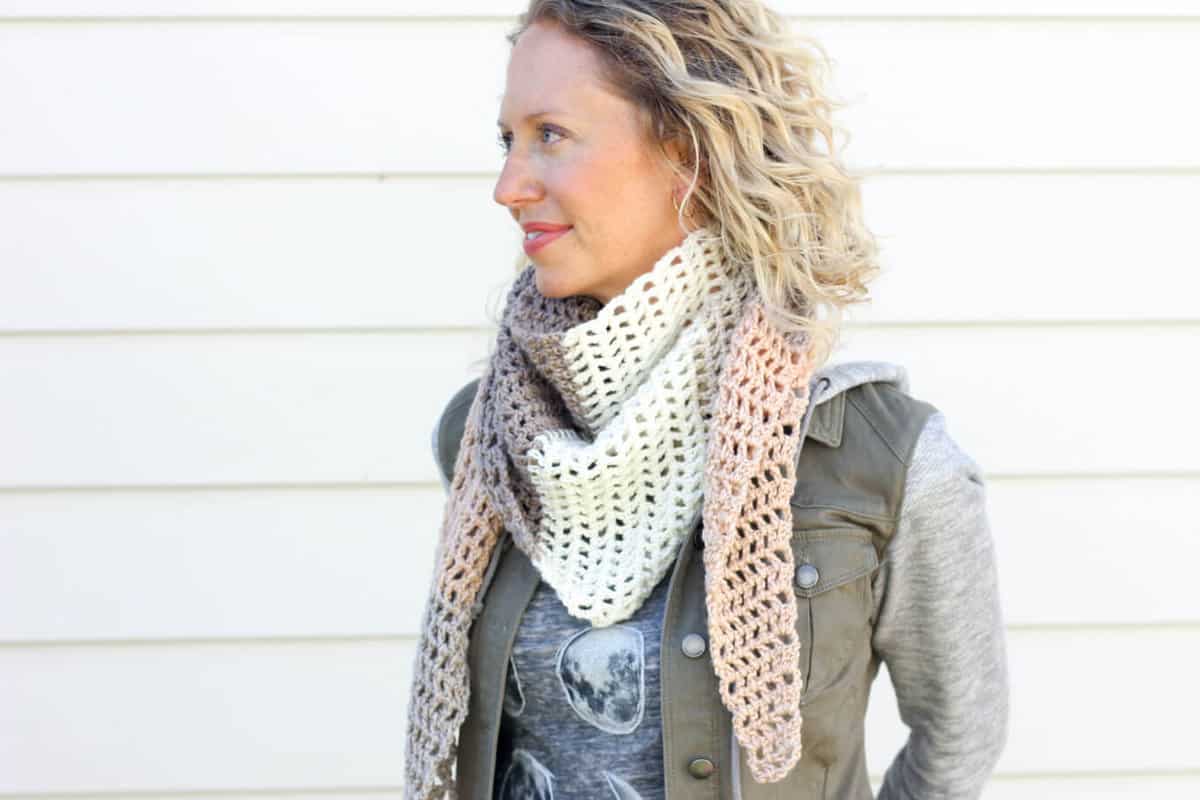 If you're looking for other other one-skein crochet projects, you might enjoy these free patterns:
Crochet Moccasins with Flip Flop Soles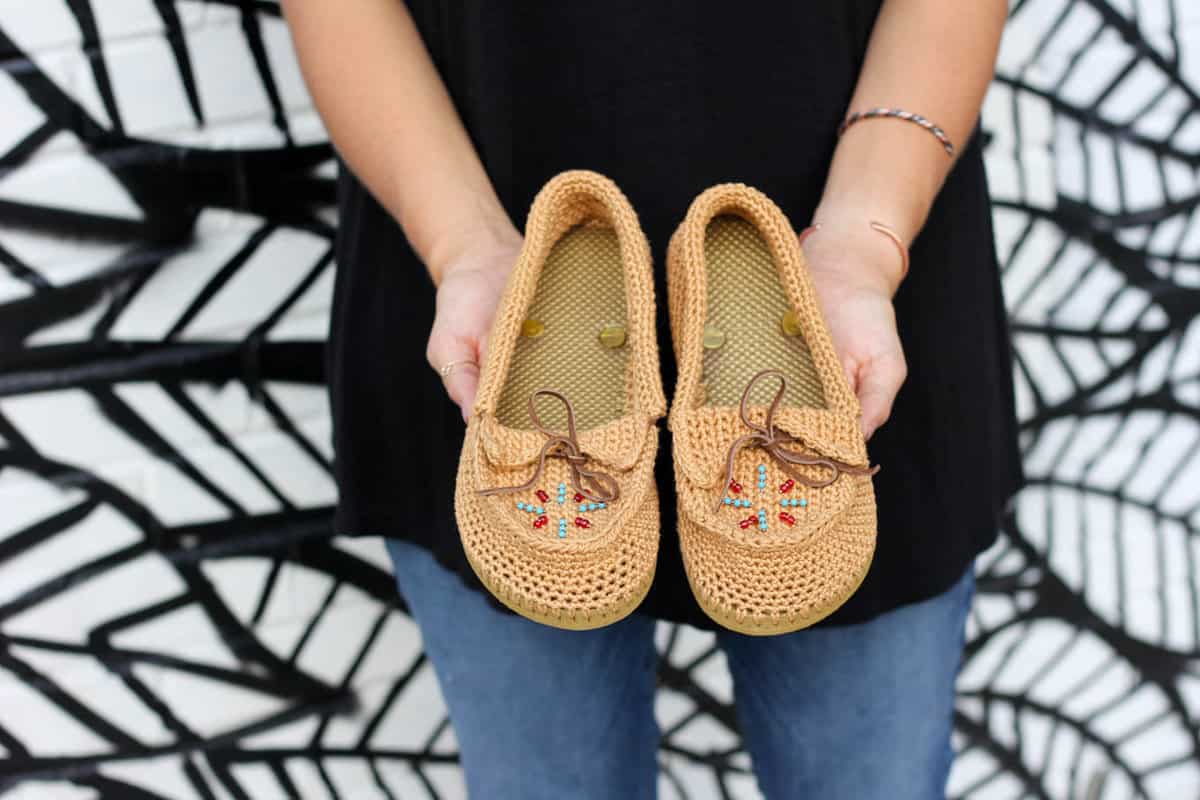 Crochet Lavender Dryer Sachets