You'll quickly find your rhythm in this simple, meditative Tunisian crochet shawl pattern. Get the free pattern and video tutorial below or purchase the ad-free, printable PDF here.
This free Tunisian crochet shawl pattern is part of a collaboration with Lion Brand Yarns. This post contains affiliate links.
The easy and rhythmic Full Stitch ensures this Tunisian crochet shawl pattern is an oasis of crochet zen! And you'll find this reversible pattern very easy to substitute yarns for what you have on hand. Keep reading for all the yarn and inspiration details or scroll down for the free pattern. You can find the video tutorial here.
New to Tunisian crochet? Learn all the basics using a just standard crochet hook. START HERE!
Crochet Yourself a Brain Break
If you happen to be like me and have a little more on your plate these days then you ever thought you could manage, this easy Tunisian crochet shawl pattern might just be your tether to sanity. Ha. I speak from experience.
Or maybe you're new to Tunisian crochet and you want a straightforward project that lets you practice your stitches while you create something wearable and beautiful.
Trust me when I say that the rhythm of crocheting this scarf is so soothing and serene that you might be sad when the pattern is over. The Tunisian Full Stitch requires very little focus and beyond a slight bit of attention paid to the lengths of the color sections, you'll be able to zone out and cruise through this peaceful pattern.
The Easiest Way to Crochet a Fade Shawl
Andrea Mowry's "Find Your Fade" shawl popularized the idea of using several shades of a hand-dyed yarn to create a gorgeous ombre effect in the finished knit or crochet project.
But even if you don't have several skeins of hand-dyed yarn accessible to you, you can still create the gorgeous look of a crochet fade shawl! In this pattern we're simply alternating one hand-dyed or variegated yarn with a solid color yarn that is the same color as a shade found in the multi-color yarn. EASY!
Need more details? Let's did a little deeper yarn options I choose for this faded Tunisian crochet shawl.
Hand Dyed Heaven. Yes, Indeed
Lion Brand brought the unique beauty of hand-dyed yarn mainstream when they created Hand Dyed Heaven. This yarn is indeed dyed by hand and contains all the beautiful shifting and speckles often found in hand-dyed yarn.
Lion Brand's Hand Dyed Heaven is made from 100% polyamide (nylon), which was a new fiber for me to try. I know nylon may not sound particularly soft or luxurious, but somehow this yarn is incredibly smooth and drapey, almost like a mix of cotton and bamboo. I loved working with it! (See all the gorgeous shades of Hand Dyed Heaven here.)
click to pin this pattern for later ⇨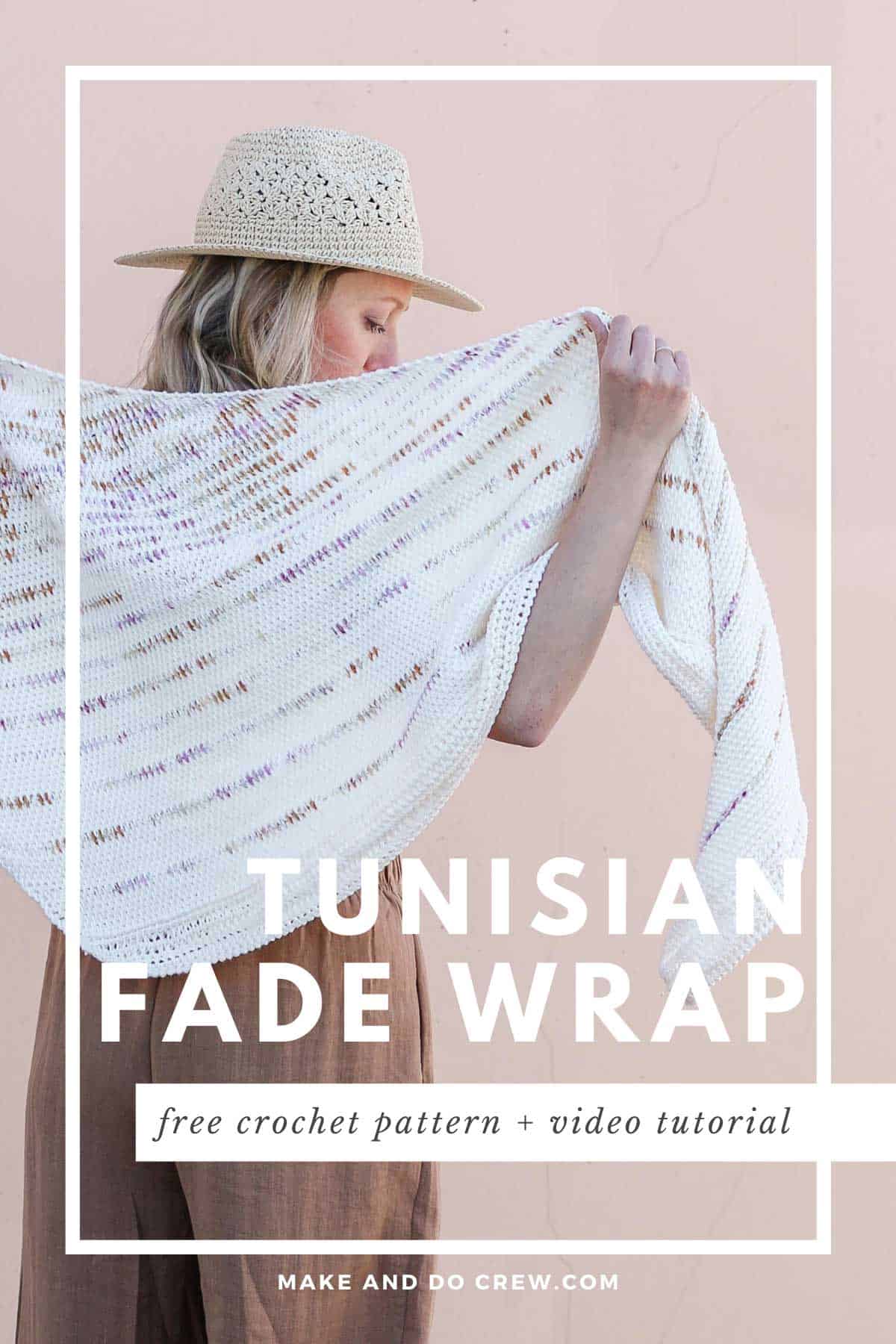 Hand Dyed Heaven happens to be almost exactly the same thickness as Lion Brand's Comfy Cotton Blend, which proved perfect for the concept of this Tunisian crochet fade shawl. The warm, off-white "Whipped Cream" color of Comfy Cotton Blend also matched the main background color of Hand Dyed Heaven's "Jaw Breaker," which made for a perfect pairing.
By beginning with solid rows of variegated or hand-dyed yarn and then slowly alternating rows of your solid color, you'll create a gentle fade with only two yarns.
The Formula for Substituting Yarns
Substituting yarns is easy as long as your two yarns meet this criteria:
While you can really use yarn of any weight to make this Tunisian shawl so long as the two yarns you choose are quite similar in thickness.

Make sure your solid color yarn is similar to the "background" or predominant color in your hand-dyed or variegated yarn.
That's it! Play around with yarn and color combinations until you find your perfect fade recipe.
More Free Tunisian Crochet Patterns
If you're as "hooked" on Tunisian crochet as I am, you'll definitely want to check out all our free Tunisian crochet patterns and tutorials here.
---
Wildflowers In the Wind
Tunisian Crochet Shawl - Free Pattern
Purchase the ad-free, printable PDF here.
Save this pattern to Ravelry here.
Pin it for later here.
Watch a video tutorial covering the basics here.
Explanation:You'll quickly find your rhythm in this simple, meditative shawl pattern. A hand-dyed yarn and a solid come together to create a beautiful, cascading fade of color with very few ends to weave in. Both sides of the fabric are uniquely attractive, making this a reversible crochet scarf you can enjoy year round.
Supplies:
A: Lion Brand Hand Dyed Heaven (Weight: 3/Light - 175 yds, 2.5 oz)
- Jawbreaker (186-206) – 3 skeins [(approx. 200g)]
• B: Lion Brand Comfy Cotton Blend (Weight: 3/Light - 392 yds, 7 oz)
- Whipped Cream (756-098) – 2 skeins [(approx. 395 g)]
• Tapestry needle
• Size J (6.0 mm) Tunisian crochet hook with 24" cable or longer
• Stitch markers
Measurements:
Longest side: 86"
Height: 24"
Gauge:
15 Tfs = 4"
19 rows = 4" (this can be easier to measure on the backside of work)
Abbreviations (US Terms):
ch – chain
FwdP - forward pass
PM – place marker
rep – repeat
RetP - return pass
RS – right side
rsc - reverse single crochet (crab stitch)
sk – skip
slst – slip stitch
st(s) – stitch(es)
WS – wrong side
yo – yarn over
Tfs - Tunisian Full Stitch – Insert hook into sp between second and third vertical bars, yo and pull through. Rep in each sp between sts. In this pattern, do not work end stitch.

Trs - Tunisian Reverse Stitch – Working from the back of your piece, *insert hook under the vertical bar of the next stitch at the back of your work, yo, pull up a loop.
Overall Pattern Notes:
• View a video tutorial that covers how to crochet this asymmetrical Tunisian shawl here.
• Main pattern is worked in Tunisian Full Stitch (Tfs). Row instructions are for the Forward Passes (FwP).
• Follow the Foundation Row and each Forward Pass with a Return Pass (RetP) worked as follows: Ch 1, *yo, pull through two loops; rep from * until 1 loop remains on hook.

• Unlike typical Tunisian crochet patterns where the first stitch is worked into the second vertical bar, in this pattern the first stitch of each row is worked under first vertical bar of row below. This creates an increase.
• For the first several sections of color, you can loosely keep both colors attached after the FwdP and pick them up as needed. The yarn carries can then be worked over and disguised during the final border.
• It can be helpful to place a stitch marker in the ch 1 at the beginning of the RetP so it's easier to see on the next FwdP.
MAIN SHAWL
With Color A:
Foundation Row: Ch 2.
Row 1 (RS): Tss in each chain to end. (3)
Row 2: Working under first bar, Tss (inc made), Tfs between first and second vertical bars (inc made), Tfs in each sp between stitches to end of row, do not work under last bar of row (dec made). (4)
Row 3: Working under first bar, Tss (inc made), Tfs between first and second vertical bars (inc made), Tfs in each sp between stitches to end of row, do not work under last bar of row (dec made). (5)
Rep Row 3 until fade is complete. (See written instructions below.) Shawl will increase by 1 st per row. Keep Color B attached.
TO CREATE FADE
Once initial Color A section is complete, Color B is added to alternate rows.
To add Color B, work FwdP with Color A. Then begin RetP with Color B. Use Color B to ch 1 and then continue with Color B to complete RetP.
Work next FwdP in Color B. Switch to Color A at end of row or when appropriate number of Color B rows have been worked.
When alternating colors, even in the larger spans, it's okay to keep both yarns attached. Pick up each color as it's needed for next row, leaving a loose enough span that shawl edge can fall naturally. These spans will be crocheted over in final border round.
When measuring, measure along left edge of triangle. (Left-handed: right edge)
| | |
| --- | --- |
| Until edge measures 25" | > Work in Color A only |
| Until edge measures 33" total | > 1 row of A followed by 1 row of B |
| Until edge measures 37" total | > 1 row of A followed by 2 rows of B |
| Twice | > 1 row of A followed by 3 rows of B |
| Once | > 1 row of A followed by 4 rows of B |
| Twice | > 1 row of A followed by 5 rows of B |
| Once | > 1 row of A followed by 6 rows of B |
| Once | > 1 row of A followed by 7 rows of B |
| Twice | > 1 row of A followed by 8 rows of B |
| Then | > Proceed with Finishing Section |
FINISHING SECTION
With Color B:
Rows 1 - 2: Working under first bar, Tss (inc made), now working into the back vertical bar of each stitch Trs in second stitch and each st until 2 remain, insert hook under back bar of second to last st and last st, yo and pull through both sts (dec made).
Row 3 is worked using standard crochet into the "unfinished," open Tunisian stitches.
Row 3 (RS): Ch 2 (counts as 1 hdc), hdc in first sp between Tunisian vertical bars, hdc in sp between stitches until 2 sps remain, hdc2tog over last 2 sps (dec made); turn.
Row 4 (WS): Ch 2 (counts as 1 hdc), sk first hdc, hdc2tog over next 2 sts, hdc in each hdc until tch remains, 2 hdc in tch; turn.
Row 5 (RS): Ch 2 (counts as 1 hdc), hdc in first hdc (inc made), hdc in each hdc until 2 remain, hdc2tog over next 2 sts; turn.
Row 6 (WS): Rep Row 4. Keep yarn attached.
Pin wrap to towel or blocking mat using T-pins. Lightly steam block taking care not to touch iron or steamer to yarn.
With RS of shawl facing you, work Round 7 clockwise (left-handed: counterclockwise) around entire shawl.
Round 7 (RS): Ch 1, rsc evenly and fairly loosely around shawl. When working into raw row edges, place 1 loose rsc per Tunisian row. Take care to work over any yarn spans left from changing colors to avoid weaving in ends. At end of round, sl st to first st to join.
Fasten off and weave in remaining ends.
Toss your wildflower-colored wrap over your shoulders and head out to frolic in your own field of dreams.

I love to see your finished projects! Use #MakeAndDoCrew and tag me Instagram (@MakeAndDoCrew) to show off your stitches and have a chance to be featured.
More Free Crochet Shawl + Scarf Patterns
We've got lots more free patterns where these came from. You can find all our free crochet scarf, cowl, shawl and wrap patterns here.