This free crochet basket pattern is exceptionally easy to make and uses inexpensive twine and leather to create a primitive, yet sophisticated home decor piece.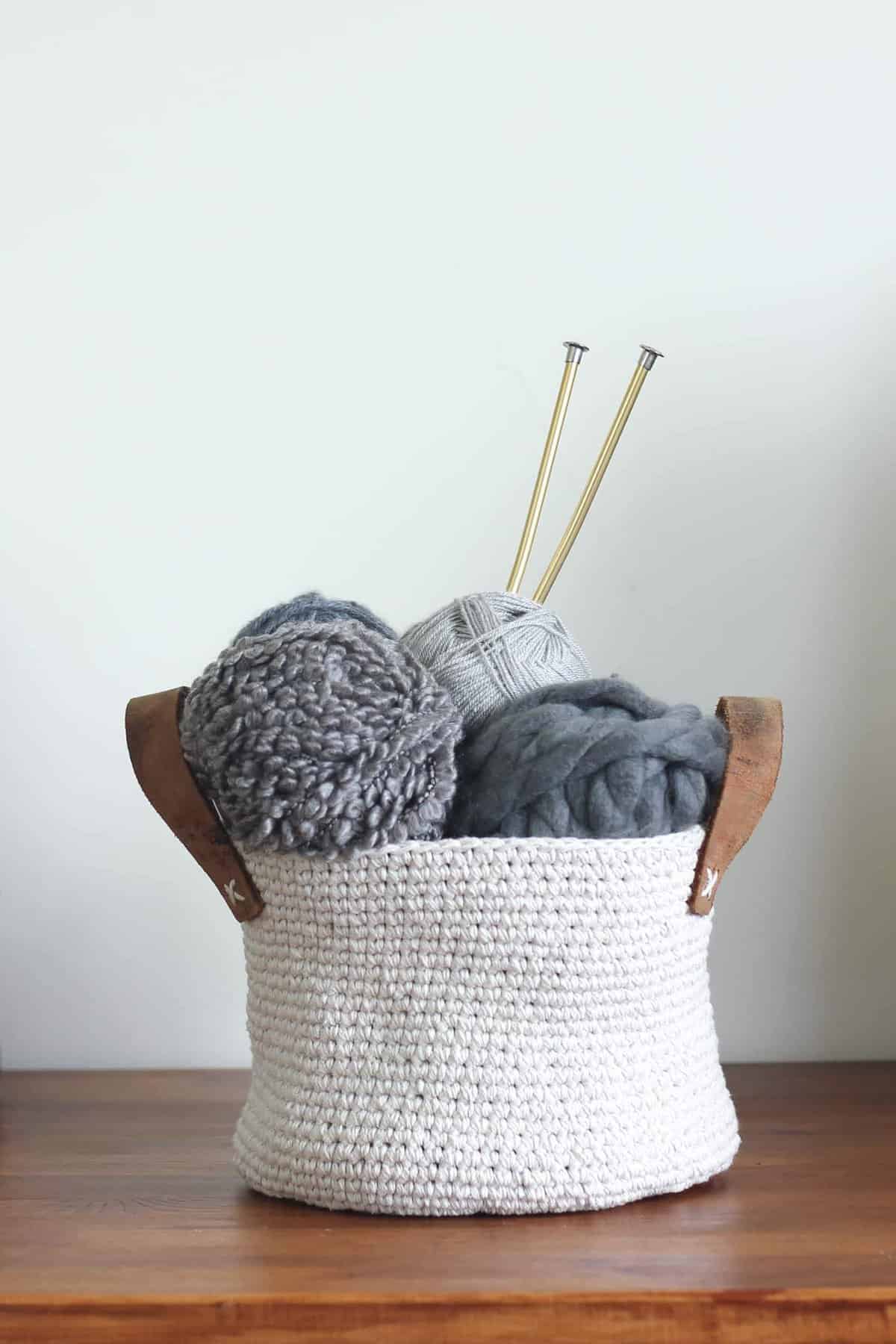 One of my favorite DIY pursuits is using mundane or utilitarian materials and crafting them into something that looks like it could be worthy of a West Elm or Anthropologie price tag. (If you love making the mundane magical too, check out this popsicle stick hexagon shelf, this "reclaimed wood" coffee stirrer wall art or these crochet slippers with flip flop soles.)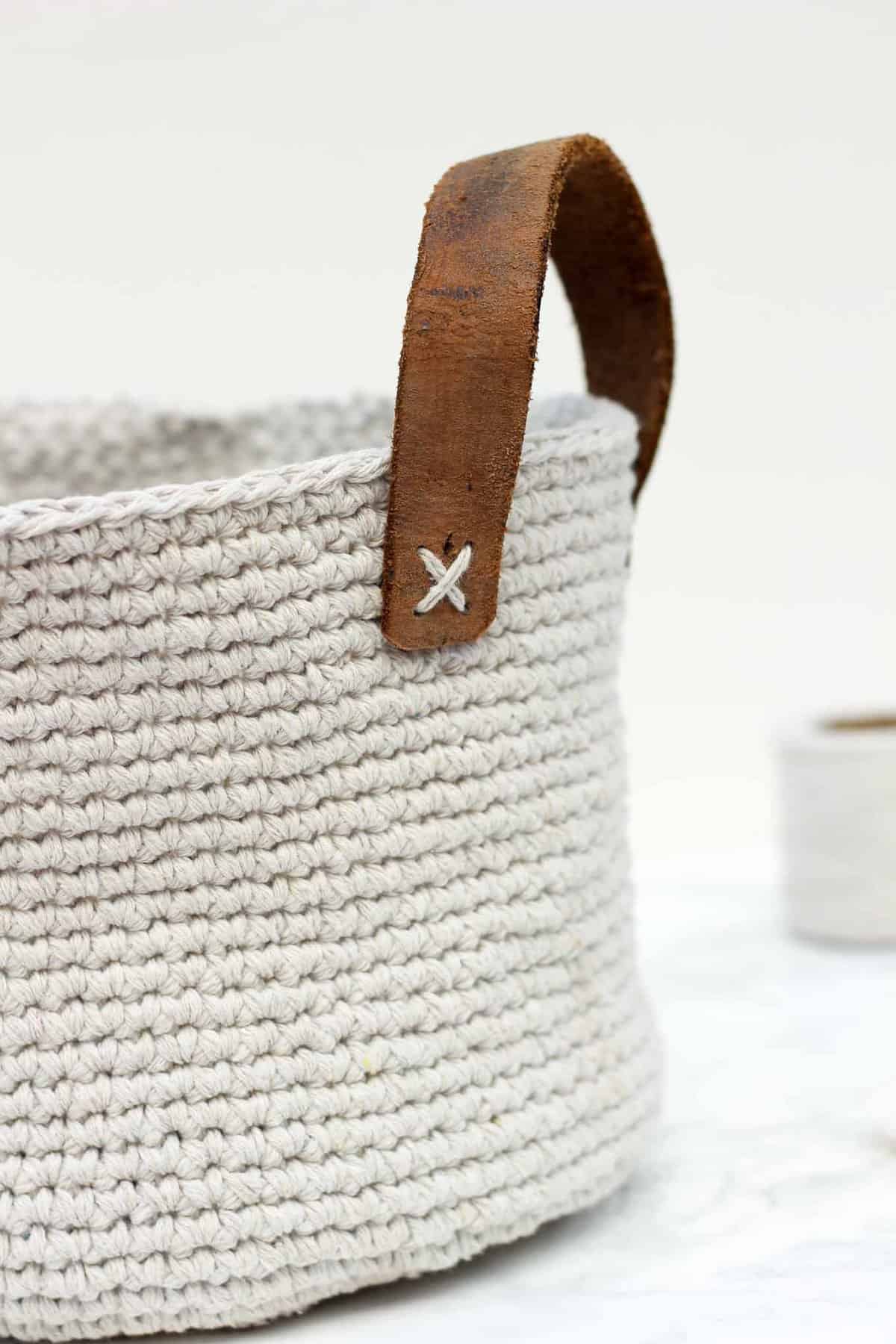 The materials for this free crochet basket pattern, my friends, are about as utilitarian and basic as they come. When I happened upon this twine at Dollar Tree (yes, the dollar store!), I knew it's slightly rough, organic texture was destined to be lovingly woven into hundreds of crochet loops.
This twine is meant for hardware projects, I think, but if you don't have access to a Dollar Tree, you could buy kitchen or butcher's twine and I believe it would be quite similar.
To make the handles for your basket, simply pick up a leather belt at a thrift store–the more worn in, the better. This project is mindless and gratifying and easily customizable. If you'd like a smaller or larger basket, just stop increasing sooner or later on the round bottom of the basket. Wouldn't a set be lovely to store towels and washcloths in a bathroom or blocks and toys in a kid's room?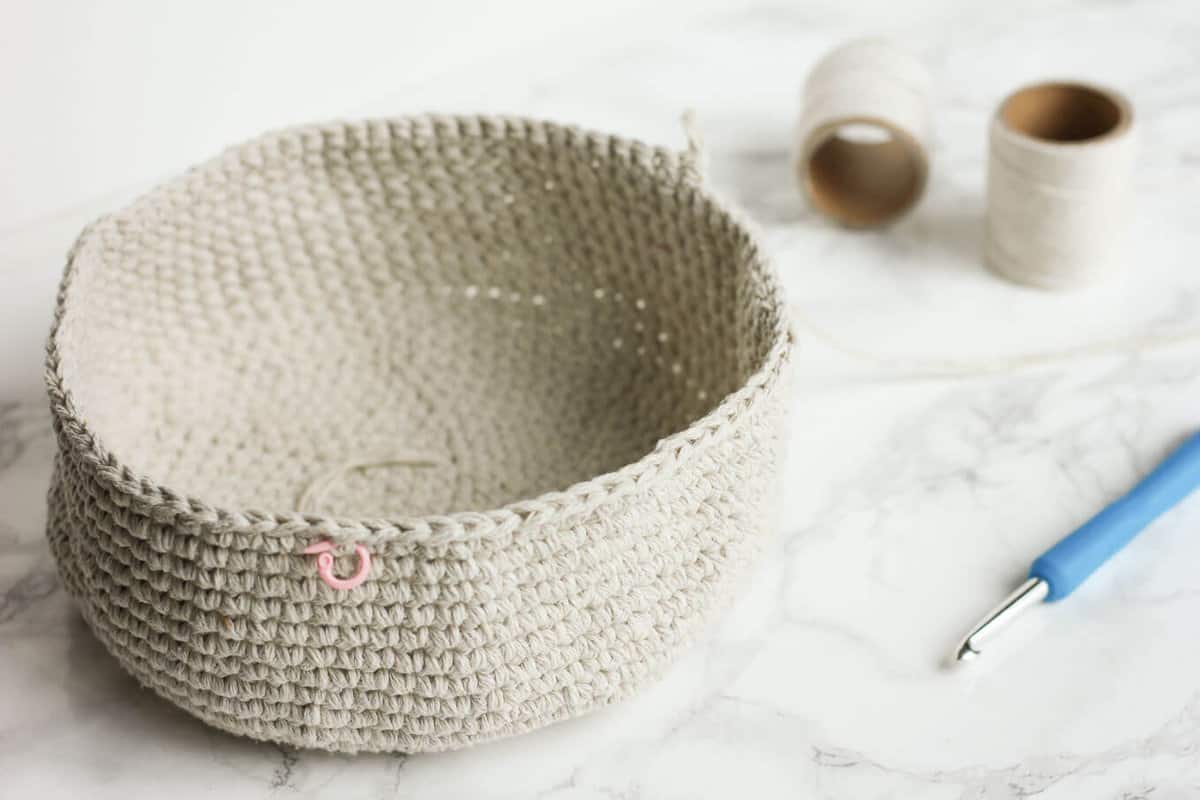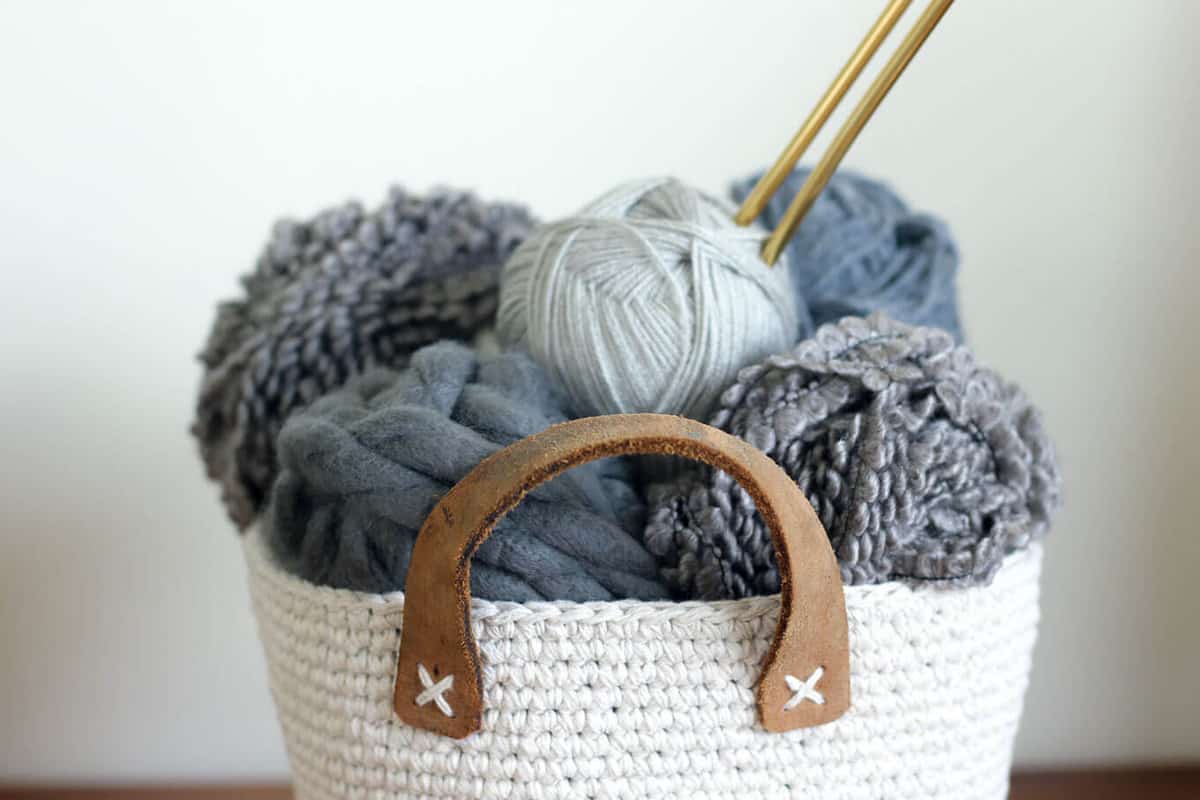 I absolutely love the juxtaposition of the even, textured stitches against the rough, aged leather. And I get a quiet thrill from knowing that NO ONE that sees this crochet basket on the shelf will have any idea that it was made for a few bucks with supplies from the dollar store.
I love to see your stitches! Tag me on Instagram (@makeanddocrew) to show off your work!

You may make items to sell with this pattern. First, please read the rules at the very bottom of this page. 
Twine + Leather DIY Basket Supplies
So you can spend more time making and less time shopping, this post contains affiliate links at no extra cost to you.
• approx 2,000′ total "Tool Bench" brand twine from Dollar Tree (Six 420′ rolls, with some left over.) This twine is similar. Buy enough separate balls to be able to hold three strands together.
• 3 Zip-Loc bags (to keep the twine from tangling while you work)
• Size K hook
• thrifted leather belt (or you could get something like this)
• scissors
• tapestry needle
• stitch marker or scrap of contrasting yarn
• ruler
• leather punch (or a thick nail and a hammer would work too)
Abbreviations – US terms
sc – single crochet
sl st – slip stitch
Notes
• This project is worked in the round, so you won't be joining the rounds, but rather crocheting in a spiral.
• The entire basket pattern is worked with three strands of twine held together.
• Place each roll of twine in a separate Zip Loc bag and seal it almost completely. Leave just enough room for the strand to be pulled out and your rolls won't tangle while you work!
Twine + Leather Free Crochet Basket Pattern
Begin with a magic loop. Make 7 sc in it and join with a sl st. Place marker at beginning of round.
Round 1: 2 sc in each sc (14)
Round 2: *2 sc in the first sc, 1 sc in the next sc* repeat 7 times (21)
Round 3: *2 sc in the first sc, 1 sc in the next 2 sc* repeat 7 times (28)
Round 4: *2 sc in the first sc, 1 sc in the next 3 sc* repeat 7 times (35)
Round 5: *2 sc in the first sc, 1 sc in the next 4 sc* repeat 7 times (42)
Round 6: *2 sc in the first sc, 1 sc in the next 5 sc* repeat 7 times (49)
Round 7: *2 sc in the first sc, 1 sc in the next 6 sc* repeat 7 times (56)
Round 8: *2 sc in the first sc, 1 sc in the next 7 sc* repeat 7 times (63)
Round 9: *2 sc in the first sc, 1 sc in the next 8 sc* repeat 7 times (70)
Round 10: *2 sc in the first sc, 1 sc in the next 9 sc* repeat 7 times (77)
Round 11: *2 sc in the first sc, 1 sc in the next 10 sc* repeat 7 times (84)
Round 12 – 37: work in sc around. (84)
Round 38: (To end the basket) sl st in next 2 sc and fasten off. (2)
To create the handles
1. Cut two 10" pieces of leather from your belt. I rounded the corners of mine slightly.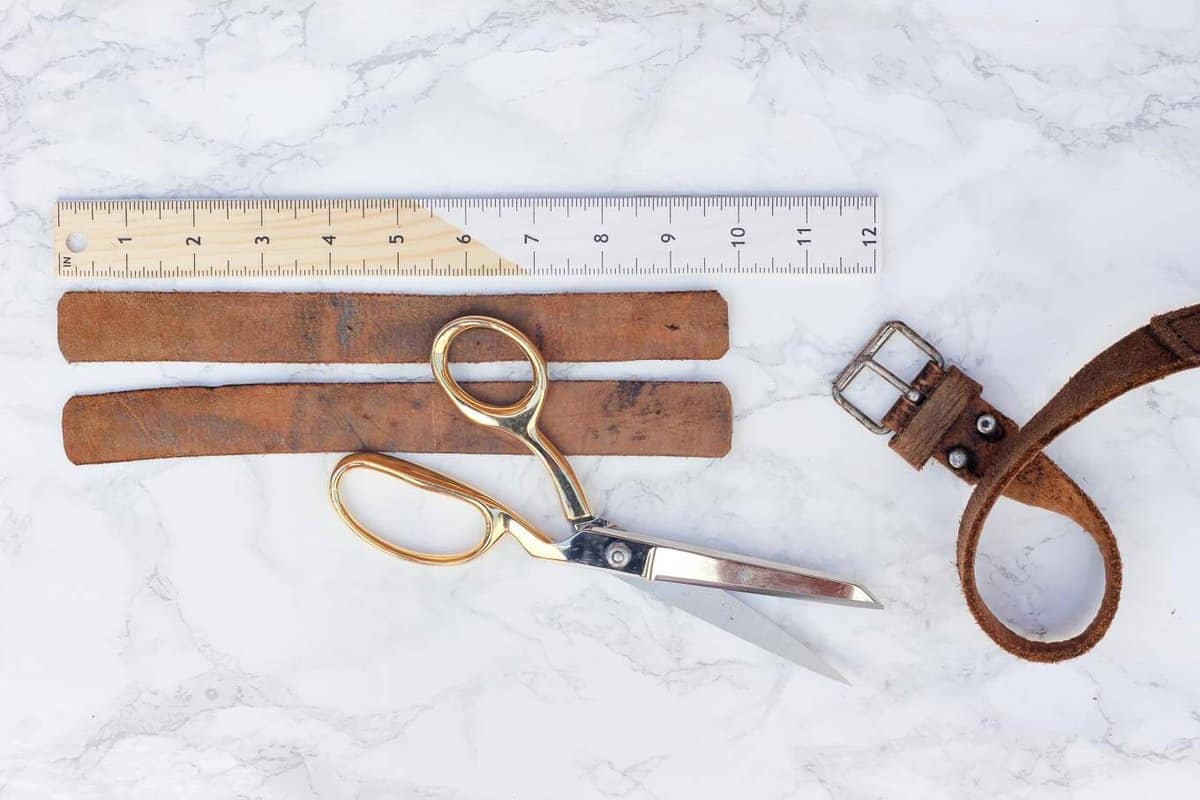 2. Punch four holes on each end of your leather handles.
3. Sew onto your basket using one strand of twine folded in half. (Note: these handles are more for visual appeal than actual carrying. If you'd like them to be more functional, I'd suggest sewing them on more securely.)
And there you have it! Your crochet basket is ready for the shelves of Anthro or West Elm–or even better–your living room!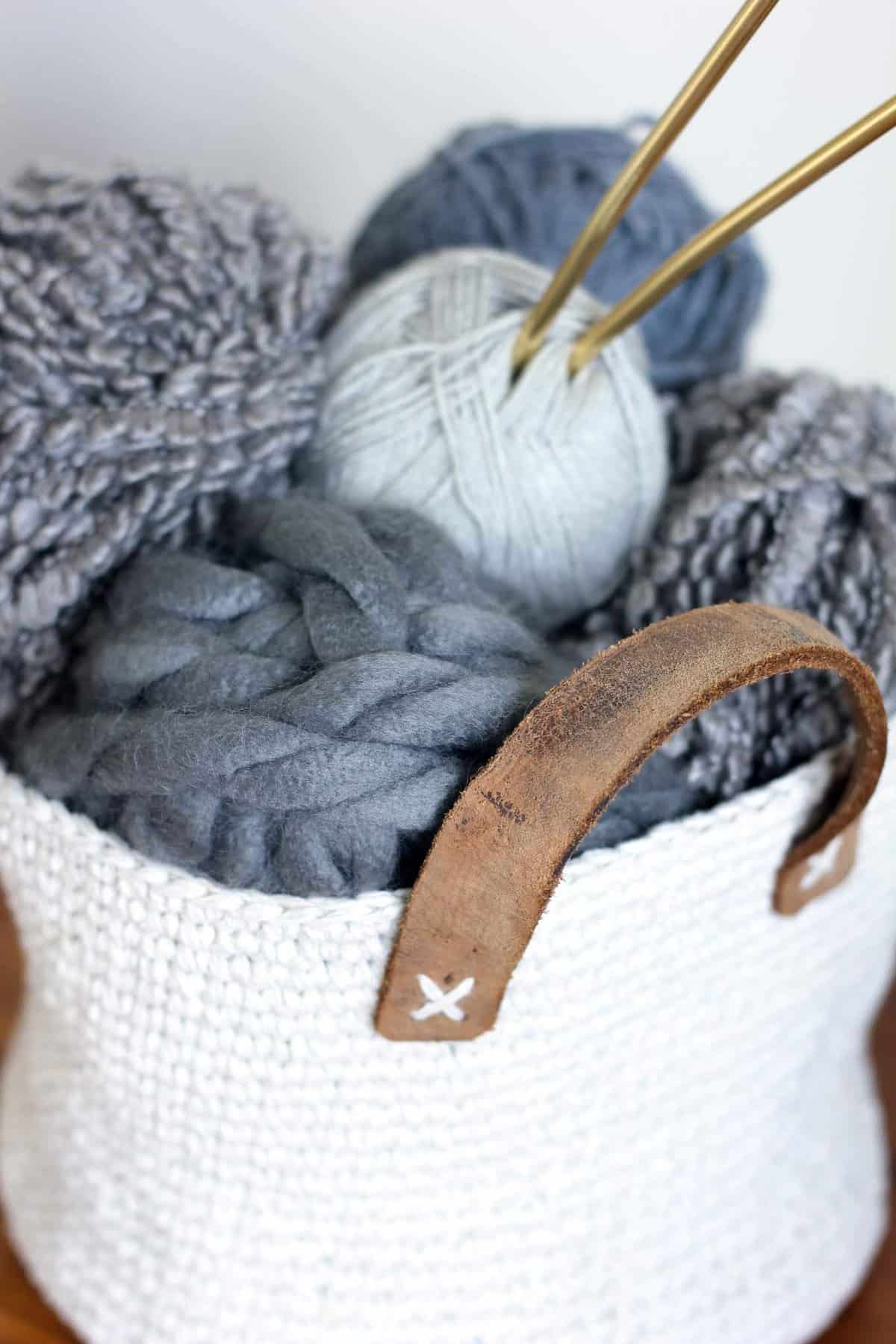 Here are a few other DIY home decor projects to fancy-up your space: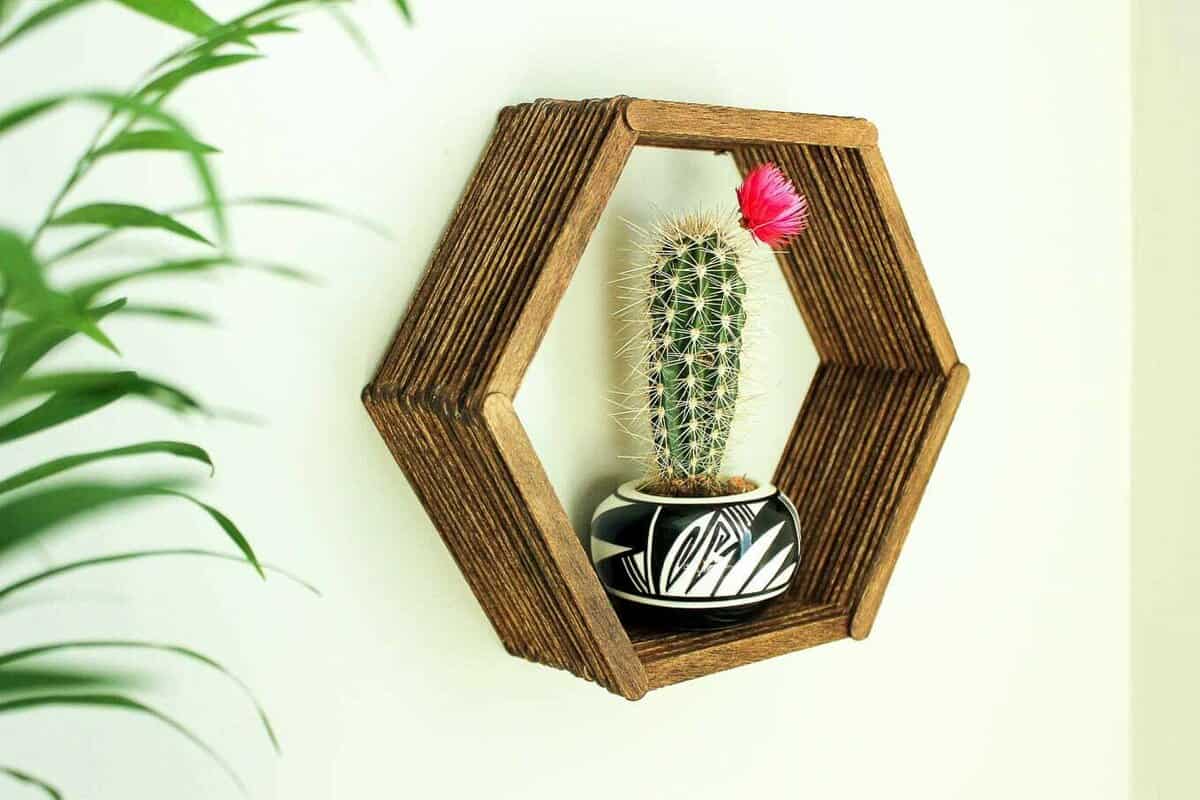 Popsicle Stick Hexagon Shelves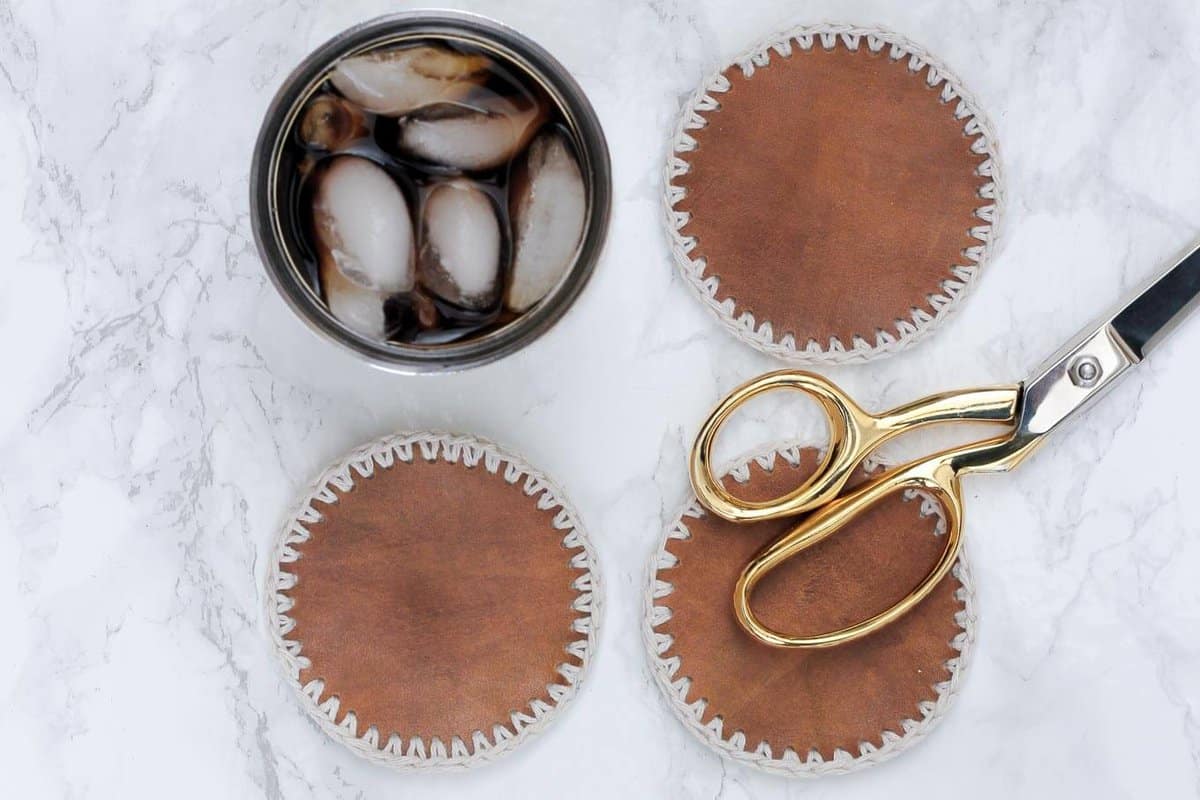 Leather + Crochet Coasters – Great DIY gift idea for the masculine, yet domesticated, man in your life!
WANT MORE FREE CROCHET PATTERNS?
I've got more free crochet goodness for you that'll knock your little handmade socks off.