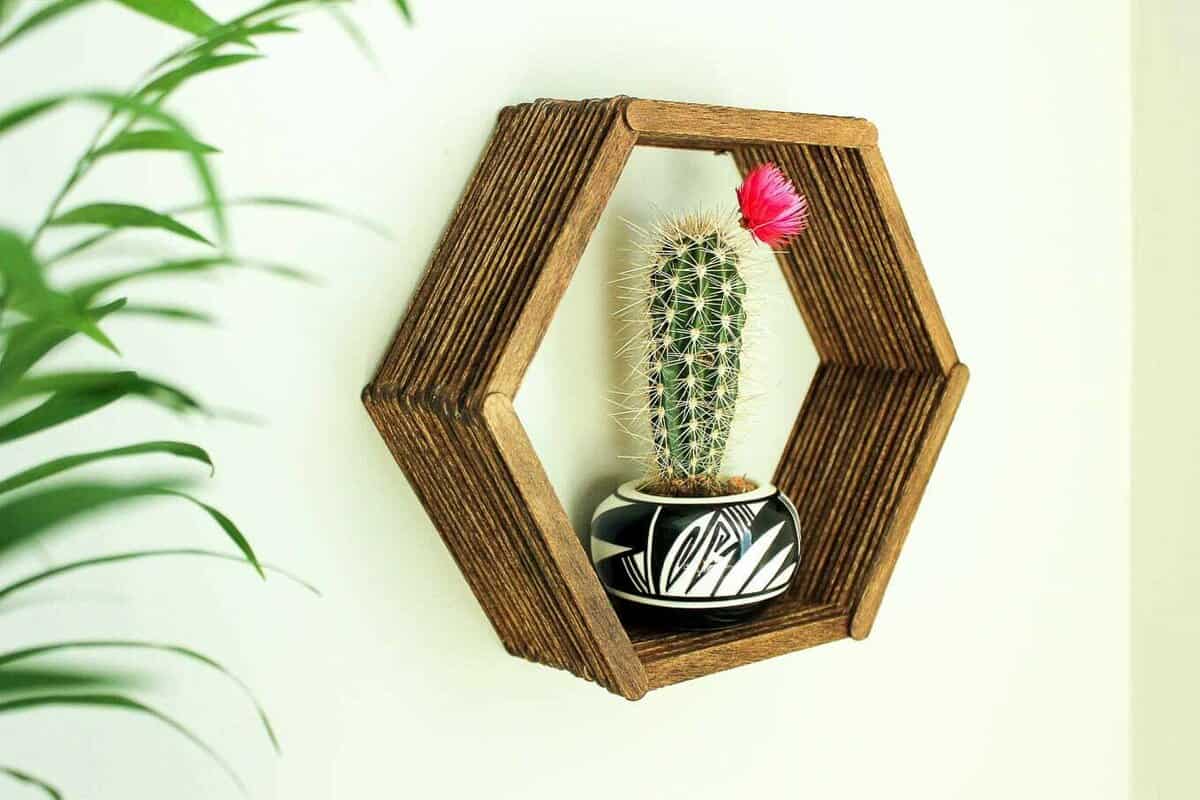 UPDATE: After you make this shelf, check out Part II to make an expanded set of DIY honeycomb shelves that would make Don Draper drool.
Guys. I am so excited to share this tutorial.
I absolutely love DIY projects that transform utilitarian everyday objects into unexpected works of art. Not only do these become fantastic conversation pieces in your home, they also allow you to create super budget-friendly art that doesn't feel too "crafty."
(Don't get me wrong, I love crafts. That's why I made a whole website about them. But I especially adore DIY that achieves a high-end look for a fraction of the price, like this Coffee Stirrer Wall Art.)
And if you're reading this, I'm assuming you like to make stuff too, because, well, that's what we do here. So I'm guessing that you can relate to having an idea for a project and how it can get tangled in your brain like a Bruno Mars song, refusing to dislodge until you just make the darn thing.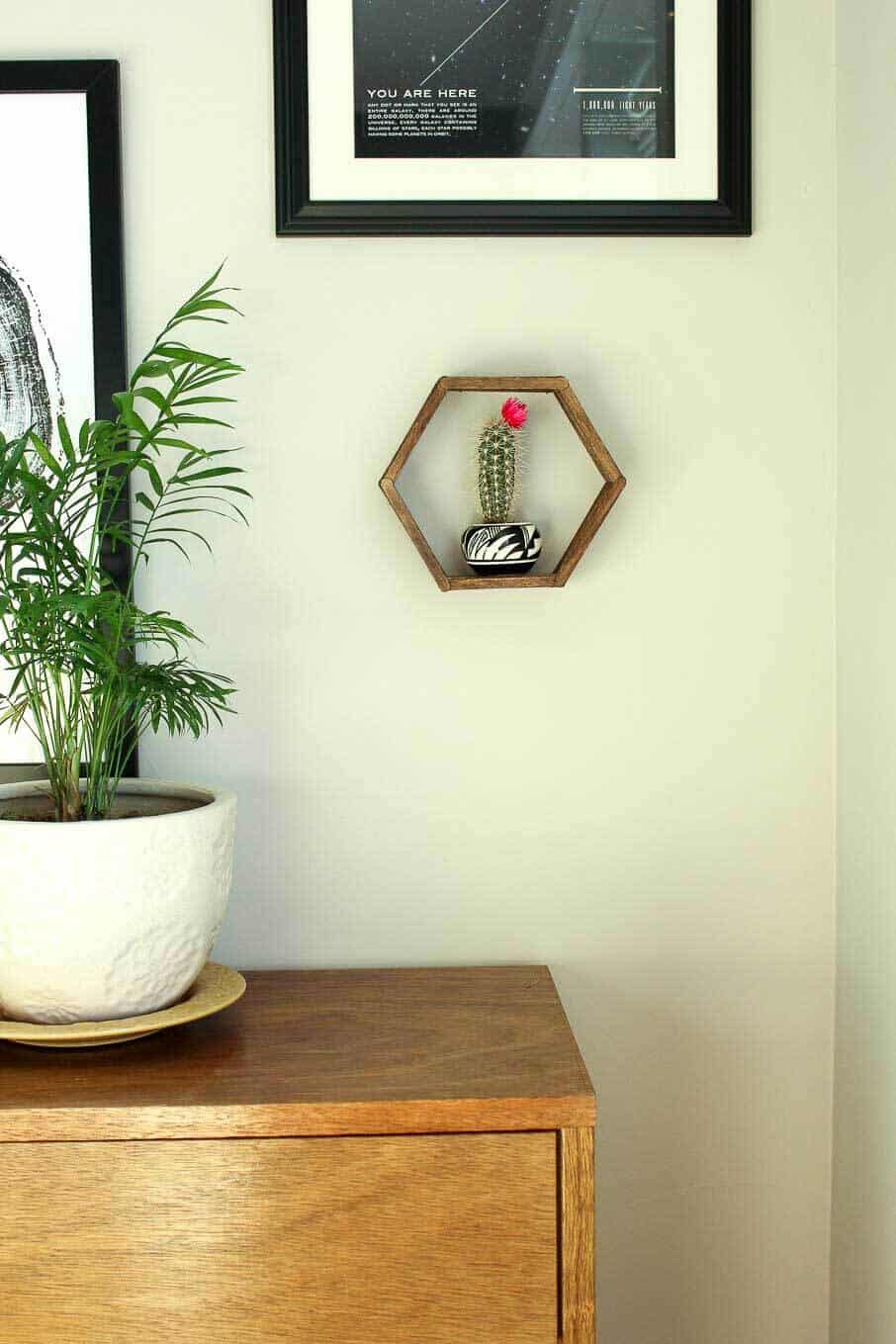 That's what happened with this DIY wall art idea. It came to me one night when I was pacing back and forth in our bedroom in the dark. (Comforting baby Quinn, of course. I don't do that otherwise. At least not often.) I was thinking about additional three dimensional art pieces I could DIY for our bedroom gallery wall. I wanted something that would add texture, warmth and angles, but unfortunately, most DIY geometric display shelf tutorials I've seen are waaay complicated.
So in a moment of frozen-dessert-craft-mashup inspiration, it occurred to me that I could make an awesome hexagon shelf with one of the most basic craft supplies out there--popsicle sticks. Every night that I've paced back and forth since (and trust me, there have been many), I perfected my plans for this simple, mid-century-inspired hexagon shelf.
In fact, I've thought about it so much that I came up with an expanded hexagon shelf idea that builds on this one that I'll be sharing next week in Part II. It's even more mid-century-y and popsicle stick-y. (UPDATE: Check out part II here to learn how to make some rockin' DIY honeycomb shelves!)

After experimenting a bit, I realized that having a template to guide my shelf angles would be super helpful. So I put one together and added it to the Make & Do Crew Vault. If you'd like the template, simply enter your email in the pink and green box at the bottom of this post and you'll gain immediate access to it and all our past and future free patterns and printables.
DIY Wall Art Hexagon Shelf Supplies
This post contains affiliate links for your crafting convenience, at no extra cost to you. Thanks for supporting Make & Do Crew!
• popsicle sticks (about 100)
• tacky glue (most other glue would probably work too)
• Min-Wax Stain in English Chestnut
• paintbrush
• picture hanger (totally optional)
• hexagon shelf template (Using the template makes getting the angles right a lot easier and elevates your shelf from 3rd grade art project to West-Elm-worthy home decor. Subscribe in the box at the bottom of the post to receive access to it instantly.)
Instructions
1. Add a drop of glue to both ends of three popsicle sticks and lay them as shown.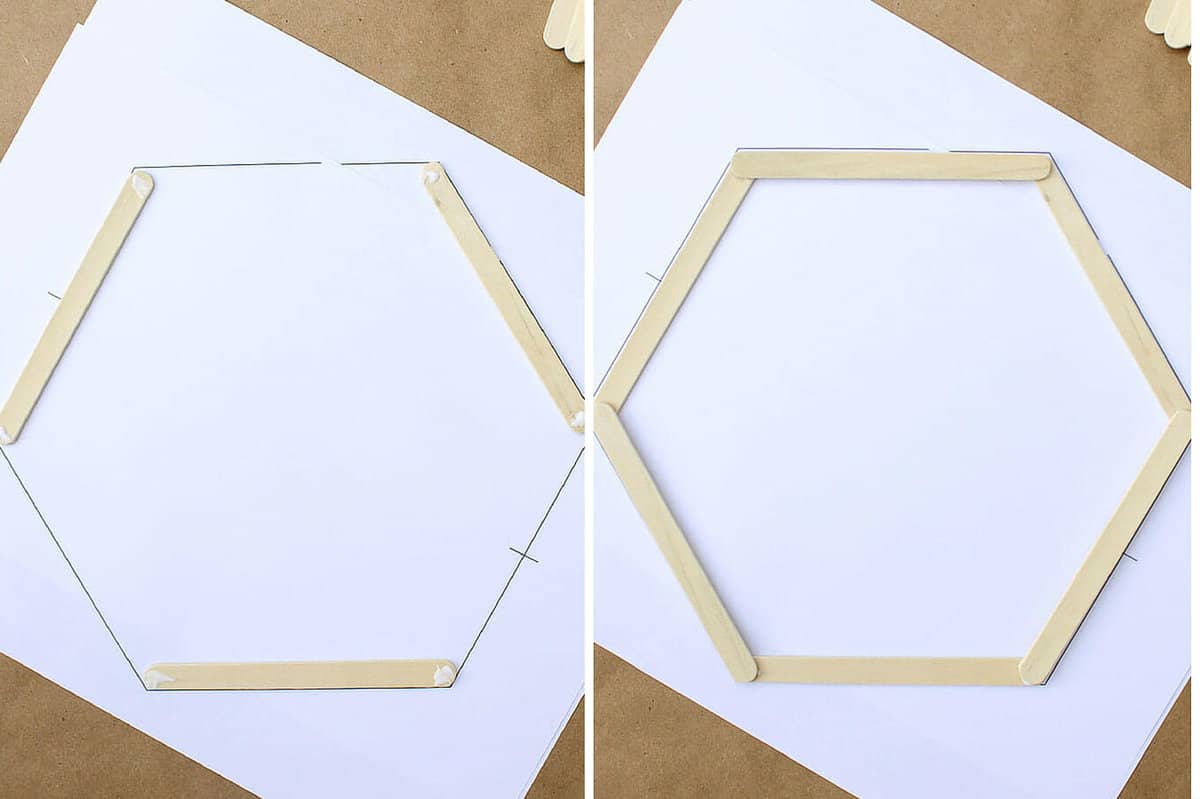 2. Layer three more sticks to complete the hexagon.
3. Continue glueing and layering like this until your hexagon shelf is a deep as you'd like it to be. Mine is about 16 sticks deep.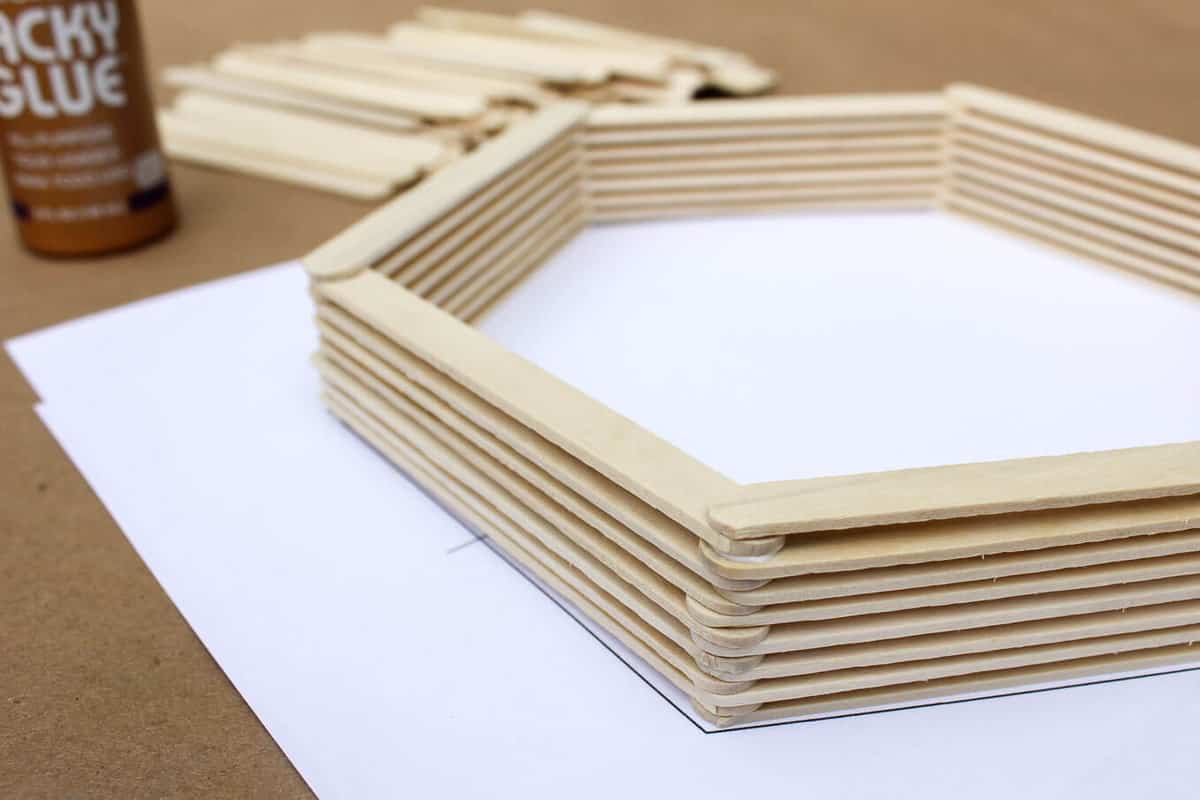 4. Allow the glue to dry. Do your best to keep your three-year-old from using your in-progress shelf as a wooden Bumbo seat for her dolls.
6. Stain your hex shelf, taking care to get stain in between all of the popsicle sticks.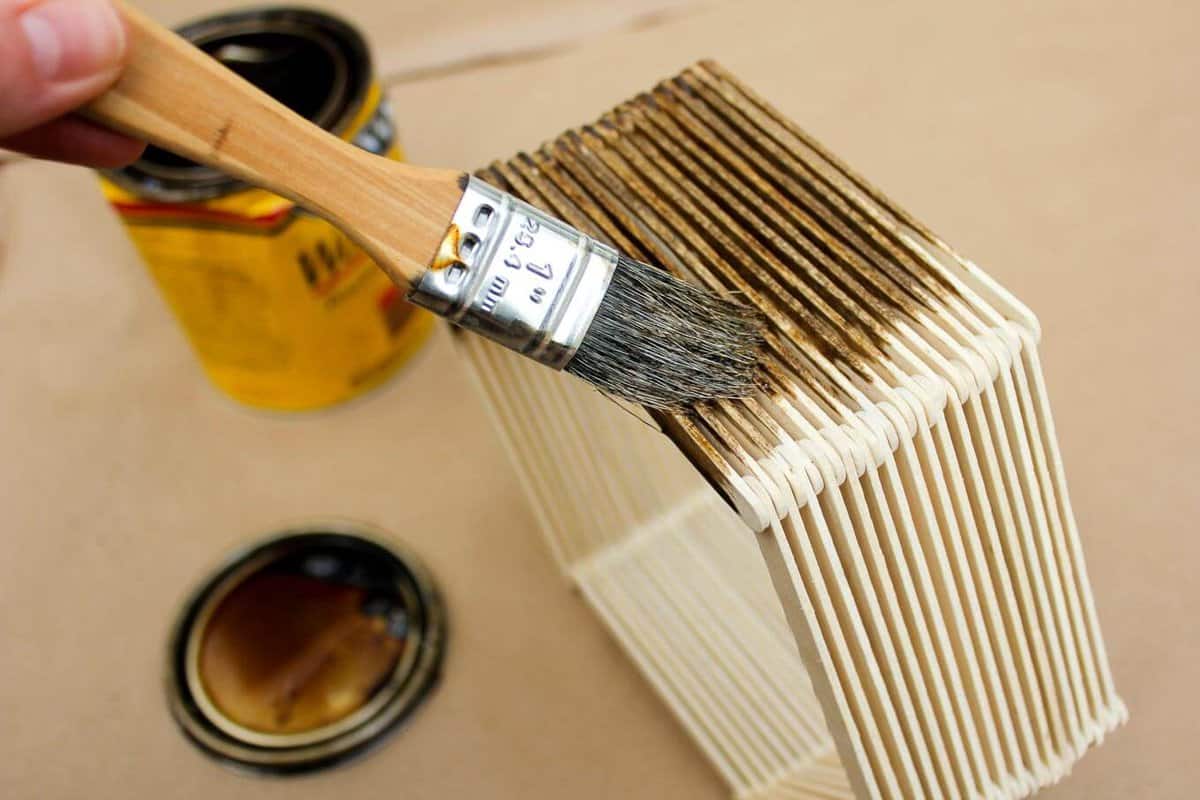 7. If you'd like, glue a picture hanger to your shelf. I skipped this step because I opted to just put two nails in the wall that the shelf could hang on.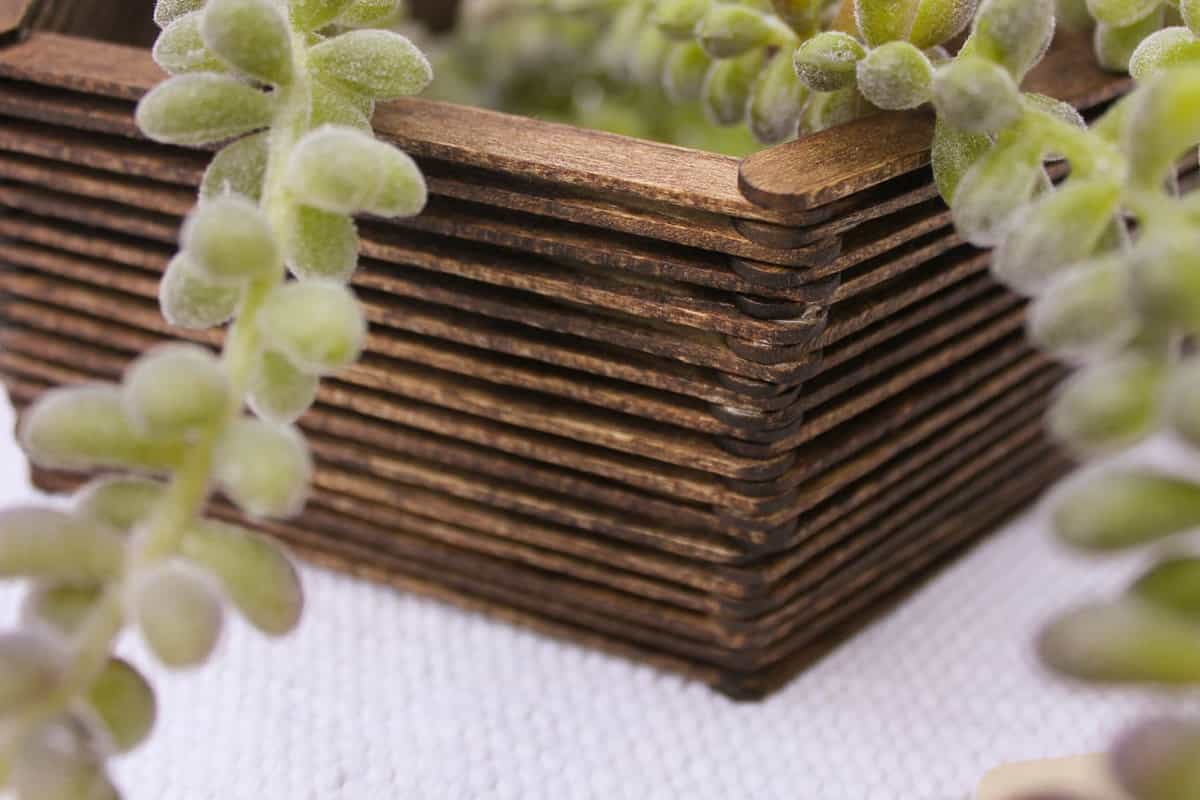 8. Find your cutest homeless home decor knick knack and place it lovingly in its new wall home. Then start planning your next popsicle stick wall art: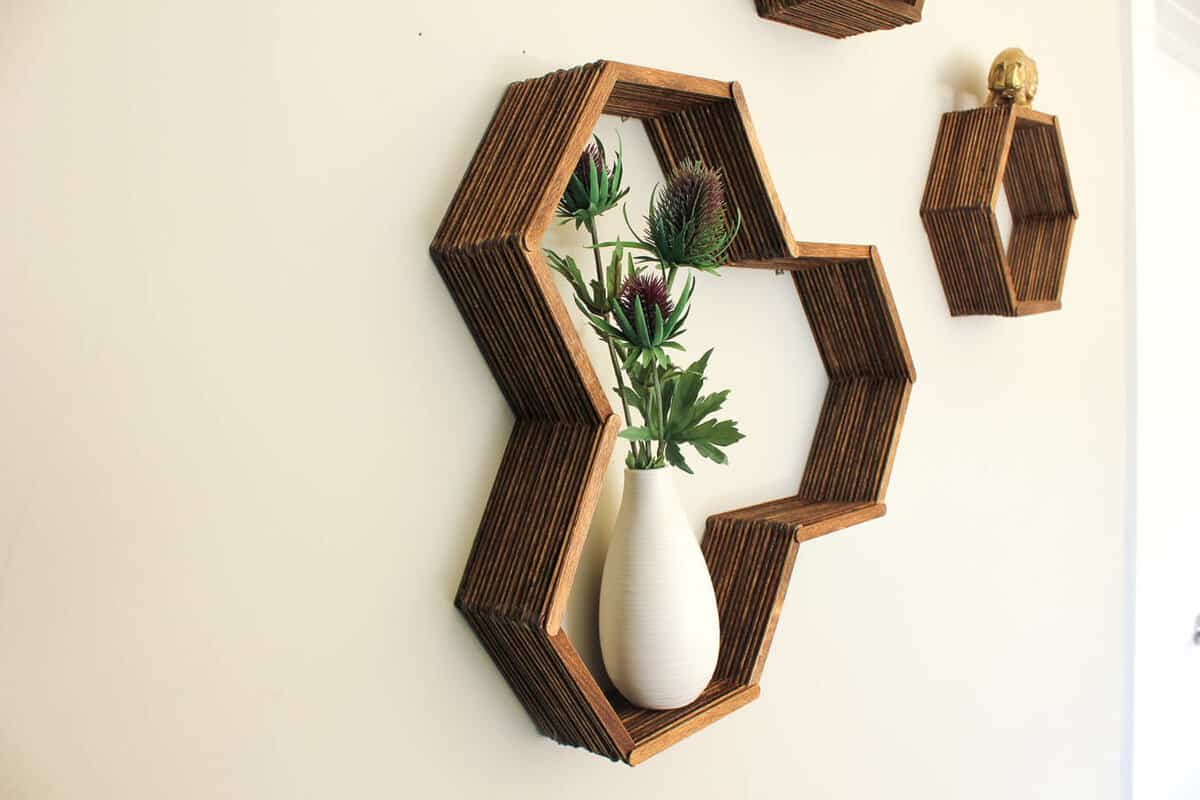 Honeycomb Shelves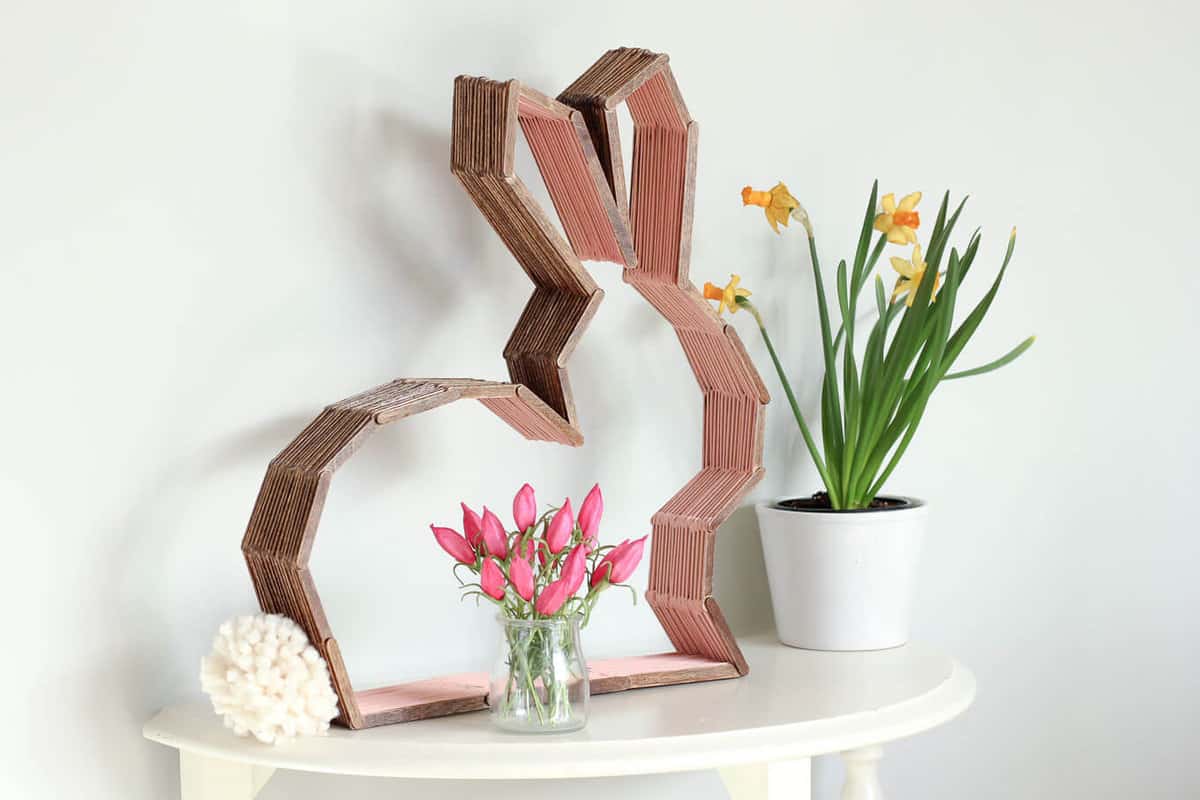 Modern Bunny Shelf (perfect for Easter or a nursery!)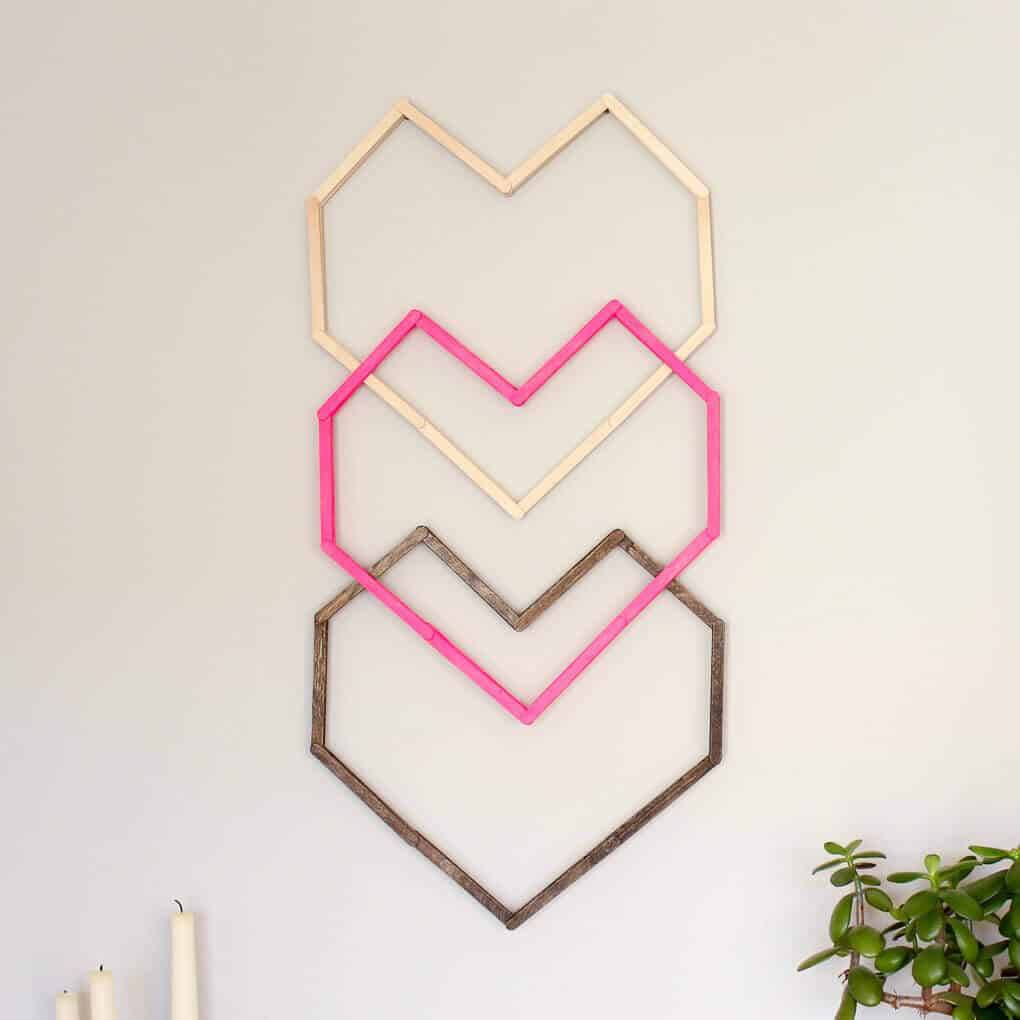 Geometric Heart DIY Wall Art

Snazzy blog photos can make it look like some people are doing it all (effortlessly!) while others of us (me!) are barely holding it together. So whenever I can, I like to introduce a little reality check in the form of a very un-Pinterest-worthy detail from my perfectly imperfect real life. My hope is that it's a helpful reminder all of us that NO ONE is nailing it all the time.
Here's a tip: When you're trying to take photos of your project and decide you need to transplant a cactus mid-photoshoot, don't do it in your bathroom sink. Instead, do it in your husband's bathroom sink, like I did. (Shh...don't tell him!)