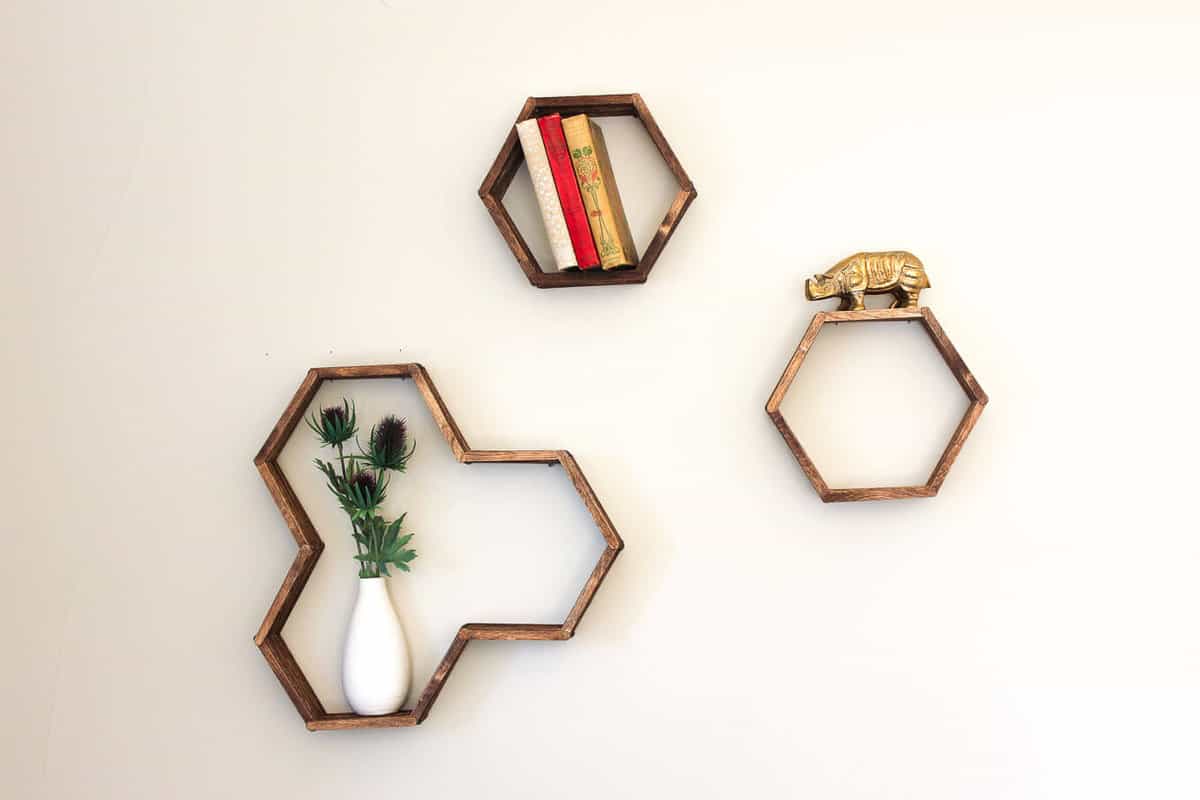 My favorite craft projects are those that take something mundane, utilitarian or used up and transform it into something beautiful. Well, my friends, it doesn't get much more ordinary than popsicle sticks. I'm guessing most of us haven't given them much thought since about third grade. But that is going to change today with these DIY honeycomb shelves. (PS. This project is an extension of my super easy popsicle stick hexagon shelf!)
There are just certain DIY projects that make me overflow with joy. This is one of them. It's super affordable--like less than $10 for the entire set of honeycomb shelves. It's very doable, even for those who don't sleep with their glue gun next to them at night. And most of all, it just looks freaking awesome and oh so mid-century-modern-Mad-Men-ish up on the wall.
Don't you want an entire wall of these?! Perhaps I'll make our bedroom into one big wooden honeycomb beehive!
Last week, I explained how to make single hexagon shelves. I love how these add dimension and warmth to the wall. Plus, I can change out what is in the them throughout the year. The three part hexagon shelf is simply an extension of this same idea. To me, the combination of the larger shelf and the two smaller ones looks like a perfect little family on the wall.
Like with the single hexagon shelf, I found that having a template for this larger one also made it easier to get the angles right with very little effort. These larger honeycomb shelves actually benefit from a template even more because there are more angles to manage.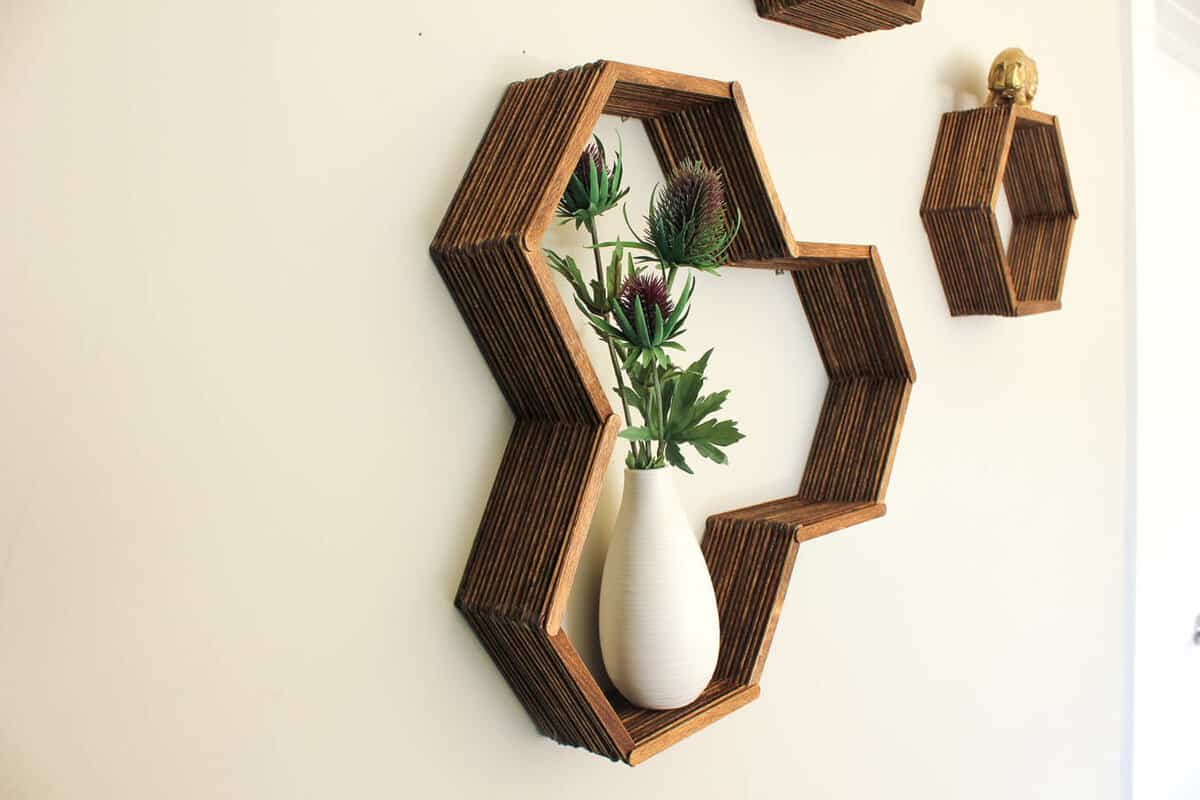 So I put together a simple template to build the honeycomb shelves on top of and added it to the Make & Do Crew Subscriber's Vault. Simply subscribe in the pink and green box at the bottom of the post and you'll get instant access to it (as well as the hexagon shelf template and all our other freebies.)
Honeycomb Shelf Supplies
• popsicle sticks (I used about 200 for the larger honeycomb shelf and about 100 per each hexagon shelf. Hint: buy 1000 from Amazon for $8 like I did so you can honeycomb your whole house!)
• tacky glue • honeycomb shelf template (Optional, but helpful. Enter your email at the bottom of the post for instant access.)
• wood stain (I used Minwax English Chestnut)
• paintbrush
• 2 picture hangers (Optional--I didn't use them.)
Instructions
1. If you're using the template, print it, trim it and tape it together.
2. Position popsicle sticks as pictured, alternating every other hexagon side. I find it fastest to add a drop of glue to both ends of 3-4 sticks at a time and then lay them in their appropriate position.
3. Add glue to more sticks and use them to make a second layer on top of the first, alternating every other hexagon side.
4. Continue like this until your honeycomb shelf is desired depth. I went about 16 popsicle sticks deep per side.
5. After the glue is dry, use a paintbrush to apply wood stain. Make sure to get stain in between each stick. Let the stain dry.
6. If you'd like, glue a picture hanger on the top side of the top hexagon and the top side of the adjacent, side hexagon. I opted to simply hang two nails in the wall for the upper hex side to rest on and one nail as a counterbalance for the adjacent hex.
7. To make a set of friends for your new honeycomb shelf, check out my tutorial for DIY hexagon shelves.
8. Fill your new DIY shelves with your favorite miniature possessions. Less is more.
9. Sit back, admire and let your third grade self revel in the lowly popsicle stick's full potential finally actualized.

If these honeycomb shelves get you in the mood to deck out your walls even further, check out these DIY wall art ideas:
Coffee Stirrer Wall Art
Easy Button Wall Art
Inspirational Art (With Quotes!)
Or if you just simply love hexagons like I do, you have to check out my knit Beekeeper's Quilt--the craziest project I've ever made (and somehow actually FINISHED!! :))
And if you have 700 popsicle sticks left over because you ordered the 1000 pack from Amazon, like I did, here are a few other popsicle stick wall art:
Geometric Heart DIY Wall Art
Modern Bunny Shelf (perfect for Easter or a nursery!)
Easy Hexagon Shelf
DIY Popsicle Stick Valentines (that double as art!)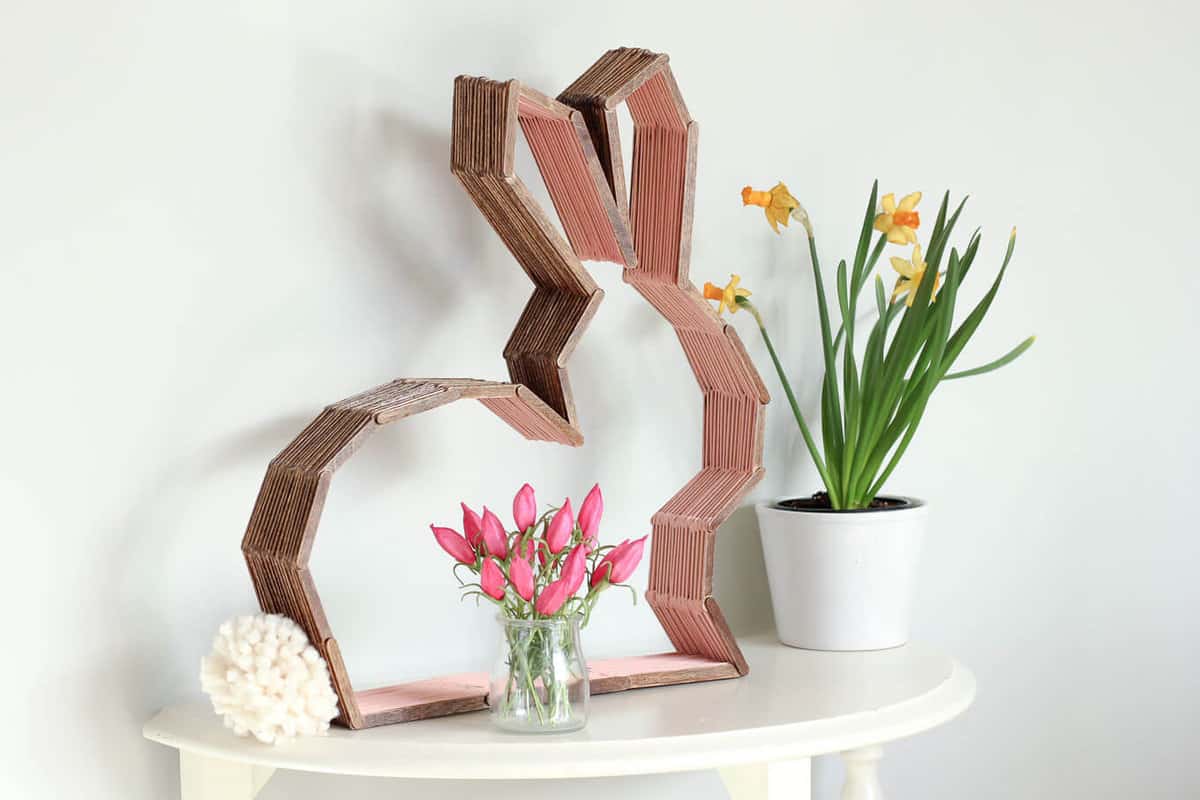 Snazzy blog photos can make it look like some people are doing it all (effortlessly!) while others of us (me!) are barely holding it together. So whenever I can, I like to introduce a little reality check in the form of a very un-Pinterest-worthy detail from my perfectly imperfect real life. My hope is that it's a helpful reminder all of us that NO ONE is nailing it all the time.
You know that moment when you're decorating and, finally, you have everything just so?
And then a little hand reaches in...
As a mom of two small children, I am never alone. Not when I cook. Not when I sleep. Not when I pee. And most certainly, not when I photograph honeycomb shelves.
I find the constantness of motherhood to be one of the hardest parts. But on the hard days when I just want to run away to Target and pee next to strangers instead of my family, I remind myself that being a mom also means that I always have a very eager, hands-on photography assistant at the ready.