Learn how to add some boho flair to your home with this easy DIY yarn wall hanging tutorial. Grab some cotton twine or use yarn from your stash!
This post contains affiliate links.
This DIY yarn wall hanging is an affordable way to add some large pizazz to your empty walls. All the supplies can be found at your local hardware store, Michaels or maybe even in your craft room.
Watch the brief video tutorial below to see how to make a yarn wall hanging and then scroll down more FAQs and links to all the supplies.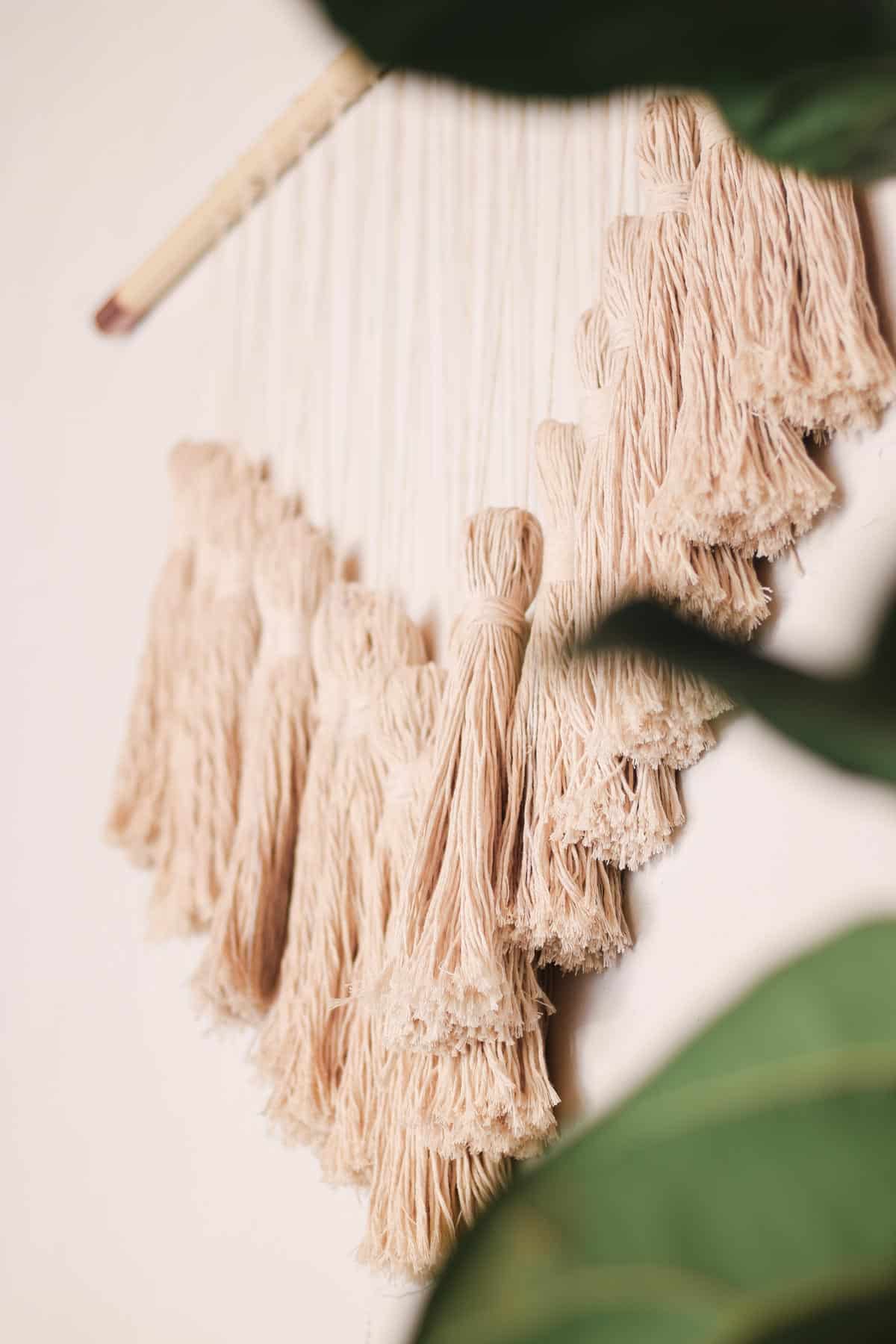 DIY Yarn Wall Hanging Video Tutorial
I put this tassel wall hanging video together for Michaels and now I get to share it here with you. As you can see, this yarn wall art requires inexpensive supplies and very few skills, but it looks like a million bucks when you hang it on the wall!
Related: DIY wall art ideas + tutorials
Supplies for Making a Tassel Wall Hanging
• About 1260 yds of cotton twine or yarn (more details on this below)
• 36" dowel that is ⅞" thick
• ¾" copper pressure slip coupling pipe fittings (this size will fit perfectly on a ⅞" dowel)
• Crochet hook
• Sharp scissors
• Measuring tape
• Paper towel tube cut to 10"
• Wide tooth comb (optional)
Best Yarn for a Wall Hanging
This DIY wall hanging was made with basic cotton twine, which you can find at a craft store like Michaels, a hardware store or even the dollar store. I love the boho look that the cotton texture creates, especially when contrasted against the slick copper pipe fittings.
(Note: Dollar Tree used to sell this twine in stores and haven't seen it lately, so it might be available online only now (here). Still, it's the best deal on cotton twine I've found and it's what I used in the Dollar Store Twine Basket pattern!)
You can also definitely make this tassel wall hanging with any cotton yarn you have on hand. Something like Lion Brand Re-Up would be beautiful. And if you don't have any cotton yarn or twin available, just grab any yarn from your stash that has a texture you enjoy. While an ecru color lends a bohemian vibe, you could also use black or combine a variety of colors for a fun look.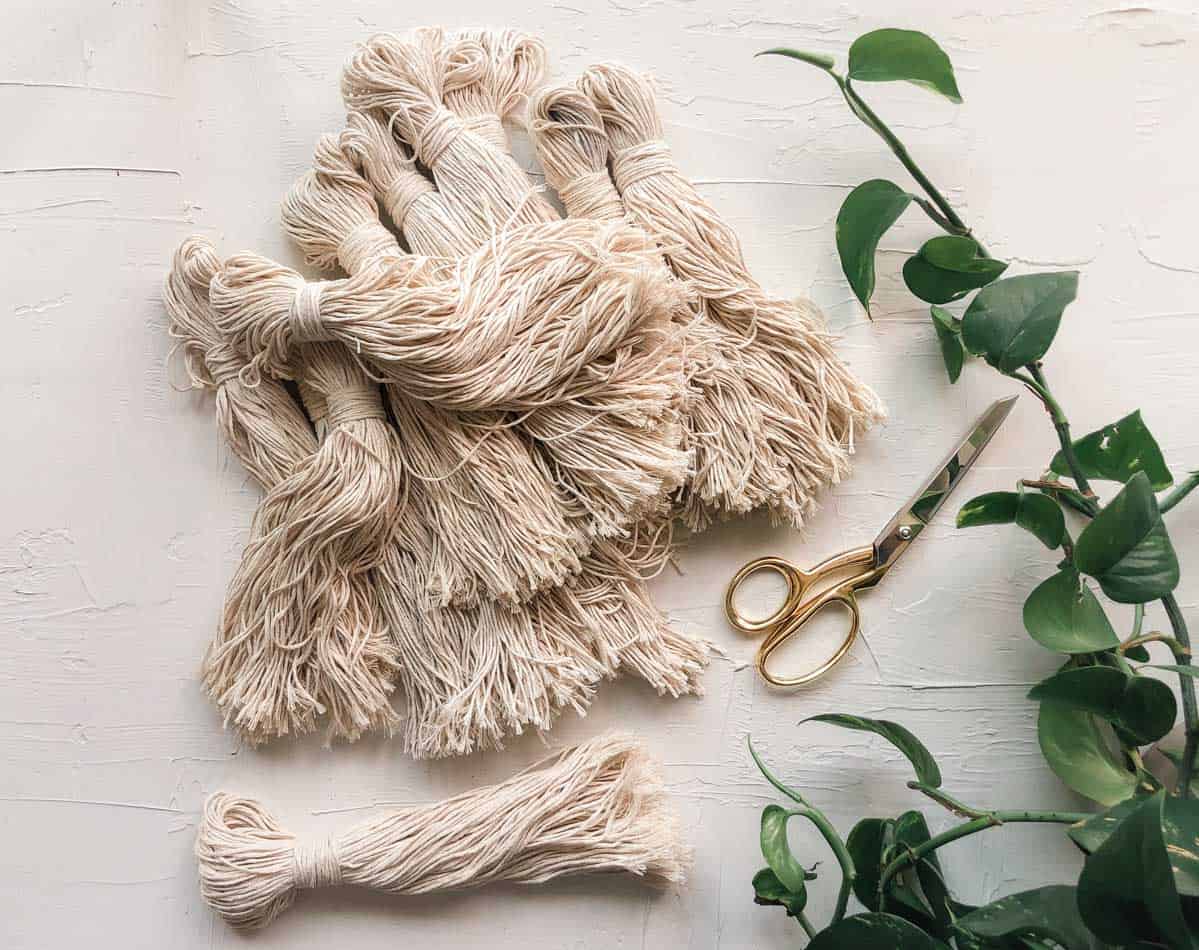 How to Make a Wall Hanging With Yarn
Keep in mind that if you use yarn of a different thickness than cotton twine, you'll want to adjust the number of wraps in your tassel. The thicker the yarn, the fewer the wraps you'll need. The cotton twine used in the tutorial is about the same weight as light DK (category 3) yarn.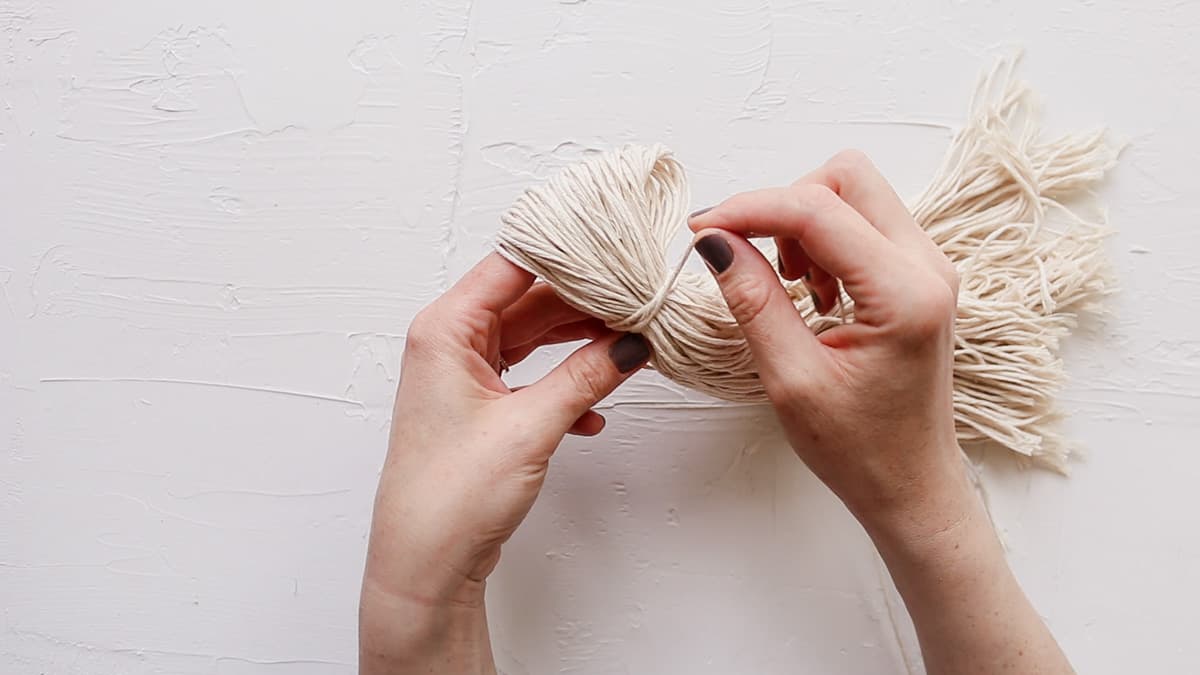 Other Boho Wall Hanging Variations
Once you watch the video tutorial and understand the basic concepts of how to make a yarn wall hanging, the possibilities are endless! Here are just a few ideas to get your wheels turning.
• Dip Dye: Try making a dip dye wall hanging by dying each tassel before hanging it. Follow this tutorial on dying yarn with food coloring for guidance.
• Swap the Dowel: Instead of using a wooded dowel to hang your tassels, find a fairly straight tree brach with interesting texture.
• Change up the scale: While the yarn wall hanging makes a gorgeous statement at approximately 3x3', I'd love to make a much smaller version, perhaps hanging from a wooden chopstick to hang next to my desk.
• Add Wooden Beads: Thread some wooden beads onto the hanging strands of twine before attaching your tassels.
click to pin this tutorial for later ⇨
Ready for More Ideas to Use Up Your Yarn Stash?
I created an email series to match you up with the perfect patterns and tutorials to help you work through your yarn stash while making things you're proud of. Simply pop your email address in the box below and I'll send you my best tips.