These simple crochet coasters can be made in less than an hour and make for a perfect quick gift. Make these coasters for Father's Day, Christmas or just for yourself!

I'm an external processor. Something happens to me and I need to chew it over verbally with another set of ears until it all makes sense. My husband, Mike, though, that man is a ruminator.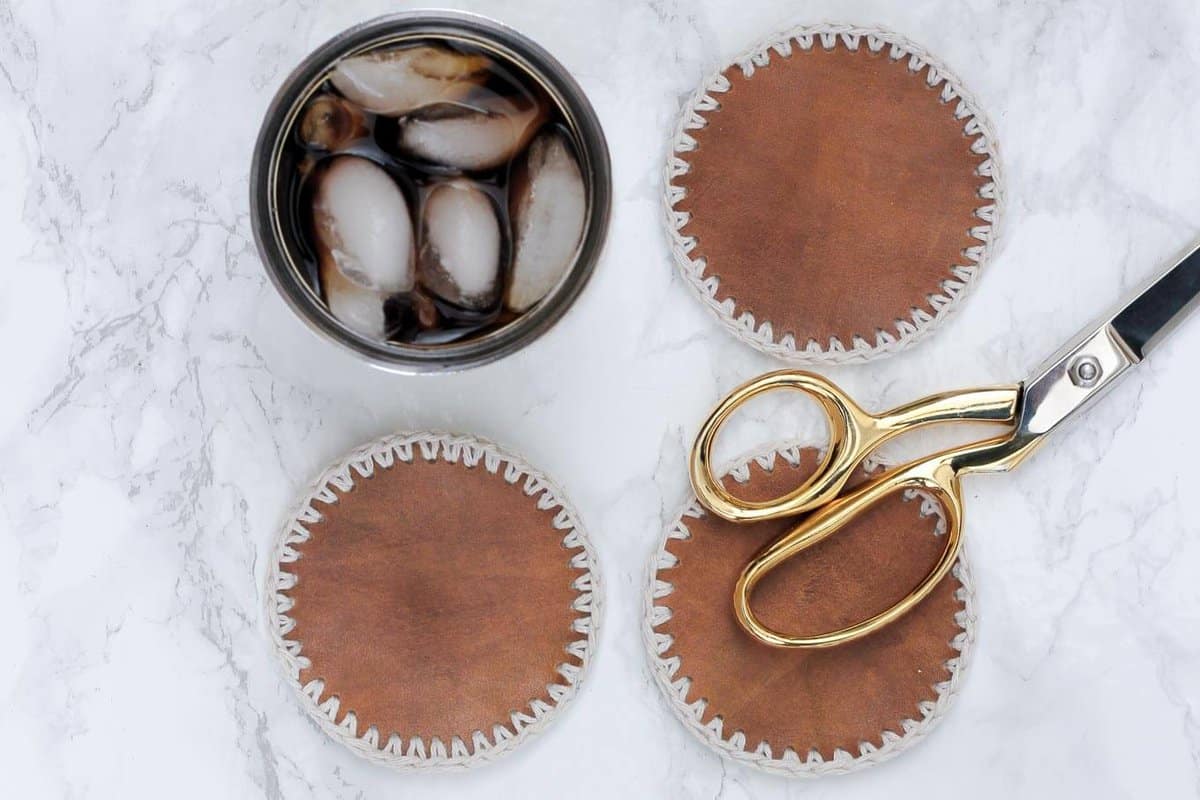 When he needs to untangle something in his mind, he'd prefer to go off to the mountains with a copy of "Walden" and hike so high that not another living thing surrounds him.
Perhaps it goes without saying that our current life with two small kiddos doesn't allow him this indulgence very often. So this Father's Day, I thought I'd put together a little gift for him that lets him to escape to be alone with his thoughts and ideas, even if it's just for a few minutes in his office planning his next alpine adventure.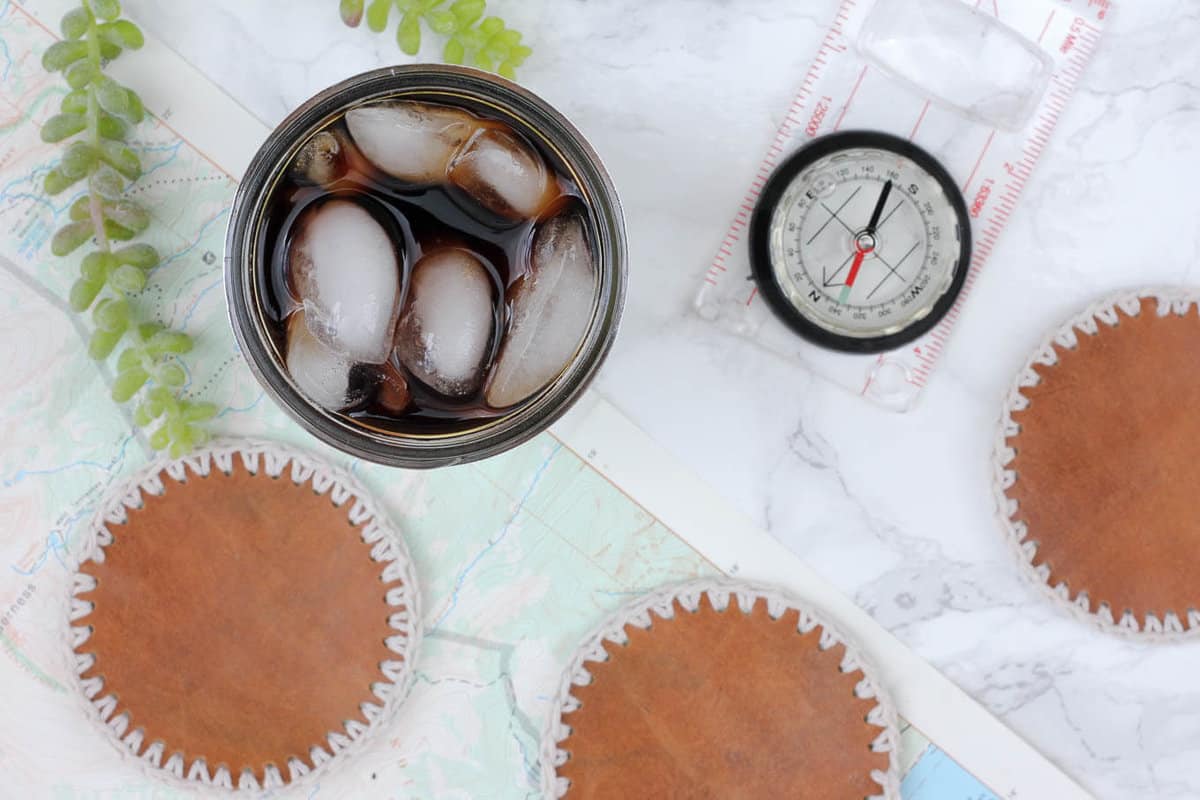 Combine this set of easy DIY coasters and bottle of full throttle iced coffee and you've got a Father's Day gift that's like a portal to the land of inspiration. I believe that a rugged, yet refined DIY home good (the drink coasters) and a load of arabica beans (the coffee) is the Father's Day equivalent to some bubble bath and a bottle of wine for Mother's Day. (Although, if I'm being honest, I'd prefer to receive the Father's Day gift. :))
We like weird people a lot more than we like weird ingredients in this house, so I know Mike will appreciate that SToK is slow-brewed, pure coffee without a lot of junk added in. (And if I'm being honest again, I sipped some of my own SToK while I crocheted these coasters. The best gifts have to be tested first, right? Plus, a little boost of caffeine can sure do wonders for your DIY project output.) 
Related: 35+ of my favorite free crochet coaster patterns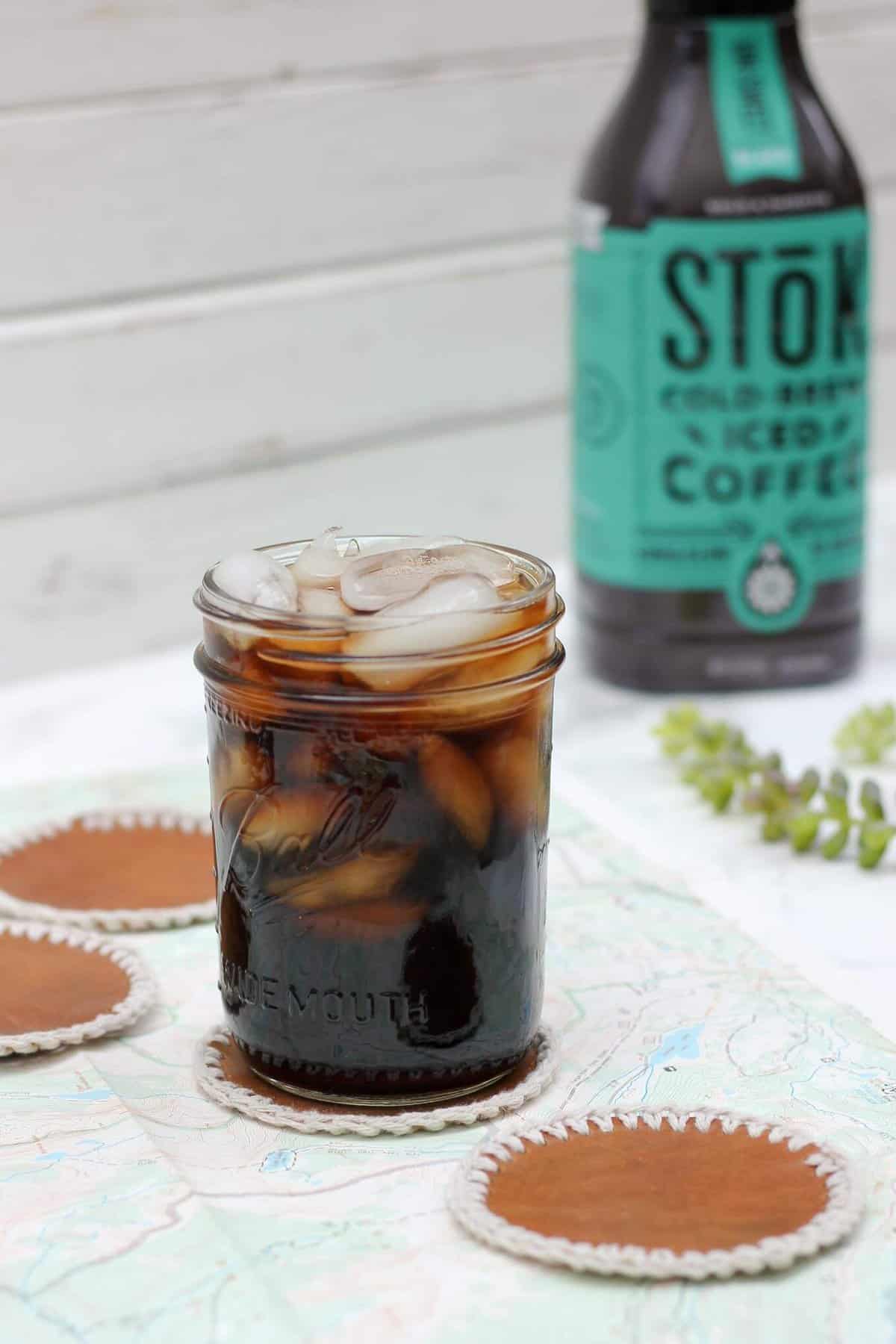 These leather + crochet coasters are super easy to make and take only very basic crochet skills. I think you could whip them up in less than an hour if you don't have to stop an 11-month-old from eating handfuls of dirt 8,364 times while you're working on them. (Not that I would know.)
Plus, guess what the crochet edging is made of?! Hardware store twine! This truly is the perfect DIY gift idea for the masculine, yet domesticated man. Ha.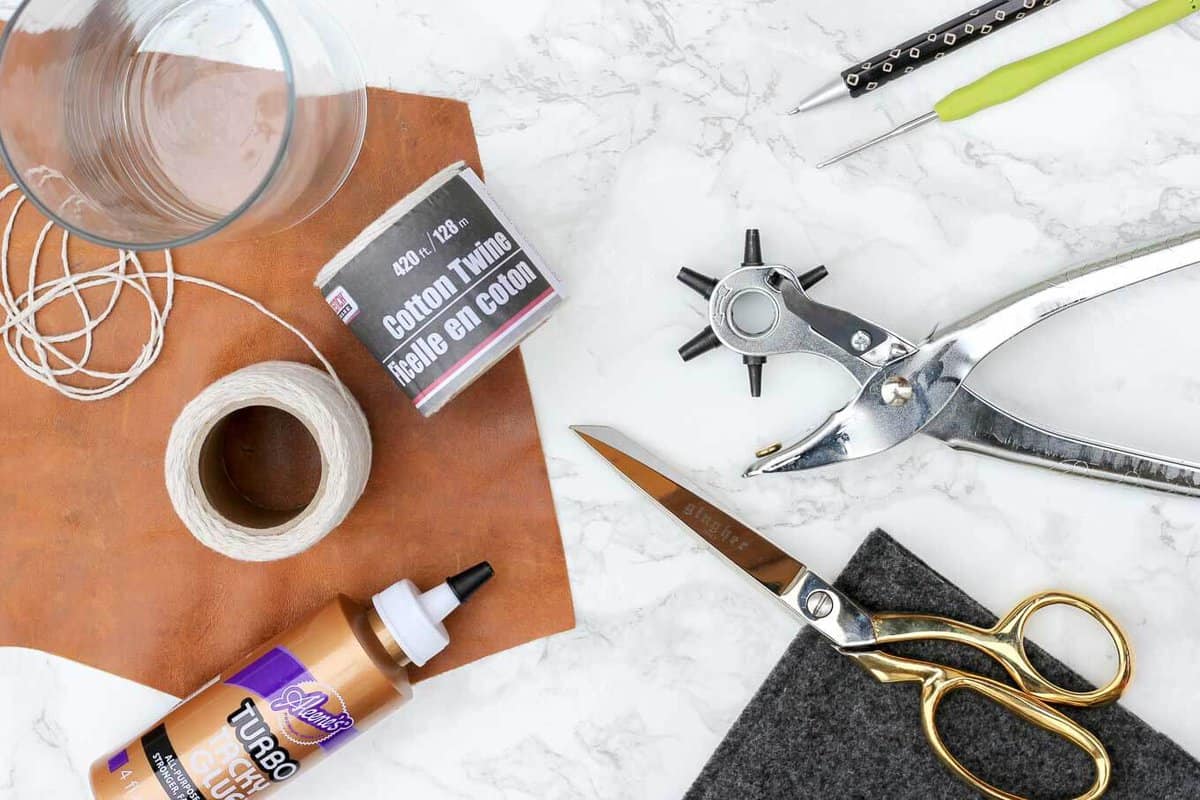 Leather + Crochet Coaster Supplies
• leather scrap approximately 8"x8" (check thrift stores for purses or jackets you can cut up)
• felt approximately 8"x8"
• leather punch
• hardware store cotton twine (or other worsted weight cotton. I used twine from Dollar Tree)
• size B/2.0mm crochet hook
• scissors
• tacky glue
• a glass or vase with an opening of approximatly 3.5" " + one slightly smaller vase to trace for the felt backing
• pen
• leather waterproofer (optional--I didn't use this because I don't mind the patina that will result when the coasters get a little moist)
Leather Crochet Coaster Pattern
Abbreviations - US terms:
ch - chain
sc - single crochet
sl st - slip stitch
Notes: When single crocheting around the coaster, be sure to pull the loop that's on your hook far enough out that there's enough slack to reach the next hole easily. We're using a small crochet hook in order to fit in the leather holes, so you need to compensate a bit by making your loops bigger. Otherwise, your coaster will warp because the sc will be too tight.
1. Using the larger glass and pen, trace four circles onto the back of your leather. With the smaller glass, trace four circles onto the felt.
2. Cut the circles out.
3. Using the smallest, or near the smallest, setting on your leather punch, punch holes around the circumference of the leather about ¼ " apart.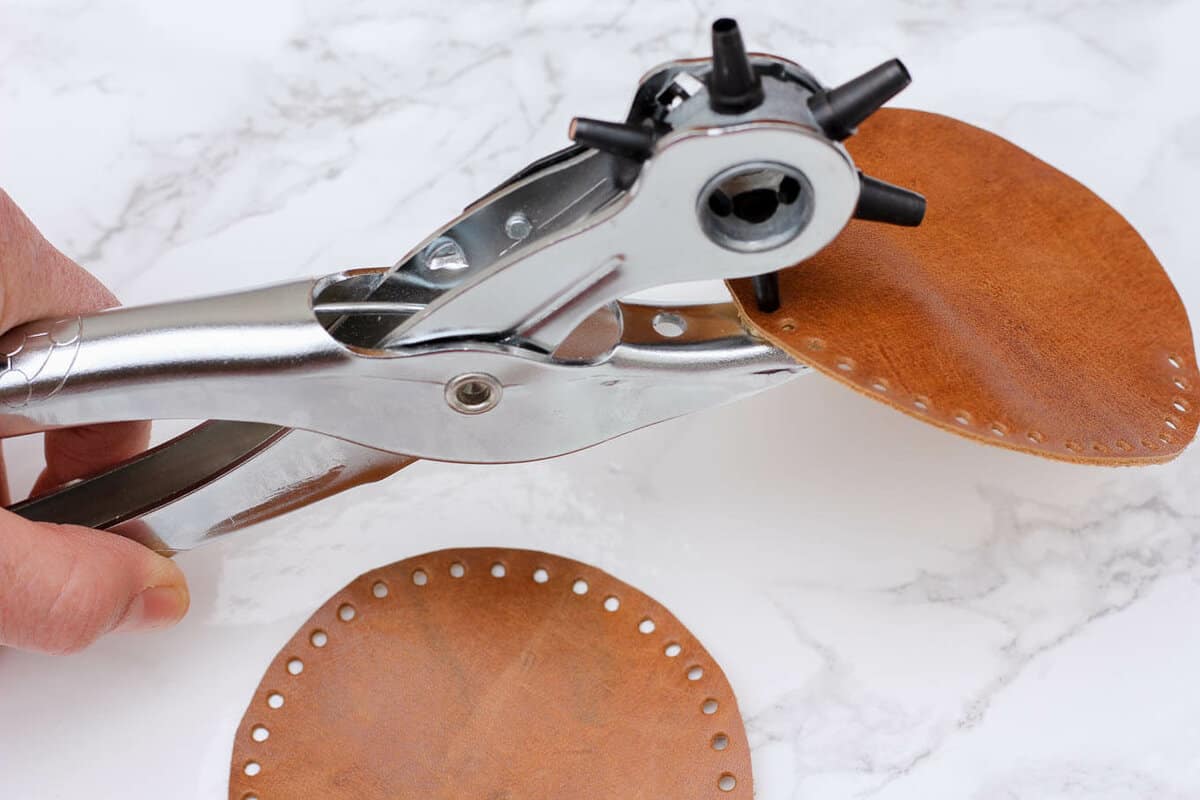 4. If you want to spray your leather with waterproofer, do this now. Let it dry per the instructions on the product.
5. To crochet the edging: Insert your crochet hook from the right (non suede) side to the back and pick up the twine, leaving a 2" tail in the back. ch 1 to attach the twine to the leather.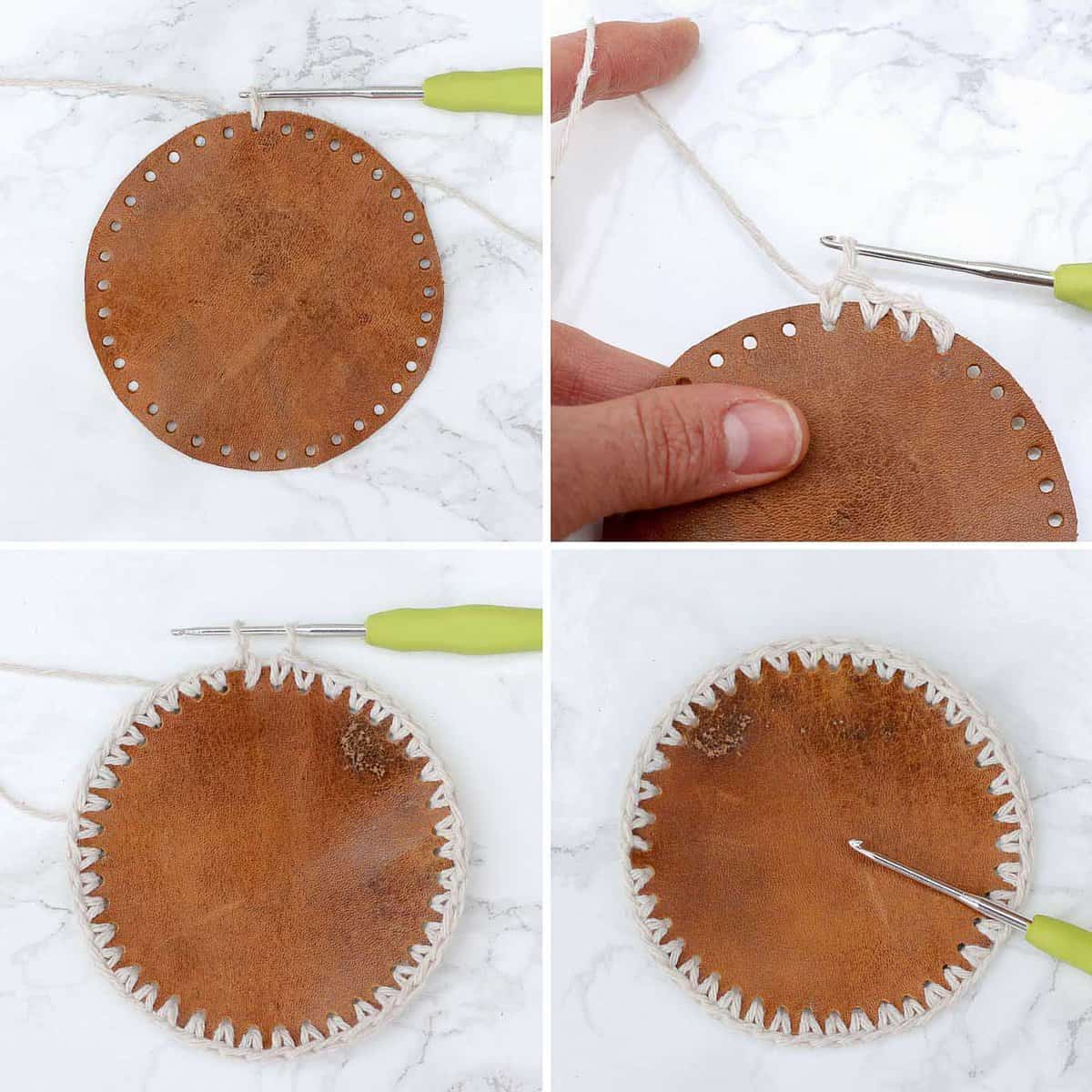 6. Insert your hook in the hole to the left and work it like a sc. Cont in sc around the circle.
7. After you've completed the last hole, insert your hook under the top of the first sc, sl st to connect the first and last stitches. Trim your twine.
8. Glue the felt backing to the suede side of the coaster, making sure to tuck the two tails of twine securely under the felt.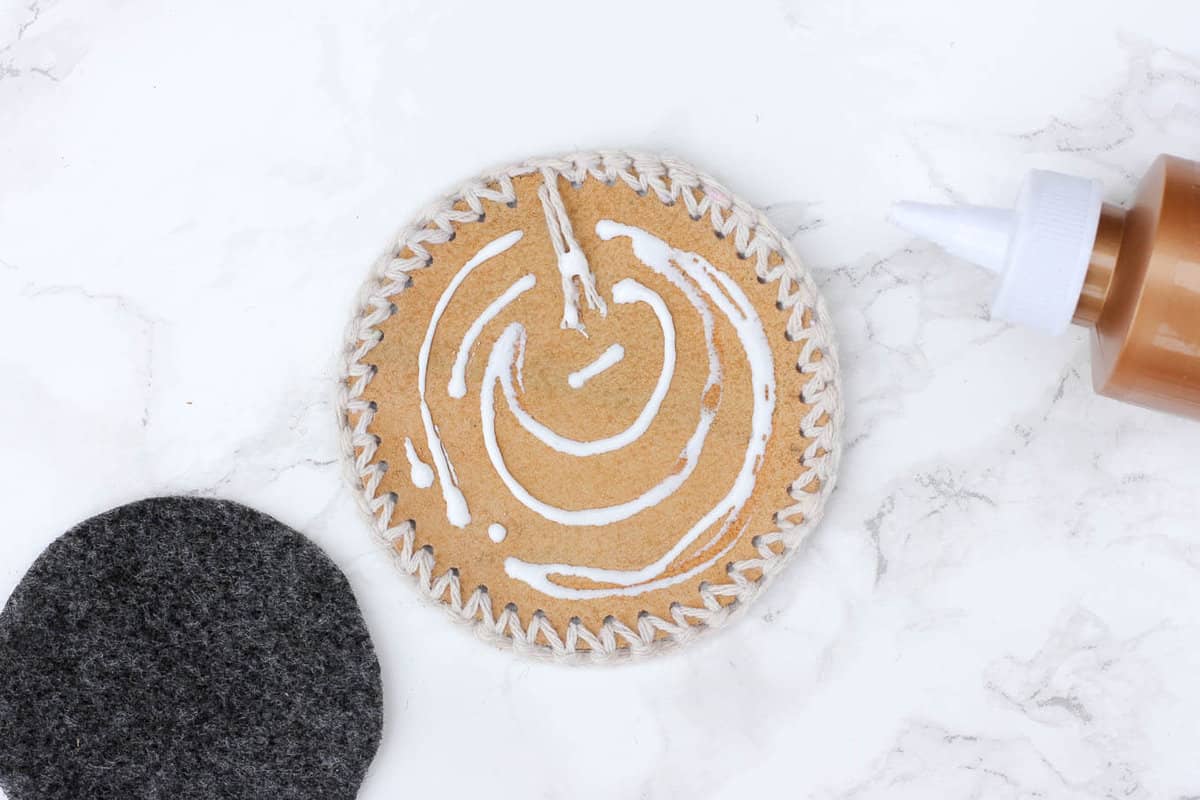 More Patterns for Your Kitchen
If you love making functional projects you can put to use around your house, you'll love these free crochet patterns!