This Tunisian crochet cowl pattern combines a simple, modern stitch and color-shifting yarn to create a wearable piece of fiber art! Get the free pattern and video tutorial below or purchase the ad-free, printable PDF here.
This free Tunisian crochet cowl pattern is part of a collaboration with Lion Brand Yarns. This post contains affiliate links.
This Tunisian crochet cowl is nothing more than a rectangle of spectacularly beautiful fabric joined around your neck. Read more about the yarn and inspiration below or scroll down for the free pattern.
You can also watch a video tutorial on this cowl here!
New to Tunisian crochet? Learn all the basics using a just standard crochet hook. START HERE!
The Yarn That Led The Way
When I'm dreaming up a new design, often I'll start with the shape or silhouette I want it to have and then experiment with a stitch and yarn that will complement my vision.
This time though, the Lion Brand Ferris Wheel yarn completely led the way with the stitch a close step behind. In fact, when I started this rectangle, I wasn't even sure what it would become. I just felt that compelled to try this stitch-yarn combo.
When I first laid eyes on the "Buttercup" colorway, I loved the muted rainbow tones so much. But not being that much of a crochet-with-color gal, I knew that I'd enjoy the yarn even more if I could sort of "buffer" the colors with a neutral.
Grab a kit with all the yarn you need to crochet this cowl + a printed copy of the pattern here!
The Tunisian brick stitch (aka the grid stitch) is really lovely worked in solid colored yarn, but it also offers the perfect chance for the Ferris Wheel yarn to peek out from behind a solid color. I experimented with a few different colorways of Ferris Wheel and decided I loved them all! This is one of those stitch/yarn combos I think I could do over and over again in every color you could imagine. (You can see all the colors of Ferris Wheel here.)
[convertkit form=5275069]
Cheers To Self-Striping Yarn Doing All the Work
One look at this Tunisian crochet cowl and you might think that there's a ton of counting and end-weaving-in to create this result. But you'd be wrong!
Both yarns are kept attached throughout the pattern so there is no cutting and weaving in to hassle with. The counting is so minimal that you won't even think about it after the fourth row. Plus, if you're like me, you'll love each new color of Ferris Wheel yarn being revealed as you crochet your Tunisian cowl.
click to pin this pattern for later ⇨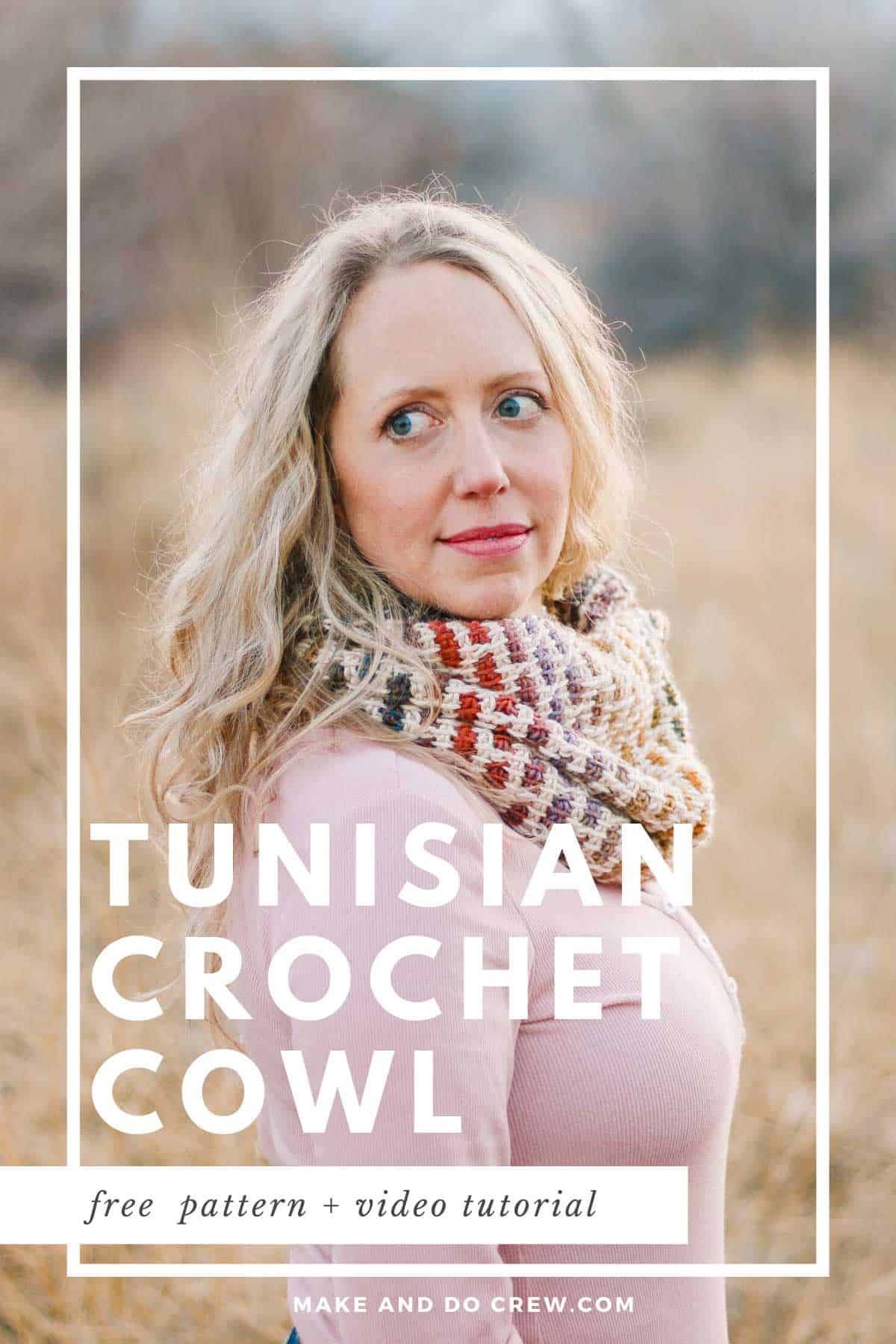 Helpful Resources for Making Your Tunisian Crochet Cowl
I think you're going to love the brick stitch used in this pattern so much that I put together a video tutorial on how to crochet it step-by-step. If you're more of a learn-at-your-own-pace person, there's a photo tutorial and written instructions there too.
And if you'd rather post up on the couch instead of in front of your computer or phone while you crochet, you can purchase the ad-free PDF of the Stained Glass Cowl pattern here. This PDF is formatted for easy printing and includes all the photo tutorials for how to crochet the brick stitch. (The photos are separate from the written pattern so you can choose to print them or conserve ink.)
More Free Tunisian Crochet Patterns
We love using simple Tunisian techniques to create modern, wearable patterns. Here are a few we think you might like. You can always find all our free Tunisian crochet patterns and tutorials here.
1. Brushland Wrap (reversible) // 2. Sherpa Sweater // 3. Beginner Mitts // 4. Mercantile Cardigan
---
Stained Glass Tunisian Crochet Cowl
Free Pattern
Purchase the ad-free, printable PDF of this pattern here.
Save this pattern to your Ravelry here.
Pin it for later here.
View a brick stitch video tutorial here.
Explanation:
Self-striping yarn and a simple variation on the Tunisian simple stitch come together easily to create a sophisticated-looking unisex cowl. (You can keep the ease of this stunning stitch to yourself when the compliments start rolling in!)
Despite the appearance of complicated colorwork, you'll be left with only a couple tails to weave in at the end. This pattern is perfect for advanced beginner Tunisian crocheters who are interested in adding the technique of post stitches to their toolkits.
Supplies:
Purchase a kit that includes the yarn and pattern here!
• A: Lion Brand Heartland (Weight: 4/medium - 251 yds, 5.0 oz)
- Acadia (#136-098) – 2 skeins [approx. 200 g)]
• B: Lion Brand Ferris Wheel (Weight: 4/medium - 270 yds, 3.0 oz)
- Buttercup (#217-605) – 1 skein [approx. 80 g)]
• Tapestry needle
• Size L (8.00 mm) Tunisian crochet hook with 6" cord or longer
• Stitch markers or safety pins
Alternative colors pictured in swatch above:
- A: Lion Brand Heartland: Mount Rainier (#136-150)
- B: Lion Brand Ferris Wheel: Imaginary Garden (#217-608)
Finished Measurements:
Circumference: 25"
Height: 14"
Gauge:
15 tss = 4"
12 rows = 4"
Abbreviations and Glossary (US Terms):
bump - strand of yarn on underside of chain
ch – chain
fwP - forward pass
PM – place marker
rep – repeat
retP - return pass
RS – right side
sk – skip
slst – slip stitch
st(s) – stitch(es)
tss - Tunisian simple stitch
tslst - Tunisian slip stitch (for binding off)
yo - yarn over
Special Stitches:
LTFpdc - long Tunisian front post double crochet: yo, insert hook under front and back strands of vertical bar 2 rows below, yo, pull up a loop, yo, pull through 2 loops on hook (1 loop left on hook)
Want some company while you crochet?
Get support (and camaraderie!) in the Make & Do Crochet Crew Facebook Group here.
Permissions + Copyright:
Please do not publish or share this pattern as your own. You may make items to sell with this pattern. In exchange, please link back to this free pattern. Do NOT use my photos as your own sales photos.
Overall Pattern Notes:
• If you're new to Tunisian crochet, learn all the basics in the Absolute Basics of Tunisian Crochet post + video tutorial.
• View a step-by-step video tutorial on how to work the brick stitch used in this pattern here.
COWL RECTANGLE
Notes:
• Pattern is worked mostly in Tunisian Simple Stitch (Tss). Row instructions are for the Forward Passes (FwP). Work a standard Return Pass after each Forward Pass.
• Pattern alternates one row of Color A with one row of Color B. Each color change takes place at the end of the return pass in the last two loops. Keep both Color A and Color B attached while working. (See photo below.)
• To modify height of cowl, work a multiple of 4 + 1 chains in Foundation Row.
• To modify circumference of cowl (or make a longer, non-circular scarf), modify the number of repeats of Rows 2-5.
• It's helpful to note that on Rows 3 and 5, you'll work the prescribed number of Tss at the beginning of a row in addition to the loop that's already on your hook at the beginning.
With color A:
Row 1 - Foundation (Color A): Ch 53. Draw up a loop in second bump from hook and each bump to end of row. Change to Color B on last two loops of RetP. (53)
Row 2 (Color B): Tss in each st across. Change to Color A on last two loops of RetP.
Row 3 (Color A): Tss 3, LTfpdc in next st, *tss 3, LTfpdc in next st; rep from * to last st, replacing last LTfpdc with a typical tss end st. Change to Color B on last two loops of RetP.
TIP: Beginning and end of Rows 3 + 5 will always have the same number of stitches visible in Color B. See Tunisian brick stitch tutorial here for more details.
Row 4 (Color B): Tss in each st across. Change to Color A on last two loops of RetP.
Row 5 (Color A): Tss 1, LTfpdc in next st, *tss 3, LTfpdc in next st; Rep from * to last 2 sts, tss 2. Change to Color B on last two loops of RetP.
Rep Rows 2-5 eighteen more times. There should be a total of 77 rows.
Finishing Row (Color A): Loosely Tslst in each st across.
Keep Color A attached for seaming. Fasten off Color B.
SEAMING
With RS facing in, bring Foundation Row edge and Finishing Row edge together. Pin in place with stitch markers. With current working yarn (Color A), slst though each stitch on both sides of fabric to join. Fasten off. Weave in ends.
Pop your newly finished cowl over your head and radiate rainbows wherever you go, you magical human, you!
I love to see your finished projects! Use #MakeAndDoCrew and tag me Instagram (@MakeAndDoCrew) to show off your stitches and have a chance to be featured.
More Fast Projects to Crochet
On a crochet roll? We've got lots more free patterns where this came from. Here are some reader faves that are super fast and satisfying to crochet. You can always find all our free crochet patterns here.
1. 1 Hour Beanie + video tutorial // 2. 3 Hour Mittens // 3. Saturday Slippers 4. Easiest Crochet Hat Ever + video tutorial