This slightly slouchy easy child's crochet hat pattern works up in about an hour and is perfect for beginners because it's made from a simple rectangle. Get the free pattern below in sizes preschool, child and adult or purchase the ad-free, printable PDF here.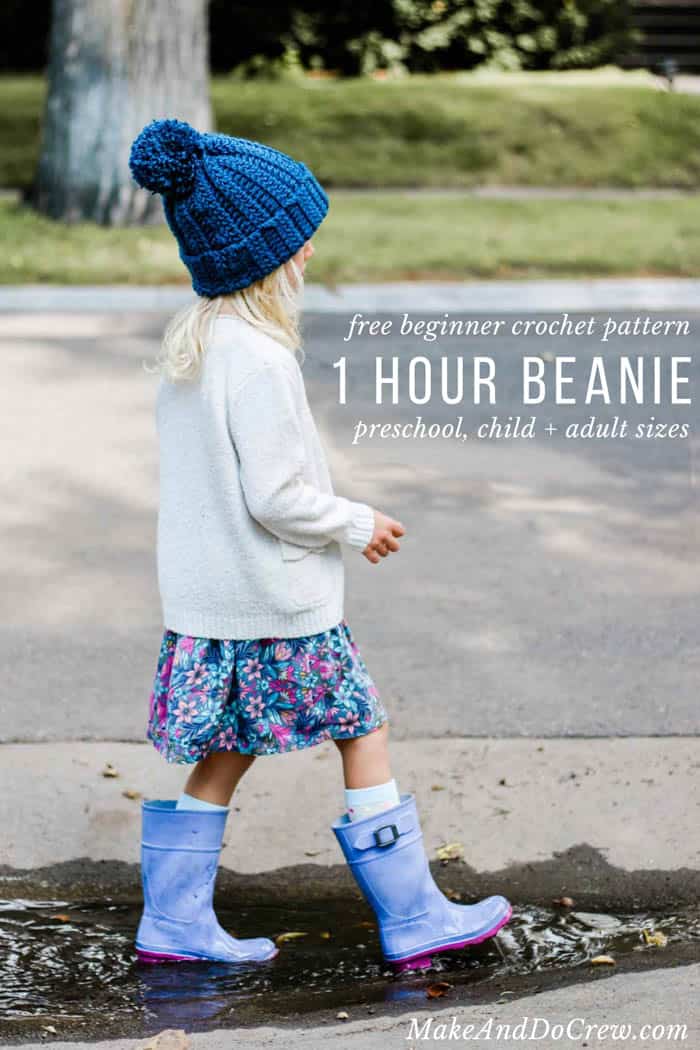 This easy child's crochet hat pattern is part of a collaboration with my friends at Lion Brand Yarn. This post contains affiliate links.
An Update On a Beginner Crochet Beanie Pattern You Love
Last December, I shared the 1.5 Hour Beanie, a speedy and super easy crochet hat pattern that has become one of Make & Do Crew's most popular patterns. It's beginner friendly and it can be made in less time than it takes to watch a romcom. What's not to like?
Well, unfortunately, the yarn I used in the 1.5 Hour Beanie pictured above has now been discontinued, so today I'm sharing a freshly updated version of the pattern complete with sizes to fit (almost) anybody.

New Pattern, New Yarn
The yarn I used in the preschool, child and adult beanies pictured here is new from Lion Brand and I'm so excited about its introduction. It's called Color Made Easy and it delivers on its name with a beautiful palette of modern, hip colors. (Check them all out here!)
The aspect I love most about this yarn though is that it's a category 5 yarn, which means it's chunkier than a worsted weight yarn, but not super bulky. This allows you to whiz through projects while still maintaining some lovely stitch definition and flexible fabric texture--perfect to add a little slouch to this kid's crochet beanie pattern!
While the original pattern used a category 5 yarn as well, I find Color Made Easy to be slightly thinner, which is why the stitch and row counts in the for the adult size below differ a bit from the original version.
Related: 35+ Easy Chunky Beanies to Crochet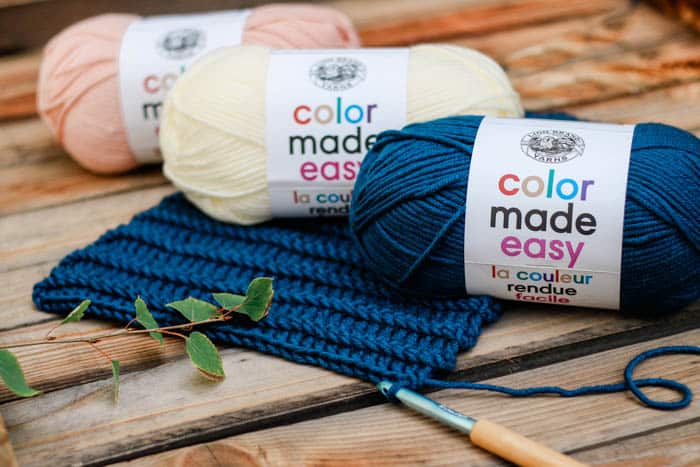 How to Crochet a Hat for Absolute Beginners Video Tutorial
In the original version of this free easy beanie pattern, I shared a step-by-step video tutorial that covers each part of the pattern slowly enough that you can learn how to crochet a hat even if you're a complete beginner. While the stitch counts differ a bit based in the revised pattern below, this tutorial is still an excellent resource to learn all the techniques necessary to make this easy child's crochet hat pattern (or the adult size too!) Scroll to the middle of the original 1.5 Hour Beanie pattern to watch the video tutorial.
If you'd like to see me whip up one of these crochet hats in just one hour (or actually, in just one short one minute video), I've included a fun timelapse of this pattern coming together below.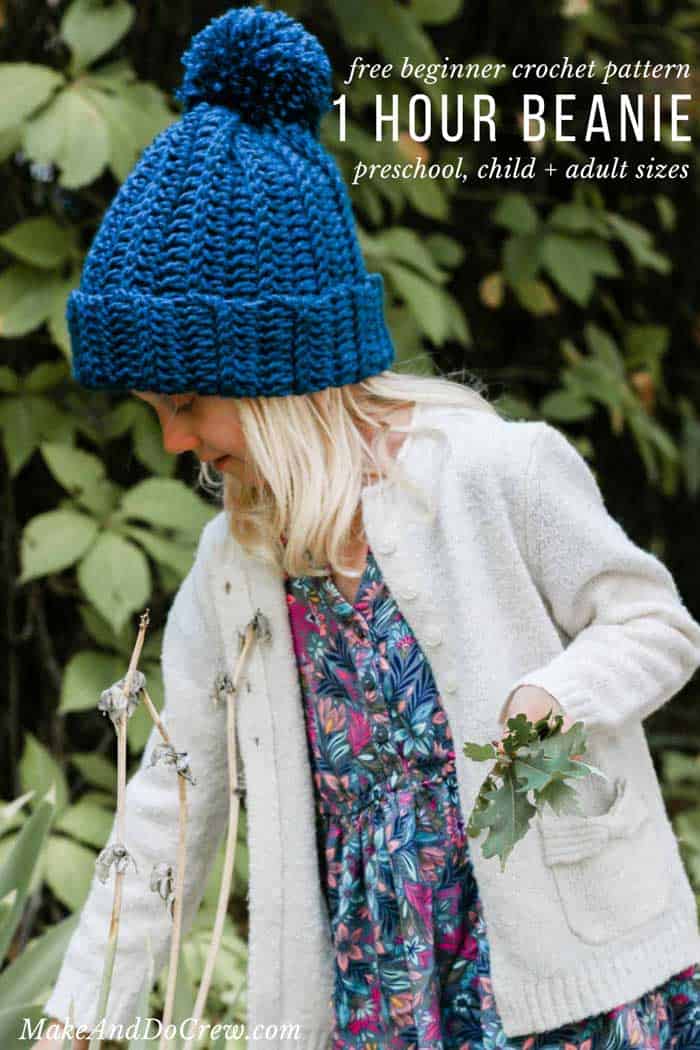 What Other Beginner Crochet Patterns and Tutorials Do You Want to See?
I love knowing that this very easy crochet hat pattern is helping some newbie crocheters tackle their first beanie. If there are other beginner projects you'd like to see patterns for, please don't hesitate to leave a comment below so I know what you'd like to make! In the meantime, below are a few other free crochet patterns from Make & Do Crew. See the rest here!
1. Pom Pom Party Hat // 2. Unity Crochet Plaid Hat // 3. Santa's Helper Elf Hat // 4. Everywhere Beanie
1 Hour Beanie
Free Crochet Hat Pattern
Purchase the ad-free, printable PDF with original and updated versions of pattern here.
Add this pattern to your Ravelry account here.
Pin it for later here.
Explanation:
Whether it's Christmas crunch time or there's snow in the forecast for the first time in years, this extremely easy crochet hat will be ready in time. It's worked flat in a rectangle and then seamed to form a beanie, making it a super speedy, mindless project to whip up in about an hour for the preschool size and a few minutes longer for the child and adult versions.
Skills required include double crochet and seaming, which is covered in the tutorial below. This is a very beginner-friendly crochet hat pattern!
Supplies:
• Lion Brand Color Made Easy (Weight: 5/bulky - 247 yds, 7 oz) – 1 ball
- Colors pictured: Millennial (195-194), Huckleberry ((195-110) and Alabaster (195-098)
• Tapestry needle
• Size L (8 mm) crochet hook
• Stitch markers or safety pins
• Fur pom pom or pom pom maker/small piece of cardboard
Sizes + Yarn Required:
Preschool (fits approx. 18-20" head circumference): approx. 125g yarn including pom pom
Older Child (fits approx. 19-21" head circumference): approx. 160g yarn including pom pom
Adult (fits 21-23" head circumference): approx. 200g yarn including pom pom
Notes on sizing: This pattern is quite forgiving in fit. If a slouchier fit is desired, create foundation chain for next size up, but work total number of rows for appropriate size. This will require additional yarn.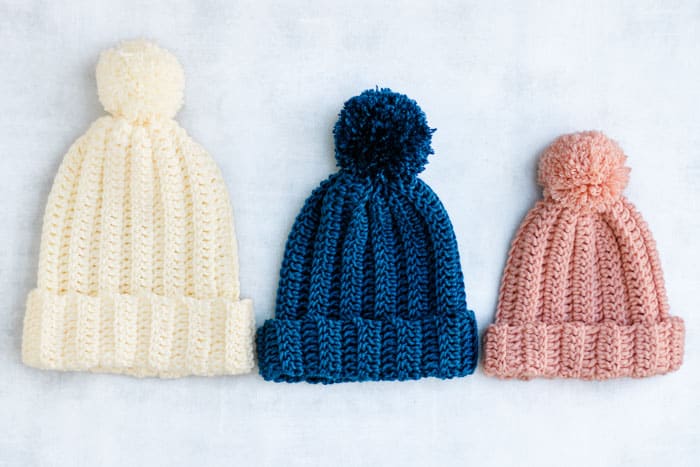 Gauge:
5.25 rows = 4"
11 dc = 4"
Abbreviations and Glossary (US Terms):
ch – chain
dcblo – double crochet through the back loop only
tch – turning chain
st – stitch
sk - skip
RS – right side
WS – wrong side
rep – repeat

Notes:
• Pattern is written in smallest size with larger sizes following in parenthesis. Preschool (Child, Adult)
• Depending on your crochet experience, plan for the preschooler size to take about an hour to create and the larger sizes 15-45 minutes longer.
• To substitute a yarn, try holding two strands of worsted weight together. In this case, it's a good idea to make a small gauge swatch to ensure the hat will fit.
• Find a video tutorial covering all the skills (just with different stitch counts than those listed below) in the original version of this pattern.
MAIN HAT RECTANGLE
Notes:
• Hat is worked back and forth in rows and seamed at the end. These rows will become the vertical ribs on the hat.
• The ch 3 at the beginning of each row doesn't count as a st.
• After Row 1, the double crochet stitches are worked only under the back loop of the stitch from the previous row. This is always the loop farthest away from you, regardless of which side of the crocheting is facing you. (This is called dcblo.)
Foundation Row: Ch 30 (34, 42).
Row 1: 1 dc in the fourth ch from the hook and each ch to end of row; turn. (27 (31, 39)
Row 2: Ch 3, dcblo in each dc to end of row; turn. (27 (31, 39)
Rep Row 2 20 (22, 24) more times to create a total of 22 (24, 26) rows.
Fasten off, leaving a 24" tail.
Rectangle dimensions should be approximately:
Preschool: 16.75" x 9.75"
Older Child: 18.25" x 11.25"
Adult: 19.75" x 14.25"
SEAMING RECTANGLE
Notes:
• To determine the RS and WS of your fabric: If you're right handed, the tail of your final row should be on the bottom left when the WS is facing. Left-handed crocheters: the tail of your final row should be on the top left when the WS is facing. (See photo above.)
• To best disguise the join, seam is worked only through the chain stitches and the loop of each dc st that is closest to the seam.
Lay rectangle horizontally with WS facing up. Use stitch markers or safety pins to pin seam if desired.
Thread tapestry needle with tail from fastening off. Work from the top of dc st into top of corresponding ch. Then work from bottom of next ch into the bottom of the next corresponding dc. Continue like this through the top of one dc to the top of one ch and then through the bottom of one ch and the bottom of one dc. Repeat until end.
Tie a simple sewing knot by inserting needle in crochet fabric to create a loop of yarn, then inserting needle through loop of yarn and pulling tight. This will prevent seam from puckering in next step. Do not fasten off.
CLOSING TOP
Using tapestry needle and strand of yarn leftover from previous seam, whip stitch around the top of the hat, working one whip stitch into each crochet row. Tighten circle and use tapestry needle to sew up any remaining opening in top of hat.
ATTACHING POM POM
Create a pom pom with a large pom pom maker or 2.5" piece of cardboard. See a step-by-step pom pom tutorial here.
Use tail from seam to sew fur or yarn pom pom to hat.
Fasten off and weave in ends.
Pop your new ribbed beanie on your noggin' and get to work on making one for everyone you know!
Related: 27+ Free Crochet Hats and Beanies for Adults
More Free Crochet Headwear Patterns for Kids and Adults
Now that you've mastered crocheting a chunky beanie, here are some free crochet headband patterns from Make & Do Crew you might enjoy. You can find all our hat patterns here!
1. Infinity Twist Crochet Headband - This modern twist crochet headband pattern looks like knit stockinette, but it's actually an easy variation on single crochet. Great crochet pattern for beginners!
2. Flower Crochet Headband - This free crochet flower headband pattern is surprisingly easy and it makes an adorable headpiece for a young flower girl. Also includes adult sizes!
3. Aspen Socialite Headband - This easy crochet headband doubles as an ear warmer, comes in baby-adult sizes, and makes a perfect last minute gift.
4. Summer Crochet Headband - Whether you're a vintage-loving gal or boho queen, this versatile summer crochet headband will let you skip a shampoo and look gorgeous doing it.