This modern crochet granny stitch blanket uses bold stripes and cheerful tassels to create a look that's perfect for kids' rooms and living rooms alike. Get the free pattern below or purchase the ad-free, printable PDF here.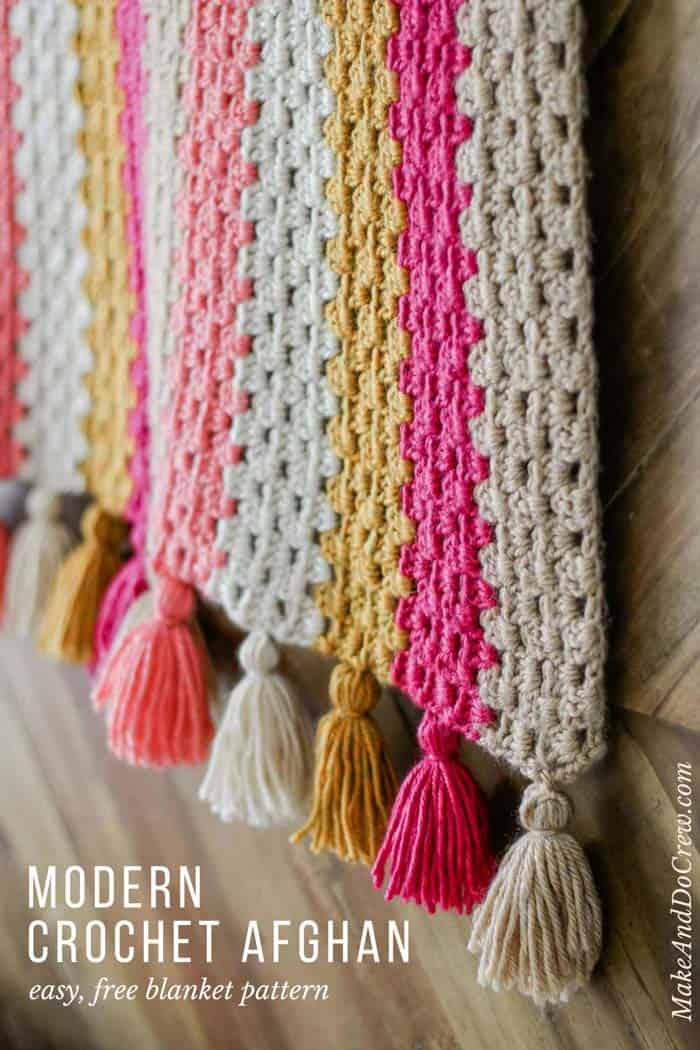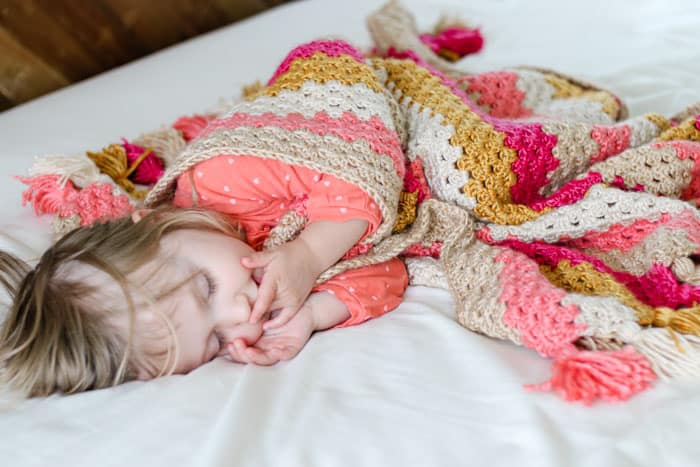 This pattern is part of a collaboration with my friends at Lion Brand Yarns. This post contains affiliate links.
The return of "Roseanne" to our television screens brings with it that beautiful and oh-so-funky crochet granny stitch afghan on the back of her couch. While I love seeing crochet front and center like this, I also like the idea of modernizing the classic crochet granny stitch to make it even more relevant to today's couches (or nurseries!)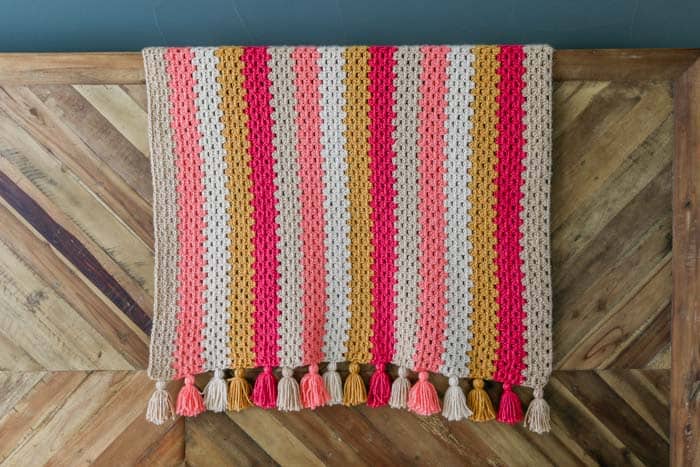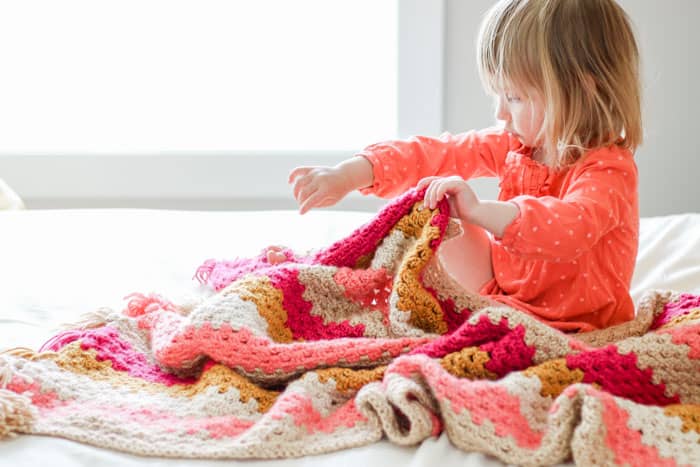 How to Crochet Granny Stripes
If you've ever crocheted a granny square you know that it's super fast because you don't have to look for the precise stitch to stick your hook in for each stitch. Instead, you just jab it in the general direction of the space between the clusters and you're off to the races.
Well, I'd venture to say that crochet granny stripes are even faster and simpler than a basic granny square because you don't have remember to increase, join rounds or do anything but whiz across the rows.
RELATED: Our Complete Guide to Temperature Blankets
Free granny stitch crochet patterns
I've designed a few other free crochet patterns using the granny stitch that you might enjoy too! You can see them all here.
The Yarn
This modern granny stitch blanket uses one of my favorite worsted weight options from Lion Brand called Heartland yarn. This is the same yarn I used in the Habitat Cardigan and it's perfect for everything from garments to baby blankets because it's super soft, drapey and comes in SO many great colors.

GET ALL THE YARN YOU'LL NEED IN ONE KIT
To make things extra convenient, Lion Brand has put together a kit for us. This kit includes all the yarn you'll need, plus a printed copy of the pattern. You can choose between a blue or a pink color palette, depending on the lucky recipient. See the color options here!
Making a granny stitch baby blanket
Speaking of colors, I think this palette is well-suited to a baby girl's nursery or fun, playful adult room, but the pattern would work equally well in neutrals or a more baby boy geared color scheme.
If you plan to make this granny stitch blanket for a small baby, you might decide to leave the tassels off to keep it as safe as possible. While they're pretty secure once attached (and so fun for toddlers to play with!), I think the tassels are best suited for children 3-years-old and up.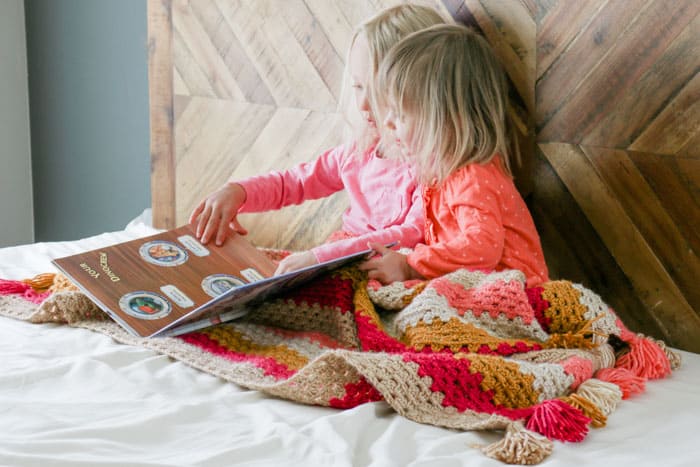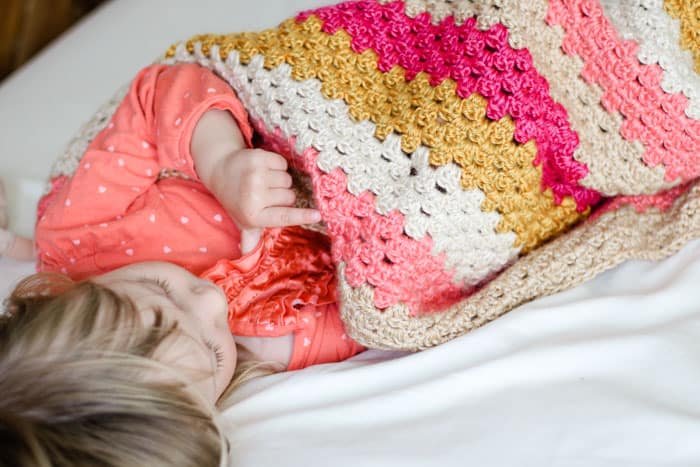 This is a beginner-friendly crochet afghan!
My sister, Mich, has been on a crash course in crochet this past year and I'm so proud of how she finished this afghan after putting it aside for several months. (In the meantime, she made the Staycation Cardigan, which shows you how much she's learned on her crochet journey!) If you've never crocheted a blanket before, this granny stripes are a great way to dip your toe in the water in a manageable and rewarding way. You can see all my other free crochet blanket patterns here.
I'd love to see your interpretation of this pattern--tag me on Instagram (@makeanddocrew) and use #makeanddocrew to show off your stitches!
Related: 33+ Crochet Border Patterns for Blankets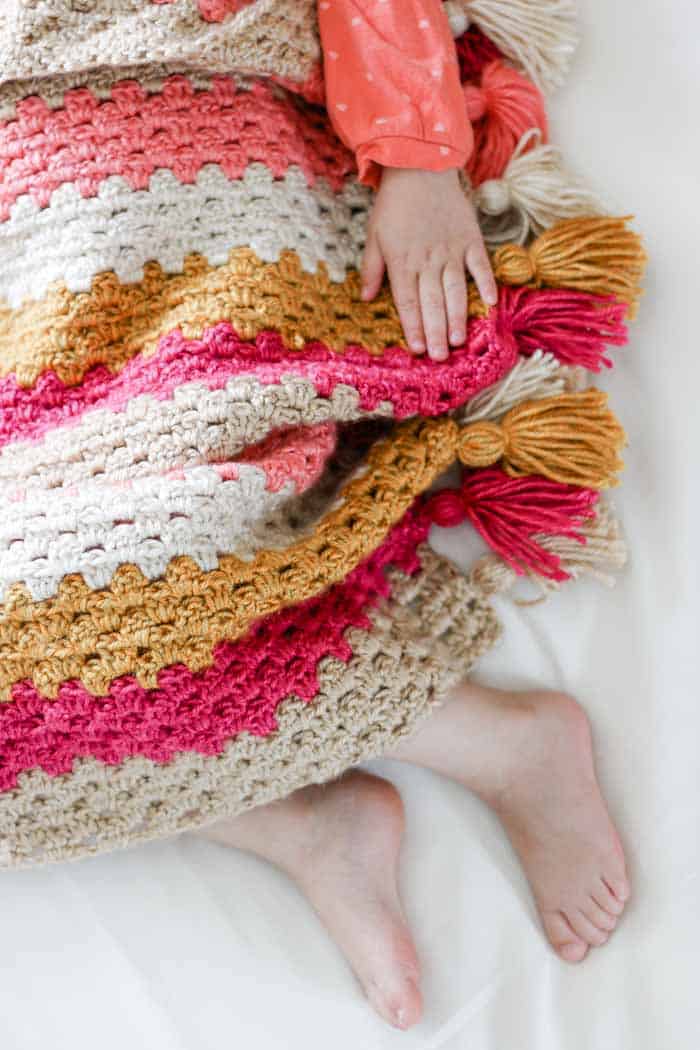 Good Morning Sunshine
Modern Crochet Granny Stitch Blanket
Free Pattern
Purchase the ad-free printable, PDF here.
Add this pattern to your Ravelry favorites or queue here.
Pin it to make later here.
Explanation:
Modernize a classic crochet staple with this super easy granny stitch blanket. Add some tassels to emphasize the playful color palette and you'll have the perfect blanket for the coolest kiddo in your life. Or choose neutral colors for a granny stitch couch throw that will stand the test of time. Either way, this blanket pattern comes together quickly and easily, making it wonderful for confident beginners or advanced crocheters looking for a good Netflix project. See "notes" below to learn how simple it is to customize the blanket size to suit your needs.
Supplies:
This pattern contains affiliate links at no extra cost to you.
Buy a kit with all the yarn you'll need, plus a printed copy of the pattern here.
• Lion Brand Heartland (Weight: 4/medium - 218 yds, 3.5 oz)
2 skeins of each color:
COLOR A: Great Sand Dunes (#136-123)
COLOR B: Biscayne (#136-195)
COLOR C: Yellowstone (#136-158)
COLOR D: Acadia (#136-098)
COLOR E: Zion (#136-104)
• Tapestry needle
• Size J (6.0 mm) crochet hook
• Tassel maker or 3.75" piece of cardboard
Measurements:
36 x 49" (excluding tassels)
Gauge:
4 dc clusters + 4 spaces = 4.25"
9 rows = 4"
Abbreviations and Glossary (US Terms):
ch – chain
cluster - grouping of 3 double crochet stitches
dc – double crochet
sp – space
tch – turning chain
st(s) – stitch(es)
rep – repeat
Overall Pattern + Sizing Notes:
• This pattern is very easy to adjust the size. Simply begin with a chain that is a multiple of 3 stitches. Then add 2 more stitches to the chain.
• To change colors at the end of the row, complete the final yo of the last dc of the row with the new color. Pattern is written with the assumption that the last dc before a color change will be worked this way.
• Whenever possible, crochet over yarn tails after switching colors to avoid needing to weave them in at the end.
• The ch 3 at the beginning of a row always counts as a dc.
MAIN BLANKET
Foundation Row: With color A, loosely ch 137.
Row 1: Sk 3 ch (counts as 1 dc), dc in fourth ch, *sk 2 ch, 3 dc all in next ch; rep from * until 3 ch remain, sk 2 ch, 2 dc in last ch; turn. (45 3dc clusters between a 2dc cluster at each end of the row)
From now on, all dc clusters are worked into the spaces between the clusters of the previous row.
Row 2: Ch 3, 3 dc cluster in next sp and each sp to end of row, dc in top of tch; turn. (46 3dc clusters between a single dc at each end of the row)
Row 3: Ch 3, dc in first sp (between dc and cluster at end of previous row), 3 dc cluster in each sp to end of row until 1 remains, 2 dc in last sp (between first cluster and tch of previous row); turn. (45 3dc clusters between a 2dc cluster at each end of the row)
Rep Rows 2 and 3, working a total of 5 rows in each of 5 colors. (Foundation row doesn't count as a row in the first stripe of color.) Repeat full 5 color sequence twice more for a total of [3] 5-row sections of each color. Work 5 more rows in Color A to finish blanket.
Order of colors pictured in the sample:
COLOR A: Great Sand Dunes (#136-123)
COLOR B: Biscayne (#136-195)
COLOR C: Yellowstone (#136-158)
COLOR D: Acadia (#136-098)
COLOR E: Zion (#136-104)
FINISHING
Notes:
• If you're making this blanket for a small baby, you may choose to leave the tassels off for safety reasons. The tassels should be fairly secure when attached as described, but I suggest they're saved for children 3-years-old and up.
Using a tassel maker set to 3.75" or a 3.75" piece of cardboard, wrap yarn approximately 30 times around the tube lengthwise. Insert 10" strand of yarn underneath wrapped yarn on one end of the tube. Tie a few secure knots, but do not trim these pieces. Use sharp scissors to cut the wrapped yarn at the other end of the tube. Fold the resulting strands of yarn in half and wrap a 10" piece of yarn around the top of the strands to create a small sphere of yarn. Trim the excess of these pieces. (For more tassel help, see the brief video tutorial below.)
Use the tails from the first 10" piece of yarn to tie the tassel on to the middle (3rd) row the appropriate afghan stripe. Weave in remaining ends.
In order to make tassels that coordinate with each stripe, make the quantities of tassels in each color listed below.
COLOR A: Make 8 tassels
COLORS B, C, D, E: Make 6 tassels
I love to see your finished projects! Use #MakeAndDoCrew and tag me Instagram (@MakeAndDoCrew) to show off your stitches and have a chance to be featured.
Now that you've finished this modern blanket pattern, you might enjoy these free crochet afghan patterns as well!
1. Easy Ripple Stitch Baby Blanket
2. Speedy and Soft Baby Blanket