Put a modern spin on a crochet classic with this simple crochet granny stitch shawl! Find the full free pattern below or purchase the ad-free, printable PDF here. Scroll down to learn how to win a heap of free yarn from Lion Brand!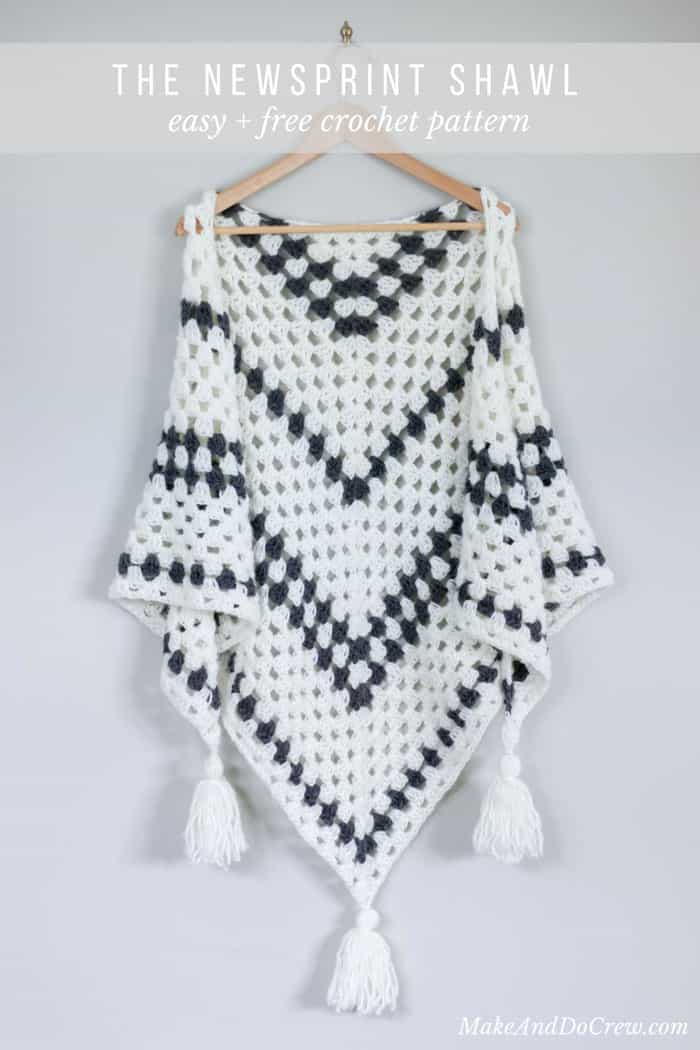 This simple crochet granny stitch shawl post is a collaboration with my friends at Lion Brand Yarn. This post contains affiliate links.
As the oldest daughter in my family and one of the oldest cousins in my clan, I spent my childhood "leading" (ie. bossing) the younger kids into activities that suited my interests.
One of my favorite things to lure everyone into was "Crochet Club" where we'd all go to Walmart or Michael's and buy the biggest, most affordable skein of acrylic yarn and sit around working up massive afghans in single crochet. (It was the only stitch I knew at the time, and therefore the only stitch taught at crochet club.)
I suppose that it's that same desire to sit around with like-minded people and work on projects together that made me interested in starting a blog. (Which I mulled over for YEARS before I actually did it!) One of the things I never anticipated when I sheepishly launched Make & Do Crew though is how much the site and social media platforms we hang out on actually do feel like the crochet club of my childhood dreams.
So today, I'm so excited to be participating in the Great Granny Blog-Hop with some of my favorite designers. Led by Michele of Stitch and Hustle, each designer created a free crochet pattern using the granny stitch and together we're sharing them with you today! I would love for you to go check out each of these bloggers because I think you'll find a deep well of crochet inspiration.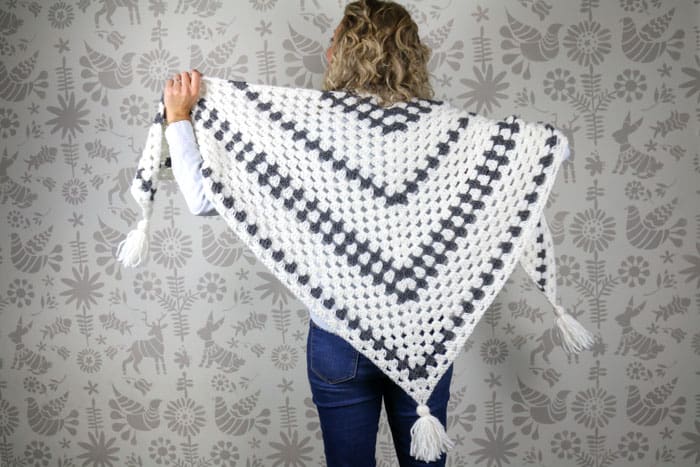 For my pattern for the Great Granny Blog Hop, I decided to design a granny stitch shawl that would be simple to work up and modern and neutral enough to wear all season long.
I used Lion Brand New Basic 175 yarn for this Newsprint granny stitch shawl because I wanted the shawl to be able to feel full and cozy, without being cumbersome and heavy. New Basic 175 is basically like crocheting with that strand of white fluff that trails behind an airplane in the sky, so it was perfect for the job!
You'll have this granny stitch shawl pattern memorized after a few rows at which point you can sit back, put on some Netflix, and daydream until you're finished. Sounds like a perfect fall weekend to me.
And if you just can't get enough of the granny stitch, you might like to check out these other free crochet patterns I've designed.
More Free Crochet Scarves + Shawls Patterns
Whether you adore c2c crochet scarves, Tunisian crochet shawls or gorgeous lace scarves, we've got you covered. Many of these patterns make quick gifts to crochet and great gift ideas for Mother's Day.
See more free crochet scarves + shawls patterns →
Now, the best part! Lion Brand jumped on board as sponsor of the Great Granny Blog Hop and is giving one lucky winner the yarn to make the each of the six free granny stitch patterns! Seriously, how awesome is that? That's enough yarn to keep you busy until 2018! The giveaway is open until Friday, September 29, 2017 at 11:59 EST. Scroll to the bottom of the post to enter! Good luck!
Please do not re-publish this pattern as your own. You may make items to sell with this pattern. In exchange, please link back to this post. Do NOT use my photos as your own sales photos. ­­You can read my policies here. Now let's make something awesome!
The Newsprint Granny Stitch Shawl
Free Crochet Pattern
Purchase the ad-free, printable PDF here.
Add this pattern to your Ravelry favorites here.
Pin it for later here.
Explanation: The Newsprint granny stitch shawl uses rhythmic stripes to modernize this iconic crochet stitch. The resulting piece is light, super warm and can be worn around the shoulders as a shawl or around the neck as a triangle scarf. Add tassels or fringe to create a versatile statement piece you can wear all season long.
Supplies:
• Lion Brand New Basic 175 (Category 4/medium - 175 yds, 3.5 oz)
- MC: Cream (color #098) – 3 skeins
- AC: Charcoal (color #152) - 1 skein
• Tapestry needle
• Size N (10 mm) crochet hook
• Cardboard toilet paper tube or tassel maker
Measurements:
63" x 32" (not including tassels)
You can easily adjust the size of the shawl by omitting or adding rows.
Gauge:
3 granny clusters + 2 ch1sps = 4"
5.5 rows = 4"
Abbreviations and Glossary (US Terms):
ch – chain
dc – double crochet
tch – turning chain
st – stitch
sp – space
sk - skip
rep – repeat
yo - yarn over
ch1sp – the space created by one chain
ch2sp – the space created by two chains
granny cluster – 3 dc worked into one ch1sp
Triangle Shawl
Notes:
• Ch 4 at the beginning of each row counts as one dc and one ch1sp.
• The first and last granny clusters of each row should have four total stitches instead of three like the rest of the clusters.
• To give your triangle a nice, straight edge at the top, work the first ch 4 and the last dc of each row loosely.
• To change colors between rows, complete the final yo of the last dc of the row with the new color. Pattern is written with the assumption that the last dc before a color change will be worked this way.
Base ring: Using MC, ch 4 and join with a sl st to first ch to form a ring.
Row 1(RS): Ch 4, 3 dc in ring, ch 2, 3 dc in ring, ch 1, dc in ring; turn.
Row 2: Ch 4, 3 dc in first ch1sp, ch 1, [3 dc, ch 2, 3 dc] in corner ch2sp, ch 1, [3 dc, ch 1, dc] in last ch1sp; turn.
Row 3: Ch 4, 3 dc in first ch1sp, [ch 1, 3 dc] in next 1-ch sp, ch 1, [3 dc, ch 2, 3 dc] in corner ch2sp, [ch 1, 3 dc] in next 1-ch sp, ch 1, [3 dc, ch 1, dc] in last ch1sp; turn.
Switch to AC at the end of Row 3 as described in the notes above. Work Row 4 in AC.
Row 4: Ch 4, 3 dc in first ch1sp, [ch 1, 3 dc] in each 1-ch sp until corner, ch 1, [3 dc, ch 2, 3 dc] in corner ch2sp, [ch 1, 3 dc] in each 1-ch sp until one ch1sp remains, ch 1, [3 dc, ch 1, dc] in last ch1sp; turn.
Repeat Row 4 (27) more times for a total of 31 rows, switching colors as described below.
Row 5: MC
Row 6: AC
Rows 7-12: MC
Row 12: AC
Rows 14-19: MC
Row 20: AC
Row 21: MC
Row 22: AC
Rows 23-28: MC
Row 29: AC
Rows 30-32: MC
Fasten off and weave in ends.
Adding Tassels
Using MC yarn and a cardboard toilet paper tube or a 4.5" piece of cardboard", wrap yarn approximately 35 times around the tube lengthwise.
Insert 10" strand of yarn underneath wrapped yarn on one end of the tube. Tie a few secure knots, but do not trim these pieces. Use sharp scissors to cut the wrapped yarn at the other end of the tube.
Fold the resulting strands of yarn in half and wrap a 10" piece of yarn around the top of the strands to create a small sphere of yarn. Tie this strand securely around the tassel.
Use the tails from the first 10" piece of yarn to tie the tassel onto the corner of the scarf and weave in ends. Repeat twice more for two additional corners.
Let your new granny stitch shawl fall over your shoulders like a light snow and go make some hot cocoa!
I love to see your finished projects! Use #MakeAndDoCrew and tag me Instagram (@MakeAndDoCrew) to show off your stitches and have a chance to be featured.
That was so fun! Now what?
Invitation to our Facebook group
Come discuss crocheting granny square shawl patterns and lots of other crochet projects and techniques in our Make & Do Crew Facebook group. Here thousands of helpful crocheters answer each others questions and share their stitches. Come join us here.
More Free Scarves + Shawls Crochet Patterns
Now that you're on a roll, you might also enjoy these free crochet patterns from Make & Do Crew:
1. The Revival Scarf - free crochet triangle scarf pattern
2. The Dwell Sweater - free, easy crochet sweater pattern + video tutorial
3. Cabin Boots - free crochet slipper pattern using flip flops for soles
4. The Sedona Fringed Throw - free crochet afghan pattern using two weights of yarn
The Great Granny Blog Hop Yarn Giveaway
by Lion Brand
To enter the giveaway, please follow each of the six bloggers on one social media platform listed below. Gain additional entries by following the bloggers on multiple channels. You may share about the giveaway once each day to gain an additional bonus entry.
Giveaway open to residents of the US and Canada only. Giveaway closes Friday, September 29, 2017 at 11:59pm EST. Good luck!