This free chunky cowl pattern works up in a jiffy and feels like a blanket of clouds around your neck!
If a person whose eyes are bigger than their stomachs takes on more food than they need, what is a person who tackles far bigger crochet projects than are necessary?
Someone whose ideas are bigger than their hands?
Maybe so. Either way, I am that person. Always.
I get inspired by a big project (like this Beekeeper's Quilt) and then just dive in before considering if I really have the hours in the day to complete it.
So lately, I've been trying to be more mindful about intentionally downsizing my projects. Quick cowls. Small flowers. Easy gifts.
Don't get me wrong, I'll always have some sort of massive work in progress (like this Christmas beast!) laying around the house for my family to trip over, but in 2017, you can also expect me to share more bite-size crochet projects.
This chunky cowl pattern was the outcome of my deliberate efforts to rein in my project scale. I needed a gift for a friend. I wanted it to feel luxurious, but I also had only one evening to make it.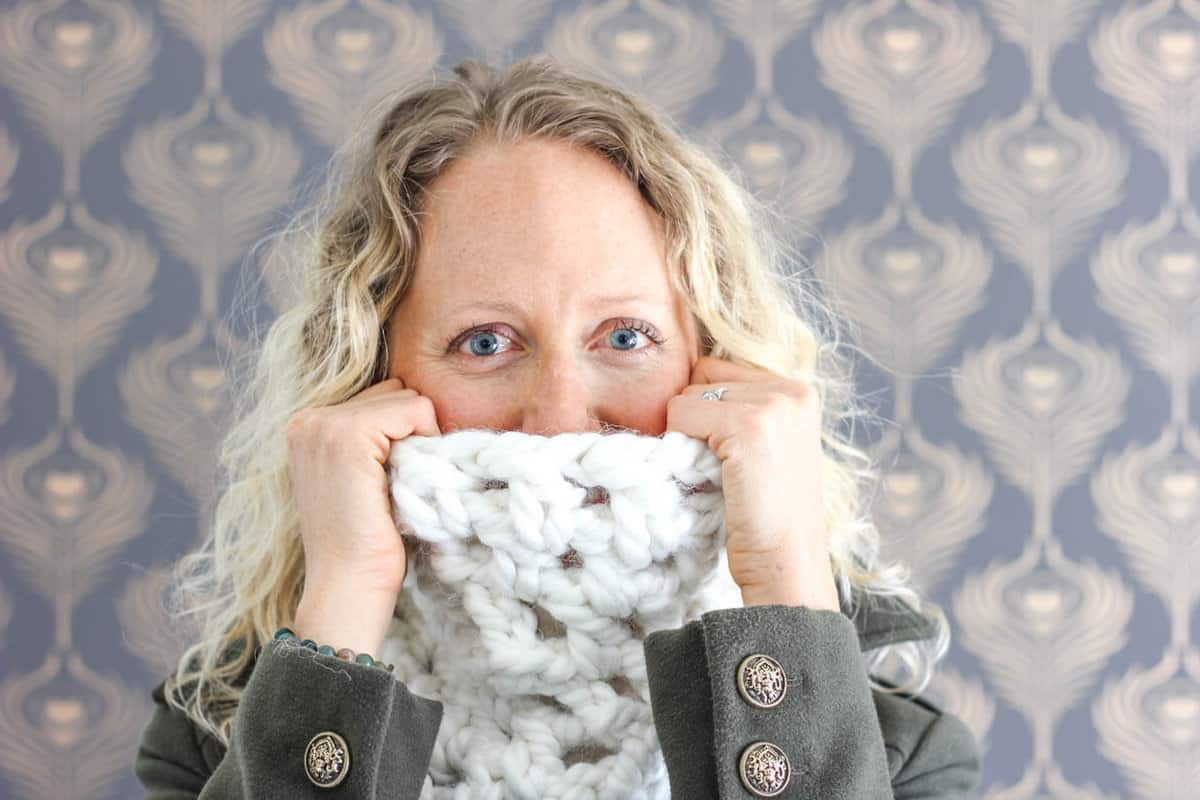 Out came this "Cloud Necklace" chunky cowl pattern! You can make it with one skein of yarn in less than an hour! How's that for manageable?
You may make items to sell with this pattern/tutorial. In exchange, I ask that you link back to me into two places — one link to my homepage (MakeAndDoCrew.com) and one link to this post page. Do not use my photos as your own sales photos. Do not distribute my patterns/templates as your own. View all my policies here. Now let's make something awesome!
More Free Crochet Scarves + Shawls Patterns
Whether you adore c2c crochet scarves, Tunisian crochet shawls or gorgeous lace scarves, we've got you covered. Many of these patterns make quick gifts to crochet and great gift ideas for Mother's Day.
See more free crochet scarves + shawls patterns →

"Cloud Necklace" Free Crochet Chunky Cowl Pattern
Add this pattern to your Ravelry favorites here.
Pin it for later here.
Supplies:
So you can spend more time crocheting and less time shopping, this post contains affiliate links at no extra cost to you.
• Loops & Threads Chunky Braid, Color: White (49.4 yards / 226 grams)
• Size Q crochet hook
• Sewing needle and thread to match yarn
Gauge:
The gauge isn't critical to this pattern, but approx 3 stitches worked in pattern and 2 rows = 4".
Abbreviations - US Terms:
Ch - chain
Dc - double crochet
Sl st - slip stitch
Sk - skip
Notes:
• Ch 4 at beginning of row counts as 1 dc and 1 ch.
• Pattern is worked in rounds. Join rounds with a slip stitch into the third chain from the beginning of the round.
To Begin Chunky Cowl:
Leaving a 3" tail on your slip knot, ch 28. Join with a sl st taking care not to twist chain.
Round 1: Sl st into first ch, ch 4, *sk 1 ch, dc, ch 1; repeat from * until end of round, join with a sl st into third ch from beginning of round.
Round 2: Sl st into first ch-1 sp, ch 4, *dc in next ch-1 sp, ch 1; repeat from * until end of round, join with a sl st into third ch from beginning of round.
Rounds 3-5: Repeat Round 2.
Fasten off.
Finishing:
Weave ends in as well as you can and use sewing thread and a few knots to tack ends down.
That was so fun! Now what?
Invitation to our Facebook group
Come discuss crocheting chunky cowl patterns and lots of other crochet projects and techniques in our Make & Do Crew Facebook group. Here thousands of helpful crocheters answer each others questions and share their stitches. Come join us here.
More Free Scarves + Shawls Crochet Patterns
And for more quick DIY gift ideas, check out this collection of crochet projects you can make for less than $5!