This chunky crochet blanket pattern makes a perfect timeless baby gift, but once you feel how soft it is, there's no way you won't want to make one for yourself too! The pattern explains how to make larger sizes and it works up super quickly in Bernat Blanket Yarn. Get the free pattern below or purchase the printable, ad-free PDF here.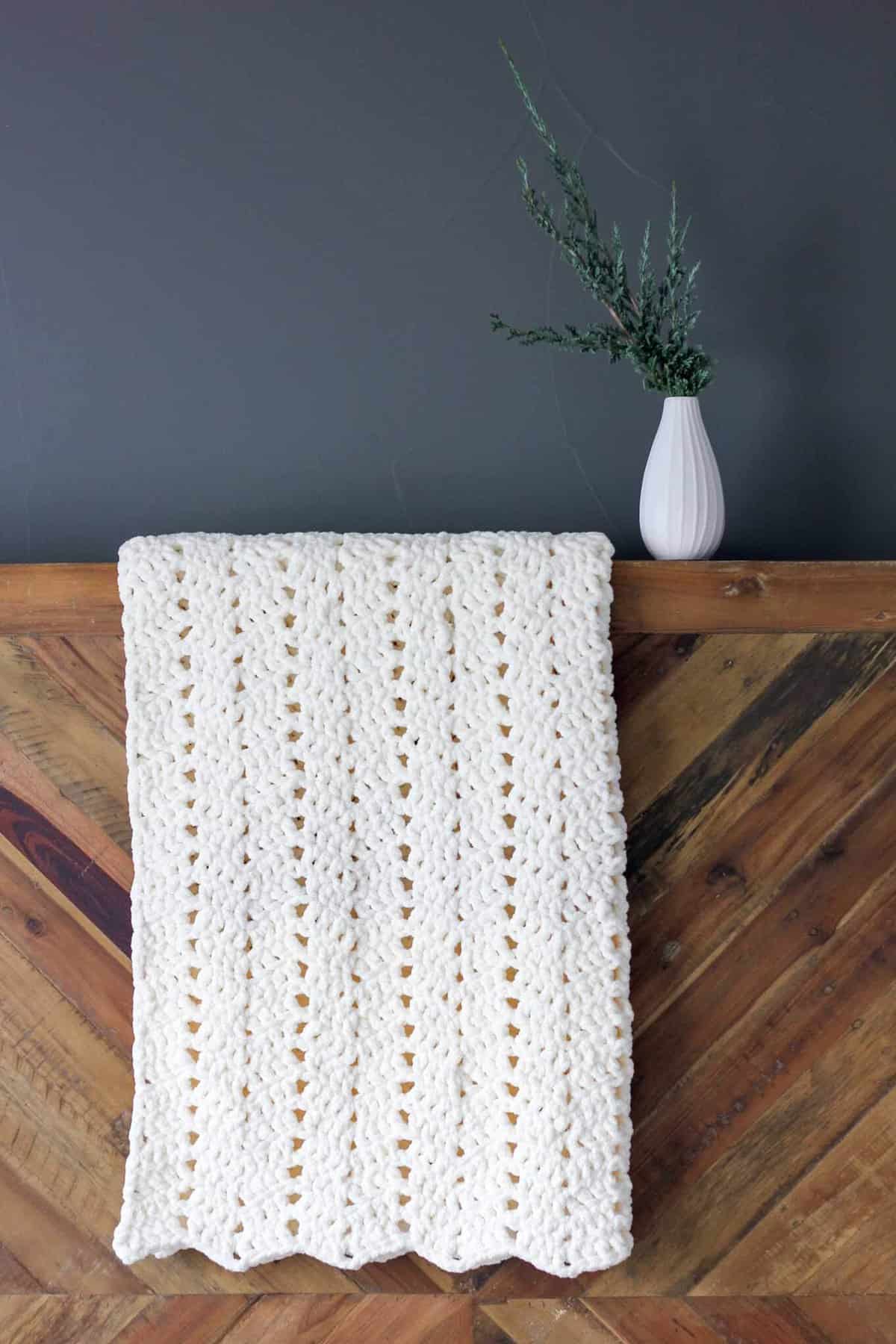 Okay, imagine this for a sec. Imagine you were able to pluck a few choice clouds out of the sky--the brightest, fluffiest, most day-dreamiest clouds--and then you used your perfectly old-fashioned, Laura-Ingells-Wilder-style yarn spinner to turn those fluffy balls of sky into long noodles of cloud yarn.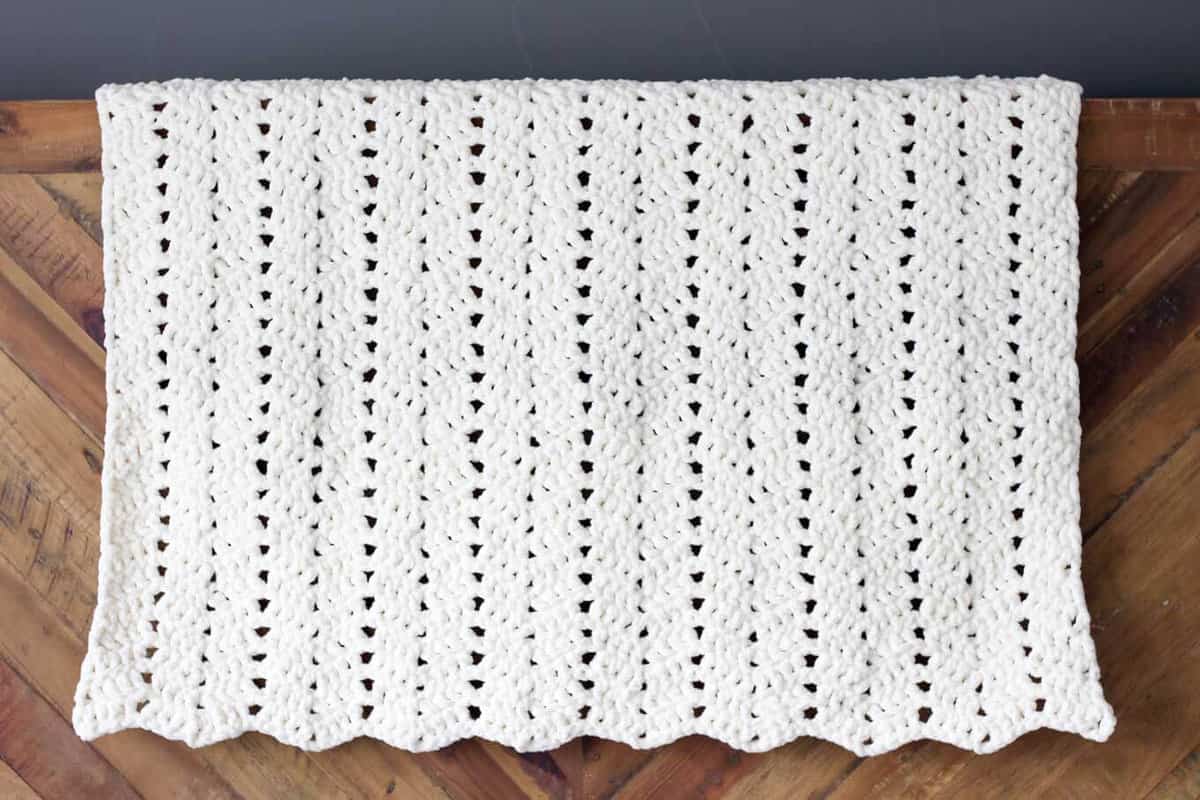 Now imagine if you took that cloud yarn and crocheted a perfectly classic and modern (and easy!) blanket to create the most timeless and darn squishiest baby gift anyone has ever received in the history of time.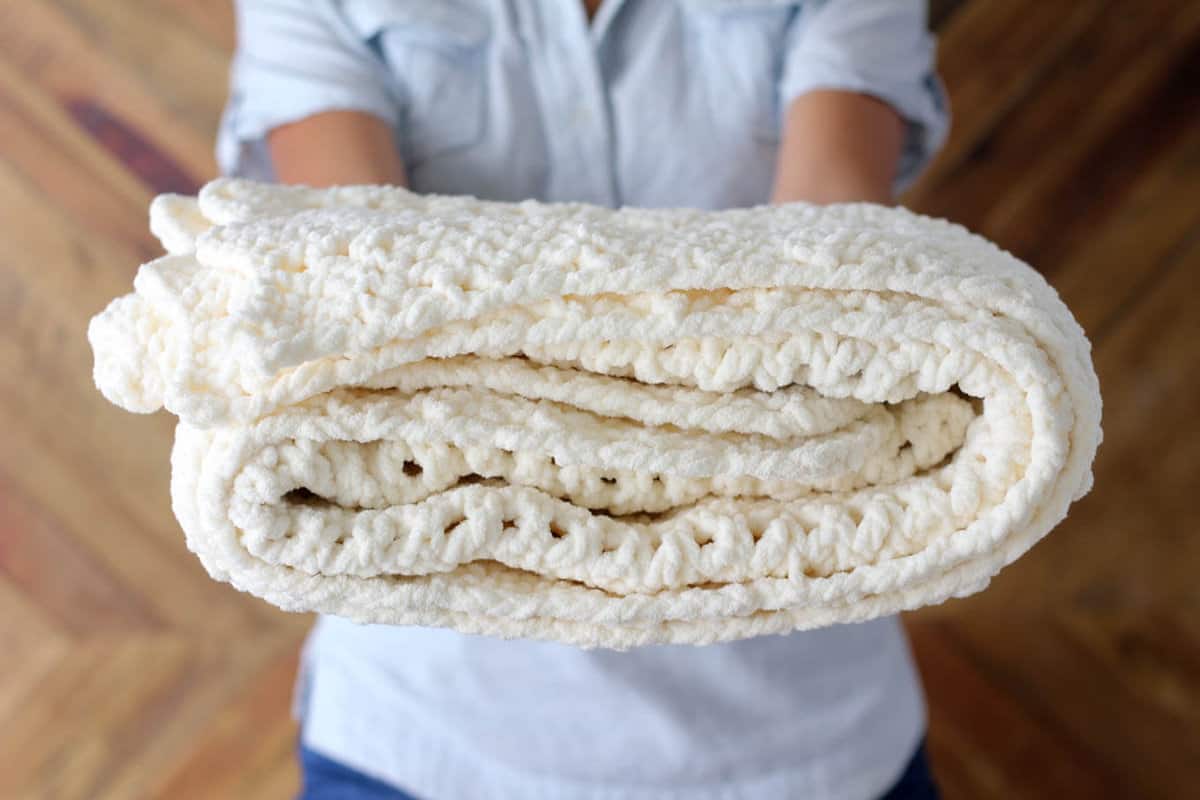 Guys, this is what my sister did! Well, okay, the cloud spinning part was more like a Michael's shopping trip, but either way, she made what is probably one of my favorite chunky crochet blankets ever. (And I kind of love all chunky crochet blanket.)
If we're Instagram friends, you might know that my sister, Mich, has gotten really into upping her crochet game recently and we've been collaborating on designing simple projects that build her skills, but don't burn her out. Before busting out this beauty, she hadn't crocheted much beyond basic beanies and scarves. THAT, my friends, is how simple this chunky crochet blanket pattern is to learn!
We decided to use the "Peephole Chevron" stitch for this project after trying many others. Bernat Blanket Yarn is quite bulky and more complicated stitch patterns were getting lost in all it's fluffy goodness. I'm so glad we kept experimenting though because I adore how the subtle chevron pattern shines through in this chunky yarn. It's a perfect blend of delicate, soft and gender-neutral, and the resulting blanket is practical enough to actually get used (and washed!) and used again by a new baby.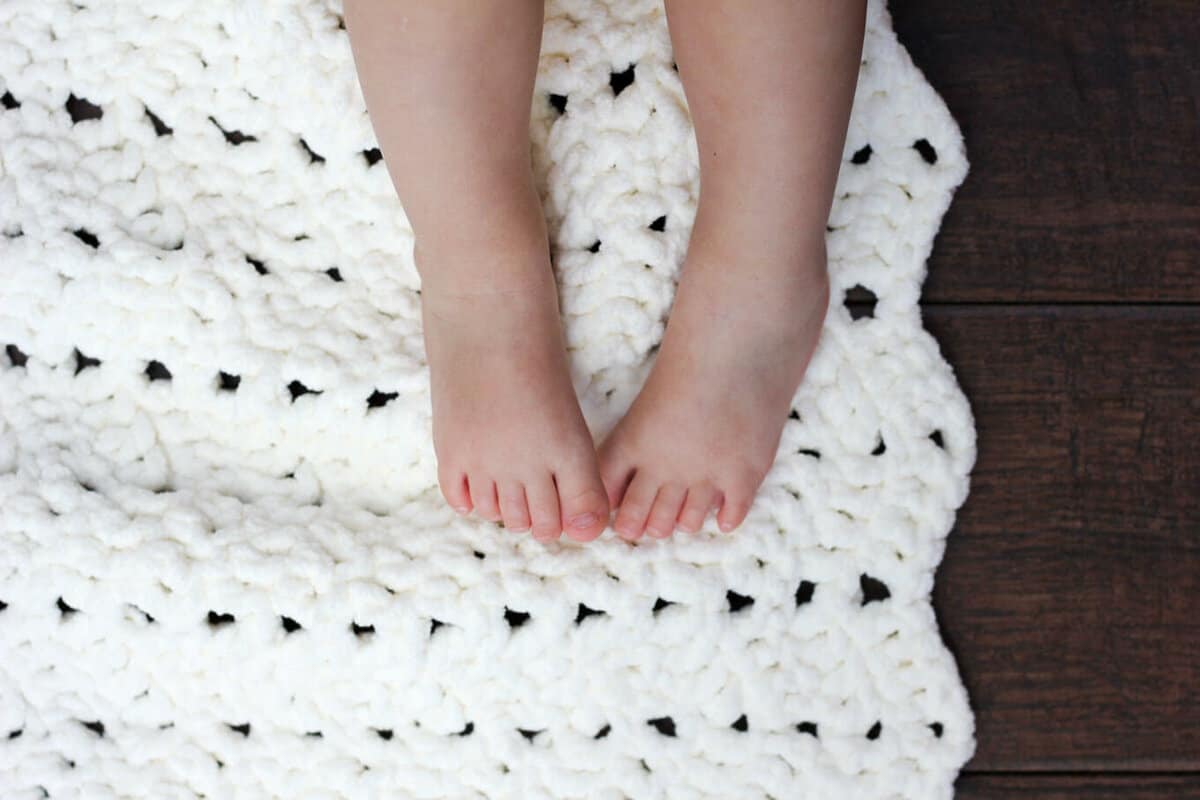 If you have your heart set on a 30 feet x 30 feet version of "The Snow Drifter" afghan (me too!), don't fret. Below I've included instructions for how to adjust the stitch counts to make any size blanket.
Please do not publish or share this pattern as your own. You may make items to sell with this pattern. In exchange, please link back to MakeAndDoCrew.com/free-modern-chunky-crochet-blanket-pattern. Do NOT use my photos as your own sales photos. ­­View my policies here. Now go make something awesome!
Related: 33+ Crochet Edgings for Blankets
"The Snow Drifter" Chunky Crochet Blanket Pattern
Purchase the ad-free, printable pdf of this pattern here.
Add this pattern to your Ravelry queue.
Finished Measurements: 35 x 46"
To adjust the size, see note below.
Supplies:
So you can spend more time crocheting and less time shopping, this pattern contains affiliate links at no extra cost to you.
• Bernat Blanket Yarn – 2.5 skeins in Vintage White (approx. 650 yards)
• Tapestry needle
• Size N [9 mm] crochet hook
Gauge:
10 st in pattern = 4"
4.5 rows = 4"
Gauge is not critical for this pattern.
Abbreviations:
dc – double crochet
ch – chain
sk – skip
st – stitch
Pattern Notes:
To increase or decrease the size of your afghan, begin with a chain that is a multiple of ten stitches (10, 20, 30…) and then add two stitches to that number to determine your foundation chain (12, 22, 32…) Each additional 10 chains you add will increase the width of the afghan by about 4".
Foundation Row: ch 92.
Row 1: sk 2ch (counts as 1 dc), 1 dc in each of next 4 ch, *sk 2ch, 1 dc in each of next 4ch, 2 ch, 1 dc in each of next 4ch; repeat from * to last 6ch, sk 2 ch, 1 dc into each of next 3ch, 2 dc in last ch; turn.
Row 2: 3ch (counts as 1 dc), 1 dc into first st, 1 dc in each of next 3 sts, *sk 2 sts, 1 dc in each of next 3 sts, [1 dc, 2 ch, 1 dc] into 2ch sp, 1 dc into each of next 3 sts; rep from * to last 6 sts, sk 2 sts, 1 dc in each of next 3 sts, 2 dc in top of tch; turn.
Repeat Row 2 49 more times for a total of 50 rows.
Finishing:
Fasten off and weave in any remaining ends.
Strip down to your skivvies and roll yourself up like a burrito in your new crochet cloud tortilla. Cozy. Cozy. And more cozy.
If you like to crochet awesome handmade things for your home (who doesn't!?), you might also like these patterns:
"Happy Hexagons" Free Crochet Afghan Pattern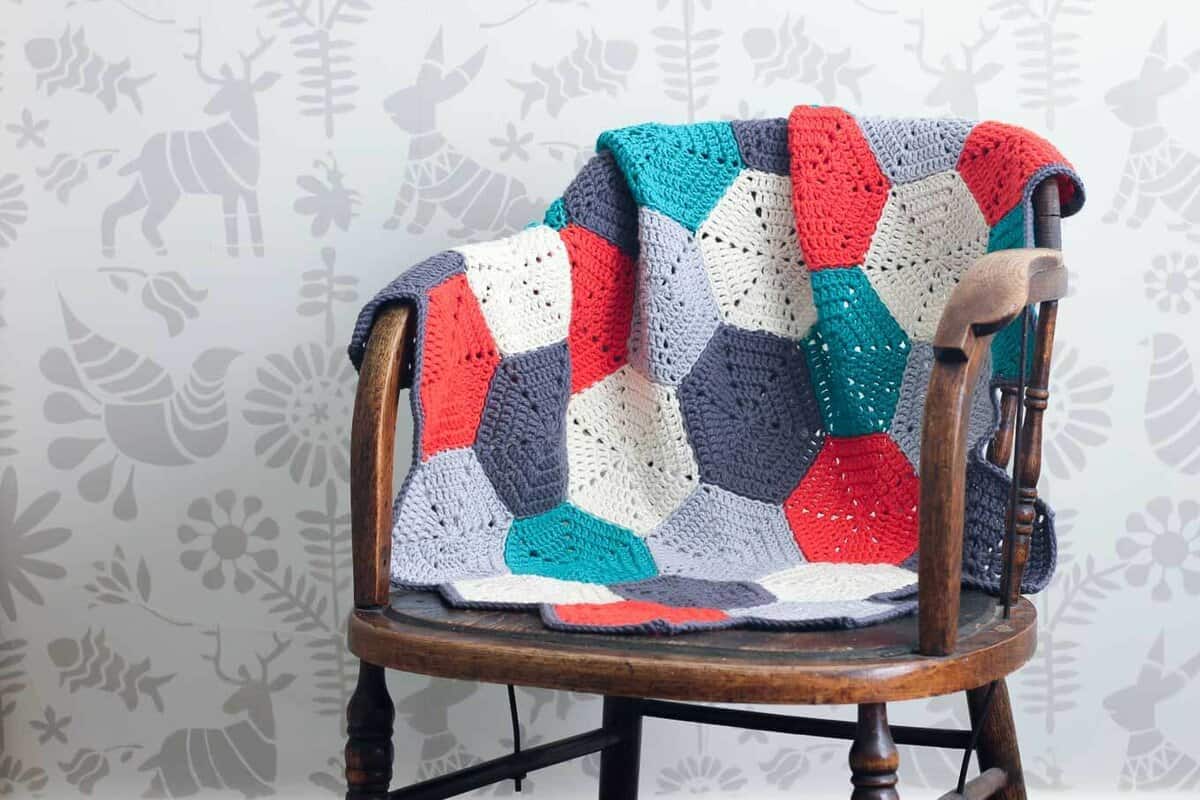 Dollar Store Twine + Thrifted Belt Simple Basket - Free Pattern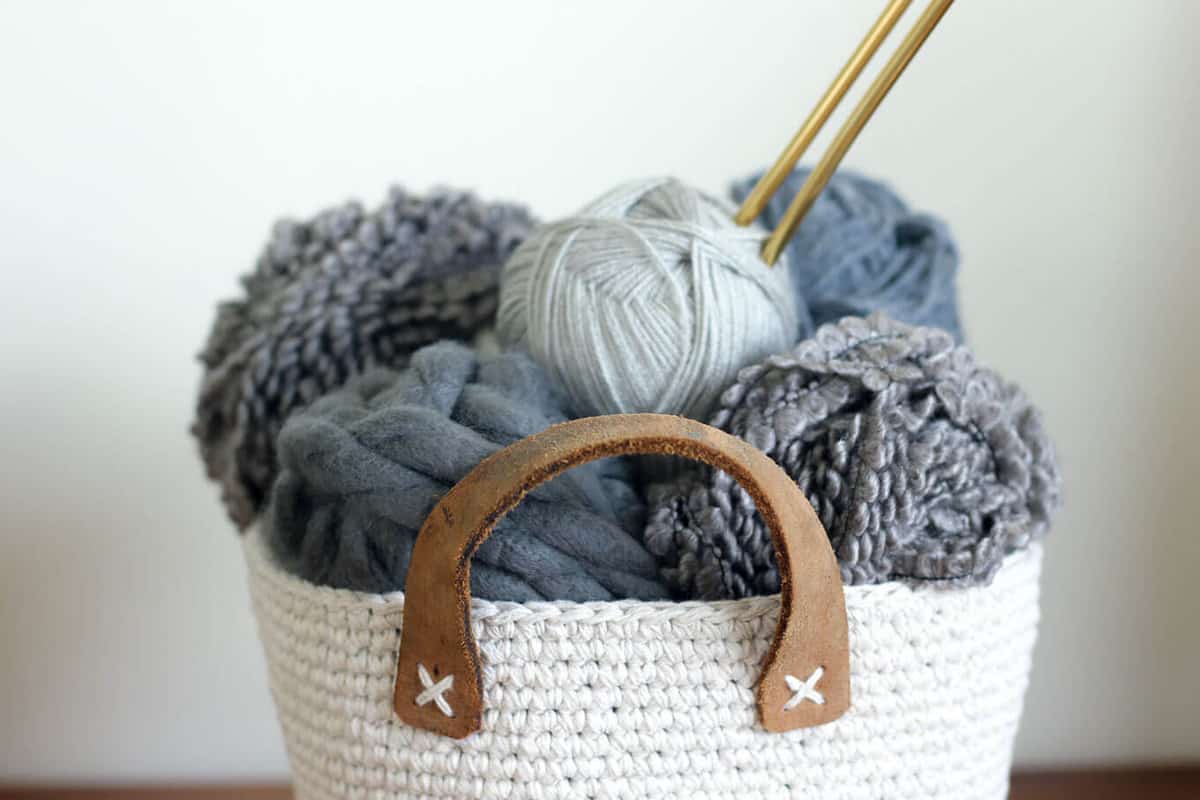 "I Heart You" Free Crochet Pillow Pattern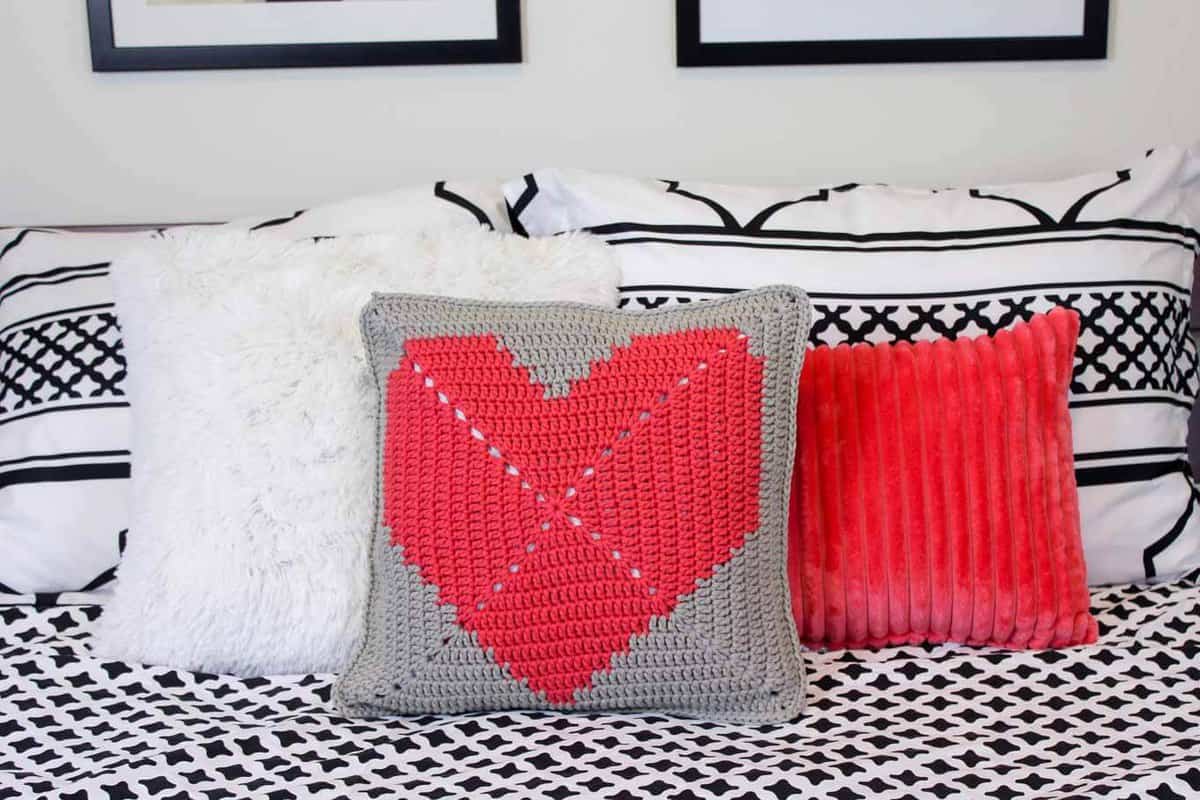 And of course, AllFreeCrochet.com has plenty of fantastic chunky crochet blanket patterns if you run out of projects to make here!