Jump to:
Step 2: Choosing Your Yarn and Hook
Many beginner crocheters will overlook choosing the right yarn. The type of yarn you choose affects how your finished blanket looks, if it'll hold up to washing, and if it'll take eons to finish the pattern.
Here are the qualities to consider in any skein of yarn:
Fiber type - blankets often use wool, cotton, acrylic and blends
Weight - such as worsted weight yarn, DK yarn, chunky yarn and super bulky yarn.
Yarn Texture - variations include boucle, faux fur, single ply, chainette and more
Colors - the fun part!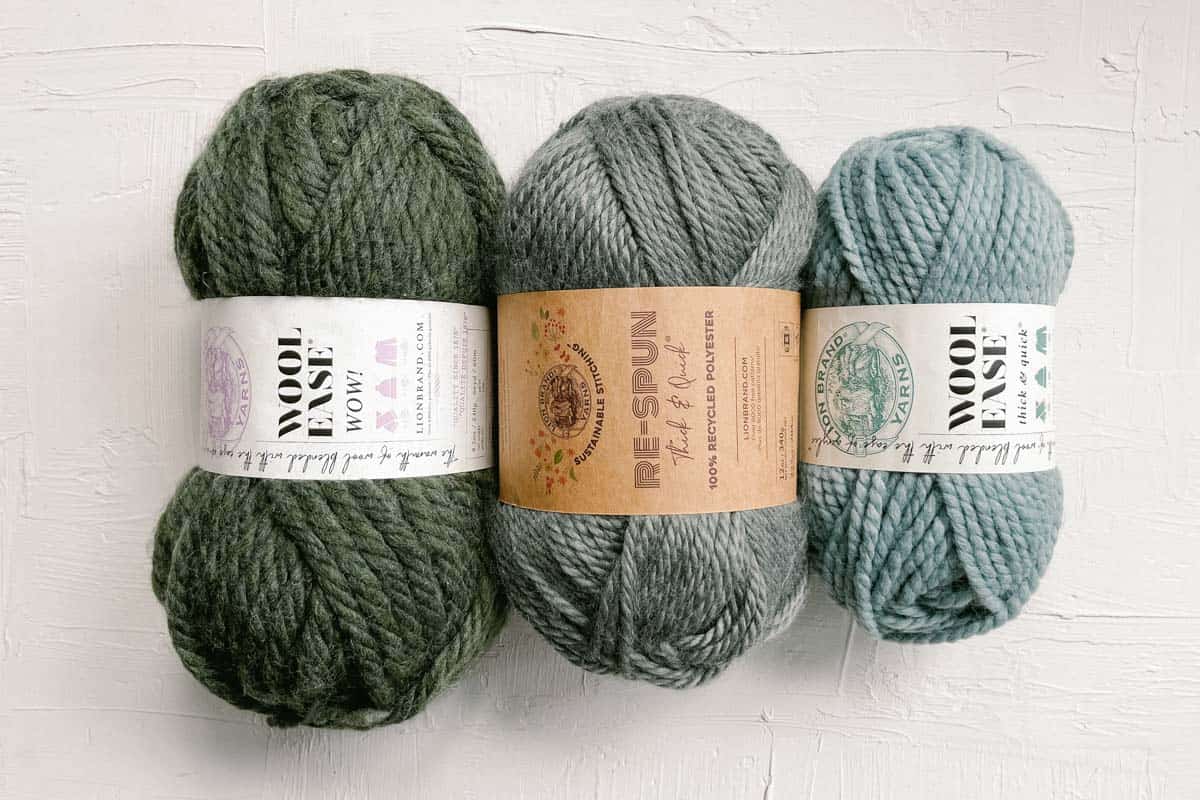 Additional Supplies
In addition to yarn and a hook, it's helpful to have a few other supplies on hand when crocheting a blanket.
Tapestry Needle (aka Yarn Needle) - Used for weaving in ends
Measuring Tape - To check gauge and blanket size
Stitch Markers - For keeping track of stitch counts and placing in live loop of blanket so it doesn't unravel when you're not working on it
How to Check Your Stitch Gauge
The best way to start a crochet blanket is to make a small square of stitches (called a gauge swatch).
In a blanket project, meeting the exact pattern gauge is sometimes less important than when making a fitted item like a crochet sweater. It's still a good idea to make a practice swatch though and many crochet patterns include specific instructions for checking the gauge.
By crocheting a quick gauge square, you'll ensure your stitches are the same size as the designer's. Why is this important? It ensures your crochet blanket will end up the size specified in the pattern.
Adjusting Stitch Tension
The general rule is that if you have too many stitches in four inches, you should try the swatch again with a larger hook. If you don't have enough stitches in four inches, swatch again with a smaller hook.
Remember, stitch tension is personal. It's always okay to use a different hook size than what's listed in the pattern in order to achieve an accurate gauge.
Now that we've covered the basics of crocheting an afghan, let's dive into a simple chunky throw blanket pattern that's perfect for beginners.
In this fast blanket pattern, subtle herringbone stripes combine with a luxe fur trim to make the throw everyone will grab first on a chilly evening. You'll love running your hands over the soft fur edging while you cozy up under the weight of this sophisticated blanket.
If this is your first blanket project, consider skipping the fur trim in favor of an easy single crochet border.
Skill Level
Beginner blanket skills you'll practice include single crochet and working the herringbone stitch. Learn from the included video tutorial if this stitch is new to you. This is a quick, satisfying project that requires very little crochet experience.
Row 2: Ch 3, sk first st, 1 HBdc in next st and every st to end of row working HBdc in turning ch; turn.
Have Fun
Enjoy the process of crocheting blankets and switch gears with a fast project when you need to take a break. Creating warmth and comfort for yourself and loved ones is a super power!