This free crochet afghan pattern uses hexagon blocks, so you can make a modern baby blanket or easily customize the size however you wish.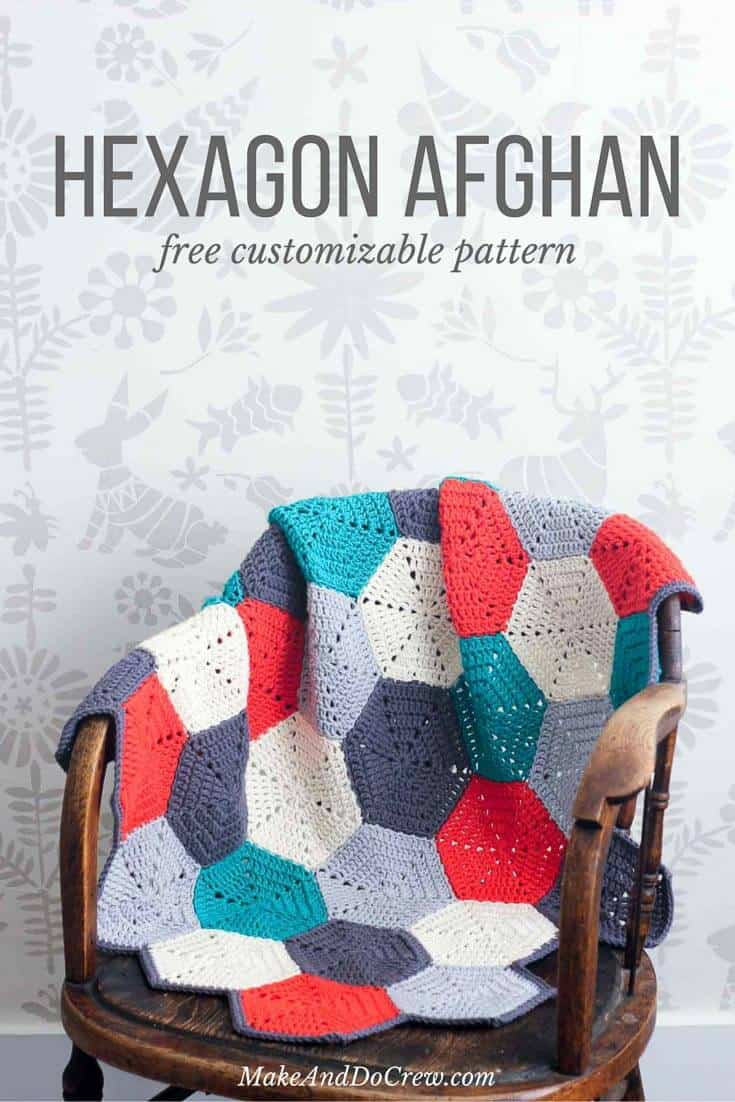 If my spirit animal had a spirit shape, it would be hexagons. I love them. And if you take a look through my archives, you can see I've used them in my Beekeeper's Quilt (the coolest, craziest knitting project I've ever taken on) and my popsicle stick hexagon shelf tutorial. They're just the Don Draper of shapes — modern, classic and irresistibly good looking every time.
So when I was planning this crochet baby blanket pattern for some friends' new baby, I knew it would be hexies all the way. I chose gender-neutral colors because they didn't know if they were having a boy or a girl. (If you too are gestating a new life, here are 12 Unique + Modern DIY Ways to Decorate a Nursery!)
For this hexagon afghan I used "I Love This Cotton" from Hobby Lobby. It's just the softest, most affordable cotton yarn I've found and it comes in enough colors to make me dizzy as I stand in the aisle and try to choose some. (I have no financial incentive to promote this yarn, I just like it. I've used it in this bunny hat pattern, for these slippers with flip flop soles and these crochet toddler boat shoes.)
Generally, but especially for babies, I like to use natural fibers because I like the idea of a baby being wrapped up in yarn that is "from the Earth" sorta say. I know, I know. Waving my hippie flag high.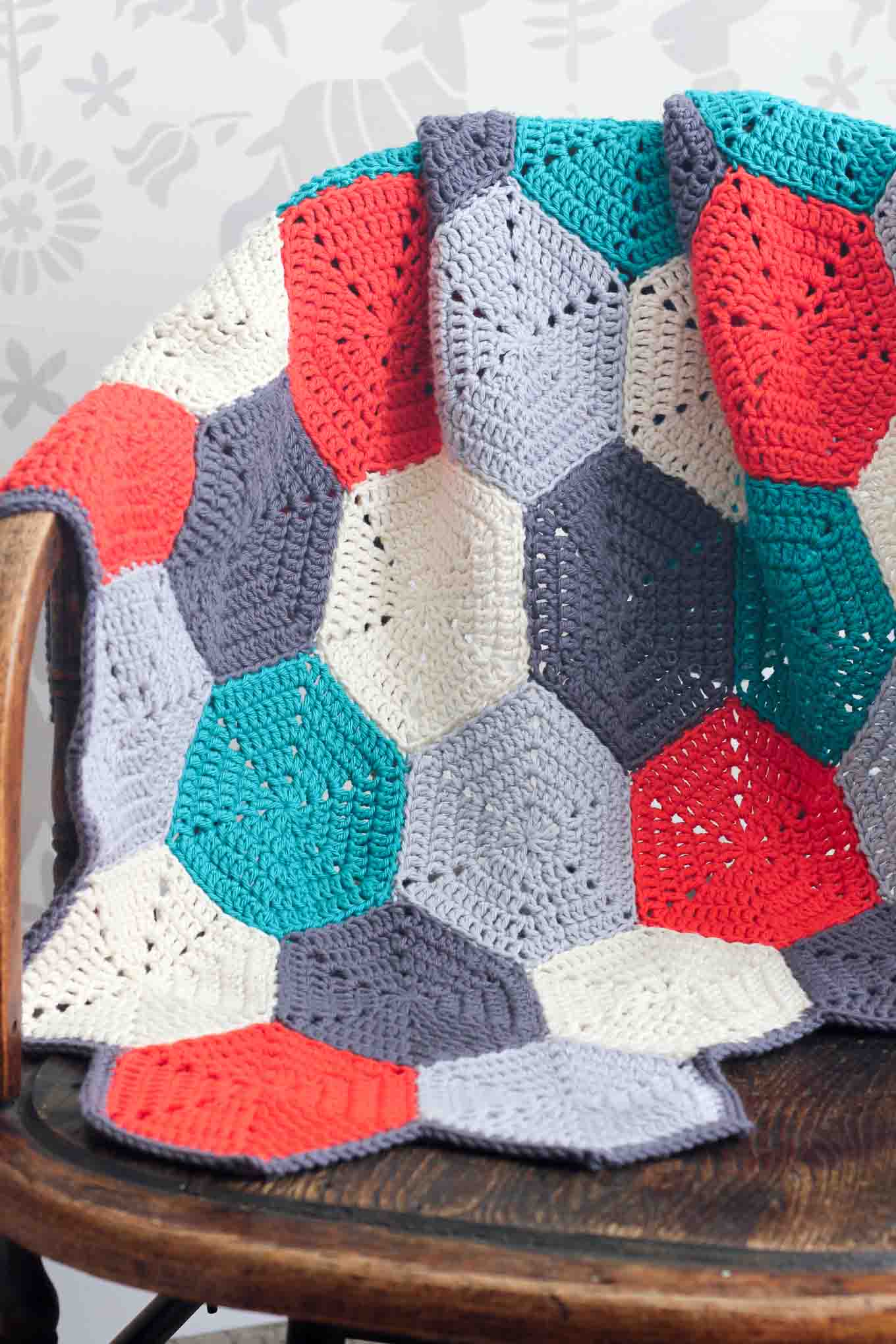 There are two great things about crochet hexagons. First, you can carry them with you. So if like me, your crocheting gets interrupted about every 1.5 stitches with a sippy cup spill, a sippy cup refill request, or a snack to accompany a sippy cup, hexagons allow you to work a bit at a time and still feel a sense of accomplishment.
Second, you can customize this crochet hexagon blanket pattern to make whatever size afghan you'd like. Each hexagon block is roughly 6" wide x 5" tall. So if you know the size of the finished blanket you'd like to make, you can use this pattern to make a stroller blanket, baby blanket, lap blanket or even a bedspread.
I was able to make about seven hexagons out of each 180 yard skein of "I Love This Cotton." You can estimate the number of total skeins you'll need based on the number of hexagons you plan to crochet as long as you use a similar worsted weight yarn.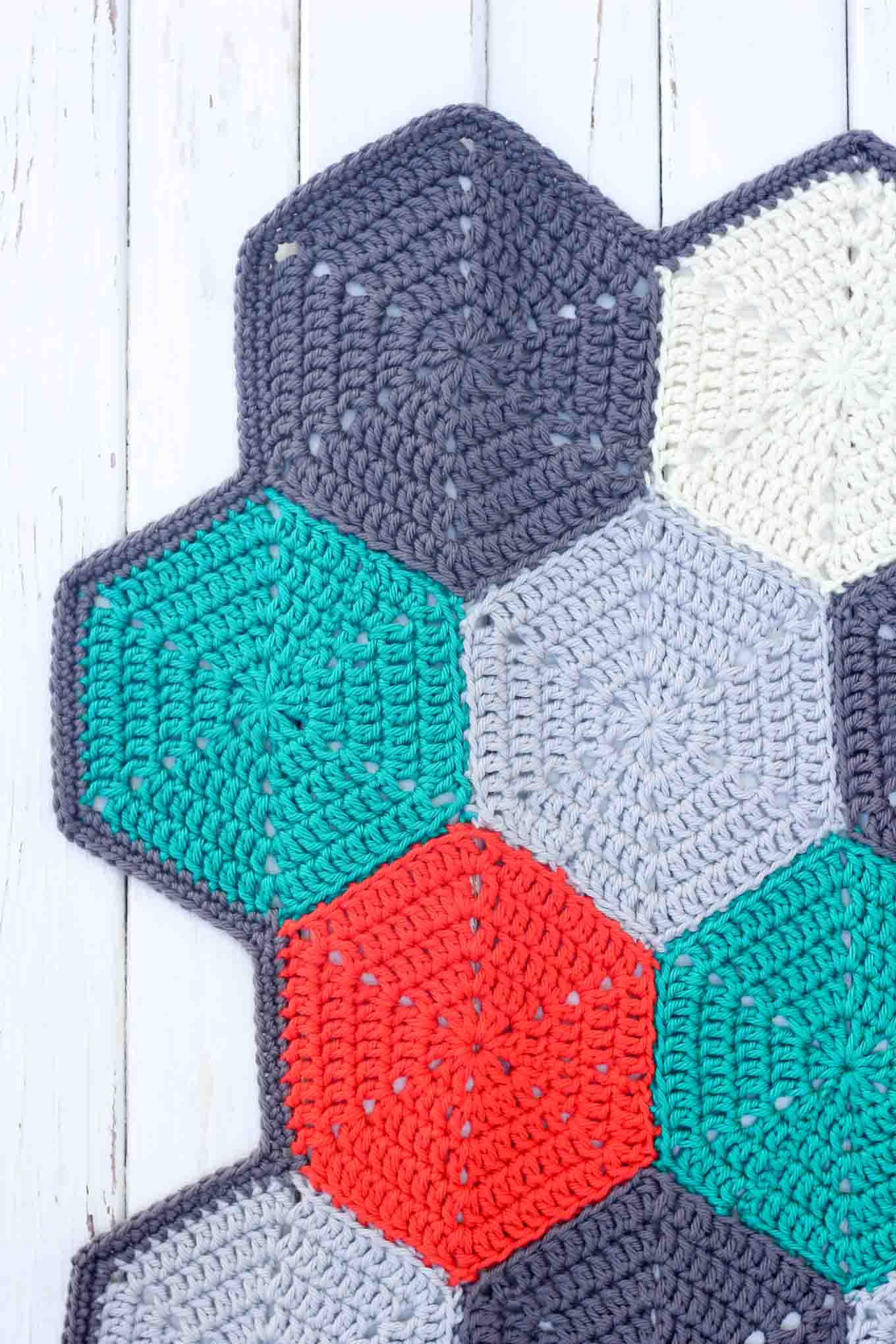 I love to see your finished projects! Tag me on Instagram (@MakeAndDoCrew) to show me your stitches.
You may make items to sell with this pattern. BUT FIRST — please review the stipulations in my policies.
So you can spend more time crocheting and less time shopping, this post contains affiliate links at no extra cost to you.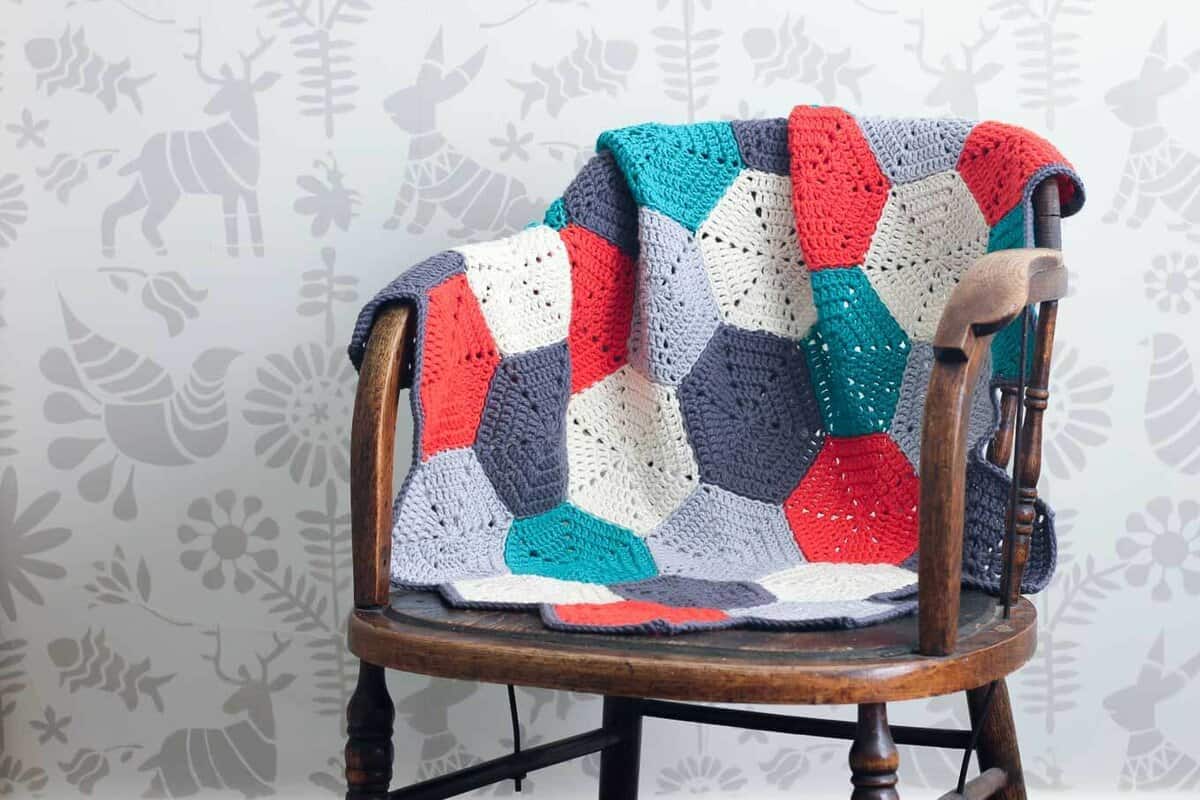 "Happy Hexagons" Free Crochet Afghan Supplies
• "I Love This Cotton" in colors: Bright Teal, Ivory, Orangeade, Pewter, Dove (1 skein per 7 hexagons you will crochet + extra in whatever border color you plan to use)
• size h hook (5 mm) (I've been loving this affordable set)
• tapestry needle
• scissors
• blocking board (Learn how to make your own for $2 with this tutorial!)
Abbreviations – US terms
ch – chain
dc – double crochet
sl st – slip stitch
sc – single crochet
"Happy Hexagons" Free Crochet Afghan Pattern
1. Decide how large your afghan will be and how many hexagons of each color you will make. My baby afghan is essentially stroller blanket size at about 32″x33″. I used 38 hexagons to make it.
2. Follow this pattern for a basic hexagon.
3. Crochet lots of hexagons!!
4. Block your crochet hexagons on a blocking board like my $2 DIY blocking board. If using cotton yarn, spritz each hexagon lightly with a spray bottle and allow them to dry before removing them from the board. Blocking the hexagons will help ensure they're all the same size when you sew them together.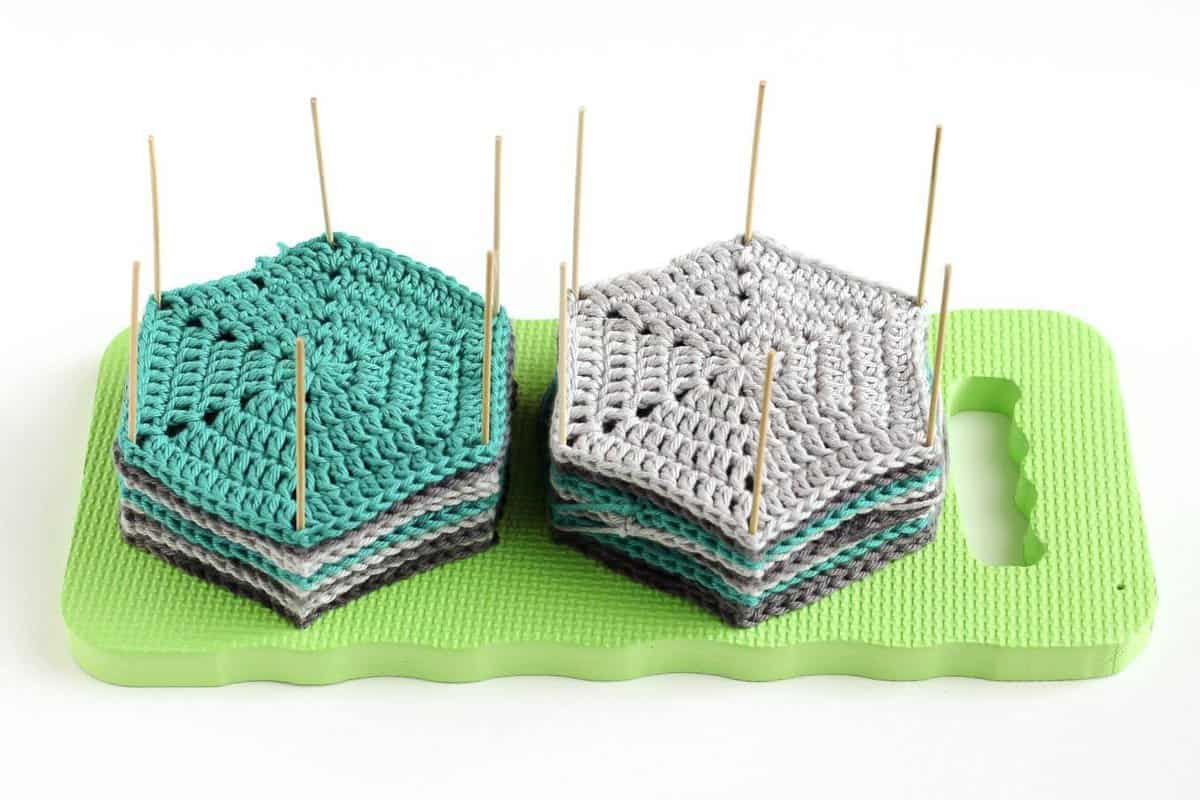 5. Lay your hexagons out in a way that you're happy with. Take a photo with your phone of the arrangement in case your kid, cat or husband takes a stroll through your hexies. (Trust me on this one.)
6. Join your hexagons using this invisible seam method. If you can integrate any yarn ends into your seams, do it!
7. Weave in all ends that remain, including weaving the magic circle tail through the first round of stitches for added security.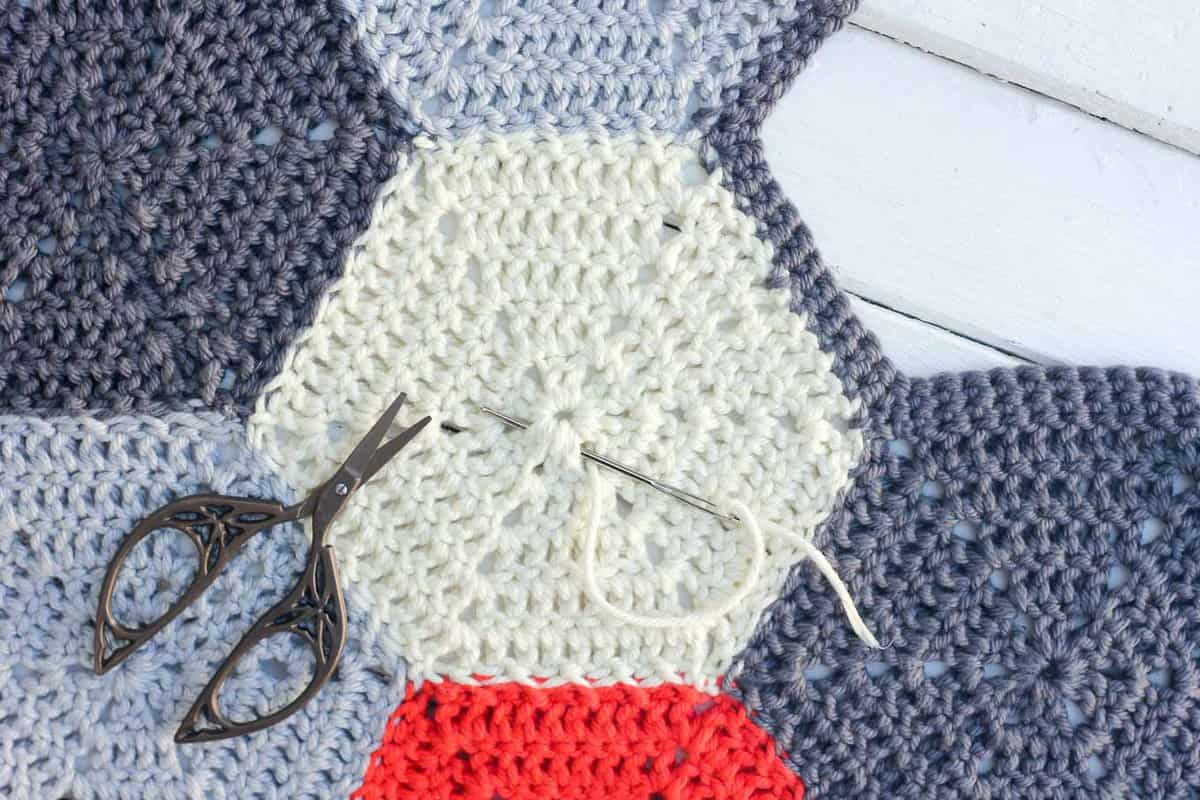 8. Crochet a border using two rows of single crochet as follows:
Attach yarn at one hexagon corner.
Border row 1: ch 2, sc in each stitch of the hexagon sides including 1 sc per corner where the hexagons join (see below) and 3 sc in each solitary hexagon corner. When you arrive at beginning of the row, join with a sl st.
Border row 2: ch 1, sc in each stitch of the hexagon sides, putting a sc in only 1 of the corners where the hexagons join (see below) and 3 sc in each solitary hexagon corner. When you arrive at the beginning of the row, join with a sl st and fasten off. Weave in end.
9. Feel like a complete rockstar because you finished a super cozy, super modern, super awesome hexagon afghan!
What to make next? Well, I have some ideas!
Dollar Store Twine + Thrifted Belt Basket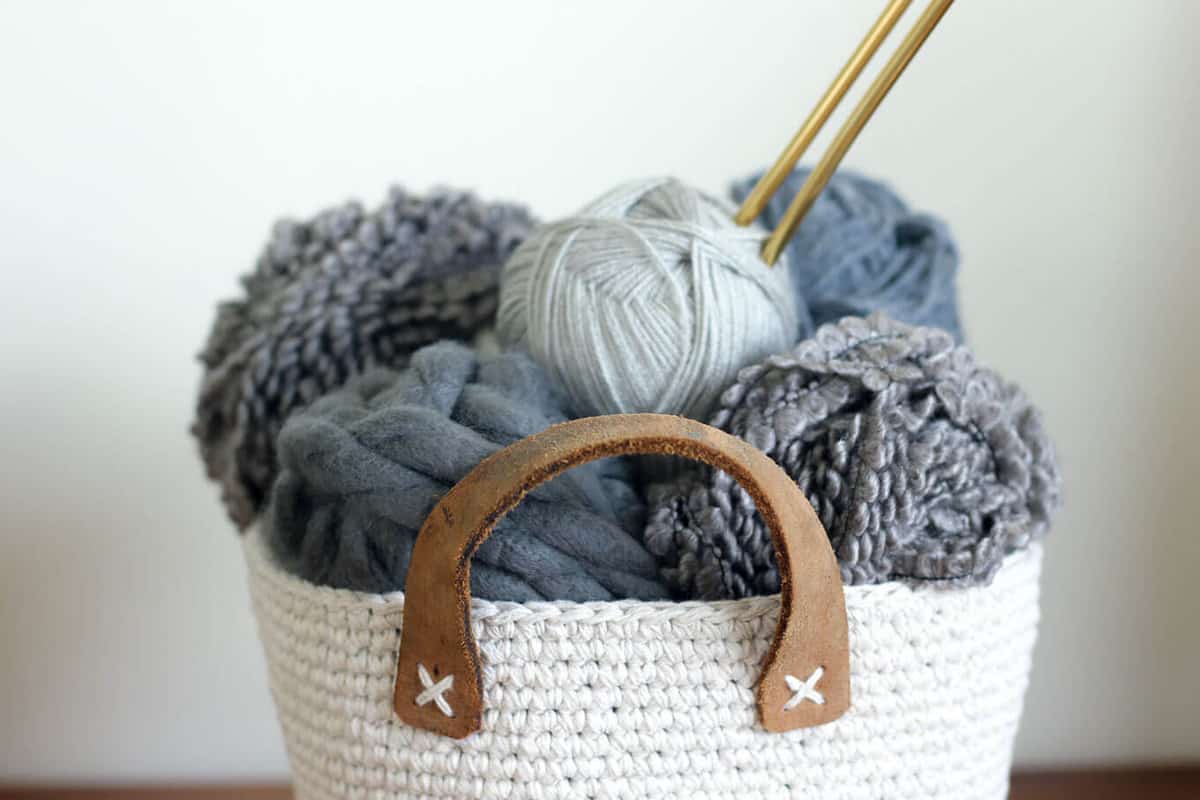 Bunny Hat and Carrot Rattle Crochet Gift Set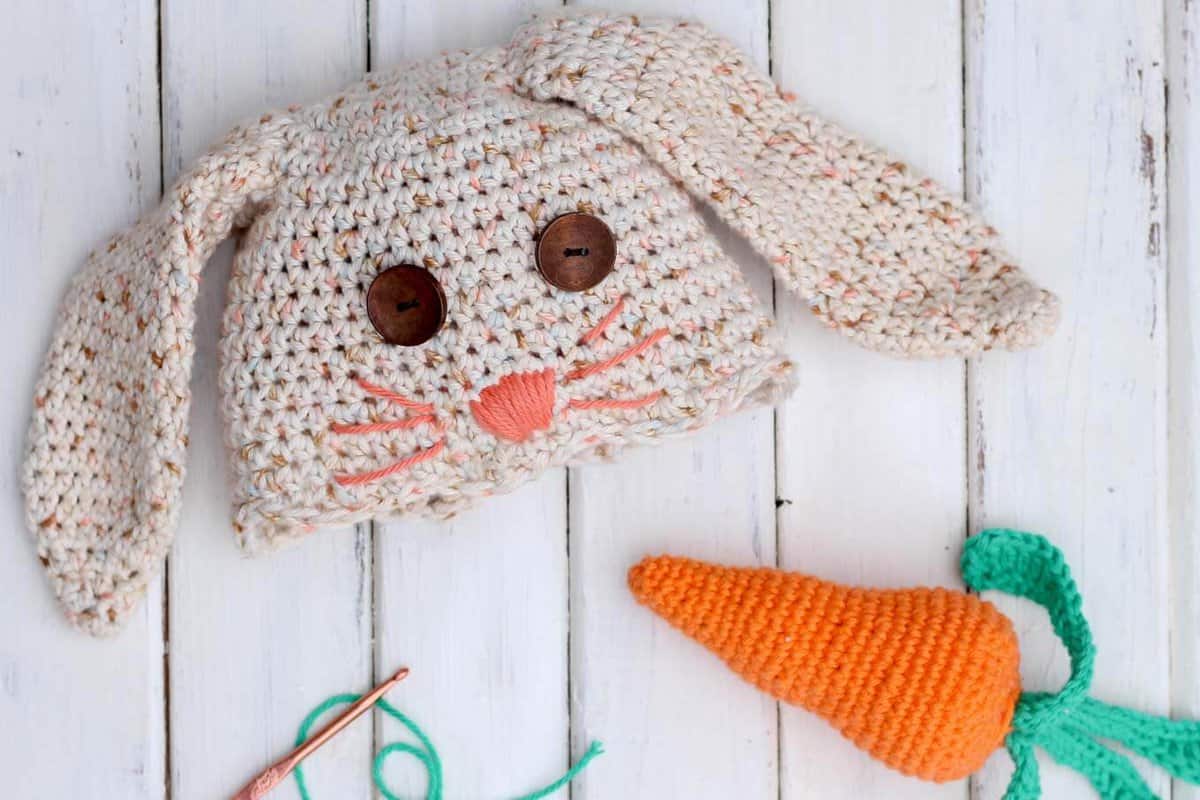 12 Unique + Modern DIY Baby Nursery Ideas

WANT MORE FREE CROCHET PATTERNS?
I've got more free crochet goodness for you that'll knock your little handmade socks off.