Join us in this fun and entertaining hexagon cardigan crochet along and make your next favorite drapey, lightweight sweater! Purchase the ad-free, printable PDF with bonuses here or read on for all the CAL details.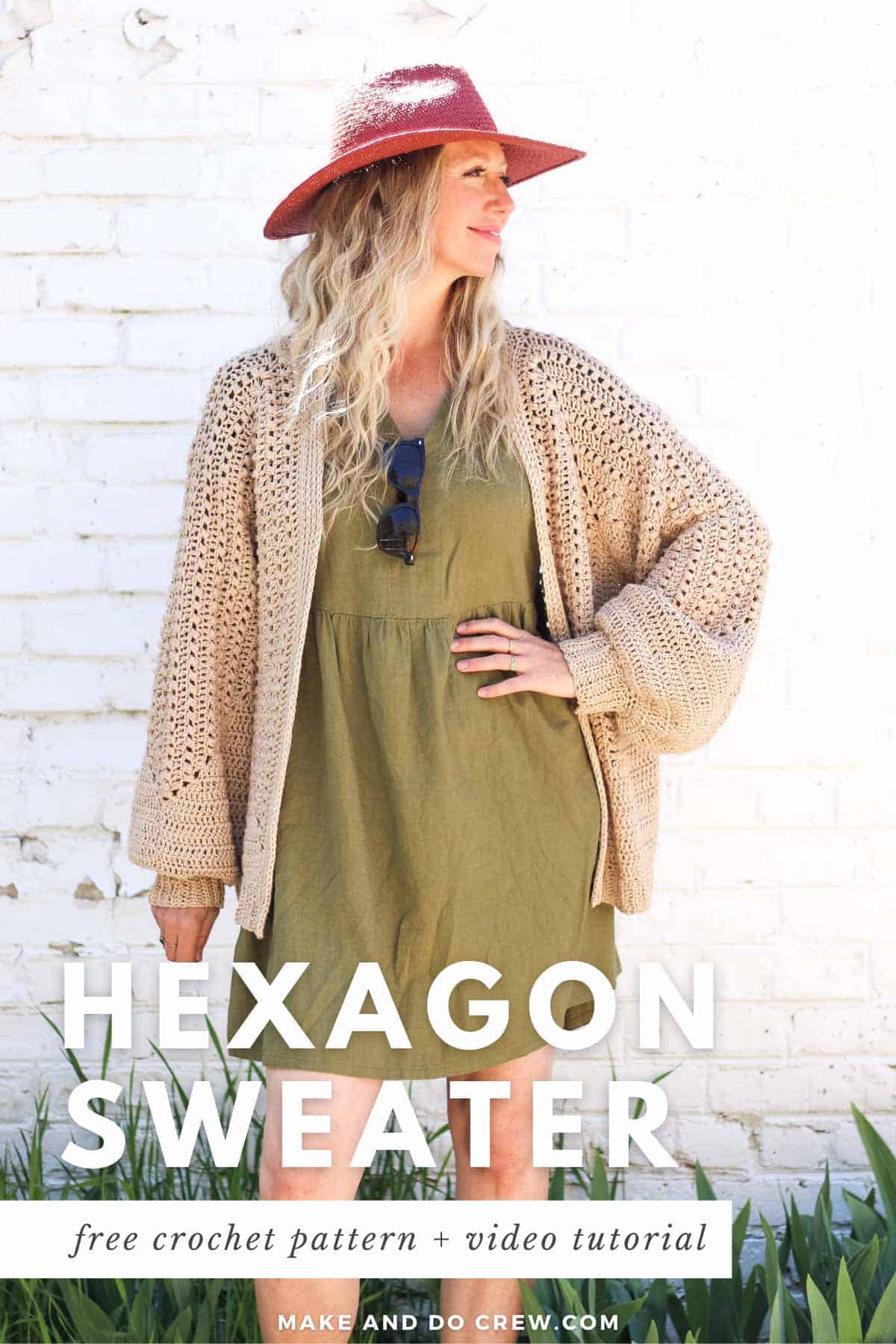 The Mezzo crochet hexagon sweater pattern is part of a collaboration with Lion Brand Yarns. This post contains affiliate links.
Geometry class is in session! But don't worry, this lesson is nothing but mind-bending fun.
You can't beat the drape of this comfy, lightweight sweater and you'll enjoy trying it on as you go. (Because it's easy to check the fit as you crochet, you'll be sure to love your finished cardi!)
The Mezzo Cardigan Crochet Along is worked in four parts. Order a kit HERE.
Read on for all the details about how to join us on this casual crochet adventure!
If you're already in the know, here are the quick links to the pattern:
Free Pattern - Parts 1 & 2 // Available now!
Free Pattern - Part 3 // Available now!
Free Pattern - Part 4 // Available now!

Complete Pattern + Tutorial // Available now in the premium PDF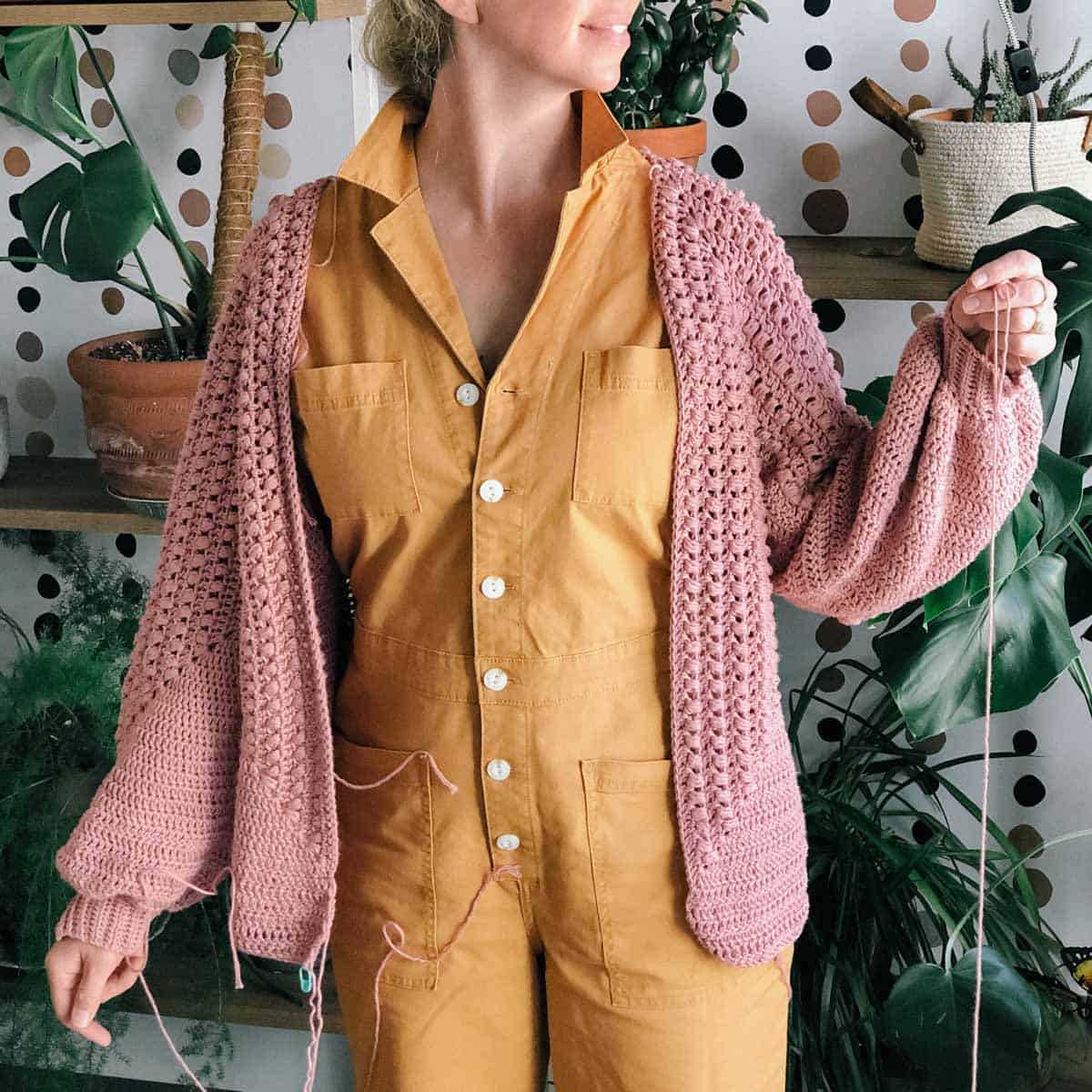 Not Your Run-of-the-Mill Cardigan Pattern
In the Mezzo Cardi CAL, we'll begin by crocheting two relaxing hexagons which will magically transform into the sleeves, back and front of your lightweight cardigan. (This technique is so fun and interesting to watch come together!) Next you'll customize the length of your sweater to suite your style and body, add some classic knit-look ribbing and optional pockets.
Whether you're new to crocheting garments or an old pro, it's unlikely you'll come across many cardigans that are this entertaining to see take shape. One minute you'll have a crochet amoeba and the next minute you'll be wearing half a cardigan!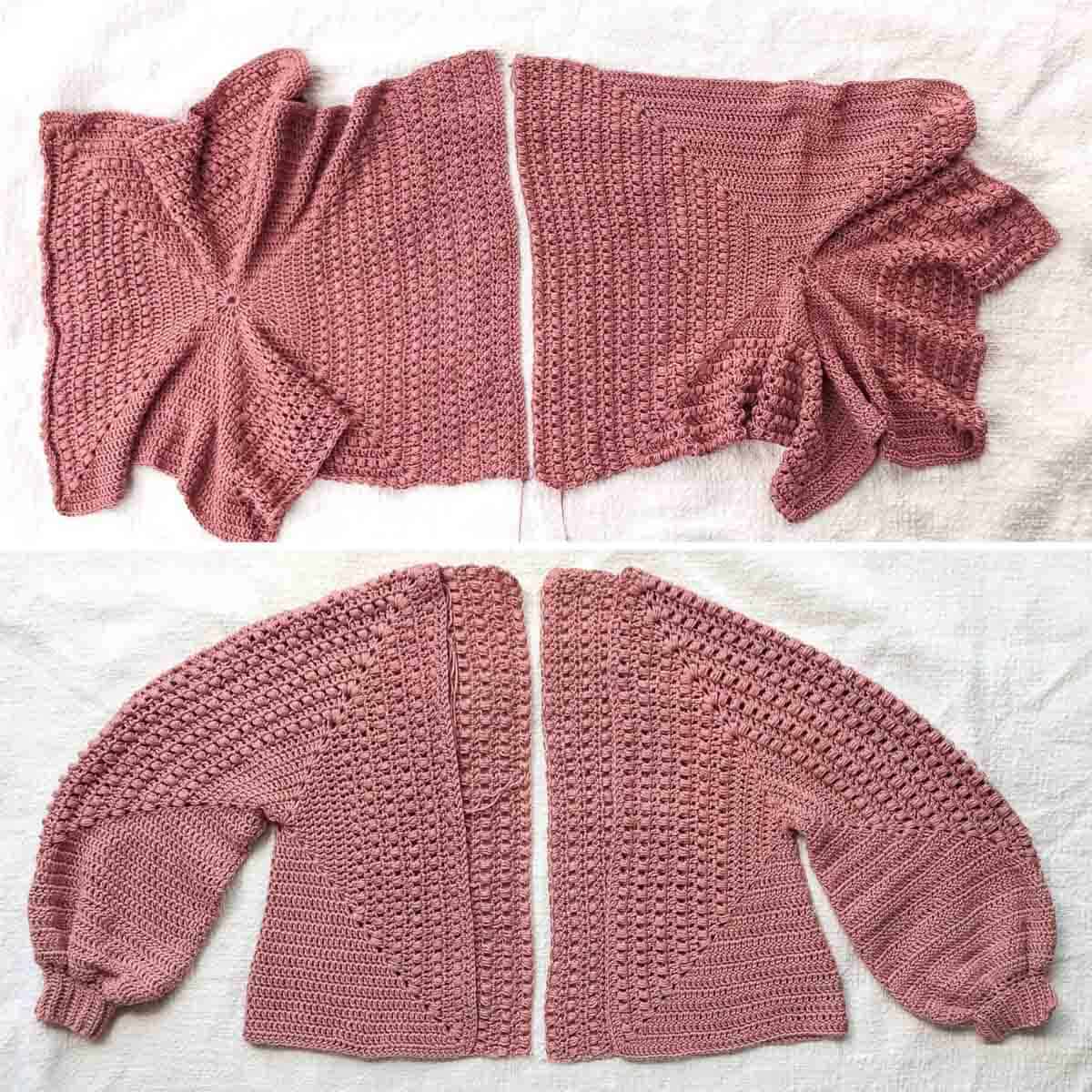 What's a Crochet Along Anyhow?
Typically a crochet along (CAL) is a virtual community activity where makers all over the world join in on crocheting a certain pattern at the same time (from home). You'll feel a sense of purpose and support as you crochet alongside other people making the same project as you.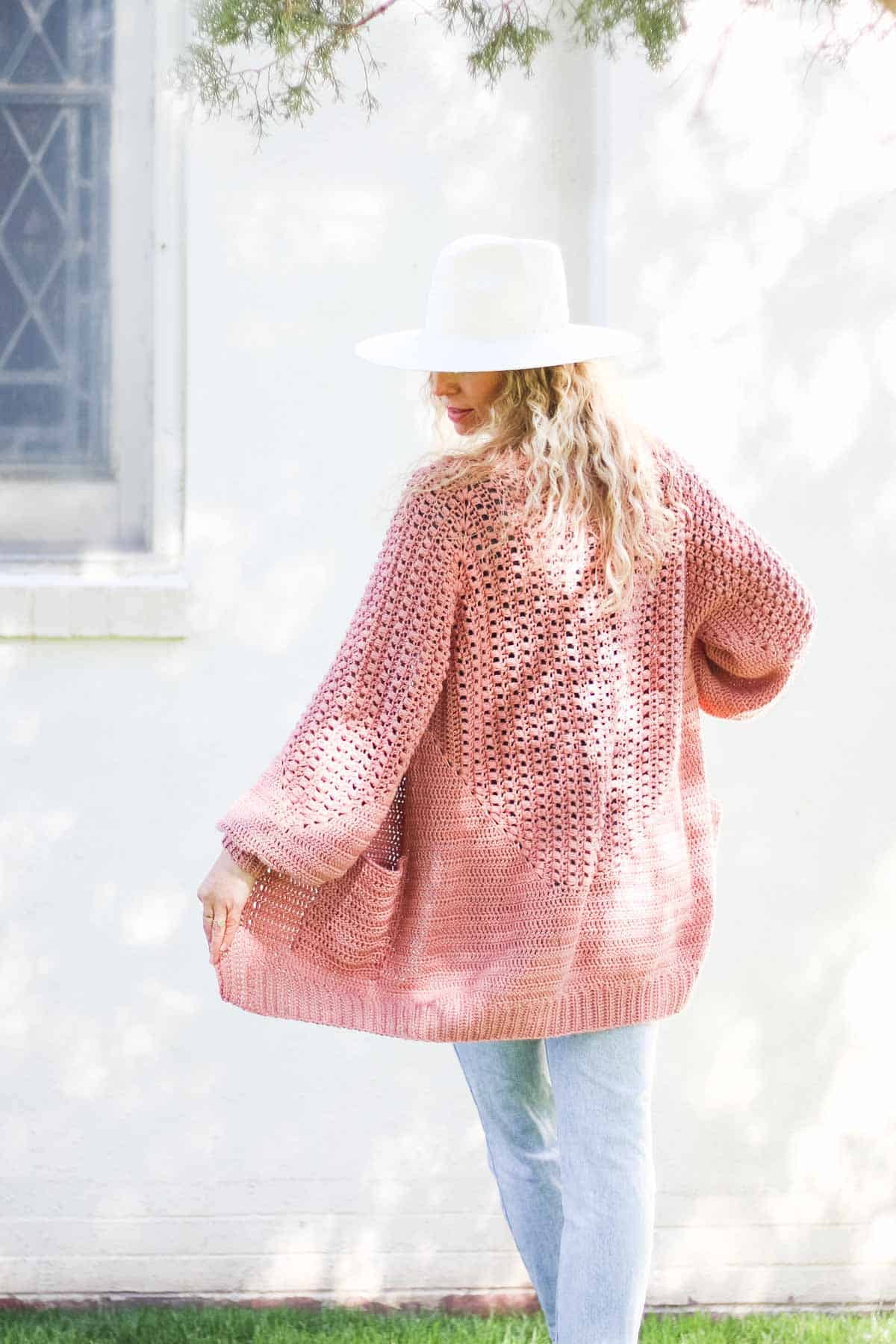 How will the Mezzo Cardigan CAL work?
The Mezzo Cardigan pattern is divided into four parts. Each Thursday, I'll share the next section of free pattern and video tutorial here on MakeAndDoCrew.com. We'll kick things off with Part 1 on May 20!
If you're really jazzed to get started right now, the complete pattern is available immediatly in the ad-free, printable PDF. More on that below.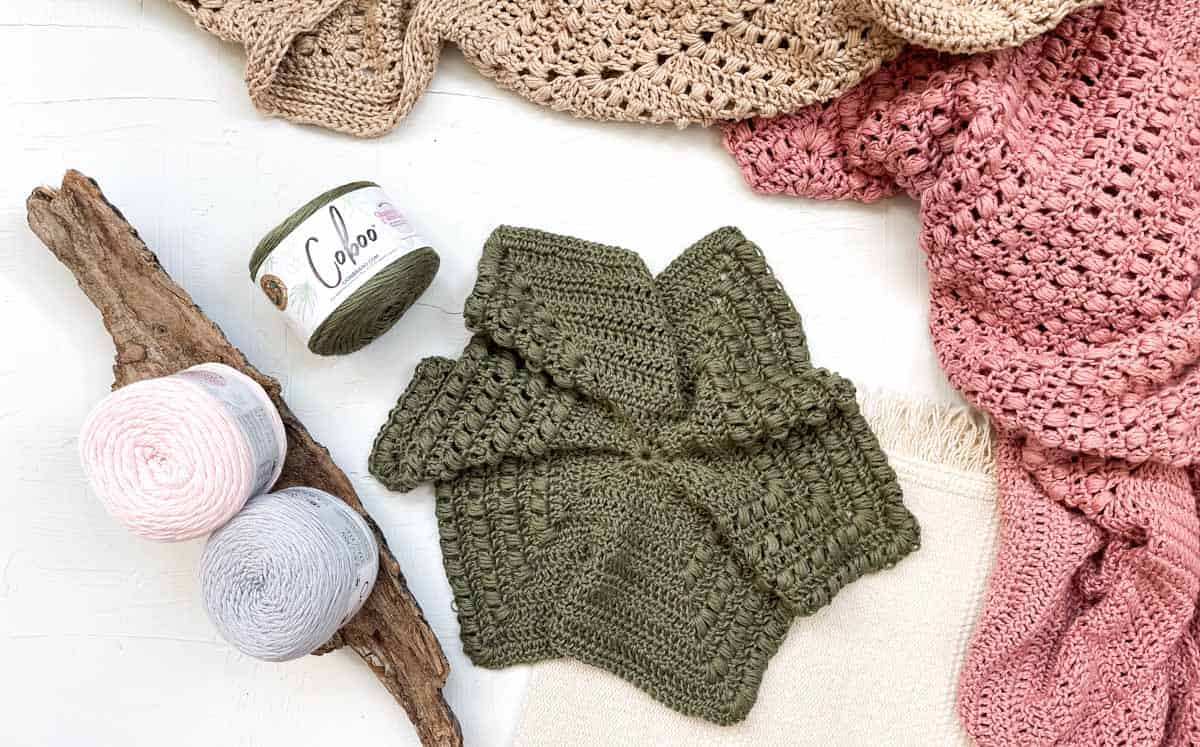 What Yarn Do I Need?
We're using one of my all-time favorite warm-weather yarns for the Mezzo Cardigan. Lion Brand Coboo is a category 3 yarn made from 50% cotton and 50% bamboo. It's breathable and gorgously drapey. Truly, the drape is the most noteworthy thing about this yarn, in my opinion, and it works so well in the casually feminine Mezzo Cardigan. You can order Coboo yarn HERE.
If you'd like to substitute yarns, you'll need a category 3 weight yarn. Ideally you're looking for one with a similar fiber composition so make the most of the soft drapiness of this pattern. The ever-popular Lion Brand Truboo is a bit thinner than Coboo, but it will work well if you are sure to measure your gauge. For other yarn substitute ideas, check out yarnsub.com.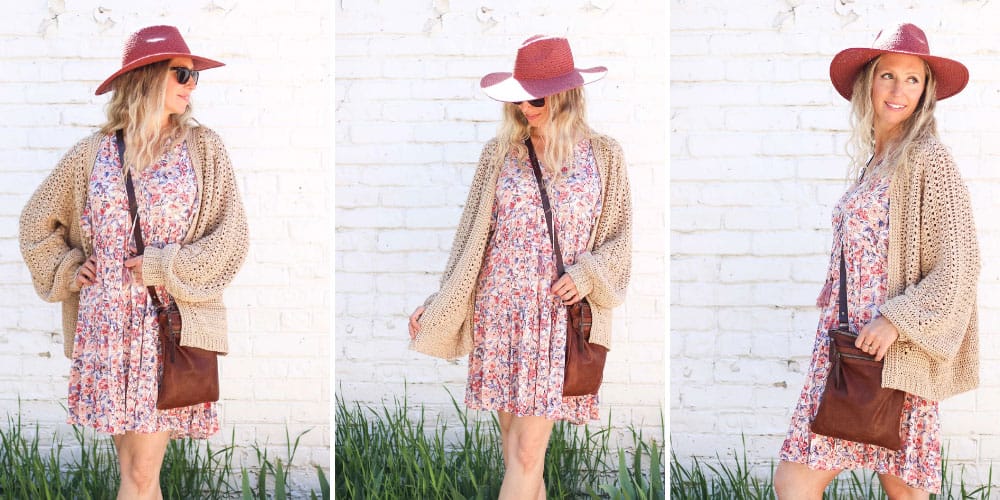 Sizes + Yarn Amounts
The sweater is designed to have an oversized look with a generous amount of ease. If you're in doubt selecting a size, size down. (Mauve sample pictured is a size M. Beige sample is a size L. There are lots of opportunities to customize the sweater and sleeve length, so when choosing a size, think more about how loose you want the bust to fit.)
| | | | | |
| --- | --- | --- | --- | --- |
| Size | Fits up to Actual Bust | Circumference of sweater, including collar | Length (adjustable)* | Yarn Needed (assuming Lion Brand Coboo is used) |
| S | 37" | 44 | 25" | 8 skeins (730g) |
| M | 41" | 47.5" | 27" | 9 skeins (850g) |
| L | 45" | 50.5" | 27" | 9 skeins (870g) |
| 1X | 49" | 52.5" | 27" | 9 skeins (900g) |
| 2X | 53" | 58.5" | 33" | 12 skeins (1140g) |
| 3X | 57" | 60.5" | 33" | 12 skeins (1170g) |
| 4X | 61" | 64.5" | 35" | 14 skeins (1320g) |
Is there a Mezzo Cardigan Kit?
You betcha! All-in-one kits are a super convenient way to get all the yarn you'll need for your hexagon cardigan PLUS a free printable PDF version of the pattern. (And with the kit, you get the full pattern at once so you don't have to wait for each stage of the CAL to be released.) You can order your kit from LionBrand.com and choose whichever fantastic color of Coboo that speaks to you.
More Free Crochet Sweater Patterns
Crochet sweater patterns don't need to be difficult. In fact, most of ours are made with very simple shapes. Dive into the wonderful world of crochet garments with cardigans, pullovers, ponchos, shrugs and more!
See more free crochet sweater patterns →
Deliver it! Order your complete Mezzo Cardi kit ⇨
Will There Be Video Tutorials?
Will there ever! Each section of this hexagon crochet cardigan pattern will include a step-by-step video tutorial that explains the concepts necessary to master this fun project. The video tutorials will be released each Thursday along with the free pattern.
What Skills Do I Need?
While making the Mezzo Cardigan, you'll have a chance to practice working in the round, crocheting puff stitches and adding a knit-esque ribbing to your sweater. The detailed video tutorials will guide you each step of the way.
New to making cardigans? Don't miss How to Crochet a Sweater for our best beginner tips
What If I Need Extra Help?
One of the best parts about a crochet along is that lots of makers are following the pattern right alongside you. Joining the Make & Do Crew Facebook group is the fastest path to crochet camaraderie during the Mezzo Cardigan crochet along. The group is filled with helpful crocheters of all levels who are friendly, supportive and willing to answer your questions and cheer you on.
Join in! Click to join the M&DC Facebook group ⇨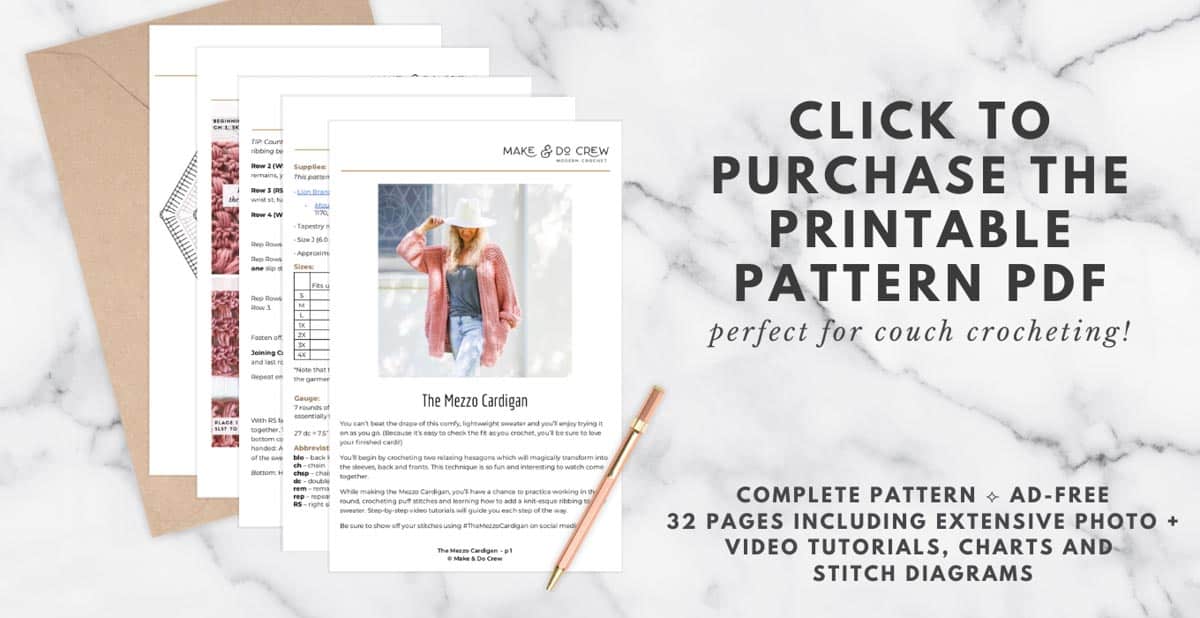 Can I start my sweater now?
Yes! The ad-free, printable PDF includes the complete pattern right this very minute.
I wanted to make this PDF really, really helpful. So it includes the complete written pattern all in one place, tons of step-by-step photo tutorials, links to video tutorials, a stitch chart and printable labels for your hexagon sides. It's formatted for easy printing or mobile viewing, which makes it a great option for taking with you on your summer adventures.
I hope you enjoy getting started right away and working at your own pace!
Print it! Purchase the ad-free, printable pattern PDF ⇨
Okay, I'm In! What's Next?
Wonderful! I'm so excited to have you joining us on this low-key pursuit of #crochetastherapy. Here's what you can do right now:
Alright, what questions can I answer for you? Ask away in the comments section below.
That was so fun! Now what?
Invitation to our Facebook group
Come discuss crocheting mezzo cardigan patterns and lots of other crochet projects and techniques in our Make & Do Crew Facebook group. Here thousands of helpful crocheters answer each others questions and share their stitches. Come join us here.
Find Your Next Sweater Project
More Free Patterns + Tutorials
Can't get enough free crochet patterns!? Me either. You'll definitely want to breeze through these collections to find your next project.
Learn a New Skill
And when you're ready to master a new skill, check out our detailed guides that include everything you need to know to level up your crochet game.