In this video tutorial, we'll learn how to crochet a baby hat step-by-step by following the free Easiest Crochet Hat Ever pattern. This is a fantastic crochet hat pattern for beginners and can be made to fit preemies to adults!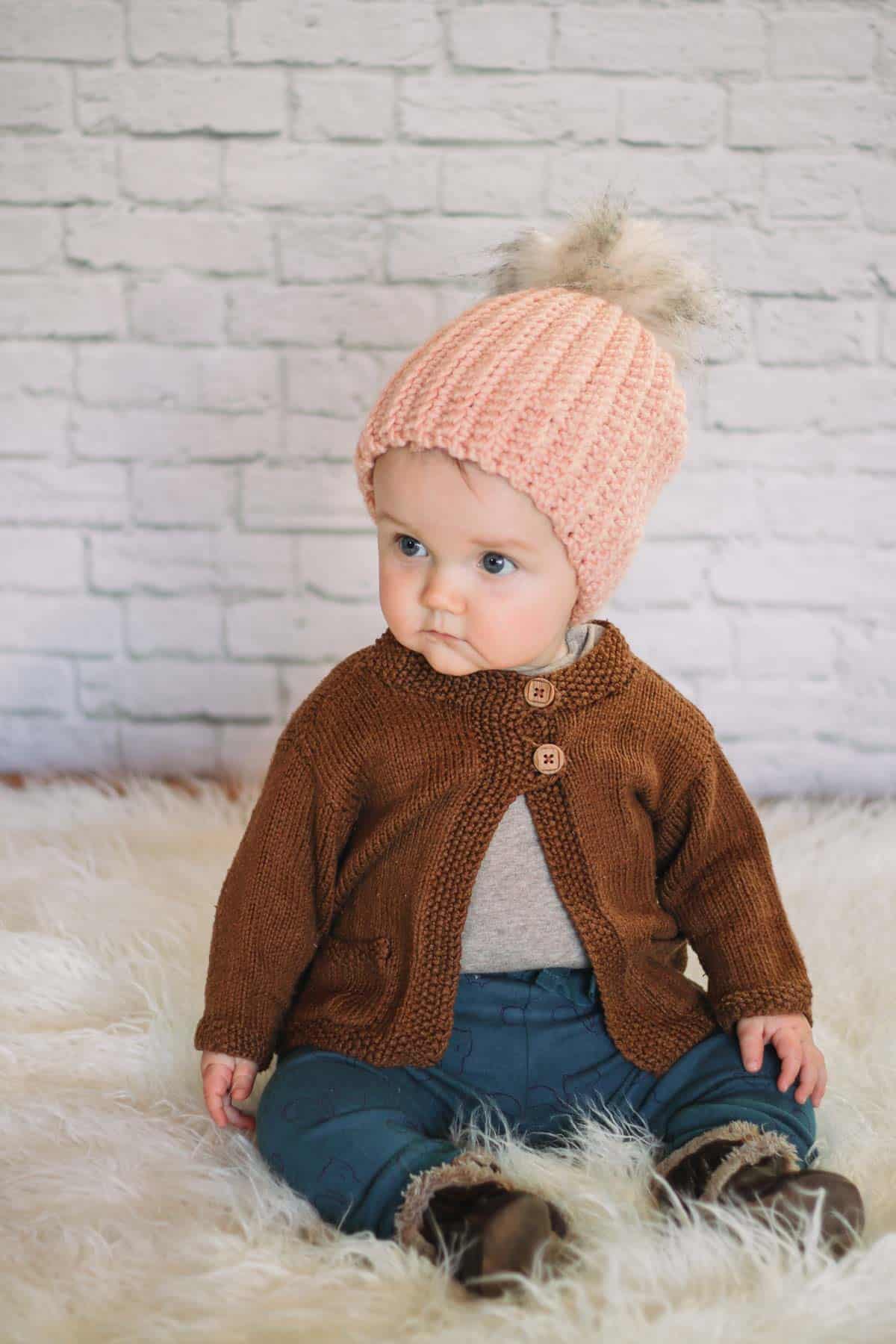 This how to crochet a baby hat video tutorial is part of a collaboration with Lion Brand Yarns. This post contains affiliate links.
Whether you're a beginner crocheter or just looking for an extremely easy way to whip up crochet hats for charity, gifts or market prep, this video tutorial will show the simplest way to crochet a classic tapered beanie.
While you watch, follow along with the Easiest Crochet Hat Ever pattern in preemie, baby, child, tween and adult sizes here. Then scroll down for the full video tutorial!
What Makes This Crochet Beanie Pattern Different?
As I mentioned in the free pattern that accompanies this video tutorial, I have experimented with different ways of making supremely easy crochet hats (like the 1 Hour Beanie!)
This time I wanted to see if there was a way to create the nicely tapered classic hat shape without increasing, decreasing or anything else that might require you to actually pay attention. Ha.
I'll tell you what--it worked! Using only single crochet and slip stitches, we're going to crochet a simple trapezoid shape and seam it into a classic ribbed beanie. I'll teach you how in the video tutorial below!
Visit the free pattern here or purchase the ad-free, printable PDF here and let's learn how to crochet a baby, child or adult beanie!
Related: 35+ Cozy Chunky Hats to Crochet
click to pin this tutorial for later ⇨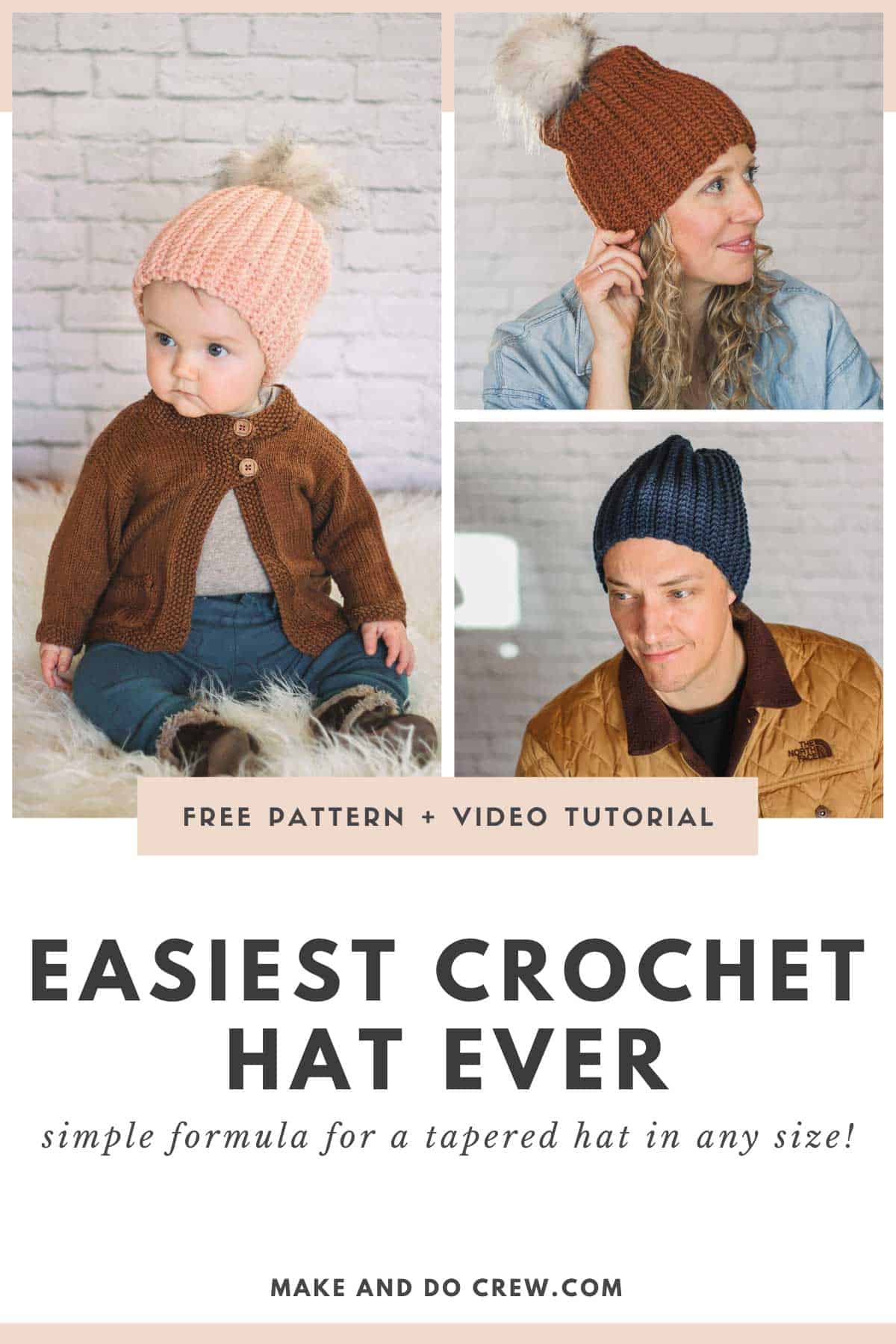 But Wait...What If I Can't Read Crochet Patterns?
I knew there'd be some beginner (or experienced) crocheters who want to learn how to crochet a baby hat, but don't read patterns. If you're not much of a pattern reader, I put together a chart in the ad-free, printable PDF that I think is really going to help you!
Instead of reading through all the crochet pattern lingo, you can just look at the straightforward chart to know exactly how many stitches/rows/bumps of ribbing you need for the size hat you're making.
This chart includes seven sizes (preemie - adult men), so you can make a hat for anyone! Purchase the ad-free, printable PDF with "cliff notes" chart here.

VIDEO: How to Crochet a Baby Hat (With Child + Adult Instructions, Too!)
In this video we'll cover:
• How to crochet a very easy baby hat and how those skills can work for any size hat.
• How to work through the back loop of single crochet and slip stitches.
• How to seam your hat, close the top and add an optional pom pom.
Links mentioned in the video:
• Find the FREE Easiest Crochet Hat Ever pattern (with sizes preemie - adult men and the Perfect Hat Formula) HERE.

• Purchase the ad-free, printable PDF with shortcut chart for non-pattern-readers HERE.

• Grab the Lion Brand Color Made Easy yarn used in this tutorial HERE.
Related: 27+ Best Crochet Hat Patterns for Winter
Ready For More Crochet Video Tutorials?!
Now that you know how to crochet a baby hat, you can make one for heads of all sizes! The next hat I'd recommend trying is the 1 Hour Beanie (kids sizes) and the 1.5 Hour Beanie (adult sizes). Both of these free patterns are made the same way and they are nothing more than a simple rectangle. And they include a video tutorial!
You can always find all our free crochet hat patterns here. And if video tutorials are your thing, you can search all our videos here. Here are four surprisingly easy, beginner-friendly projects with step-by-step video tutorials.
1. Habitat Cardigan - The perfect first crochet sweater project made from a simple rectangle.
2. The Beginner's Complete Guide To Tunisian Crochet - Learn all the basics of Tunisian crochet and then make a pair of mitts.
3. Dawn to Dusk Triangle Scarf - A simple crochet scarf that can be made from a single yarn cake.
4. Up North Cardigan - This almost seamless cotton blend cardigan is a year round favorite.