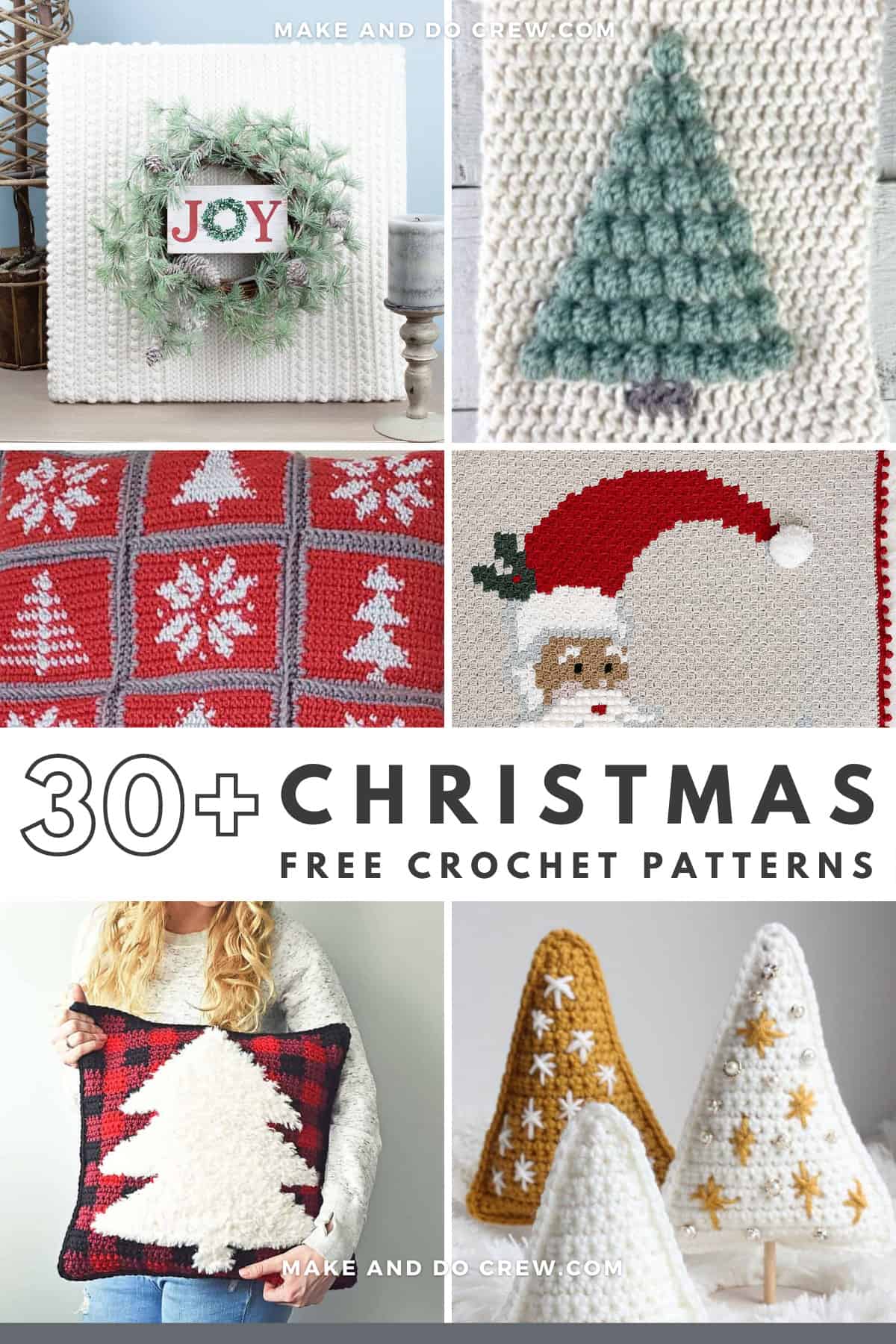 Free Crochet Christmas Patterns
If this is your first holiday season making crochet Christmas patterns, don't feel intimidated!
This list includes a variety of easy Christmas crochet patterns for beginners and more intricate patterns for intermediate-advanced crocheters. You may even learn a new crochet technique while you're at it. (Like mastering how to C2C crochet!)
The best part about crocheting handmade decorations is that it allows you to customize a project to fit your style. In this list, you'll find minimalist crochet patterns that can be enjoyed all winter, as well as patterns featuring traditional Christmas colors like pine-tree-green and Santa-suit-red.
Whatever style you prefer, these different patterns are a great way to add Christmas spirit to your home.
Types of Christmas crochet patterns to try
Here are some of the types of projects you'll find in the free pattern collection below:
Corner to corner afghans

Modern cozy blankets and throws

Festive yarn wall hangings

Crochet stars to top your tree

Holiday pillows

Decorative Christmas trees

Crochet snowflakes
This isn't all though. Browse the whole list for a few creative surprises!
Helpful crochet supplies
You've probably experienced the way time can evaporate in December, right? When you're planning to crochet Christmas patterns, you'll want to have all the right supplies ahead of time. This will help you have the most relaxing Christmas crochet season.
Here are some materials to have available–in addition to yarn, of course.
Crochet hook - (in size needed to obtain pattern gauge, if relevant)

Tapestry needle - for weaving in ends and possibly, joining pieces together

Stitch markers - for marking your place or preventing live loop from unraveling

Blocking board - especially helpful for lacy snowflakes and granny squares

Steamer or iron with steam function - for blocking certain projects(alternative: use a spray bottle)
Some optional supplies that can come in very handy include a project bag to hold your WIP (work in progress), scissors, a pom pom maker, buttons, leather accents and, my personal mandatory, the movie Love Actually.
How to choose a pattern
Because Christmas is on December 25th every year, you have a fixed deadline to finish your crochet projects. Particularly if you're crocheting gifts, you'll want to consider how long a pattern might take and how much time you have available.
In general, an easy pattern will usually:
Have fewer color changes (and therefore ends to weave in)

Will be a smaller size overall

Won't need a lot of seaming
Don't be afraid to tackle a larger project if you have the time though. Sometimes snuggling under a C2C crochet Christmas blanket or a hanging a set of handmade stockings can be the tradition people enjoy the most.
Best yarn for Christmas crochet
Whether you have your eye on a Christmas tree skirt or a mini Christmas tree pattern, you might be wondering how to choose the best yarn for your project.
Start by looking at the yarn that is suggested in the pattern. Does it call for a specific fiber, like cotton? Or maybe a specific thickness of yarn, like worsted weight or super bulky? Perhaps it doesn't matter and the pattern can be made with any yarn (like a snowflake or stuffed animal).
If you're giving the item as a gift, aim for an easy care yarn option. For example, find an acrylic or wool blend that can be machine washed. This way the recipient doesn't feel overwhelmed caring for you handmade gift.
When buying yarn, consider if you'll be able to use the same yarn for other Christmas crochet projects. For example, with a single skein of white worsted weight yarn you might be able to crochet several gnomes' beards, a few snowflakes and a crochet snowman.
RELATED: How to Shop Your Stash: The Best Patterns for Using the Yarn You Have
Free Christmas crochet patterns
Okay, cue the Jingle Bell Rock and let's get into this collection crochet patterns for Christmas!
C2C Crochet
Corner-to-corner crochet lends itself well to Christmas crochet patterns because it allows you to "draw" a picture with yarn. (New to this fun skill? Learn how to C2C crochet here!) The following C2C crochet Christmas patterns use basic corner-to-corner skills to illustrate classic holiday themes.
Santa and elf hats
Attending a Christmas parade this year? Maybe an ugly sweater party? Or you need a festive prop for your family Christmas photos? These hats are offered in plenty of sizes so no one needs to feel left out of the fun.
Blankets
Having a crochet Christmas blanket to snuggle under each year might just become your family's favorite tradition. Choose from a simple pattern to more complex blankets to based on your skill level and how much time remains before the big day!
Snowflakes
Snowflakes are a traditional Christmas crochet staple. Use embroidery thread for a dainty snowflake or worsted weight yarn for a quicker project. These free crochet snowflake patterns can be used to decorate Christmas gifts, create a winter garland or as ornaments for your Christmas tree.
Wall Hangings
If you love the look of Christmas wall hangings you see in stores, but would prefer to crochet your own, use these free patterns to inspire your next project!
Pillows and Cushions
Crocheting a Christmas pillow is a great way to add a handmade touch to your holiday decor. Some of these free patterns are neutral enough to enjoy all winter long.
Christmas Trees
Crochet Christmas trees are a fun chance to learn new stitches and use up small amounts of yarn you have leftover from other projects. The free patterns below a range of simple stitches and even bobble and puff stitches to create crochet Christmas trees more charming than anything you'll find in a store.
Plus, several of these tree patterns give you a chance to practice basic amigurumi crochet techniques on a small scale.
Christmas Stockings
Crochet Christmas stockings are some of the most meaningful patterns for the holidays because they can be enjoyed year after year.
The following free patterns offer a little something for everyone's mantle from C2C crochet stockings, to farmhouse style stockings to simple patterns that are easy enough to whip up for everyone in your fam.
Christmas tree skirts
Crochet Christmas tree skirts are kind of like a handmade blanket for your tree! They're a fun opportunity to stick a pin in your personal Christmas style. And the simple circular shape of tree skirts lends themselves to some creative crochet techniques.
More Christmas crochet patterns
Making Christmas ornaments is a wonderful way to spread the holiday spirit. Share them as Christmas gifts, donate them to a charity, or hang them on the tree to enjoy for your own Christmas decor.
You might even consider starting a new tradition at Christmas time by crocheting a new ornament each year.